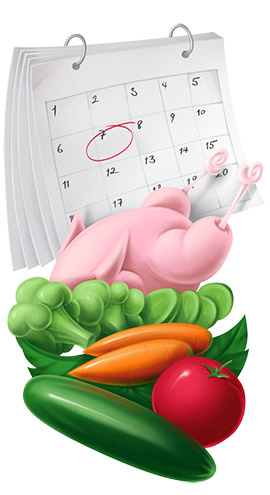 It can be hard to always come up with original meal ideas or not to slip off the Paleo wagon from time to time from lack of options or a pantry that still contains some not so good food choices.
I believe in making easy for people not only to understand what foods are healthy and what foods are not and why, but also to grasp what it entails to be eating Paleo on a day to day, consistent basis.
The best way to represent a typical paleo eating plan is to give out a sample of a week or two worth of food.
Remember that you can skip a meal whenever you feel like it and Paleo is really not about eating three square meals per day, quite the contrary. If you decide to fast for a day, that's perfectly fine as well, but I've included three meals and a snack every day just to give you enough options to play around with it.
Where applicable, I've included a link for the recipe as well. To be perfectly honest, a meal plan like that can easily be stretched to four or even five weeks, because there will be leftovers to about every dinner as well as some of the lunches that you can use whenever you want during the rest of the week or freeze for a later time. This will also save you from having to prepare food for every single meal. Some of the meals require quite a bit of preparation time, but most can be prepared a day in advance to make it easier. Some, like soups, stews and roasts, take time to cook, but not much active preparation time.
Paleo meal plan for beginners
We've created a visual meal plan to help beginners get started. It's complete with tips, a shopping list and a printer-friendly version to bring with you to the grocery store.
Sign up below and you'll get the meal plan right away:
Now for the 14-day sample Paleo diet meal plan:
Week 1
Week 2
Breakfast
Lunch
Dinner
Snack

Paleo cereal: Mixed nuts & berries /w coconut milk

Egg salad rolled in lettuce
Roast beef /w roasted veggies
Plantain chips /w Baba Ghanoush
Cold leftover roast beef slices /w pesto
Beef & cabbage stew
Dijon mustard pork tenderloin /w coleslaw
Coconut ice cream
Pork sausages /w grapefruit
Ground beef stuffed bell peppers
Duck confit /w carrot confit
Can of salmon /w olive oil & lemon juice
Sunny side up eggs /w salsa
Coconut curry stir-fry
Paleo Shepperd's pie (mashed parsnip or cauliflower instead of potatoes)
Smoked salmon
Fried ground beef & carrots /w salsa
Bacon, hard boiled eggs and tomato salad /w mayo
Polish stew
Spicy pumpkin seeds
Ham and asparagus omelet
Mussels in white wine & garlic sauce
Olive, garlic & lemon chicken
Dessert: Pears poached in red wine
Celery sticks /w liver pâté
Beef liver /w  steamed broccoli and salsa verde
Fried pork chops /w sautéed spinach
Pumpkin Chili
Olives & sauerkraut
Paleo Food Graph
For general day to day meal construction, here is a graph chart representing ratios (by volume of food) you should generally strive for. Of course, this can be tweaked to your particular needs and preferences, but it can give you an idea of where you stand, especially if you don't feel as good as in the beginning and wonder why. Often it's just a matter of a food group like nuts and seeds or fruits slowly creeping up and replacing healthier meat, fish or vegetable choices. There is about as many ways to eat a paleo diet that there is people though so feel free to tweak more or less everything, especially if you're experienced enough to know your needs and to listen to your body.
(Meats, eggs, fats & oils are calorie-dense, so they represent less volume of food even if they represent more calories consumed overall.)
Graph Chart by Volume of Food
Vegetables & safe starches
50%