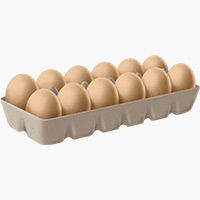 First it was a rumor. It seemed almost unrealistically optimistic to hope for. But now we know it's actually true: the 2015 Dietary Guidelines Advisory Committee is officially recommending that cholesterol is fine to eat. According to their report,
"…available evidence shows no appreciable relationship between consumption of dietary cholesterol and serum (blood) cholesterol, consistent with the AHA/ACC (American Heart Association / American College of Cardiology) report. Cholesterol is not a nutrient of concern for overconsumption."
It's definitely a step in the right direction.
Unfortunately, the 2015 Dietary Guidelines are keeping the anti-saturated fat message (baby steps, right?), but here's a new study explaining why fat advice might soon go the way of the cholesterol phobia: the evidence was just never that good to start with. (Here's a more reader-friendly summary if you're not quite up to date on the science jargon).
Now grab some eggs and bacon to celebrate, and check out the rest of this week's news:
Are you excited about the Dietary Guidelines finally coming around, at least a little bit? What do you think the consequences will be? Let us know on Facebook or Google+!