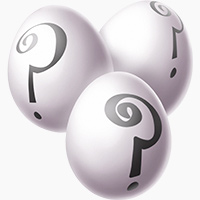 In the Paleo world, we're cholesterol skeptics. It's not that cholesterol isn't important, it's just that "cholesterol kills you" is a false simplification that only really helps the drug companies that make huge profits from statin drugs. Take a peek at the latest in cholesterol science this week:
A very thought-provoking post on Dr. John Briffa's blog sorts through a new study showing that higher cholesterol (even LDL!) is actually associated with a lower risk of death. And instead of just reporting the association, Dr. Briffa also brings in a few other studies to suggest confounding factors or other problems with survey studies might not actually be skewing the results.
On the Balanced Bites podcast, Diane Sanfilippo interviews Jimmy Moore, low-carb figurehead and the author of a forthcoming book called Cholesterol Clarity, about cholesterol and what it means.
So fry up some guilt-free egg yolks, and use all that cholesterol-fueled brainpower to dig into the rest of this week's news:
After getting inspired at the Ancestral Health Symposium, Steve and Jordan at SCD Lifestyle discuss how Paleo and other health-based diets have more similarities than differences, and explain their thoughts on vegetarianism.
What's your best tip for getting in a solid night of sleep? Help out your fellow cavemen and women on Facebook or Google+!