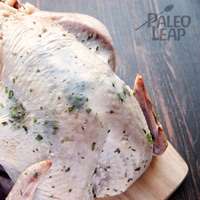 Roasted turkey? Sounds pretty Paleo. Sweet potatoes? Paleo. Green beans? Dig right in! Pumpkin pie? Well…maybe! No matter what your idea of "Thanksgiving food" is, chances are there's a way to enjoy it without compromising your health.
First, check out our own Paleo Thanksgiving menu. This week also, we've rounded up the best new Paleo Thanksgiving posts from this year to help you make the holiday dinner a success. Check it out:
Thanksgiving is a holiday where it's easy to get stuck in a subtraction mindset, but all these recipe collections are a wonderful way to keep yourself adding instead. Bonus: even if you're not cooking yourself, take a refresher course in Paleo travel skills with some tips for staying Paleo on the road.
If all the holiday talk is starting to stress you out just from the anticipation, take a deep breath and dig into the rest of this week's news:
What's the most ridiculous "improvement" to your diet that anyone ever tried to foist on you? Let us know on Facebook or Google+!