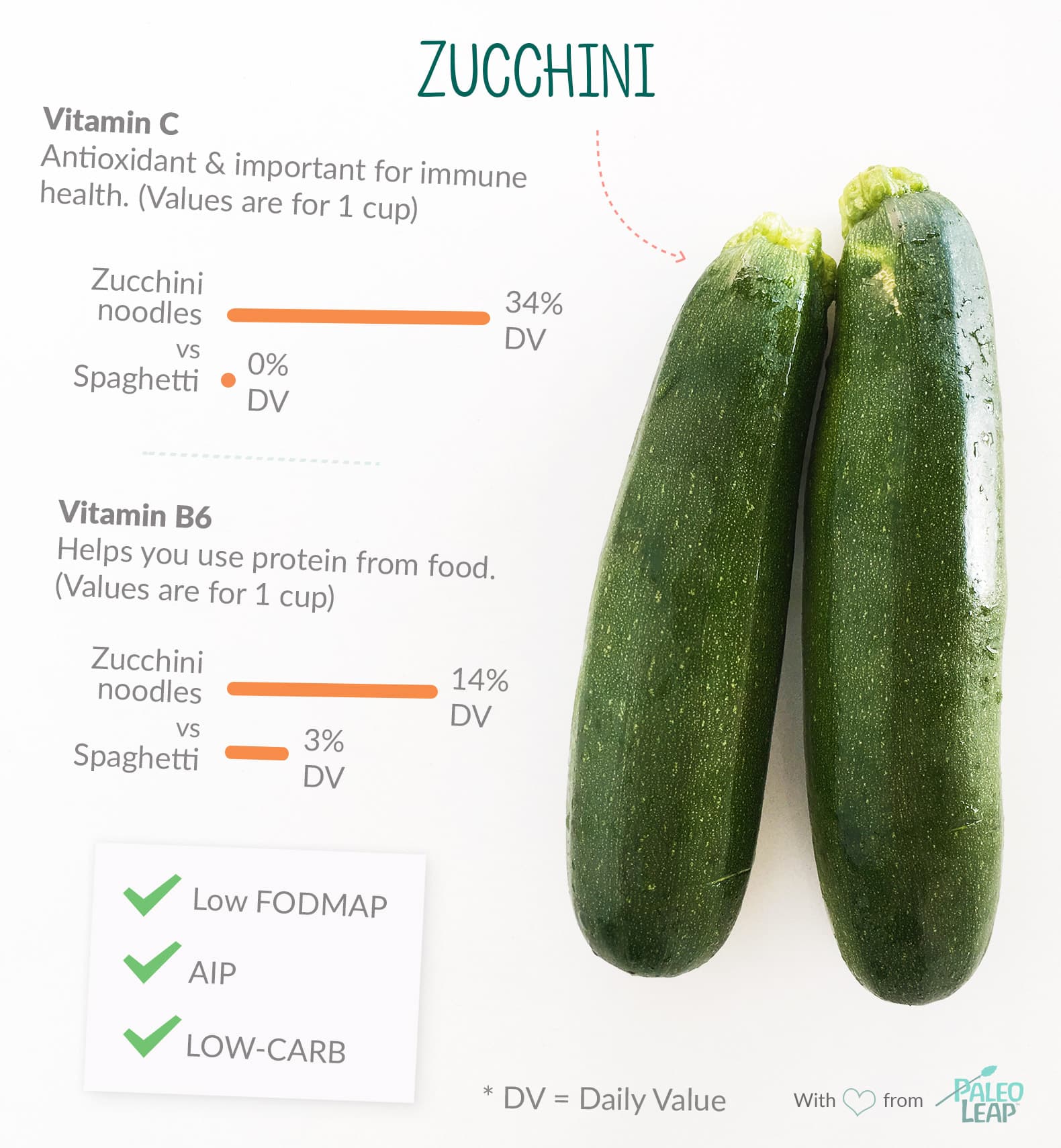 Zucchini might not be the most nutrient-dense vegetable out there, but it's a winner for versatility, and it's easy on any stomach.
Nutrition Details
Macros in Context
Here's how 1 cup of zucchini stacks up in the context of a typical Paleo meal:
Blue bars show the typical range in grams for a Paleo meal. For example, a Paleo meal usually includes 30-60 grams of fat, but where you personally fall in that range will depend on your preference.
Orange dots show how zucchini fits into the typical nutrient profile of a Paleo meal.

Buy It
Look for zucchini that are fairly firm, and don't keep them in the fridge too long - they're pretty delicate and don't always store well.
SIZE: Small zucchini can be about the size of two fingers put together, and big ones look like you could use them for a baseball bat. Pick the size that works best for whatever recipe you have planned.
SEASON: Zucchini are best during the summer.
COLORS: Standard zucchini is dark green all over. Some varieties have light green stripes lengthwise. There's also a yellow summer squash that tastes almost the same, so you can substitute it in zucchini recipes.
In zucchini season, you can also buy the edible zucchini flowers at a farmers market or get them from a gardener. Snap them up; they're tasty!
Cook It
STOVETOP
Puree zucchini and cook them into a mild and comforting soup.
OVEN
Roast for 30-40 minutes, flipping halfway through, or until nicely golden-brown on both sides.
GRILL
Cut zucchini lengthwise to grill or chop them up small and cook in a grill basket.
SKILLET
Pan-fry zucchini noodles with garlic and olive oil for extra flavor. They don't need long – 2-3 minutes, tops.
Cook the flowers: pan-fry until crispy, or stuff them with your choice of meat + seasonings, and bake in the oven.
Recipe Ideas