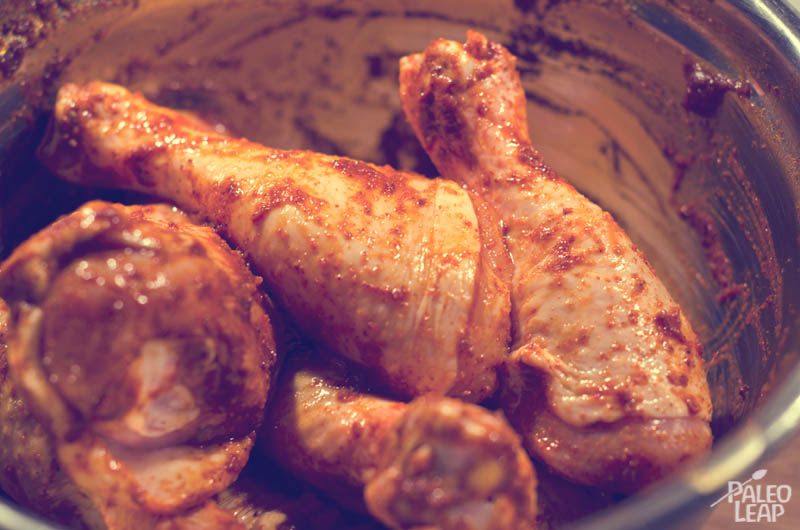 It just so happens to be a big weekend. Football lovers will be glued to the season's most exciting game and the chefs will be in the kitchen whipping up all the best finger foods for the event. I won't bore you with too much chat, as the recipes I happen to be sharing today are nothing less than what you would expect to find at your average Super Bowl party. All of them are prepared with healthy Paleo ingredients though so here people will be able to enjoy a good time in good company without compromising their health.
The following three recipes come just in time for the super bowl, but they are also perfectly suited for any party or gathering where people wouldn't usually expect to find healthy food. Of course, this isn't healthy food in the way most people think it is. These are not your typical bland veggies and dip. These are spicy, fatty and meaty preparations. Only the good kind of fat though!
Buffalo chicken drumsticks
No finger food selection is complete without some juicy Buffalo chicken drumsticks or wings. You may want to play on the safe side and whip up some traditional Buffalo sauce. Nothing too out of the norm, as I feel like most football lovers aren't too fond of anything that strays much from American cooking. I mean, let's be honest, the worst thing you could possibly do is prepare some not so tasty food for a party solely focused on snacks and the game. Just as a side note, I recently enjoyed a meal at Anchor Bar, home of the original Buffalo Wings. It was quite an experience! I can only imagine that this weekend will be a full house for them! Anyways, this recipe is nothing famous, but it's certainly tasty and a great alternative to the original.
Serves 4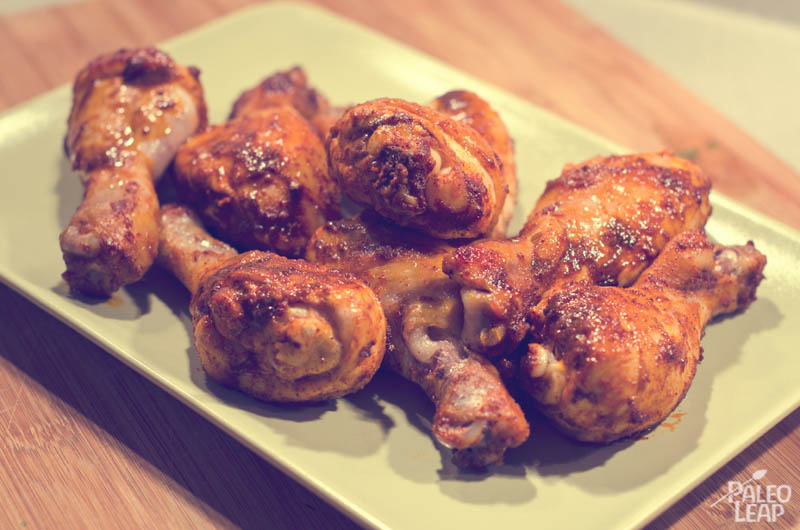 Ingredients
16 chicken drumsticks, skin-on;
¼ cup rice wine vinegar;
2 tsp chili powder;
1 ½ tsp paprika;
2 tsp garlic powder;
½ tsp onion powder;
½ tsp cayenne pepper;
¼ tsp salt;
2 tsp coconut oil;
Preparation
The best part about this sauce is that it requires just five minutes of your time to throw together! All you have to do is combine everything in a small saucepan, heat over a medium-high heat until it begins to simmer and then remove from the heat.
If you choose to use right away, great! If not, be sure to keep the sauce refrigerated.
Since I opted to make these for dinner, I tossed about 16 drumsticks in the sauce and then baked them at 375 F for about 40 minutes. You can turn them once during the cooking process to make sure that they cook evenly and that the sauce cooks on all sides.
Paleo fries with herbs
I needed a little something to go along with these chicken drumsticks. I was thinking of potato chips, but when made from scratch, it can be a bit of a demanding process. Instead, I opted for some delicious herb fries. Nothing beats these fries, as the natural flavors from the herb combination is mouthwatering! By the way, it is a must to make these with fresh herbs! They also work well to soak up all that excess Buffalo sauce from the drumsticks.
Warning: White potato fear

As I mentioned in previous recipes such as the hearty beef stew, the pesto mashed potatoes or the fish cakes, white potatoes are not the enemy and are perfectly healthy for most people. The bias against white potatoes is an old myth in Paleo community that just won't die. I explained some more about white potatoes and their place on a healthy paleo diet in my article on Paleo 2.0. If you're still scared of regular white potatoes, I would definitely recommend reading that article.
Serves 4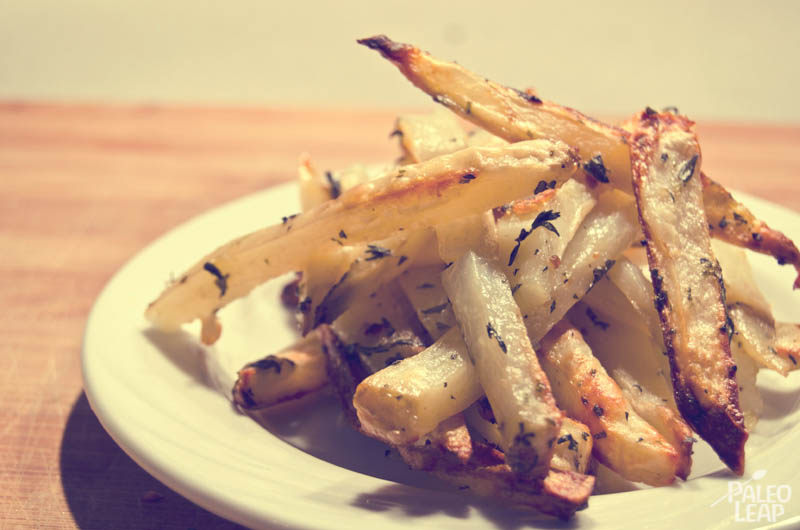 Ingredients
4 large white potatoes, peeled;
2 tbsp coconut oil, melted;
1 ½ tsp ground pepper;
1 1/2 tsp oregano, finely chopped;
2 tsp salt;
1 ½ tsp parsley, finely chopped;
½ tsp thyme, finely chopped;
Preparation
Preheat your oven to 425 F and place the oven rack in the middle of the oven.
Once you have peeled your potatoes, using a large and sharp knife, cut them into long thin strips. If you choose to make them more like thick wedges, that's fine, just keep in mind that they will most likely require a bit longer in the oven.
In a small bowl, combine all of the herbs, salt and pepper. Give everything a good toss to make sure the herbs get evenly dispersed.
On a large baking sheet, spread out the potato slices and drizzle with the oil. Toss them around with your hands to make sure everything is coated. Then sprinkle the herb mixture on top, again being sure to use your hands to coat everything well.
Bake for about 25 minutes and then flip the potatoes around and cook for another 15 to 20 minutes.
Serve them up hot with some homemade ketchup!
Spiced nuts
Here is a recipe for some quick and easy spiced nuts. For events such as the Super Bowl, you should always have a snack situated on the bar, or small side tables. If you're familiar with the bar scene, you probably have caught yourself reaching for the assorted nuts more often than you should have so you'll understand the need of sports fan to have a readily available snack. I like to have a tasty nut mixture available for a quick and easy protein fix, but it's also good to keep in mind not to go too nuts on nuts.
Serves 4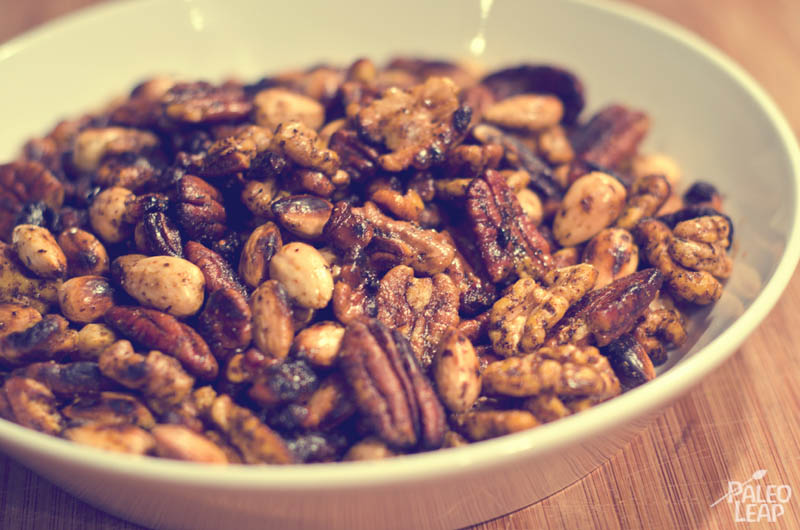 Ingredients
2/3 cup almonds;
2/3 cup pecans;
2/3 cup hazelnuts;
1 tsp chili powder;
½ tsp cumin;
½ tsp black pepper;
½ tsp salt;
1 tbsp coconut oil, melted;
Preparation
Once again, this is another easy Paleo snack to throw together for the festivities.
Toast the nuts in a large skillet over a medium-high heat. This should only take a few minutes, and you don't need to use any cooking fat.
In a small bowl, combine all the spices, along with the salt and pepper. Give it a good toss to make sure everything is well combined.
Once the nuts have toasted and taken on a golden brown hue, remove them from the heat and drizzle them with the oil. Make sure the nuts are all coated well in the oil and then sprinkle with the spice mixture. Finish it off with another good toss and they are ready to be served.
And there you go…a finger-licking good assortment of easy snacks! Enjoy!