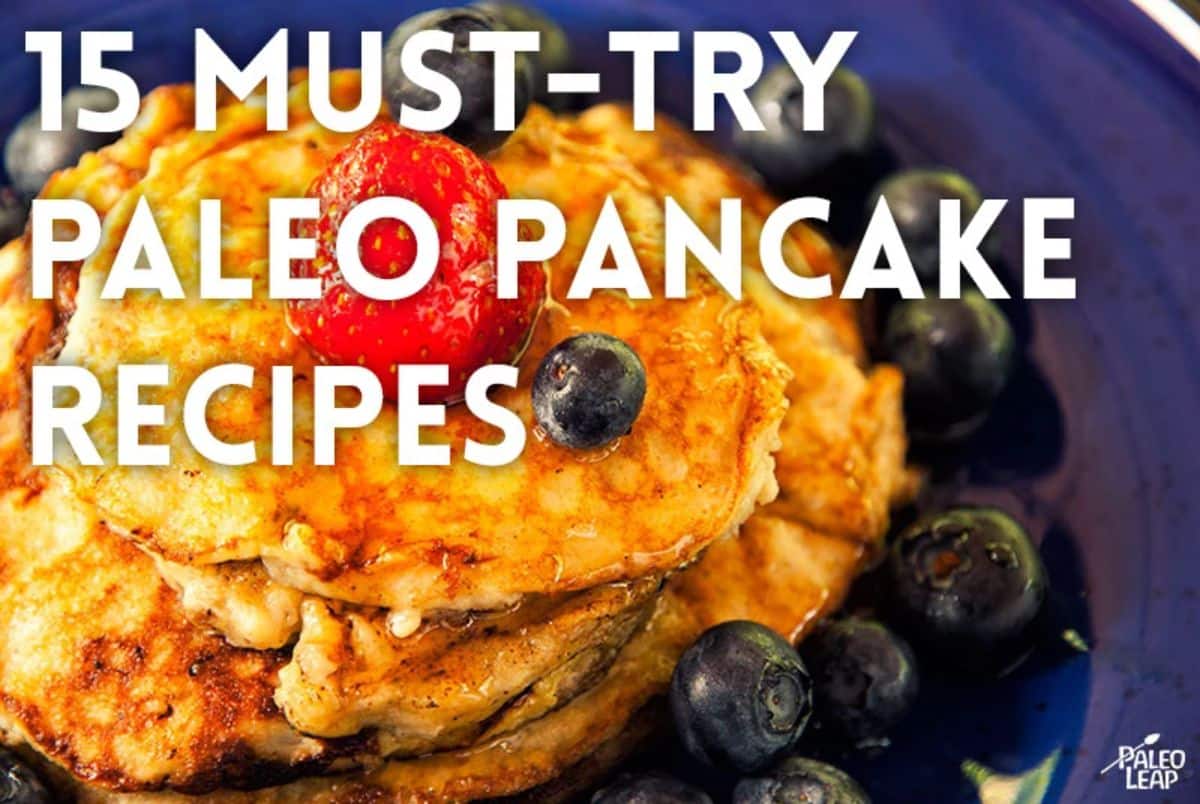 Do you ever find yourself craving something you loved pre-Paleo, but you just haven't found the right Paleo version to satisfy you? It was like that for us and pancakes for a long time, but after a recent Paleo pancake binge, we're bringing you a list of 15 of the best recipes! We also made sure to include a good assortment of sweet and savoury, as well as some odd balls that just so happen to be completely irresistible. Enjoy!
1. Paleo Pancakes – by Paleo Cupboard
Everyone needs a staple pancake recipe on-hand and this one happens to be just the one. A simple enough recipe that they can be whipped up in no time, and you can easily pair them up with something sweet or savoury, whichever you so desire.
2. Carrot Cake Pancakes – by PaleOMG
Dessert for breakfast? If you're craving something sweet in the AM, you'll love these carrot cake inspired pancakes. You're also bound to keep the kids happy with a breakfast like this.
3. Flourless Banana Pancakes- by Paleo Leap
For anyone allergic or intolerant to nut flours, this is the perfect recipe for you! We completely skipped on a flour-base and although they may not be as fluffy as the others, they taste great. Top them off with some mixed berries and you've got yourself a very satisfying breakfast.
4. Paleo Apple-Cinnamon Pancakes – by Paleo Newbie
Our favorite flavors of fall in a pancake. Our recommendation is to always make extra, because you'll find yourself snacking on these at all hours of the day.
5. Paleo Pancakes – by A Spicy Perspective
Another quick and simple staple recipe we couldn't pass up. Only three ingredients required that you'll most likely always have on-hand.
6. Coconut Pancakes with Raspberry Reduction – by Civilized Caveman Cooking
The coconut pancakes alone are delicious, but the raspberry reduction puts this recipe over the top! It's hard to believe such a tasty breakfast can be ready in just 15 minutes.
7. Paleo Duck Pancakes – by Eat Drink Paleo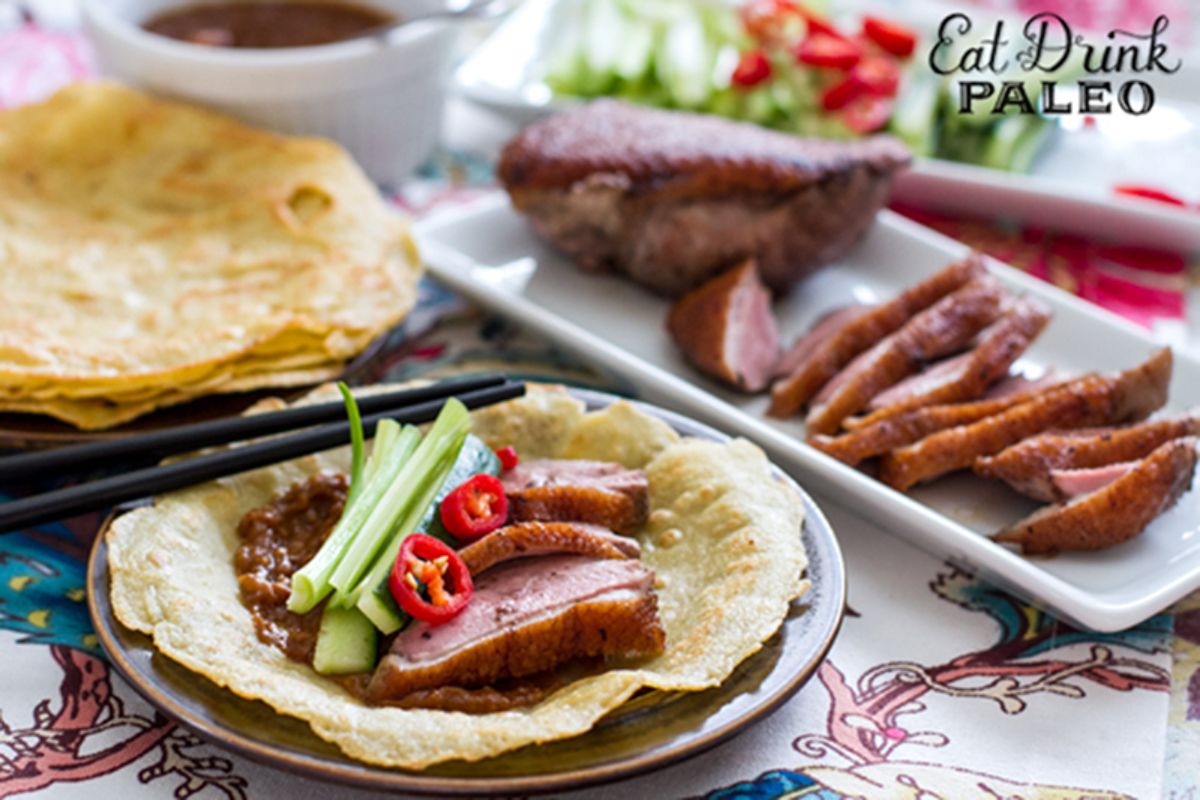 If you're looking to "wow" with your cooking and get a little more complex with your recipe, than we suggest trying these Paleo Duck Pancakes.
8. Plantain and Coconut Pancakes – by The Healthy Foodie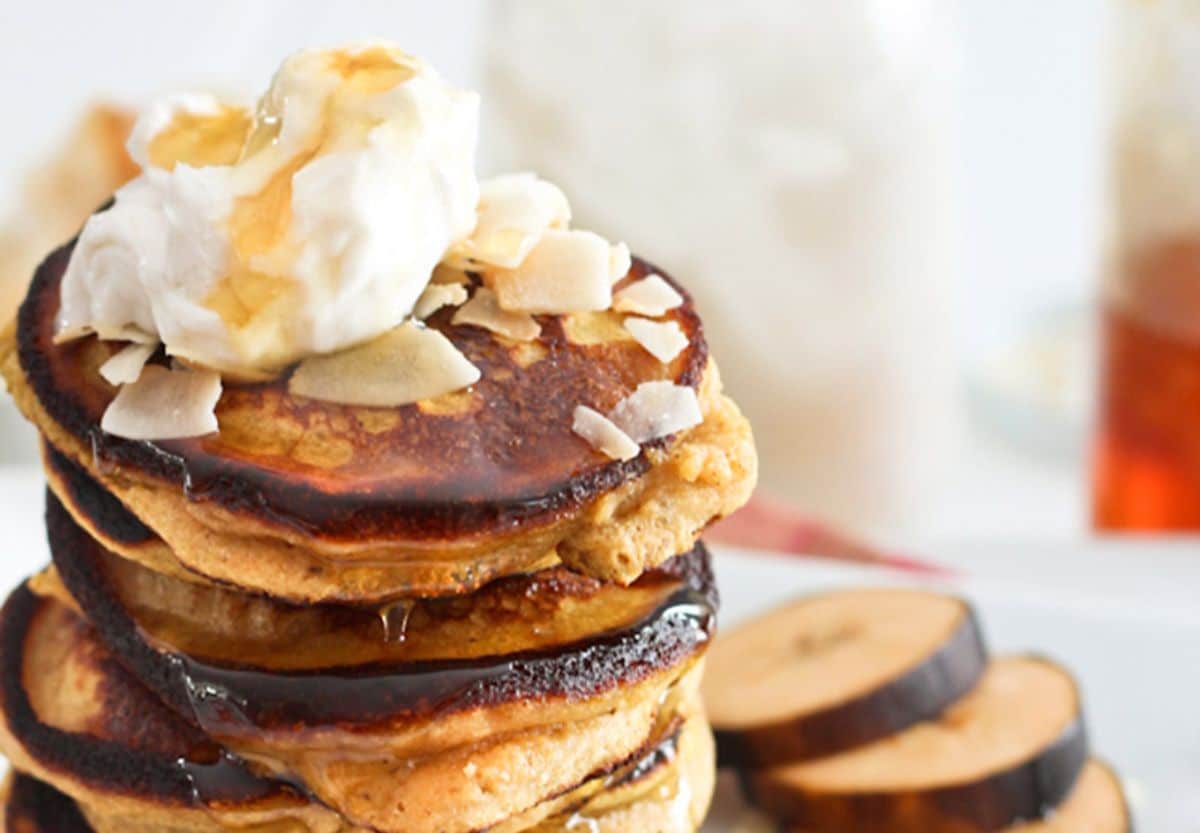 After eating these, you'll find it hard to believe that they're actually Paleo. A perfect breakfast to serve up to anyone who thinks Paleo is in the least bit boring!
9. Curry Sweet Potato Pancakes – by The Spunky Coconut
This recipe may be a little more time-consuming than many of the others, but don't let that turn you off. The results are so worth it! The sweet potato base also makes them extremely versatile and suitable for any meal of the day.
10. Huckleberry Lavender Paleo Pancakes – by Pure and Simple Recipes
There's not much we can say about his recipe except that it's an absolute must try! Nothing says a comforting breakfast more than the combination of lavender and huckleberry.
11. Banana Chocolate Chip Pancakes – by Elena's Pantry
Banana Chocolate Chip Pancakes, what else more could we want? These give us an instant flash back to our childhood memories and we bet every kids breakfast dreams will come true with this recipe.
12. Paleo Mexican Hot Chocolate Pancakes with Salted Dulce de Leche – by Healthy Maven
We gotta say, the thought of Mexican spice mixed with a salted Dulce de Leche infused into a pancake had us curious. These pancakes are definitely the most decadent on the list, but they are oh-so-good and perfect when looking for a treat. In fact, they would make an impressive dessert as well.
13. Hazelnut Pancakes with Blood Orange Sauce - by Eat Drink Paleo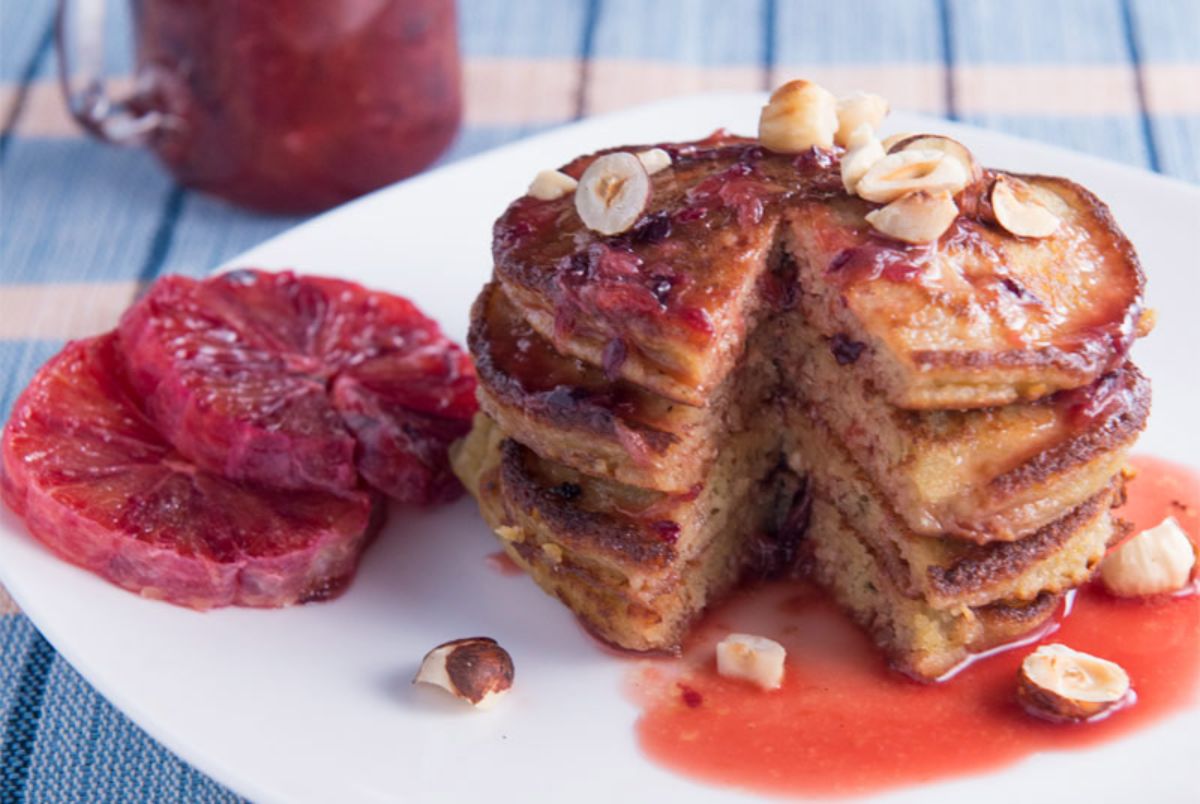 Yet another recipe from Eat Drink Paleo that we had to share. The original recipe can actually be found in Irena's latest cookbook Eat Drink Paleo, but we were privileged enough to feature it on our website. No description necessary, the picture alone will get your taste-buds all worked up!
14. Bacon Pancakes - by Mark's Daily Apple
Enjoy your bacon and eggs all in a pancake! They even have a secret ingredient, gelatin, to add extra health benefits. To think you could serve up such a classic American breakfast in such a unique way.
15. Grain-Free Coconut Flour Blueberry Pancakes - by Primally Inspired
A traditional pancake recipe turned Paleo! The nutty flavor from the coconut pairs up nicely with the sweetness of the blueberries. If you can get your hands on some wild blueberries, even better!