Energy bars aren't real meals. But sometimes, you really are stuck and need something fast to grab - that's where bars come in.
Here's a closer look at 6 Paleo and Paleo-friendly bars, with the carb counts noted for the keto crowd. Our taste-tester tried two flavors from each brand and took notes.
Important note from the taste tester: I am not affiliated with any nutrition bar companies. I bought all the tested bars in stores with my own money at the normal retail price. I wasn't reimbursed by any of the manufacturers. None of these companies is paying me to try products or write reviews. Basically, I have no motivation to offer anything but my own honest opinion and reactions, and that's exactly what you're getting.
1. LARABARS
Carb count: 20-25 net grams per bar. NOT keto-friendly.
Ingredients & general nutrition info
The basic formula of a LARABAR is dates + nuts (usually almonds or cashews) + extras.
For example, the "Cherry pie" flavor has dates, almonds, and cherries. The "Banana bread" flavor has dates, almonds, and bananas. You get the idea.
One strength of this brand is the sheer number of flavors. There are way too many to list - check out their website to see them all.
Only some flavors are Paleo-friendly.
Classic LARABARS are Paleo EXCEPT for the flavors with peanuts.
Bars in the fruits + greens line are Paleo.
Bars in the superfoods line are Paleo.
Bars in the "nut and seed" line have added sweeteners, so they're not Paleo.
The chocolate flavors use soy-free, dairy-free chocolate, so folks with dairy issues should be fine with them.
Taste-testing
Our taste-tester picked the apple pie flavor from the regular line and the hazelnut hemp cacao from the superfood line.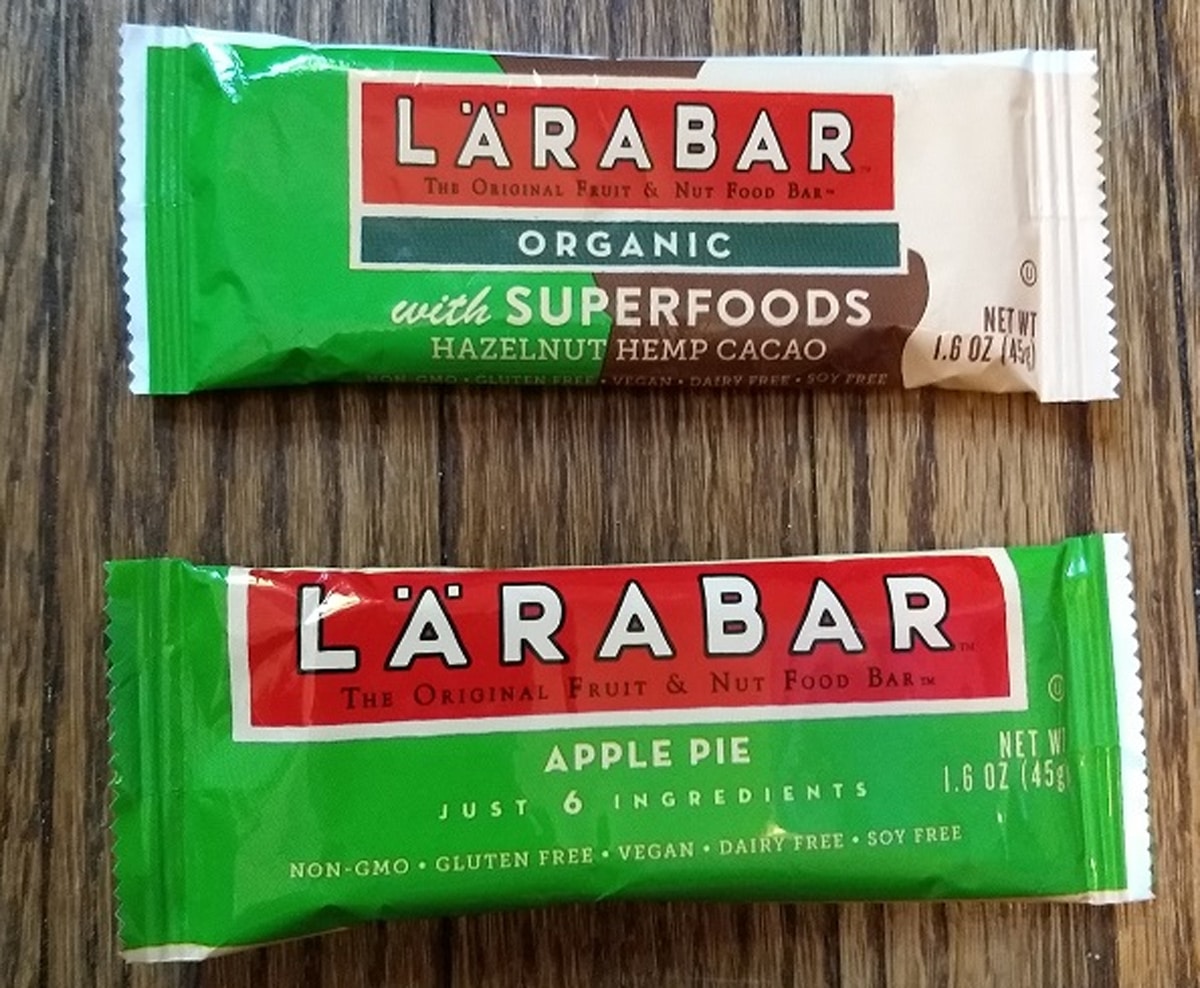 Apple pie: This bar tasted pretty good and the sticky-sweet heaviness of all the dates really went with the flavors. The almonds added a nice crunch. I personally could have done with just a little touch of salt, but that's a minor quibble.
Hazelnut hemp cacao: This bar had the nuts in smaller pieces; between the chopped nuts, the cacao nibs, and the hemp, it had an almost grainy texture. If you like chia seed pudding, you'll will like the texture of this.The taste was good - not super chocolatey but there was a nice subtle chocolate tone to it.
2. Epic Bars
Carb count: 0-5 grams net carbs per bar - that's a YES for the keto crowd.
Ingredients & general nutrition info
Epic bars are probably the #1 choice on this list for the keto crowd - they're made of meat, so they're naturally high in protein and low in carbs. There's a huge number of flavors - not just land animals, but also salmon. Check them all out here
Some flavors have sweeteners - for example, the bison bar has brown sugar. The smoked salmon maple has maple sugar. The turkey almond cranberry has apple juice as a sweetener for the cranberries, which is basically sugar by another name. From the carb counts, it's obvious that the total amount of sugar is pretty low, but if you're absolutely insisting on eliminating all added sugar, check the labels carefully before you eat!
Flavors with no added sugars of any kind include the lamb, venison, and chicken sriracha flavors.
Taste-testing
Our taste-tester tried out the bacon and chicken sriracha flavors.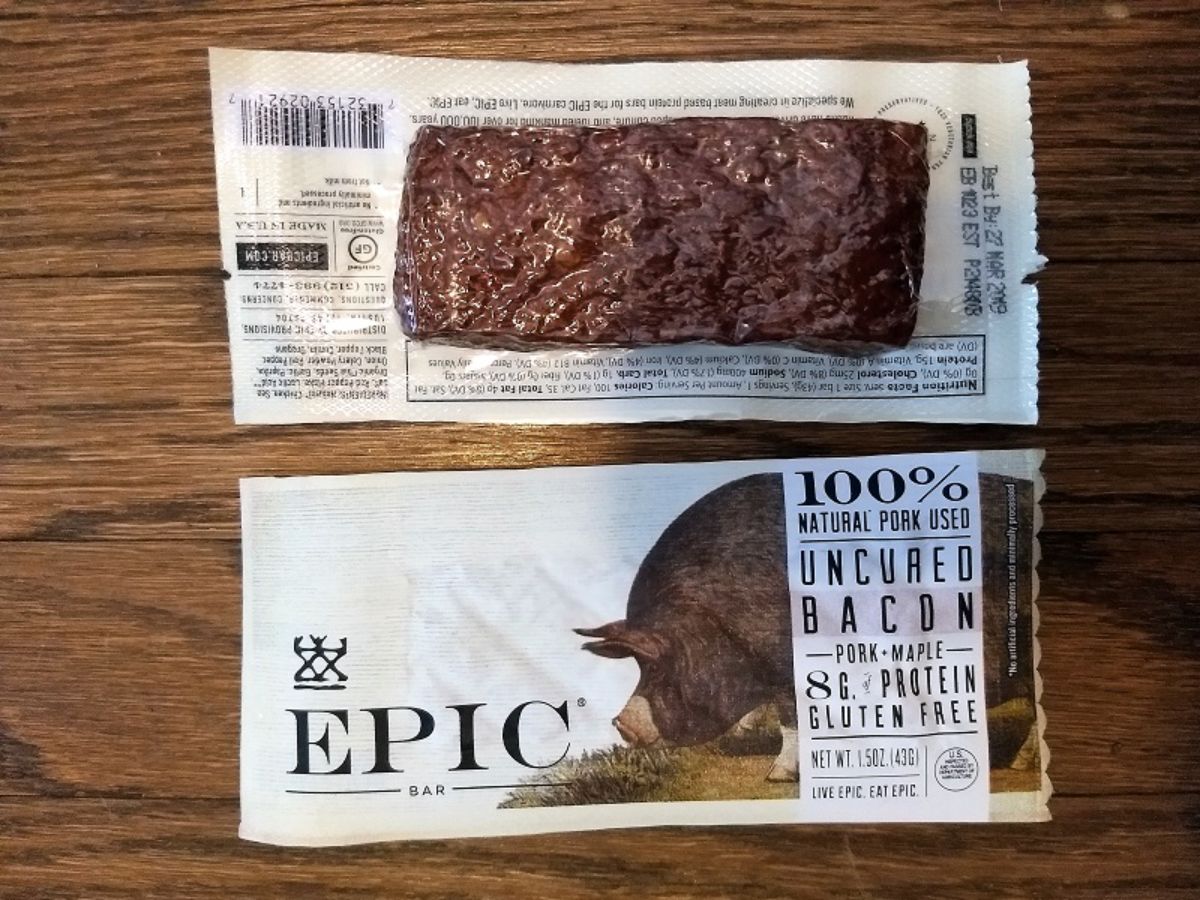 Bacon: this bar tasted just like bacon - it was a bit odd to have room-temp bacon with no crispiness to it, but if that doesn't throw you off, the taste is great. The texture was really pleasant; I was worried that it might be leathery like jerky, but it was pretty juicy, just a bit firmer than a nice burger. Maybe it was the applewood smoke but there was a pretty noticeable sweet flavor to it, even though the primary flavor was the bacon.
Action shot for texture: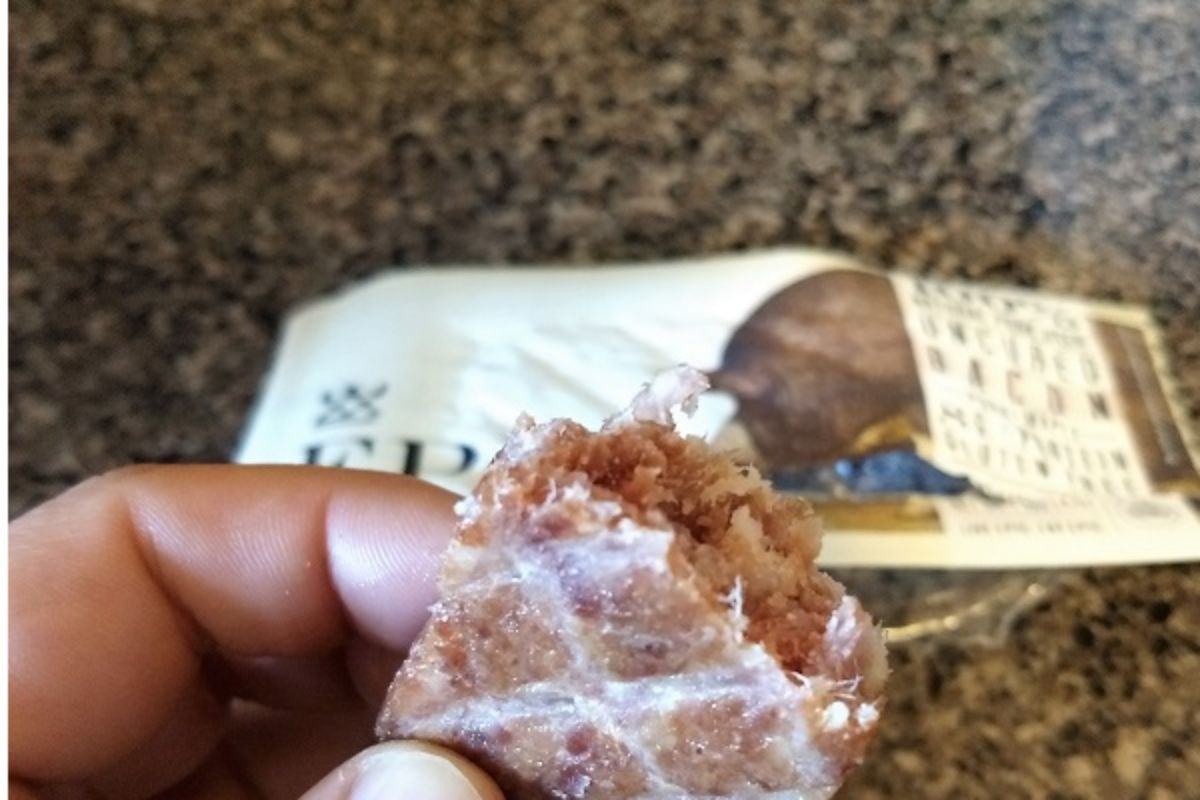 Chicken sriracha: Spicy spicy spicy! I actually felt my cheeks heat up a bit from the sriracha level in this bar. If you love all things hot sauce, this one comes strongly recommended. As expected for chicken vs. bacon, this one was a bit less juicy than the bacon bar, but it definitely wasn't an unpleasant texture.
Just as an idea, if I took either of these on a camping trip, I would definitely grill them. The bacon especially seems like it would be good that way.
3. Rx Bars
Carb count: 17-22 grams net carbs per bar. NOT keto-friendly.
Ingredients & general nutrition info
Like LARABARS, these are basically fruit and nuts compacted into bar form, but unlike LARABARS, they're made with egg whites for some extra protein. They also have a bunch of different flavor options, which you can check out here
The peanut flavors are NOT Paleo-friendly, but there are tons of other flavors to choose from that don't contain peanuts. The bars are dairy-free and soy-free, so presumably they use a Paleo-safe chocolate without a bunch of soy junk in it.
Taste-testing
Our taste-tester tried the chocolate coconut and mixed berry flavors.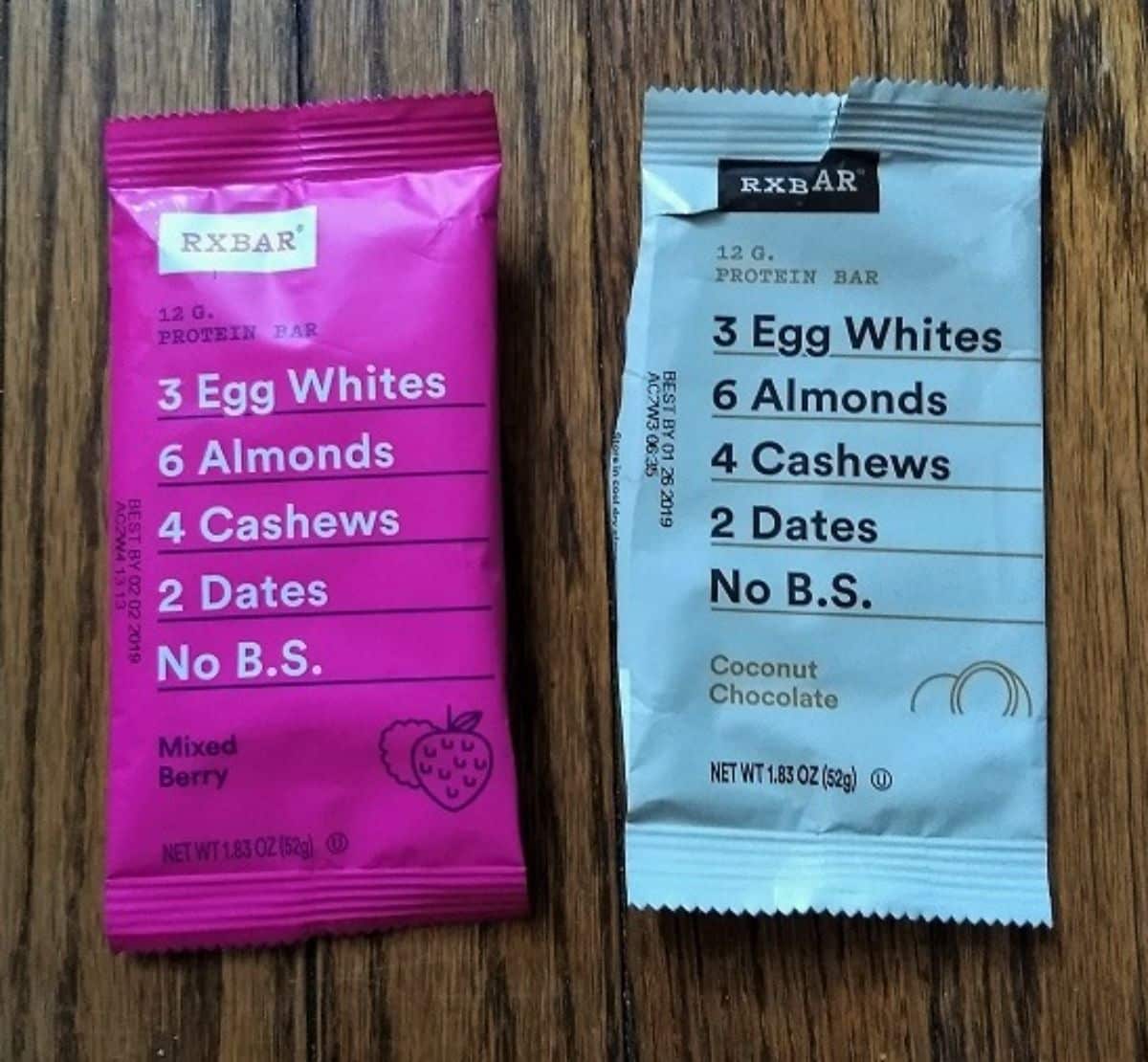 Chocolate coconut: this bar tasted good, the texture was pleasant, and if it had been labeled "coconut almond," it would have been perfect. The only problem was that didn't live up to the "chocolate" label at all - almost no chocolate taste! If you want chocolate, you'll be very disappointed with this one. But as a coconut-almond bar, it was great. the coconut aspect of the flavor was just right, not too overpowering. Something about the flavor reminded me of marzipan, but it was actually better for being a little less sweet.
Mixed berry: Not my favorite - this bar tasted basically like fruit leather with some almonds in it. The berry taste wasn't strong enough and the taste of the dates was pretty overpowering. There wasn't anything wrong with it, but it wasn't any better than "fine."
4. Bulletproof bars
Note: this is a review of the Bulletproof bars as Paleo-acceptable snack foods that you can grab in a pinch because they're a whole lot better than a bag of Doritos. It is NOT a review of the proprietary oils in the bar, how well they work, or whether they actually do anything at all. It's definitely NOT an endorsement of any of these oil blends. You'll have to decide for yourself whether you think there's enough evidence for the health claims - but considering that none of those oil blends contains any non-Paleo fats, we're just treating them as any other added fat and reviewing the bars as a snack.
Carb count: 7-8 grams net carbs - probably OK for low-carb diets but not super great for keto.
Ingredients & general nutrition info
These bars are less "real food in bar form" and a little more "Paleo-ified form of a typical PowerBar." The ingredients list is longer, it probably has some stuff you won't immediately recognize, and it's generally much less like something you could have put together in your own kitchen if you'd had the time.
All the flavors - fudge brownie, lemon cookie, chocolate chip cookie dough, mint chocolate chip, and vanilla shortbread - are Paleo-friendly, if you're fine with Stevia.
Unlike some other bars we tested, these ones don't have any fruit. What they do have is nuts, collagen protein, added fiber, and some proprietary branded oil blends. Instead of using dates or other fruit as a sweetener, they're sweetened with Stevia, which may be a bonus or a dealbreaker for you, depending on your thoughts on artificial sweeteners generally and Stevia in particular.
Taste-testing
Our taste-tester picked out the lemon cookie and vanilla shortbread flavors.
Lemon cookie: The texture of this bar was unique among all of the ones I tried - it was much lighter and dryer without that heavy/sticky fruit sweetness. It had an almost crumbly texture, but in a good way, a bit like a scone. I would have liked the lemon flavor a bit stronger, but I do like lemon things to be very lemony.
I was a bit worried about the fiber upsetting my stomach, since that sometimes happens with added fiber, so I ate it and then went on a run almost immediately as a stress test for digestibility. 5 miles later, no problems were in evidence!
Vanilla shortbread:this one wasn't quite as light as the lemon bar, with a bit of a denser texture that fit the shortbread flavor. It wasn't the most exciting thing I've ever put in my mouth, but it tasted pleasant and appropriately cookie-like.
5. Thunderbird bars
Carb count: 8 - 20 grams net carbs for the nut + seed bars; 21-26 net carbs for the fruit + nut bars. The lowest-carb option is the hemp sunflower pumpkin seed bar, at 8 grams net carbs.
Ingredients & general nutrition info
Another take on the real food fruit/nut/seed bar, this time with some new and interesting flavors. These bars come in either "fruit + nut" varieties, which have more fruit and a higher carb count, or "nut and seed" varieties, which have less fruit (but not none) and fewer carbs. Check out all of them here.
Not all flavors are Paleo: the cherry walnut cinnamon and pineapple mango papaya flavors have buckwheat, which isn't Paleo-friendly. If you're buying them in a store, the Paleo-friendly flavors have a convenient little black triangle in the upper right-hand corner of the wrapper with a P in it for Paleo.
Taste-testing
Our taste-tester chose the "cacao + hemp + walnut" and "cashew + fig + carrot" bars.
Cacao + hemp + walnut: Between this one and the cacao/kale LARABAR, the Thunderbird bar definitely wins for overall eating experience. The texture didn't have that strange graininess and it had a nice deep chocolate flavor. BUT they aren't totally comparable, because there was some mint in the Thunderbird bar, while the LARABAR had none. I like mint chocolate, so I enjoyed it. You wouldn't think that mint and dates would work together, but here they actually go pretty well.
Cashew + fig + carrot: This REALLY worked for me. It was probably the closest Paleo equivalent to Fig Newtons, which I loved as a kid. Maybe it was the nostalgia talking, but this one was a pleasure to eat and had a nice chewy sweetness with a slightly brighter taste (maybe that was the carrots talking?). I would legitimately buy this again and eat it for dessert.
What's your favorite?
What's your favorite Paleo-friendly nutrition bar? Got one we didn't cover? Let us know on Facebook or Twitter!