It's one thing to spend money on good food as an investment in your own health. But it's quite another thing to spend money on good food as a way of keeping your garbage man in business!
40% of food in the United States is wasted. Just to put that into perspective, that's 1/13 of the total land area of the country, or 368,838,336 acres (576,312 square miles) of land dedicated to growing crops that will never be eaten (out of a total agricultural land area of 922,095,840 acres). That's an area 3.5 times the size of California, dedicated entirely to growing things that end up in landfills.
This isn't just an environmental disaster; it's also a giant waste of money for everyone involved. Food is expensive enough without throwing almost half of it in the landfill! So to make your life a little easier on your pocketbook (not to mention your planet), here's how to reduce the amount of food waste you create.
Learn Effective Storage and Preservation Techniques
All too often, food gets wasted simply because it goes bad before it gets eaten. It's the half-bunch of cilantro that goes slimy and gross in the fridge before you need more salsa, or the head of lettuce that you discover in the crisper drawer, completely inedible, after you get back from vacation.
Here's how to avoid that problem:
Find a labeling system that works for you. Sometimes, all it takes is some masking tape and a sharpie to label the container. Other people are happier with a whiteboard on the fridge where everyone can keep a running tally of what's in there. Either way, the easier it is to figure out what you've got, the more likely you'll be to actually use it.
Don't make leftovers if you're not going to eat them. Some people will cook up a huge pot of chili on Monday and then happily eat the leftovers all week, but not everyone is like that. If you know you won't eat leftovers, just don't make them!
Be proactive about preserving food. If you've got a bunch of something that's about to go bad, don't wait until it's gross and moldy! Eat it, freeze it, or cook it and then freeze that (especially good for things that don't freeze well, like tomatoes). Or find some other way to preserve it (e.g. making sauerkraut out of cabbage).
Clean out the fridge. Waste begets waste – if there's already a huge clutter of Tupperware and plastic bags in the fridge, whatever you put in next is much more likely to get lost in the crush. Nobody likes giving up and throwing out all that food they've been "meaning to eat" for weeks, but think of it as catharsis: you're chucking it now to avoid chucking any more in the future.
Learn to Use Odds and Ends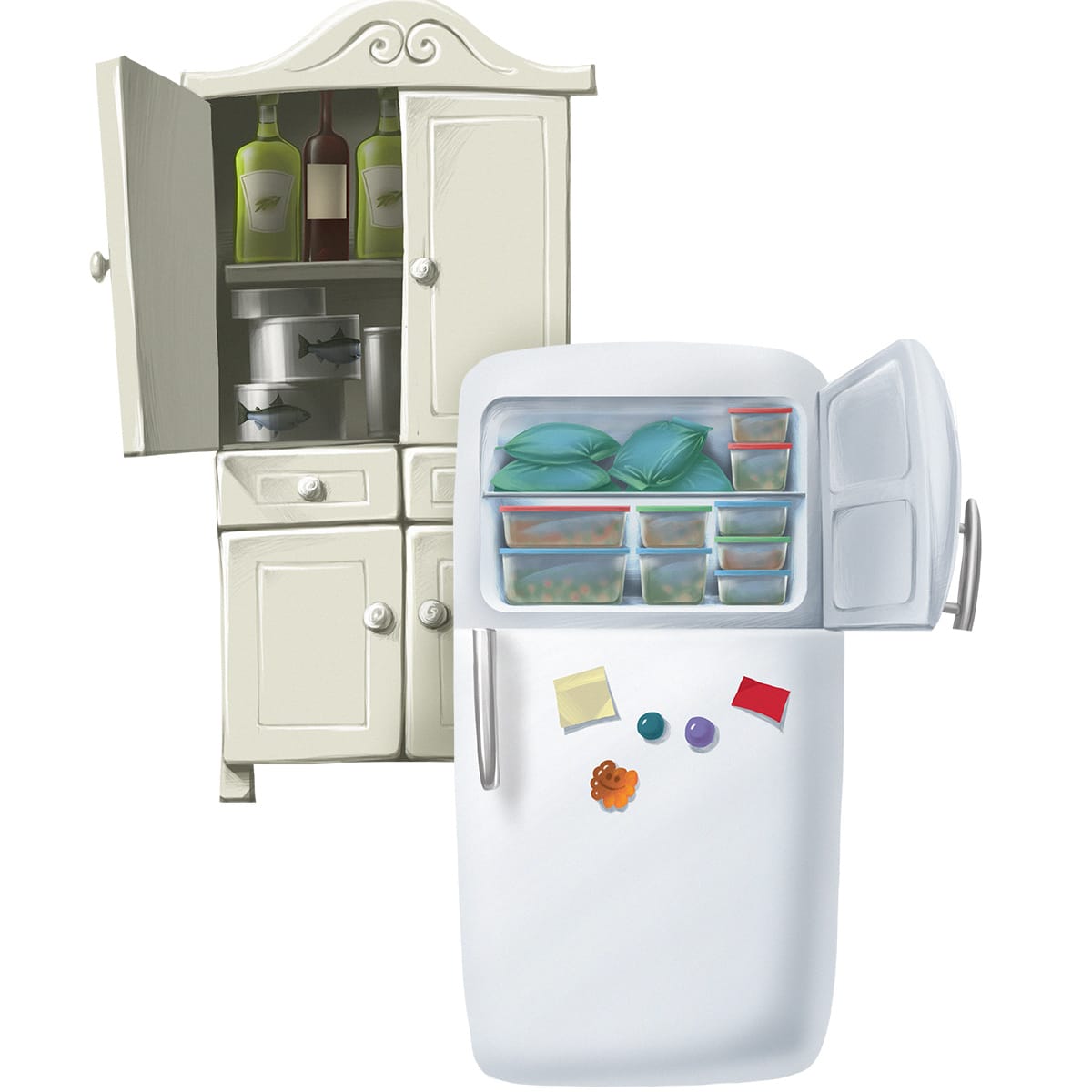 Have you ever given up and tossed the last few bites of dinner leftovers because there's not enough to make a meal, but it's also not really snack-y, so nobody really found a reason to eat it? Then you've fallen victim to the "odds and ends" problem! This also applies to the non-photogenic parts of vegetables, like the tops and ends of carrots, or the stems and leaves of cauliflower heads.
Here's how to use those odds and ends to beef up your regular meals:
Stick them in omelets. Omelets hold almost anything with panache. A few tablespoons of chili? Chicken curry? Leftover salsa? Just chuck it into an omelet (or a frittata, if you'd rather) and have at it.
Use them for flavor. Vegetable odds and ends are perfect for flavoring soup and broth – just wrap them in a piece of cheesecloth or a nut milk bag so you can easily fish them out again. They'll leach all their flavor and nutrients into the soup, giving you that delicious richness for free.
Make stock with them. Any kind of bone-y or gristle-y bit of an animal is perfect for making gut-healing bone broth. This is an easy way to get all the nutrition out of the bones, plus it's a delicious protein supplement. Save the carcasses from your chickens and use them!
Also take a look at this list of 17 ways to use your leftovers for even more ideas.
Rethink your Shopping List and Meal Plan
Just as an exercise, for a week, try this:
Save your grocery receipt.
Every time you throw something out, write down what it was and how much you chucked.
When you're all out of food, compare your "waste list" to your last grocery receipt (use the receipt, not your grocery list, to account for impulse purchases and things you didn't bother to write down). Mark what you wasted on the receipt.
If you do this for a couple weeks in a row, you might start to notice patterns: maybe you always buy way more spinach than you need, or you've been paying for strawberries and then throwing half of them out for weeks. If you've got a regular money-waster on your hands, you could…
Buy a smaller amount of it, even if the unit price is higher.
Stop buying it entirely.
Rethink your meal plan to incorporate the entire package, so you aren't letting odds and ends go to waste all over the place.
Once you're sitting there looking at the list of what you bought and the list of what got wasted side by side, it's usually pretty obvious.
Another common trap is the "I bought it but didn't know how to use it" problem: you want to try something new, but never get around to looking up a recipe before it goes bad. To get around this, you might set aside 15 or 20 minutes right after you get home for looking up recipes (or just make it a personal rule that you don't buy anything unless you have a plan for it).
Summing it Up
Wasting food isn't just an environmental problem; it's a major money suck that you shouldn't have to deal with. There's no need to go fertilizing the landfill with your hard-won produce!
To avoid this trap, it helps to take a hard look at the list of what you actually do waste, compare it to your grocery receipt, and see what you could cut back on. Getting good at using up the odds and ends also helps, and so does storing everything properly in the first place: label it, keep track of it, and be proactive about using anything that's about to go bad.