These bacon & maple syrup waffles combine American breakfast favorites into one sweet and savory bite. The fried eggs are optional, but we recommend not skipping out.
The waffle soaks up the runny yolk creating the perfect bite. A little tip, heat the oven to about 200 F to keep the cooked waffles warm while finishing the remaining batter and cooking the fried eggs.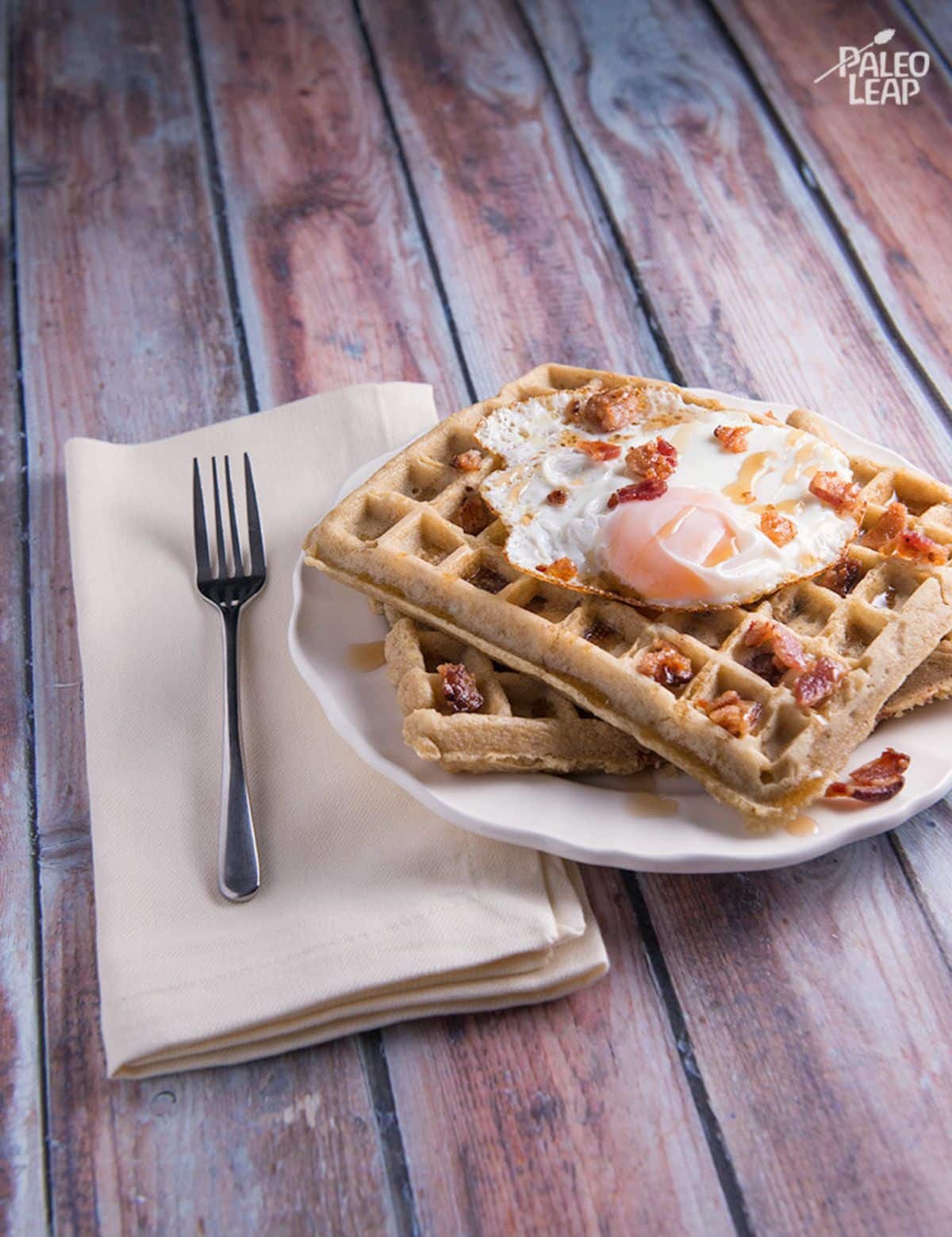 Overall this is a pretty decadent recipe, being filled with nut flours and with maple syrup added on top; we recommend saving this for total indulgences. Perhaps a special birthday breakfast or a unique twist on brunch following a holiday.
Bacon & Maple Syrup Waffles with Fried Egg Recipe
SERVES: 4 PREP: 15 min COOK: 30 min
Ingredients
6 slices bacon
2 eggs
½ cup full-fat coconut milk
2 tbsp. pure maple syrup
1 teaspoon vanilla extract
1 ¾ cup almond flour
½ teaspoon baking soda
Pinch of sea salt
Cooking fat
4 fried eggs (optional)
Pure maple syrup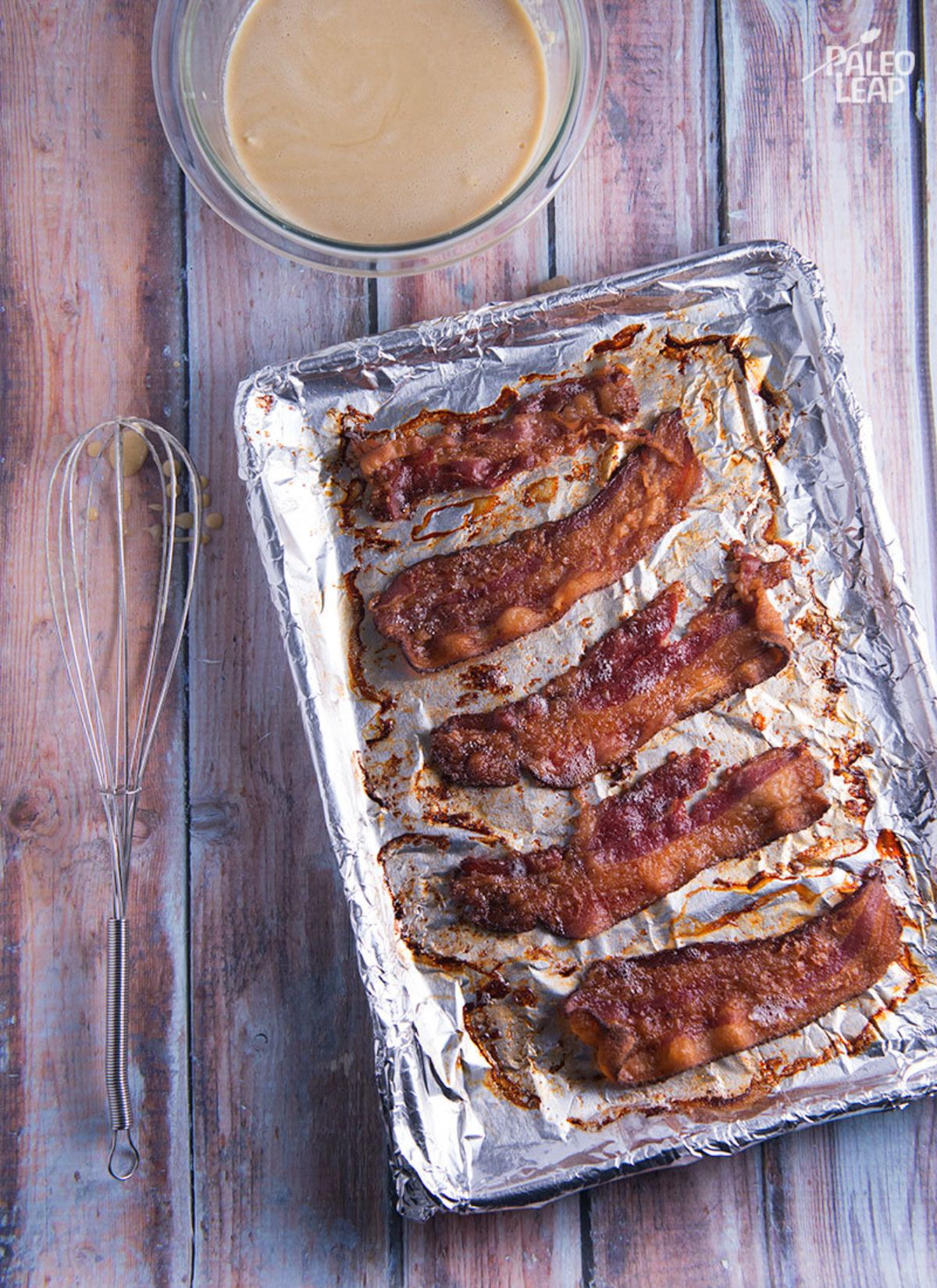 Preparation
Preheat your oven to 400F.
Line a baking sheet with foil and arrange slices of bacon in a single layer.
Bake in the oven for 15-20 minutes.
Remove from the oven and, using tongs, transfer the bacon to a paper towel-covered plate to cool.
Once cool, blot with paper towels to remove any excess grease.
Divide the bacon in half (3 pieces each), crumble, and keep dividing. Set aside for later.
In a medium to a large bowl, combine the almond flour, baking soda, and salt.
Next, in a small bowl, mix together the 2 eggs, coconut milk, maple syrup, and vanilla extract.
Add the wet ingredients to the dry and gently mix until well incorporated.
Make sure the almond flour doesn't clump, but you don't want to over-mix, or it will create a tough batter.
Stir in ½ of the crumbled bacon (3 pieces) into the batter.
Preheat the waffle iron.
Lightly grease both sides of the waffle iron with your choice of cooking fat. We used a pastry brush to do so.
Pour enough batter atop the waffle iron to cover.
Sprinkle a little bit of remaining bacon bits over the batter and close the waffle iron.
Cook for 3-5 minutes, until golden and easy to separate from the waffle iron.
The amount of batter and time the waffles take to cook will vary by iron. We suggest looking at the manual and following the instructions for the best results.
Repeat with the remaining batter and bacon.
Serve the waffles topped with fried eggs and drizzled with maple syrup.
📖 Recipe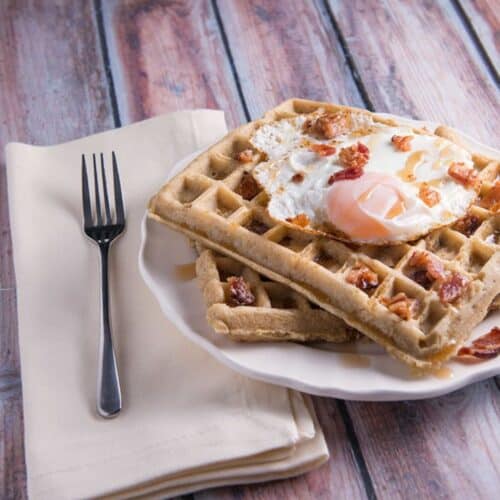 Bacon & Maple Syrup Waffles with Fried Egg Recipe
A decadent Paleo breakfast treat that packs on flavor. Who said waffles were off limits?
Instructions
Preheat your oven to 400F.

Line a baking sheet with foil and arrange slices of bacon in a single layer.

Bake in the oven for 15-20 minutes.

Remove from the oven and, using tongs, transfer the bacon to a paper towel-covered plate to cool.

Once cool, blot with paper towels to remove any excess grease.

Divide the bacon in half (3 pieces each), crumble, and keep dividing. Set aside for later.

In a medium to a large bowl, combine the almond flour, baking soda, and salt.

1 ¾ cup almond flour,

½ teaspoon baking soda,

Pinch of sea salt

Next, in a small bowl, mix together the 2 eggs, coconut milk, maple syrup, and vanilla extract.

2 eggs,

½ cup full-fat coconut milk,

2 tbsp. pure maple syrup,

1 teaspoon vanilla extract

Add the wet ingredients to the dry and gently mix until well incorporated.

Make sure the almond flour doesn't clump, but you don't want to over-mix, or it will create a tough batter.

Stir in ½ of the crumbled bacon (3 pieces) into the batter.

Preheat the waffle iron.

Lightly grease both sides of the waffle iron with your choice of cooking fat. We used a pastry brush to do so.

Pour enough batter atop the waffle iron to cover.

Sprinkle a little bit of remaining bacon bits over the batter and close the waffle iron.

Cook for 3-5 minutes, until golden and easy to separate from the waffle iron.

The amount of batter and time the waffles take to cook will vary by iron. We suggest looking at the manual and following the instructions for the best results.

Repeat with the remaining batter and bacon.

Serve the waffles topped with fried eggs and drizzled with maple syrup.

4 fried eggs,

Pure maple syrup
Nutrition
Calories:
587
kcal
Carbohydrates:
17
g
Protein:
23
g
Fat:
50
g
Saturated Fat:
14
g
Polyunsaturated Fat:
3
g
Monounsaturated Fat:
8
g
Trans Fat:
0.1
g
Cholesterol:
267
mg
Sodium:
453
mg
Potassium:
237
mg
Fiber:
5
g
Sugar:
7
g
Vitamin A:
369
IU
Vitamin C:
0.3
mg
Calcium:
155
mg
Iron:
4
mg