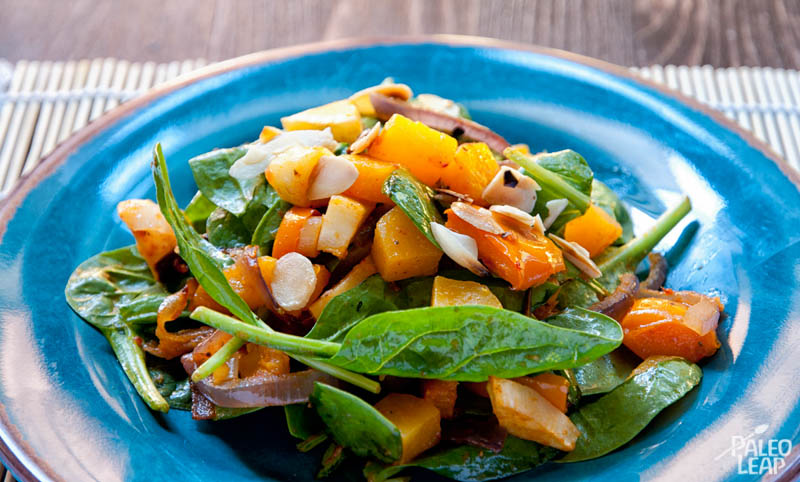 Winter vegetables are delicious, but sometimes they can get a little heavy – after all, it's still warm out some days and you don't always want a big hearty plate full of cinnamon-roasted squash. This salad is the answer to those warmer days of fall, the days that call for something a bit lighter, but still seasonal. Roasting the vegetables in the salad dressing creates a remarkably intense flavor, but generous amounts of spinach balance out the richness so it doesn't get overwhelming. Add some almonds for a little crunch, and it's perfect for a warm October day.
This is also one of those recipes that just cries out to be modified. Some cranberries might add an interesting tartness to complement the squash, or try substituting pine nuts for the almonds. For a full meal, ham or bacon bits or some other additional protein would also fit in nicely – it's really a very flexible concept, so don't be afraid to get creative.
That also extends to the dressing: I gave directions for a sun-dried tomato dressing, but a lot of other vinaigrette-type recipes would probably work just as well. The only caution: if you're using a different dressing, don't forget to toss the vegetables with some kind of fat before you roast them, otherwise they'll stick to the pan.
You can serve this salad hot out of the oven, or you can pop the roasted vegetables in the fridge to chill before tossing them with the dressing and the spinach (don't mix it all up and then chill; the spinach will get soggy). Either way, it's a delicious and colorful meal to perk up your day with a slightly different way of enjoying a seasonal favorite.
Fall Vegetable Salad Recipe

SERVES: 4

PREP: 15 min.

COOK: 40 min.

Values are per portion. These are for information only & are not meant to be exact calculations.
Ingredients
1 butternut squash, peeled and diced into small cubes;
3 parsnips, sliced;
1 large red onion, sliced;
1 large red pepper, sliced;
1 clove garlic, minced;
10 cups baby spinach leaves;
2 tbsp. almonds, toasted;
1/3 cup sun-dried tomato dressing;
Sun-Dried Tomato Dressing Ingredients
1/3 cup sun-dried tomatoes;
1/4 cup extra-virgin olive oil;
1 tbsp. minced shallots;
2 garlic cloves;
2 Tbsp. white wine vinegar;
1 tsp. dried oregano;
Juice from half a lemon;
2 tbsp. raw honey (optional);
1 cup of water;
Sea salt and freshly ground black pepper to taste;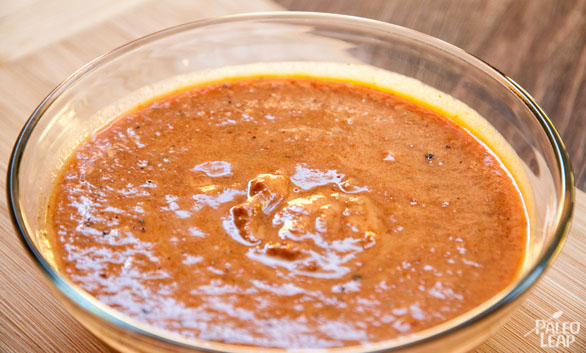 Preparation
Preheat your oven to 450 F.
To make the dressing, combine all the ingredients in a blender or food processor and blend or process until the dressing is well emulsified.
Combine all the vegetables (butternut squash, parsnips, onion, red pepper and the garlic) in a big bowl. Add 2 tbsp. of the sun-dried tomato dressing and toss to combine.
Spread the coated vegetables over a baking sheet and bake for 35 to 40 minutes, until the vegetables are soft and tender.
To put together the salad, toss the cooked vegetables, the spinach, the almonds and 1/3 cup of the dressing in a big serving bowl.
You can serve this salad warm or cold.