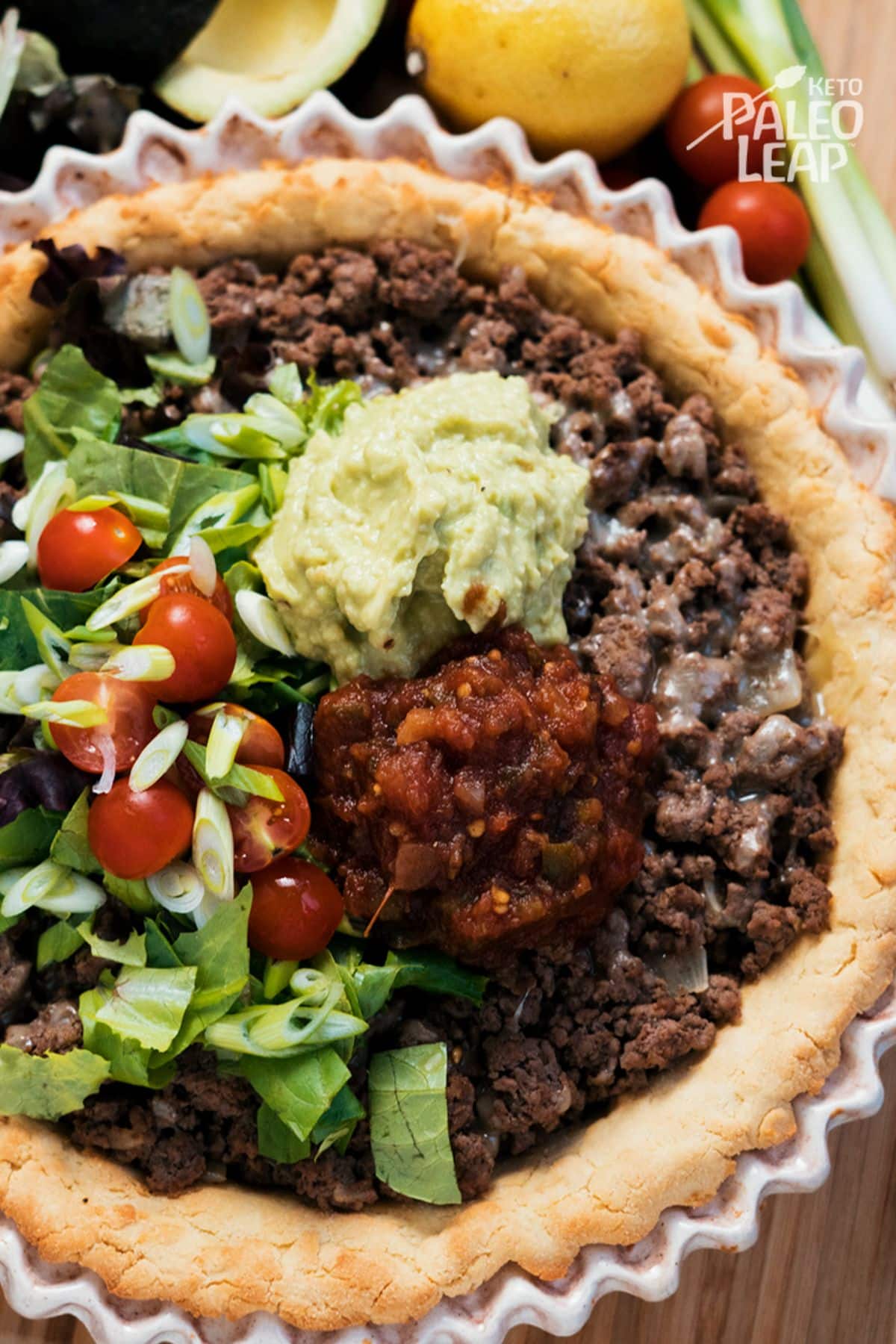 A nourishing keto meal that is ridiculously simple to bake and tastes incredibly amazing too? Beef taco pie, that's what we are talking about today.
If you have never tried it before, get on it, because time passes too quickly not to enjoy the flavors that are packed into this mouthwatering pie. And the crust? One would hardly believe how amazing a gluten-free crust could (and should!) taste.
Before you get started, it is also good to know, that this meal is completely child-friendly. Serve it with a side of fresh sliced carrots, celery, and cucumber, and everyone will be over the moon - not to mention that they will get plenty of vegetables too.
The cheese gives it an extra kick of awesomeness, but if you are dairy-free, go ahead and try one of your favorite alternatives instead, or fully omit it.
No taco, or taco pie, is complete without a generous spoonful of homemade fiery salsa. Of course, the level of heat is dependent on how much you add to the jalapeño peppers. If it gets to be hotter than you can handle, you can always build up with some Paleo sour cream on top.
And be sure to have some fresh guacamole on hand; after all, avocados are likely to be a staple in your kitchen, so use them when they are good and ready - there is nothing better in the world than eating them with tacos!
Keto Taco Pie Recipe
Serves: 4 Prep: 20 min Cook: 40 min
Ingredients
1 lb. ground beef
1 yellow onion, diced
2 garlic cloves, minced
1 tbsp. chili powder
½ tbsp. paprika
1 tsp. ground cumin
½ cup cheddar cheese, shredded (optional)
1 bell pepper, diced
1 cup romaine lettuce, sliced
1 green onion, sliced
½ cup fresh salsa
½ cup guacamole
2 tbsp. cooking fat
Sea salt and freshly ground black pepper
Pie Crust Ingredients
1 cup almond flour
½ cup coconut flour
2 tbsp. tapioca starch
½ cup coconut oil or ghee, room temperature
1 egg, beaten
1 tsp. sea salt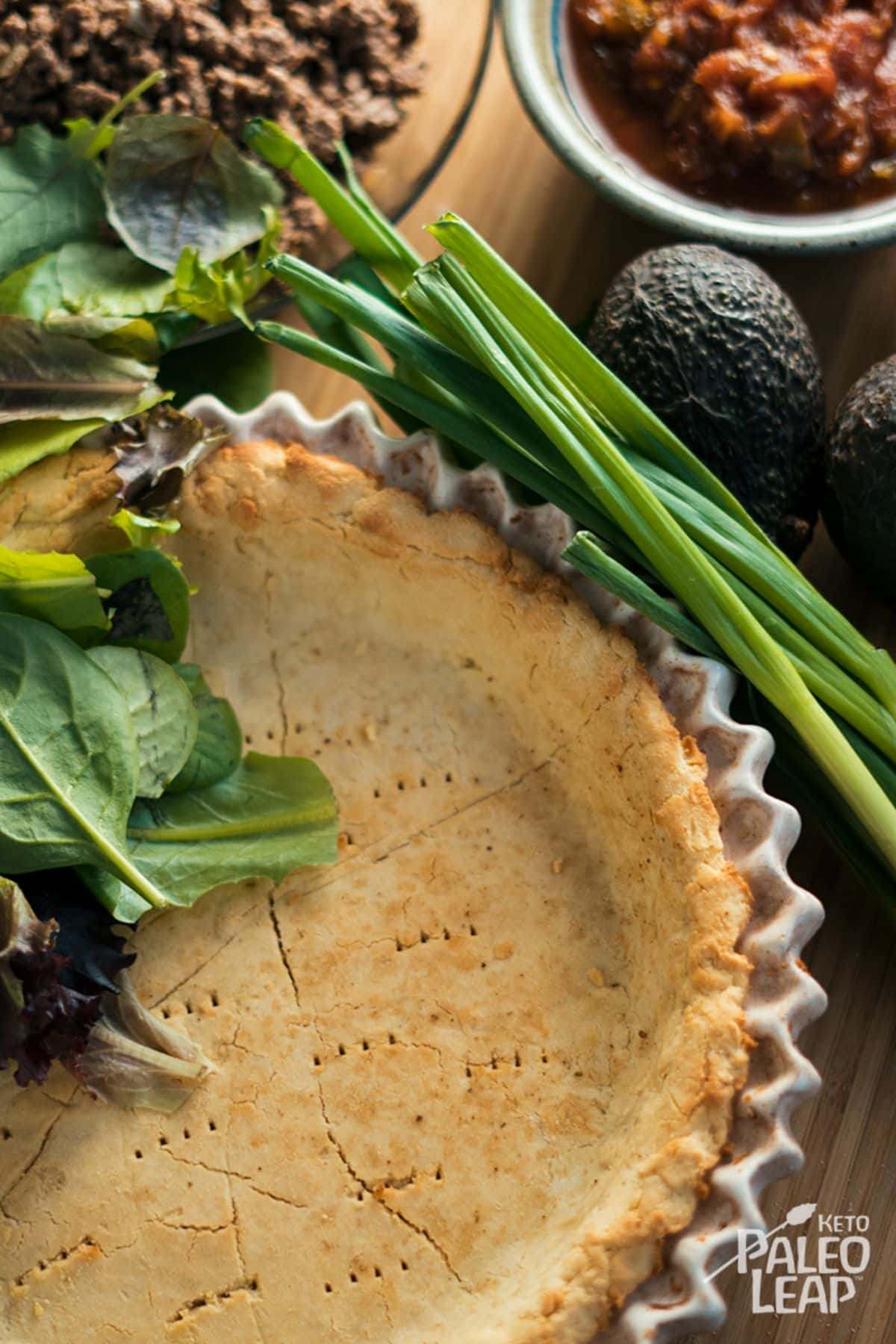 Preparation
Preheat oven to 375 F.
Place almond flour, coconut flour, tapioca starch, and salt in a food processor and pulse briefly.
Add coconut oil or ghee and egg, and pulse gently until the mixture forms a ball.
Place the dough into a 9-inch glass pie dish and press all the way to the edges; make holes with a fork on the base of the dough.
Bake in the preheated oven for 12 to 15 minutes.
Melt cooking fat in a skillet over medium-high heat and cook garlic and onion for 1 to 2 minutes.
Add the ground beef and cook until browned, 5 to 6 minutes.
Sprinkle the chili powder, paprika, and cumin over the meat; season to taste.
Top the pie crust with ground beef and shredded cheese.
Place in the oven and bake for 12 to 15 minutes.
Serve the pie topped with bell pepper, green onion, lettuce, tomato, fresh salsa, and guacamole.
📖 Recipe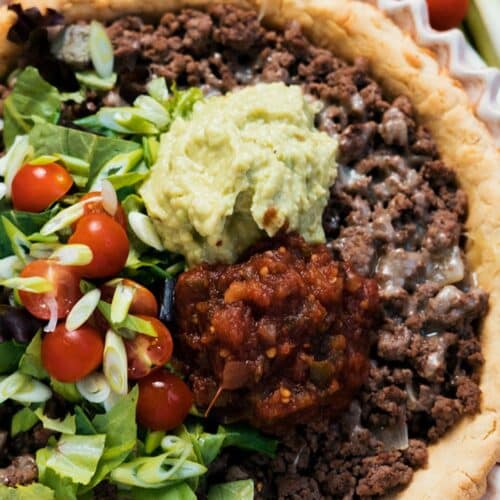 Keto Taco Pie Recipe
Imagine a scrumptious dinner with all the flavors of Mexican cooking in a keto taco pie, complete with all the toppings: Paleo sour cream, fiery salsa, and fresh guacamole.
Ingredients
1

lb.

ground beef

1

yellow onion

diced

2

garlic cloves

minced

1

tbsp.

chili powder

½

tbsp.

paprika

1

tsp.

ground cumin

½

cup

cheddar cheese

shredded (optional)

1

bell pepper

diced

1

cup

romaine lettuce

sliced

1

green onion

sliced

½

cup

fresh salsa

½

cup

guacamole

2

tbsp.

cooking fat

Sea salt and freshly ground black pepper
Pie Crust Ingredients
1

cup

almond flour

½

cup

coconut flour

2

tbsp.

tapioca starch

½

cup

coconut oil or ghee

room temperature

1

egg

beaten

1

tsp.

sea salt
Instructions
Preheat oven to 375 F.

Place almond flour, coconut flour, tapioca starch, and salt in a food processor and pulse briefly.

1 cup almond flour,

½ cup coconut flour,

2 tbsp. tapioca starch,

1 tsp. sea salt

Add coconut oil or ghee and egg, and pulse gently until the mixture forms a ball.

½ cup coconut oil or ghee,

1 egg

Place the dough into a 9-inch glass pie dish and press all the way to the edges; make holes with a fork on the base of the dough.

Bake in the preheated oven for 12 to 15 minutes.

Melt cooking fat in a skillet over medium-high heat and cook garlic and onion for 1 to 2 minutes.

1 yellow onion,

2 tbsp. cooking fat,

2 garlic cloves

Add the ground beef and cook until browned, 5 to 6 minutes.

Sprinkle the chili powder, paprika, and cumin over the meat; season to taste.

1 tbsp. chili powder,

½ tbsp. paprika,

1 tsp. ground cumin,

Sea salt and freshly ground black pepper

Top the pie crust with ground beef and shredded cheese.

Place in the oven and bake for 12 to 15 minutes.

Serve the pie topped with bell pepper, green onion, lettuce, tomato, fresh salsa, and guacamole.

1 bell pepper,

1 cup romaine lettuce,

1 green onion,

½ cup fresh salsa,

½ cup guacamole
Nutrition
Calories:
1004
kcal
Carbohydrates:
35
g
Protein:
35
g
Fat:
85
g
Saturated Fat:
39
g
Polyunsaturated Fat:
7
g
Monounsaturated Fat:
18
g
Trans Fat:
1
g
Cholesterol:
136
mg
Sodium:
976
mg
Potassium:
852
mg
Fiber:
14
g
Sugar:
7
g
Vitamin A:
4409
IU
Vitamin C:
45
mg
Calcium:
244
mg
Iron:
6
mg