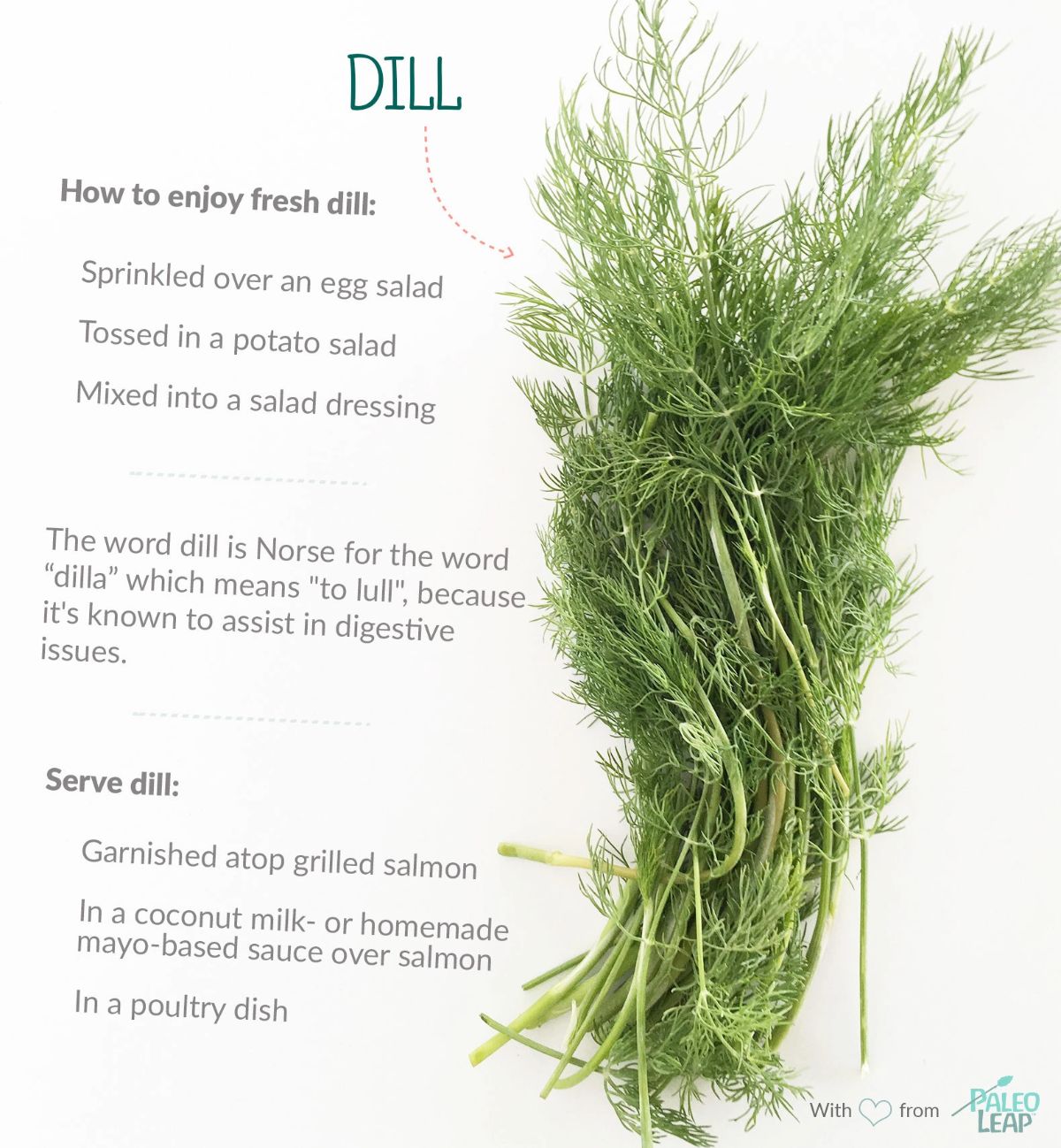 Fresh dill adds a vibrant, clean taste to various dishes and cuts of meat. Dill is slightly sweet and bitter and pairs well with egg and potato salad dishes. The word dill is from the Norse word "dilla" which means "to lull" because it's known to assist in digestive issues.
Nutrition Details
Macros in Context
Here's how 1 cup of dill stacks up in the context of a typical Paleo meal:
Blue bars show the typical range in grams for a Paleo meal. For example, a Paleo meal usually includes 30-60 grams of fat, but where you personally fall in that range will depend on your preference.
Orange dots show how 1 cup of dill fits into the typical nutrient profile of a Paleo meal.

Buy It
FRESH: Fresh dill is fragrant, wispy and bright green in color. Fresh dill will only keep for a few days in the refrigerator, so use it quickly!
DRIED: Dried dill is not quite as flavorful as fresh dill, but will keep in an airtight container for many months.
STORAGE: Having trouble using all your fresh dill? Freeze-dried dill retains much of it's flavor, and can be used months later.
Cook It
SAUCE
Combine dill with coconut yogurt or homemade mayo to create a sauce to serve alongside fish or chicken.
GARNISH
Dill pairs well with fish; garnish atop salmon.
SALAD
Pinch a bit of fresh dill into your scrambled eggs or your favorite egg salad recipe.
POTATO
Dill adds freshness to dishes; use fresh dill in a creamy potato salad.
Recipe Ideas