Balsamic vinegar with maple syrup isn't the most obvious flavor combination, but drizzled over pan-seared salmon fillets and topped off with some well-chosen herbs, it totally works.
The vinegar adds brightness and pep, while the maple syrup provides a distinctive sweetness that balances out the "bite."
You could make the recipe without the maple syrup in the glaze, but I'd recommend using it: without the mellowing effect of the sweetness, the taste of the vinegar gets pretty strong.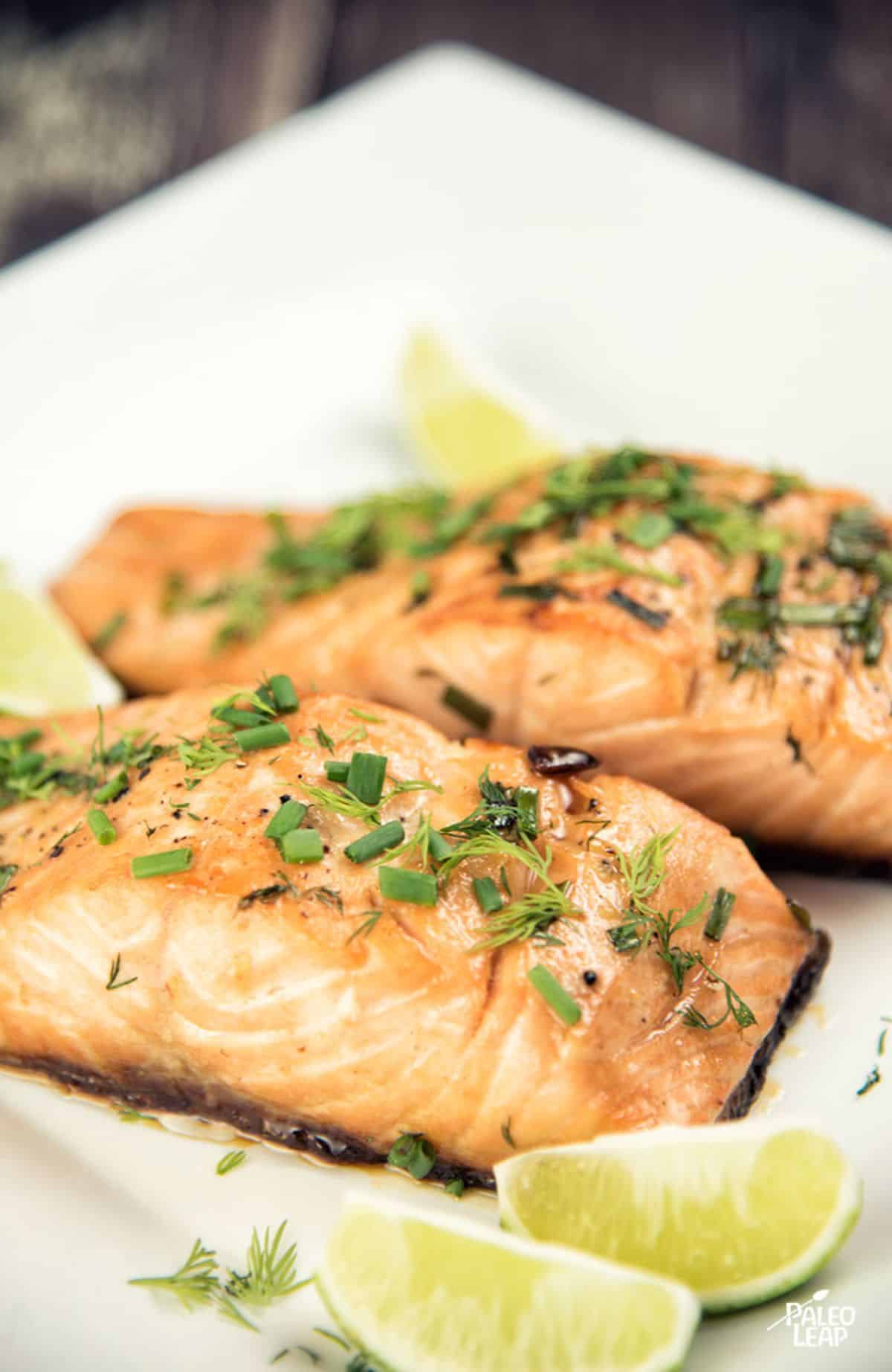 Alternately, you could also use honey in place of the maple syrup: the flavor will be a little different, but it'll still give you that sweet contrast to enhance the flavor.
As always with salmon, make sure to choose wild-caught fish from sustainable fisheries – if you're living in the USA, wild Alaskan salmon is probably best. Wild-caught fish is much more nutritious, especially when it comes to Vitamin D, and voting with your dollar for sustainable seafood is just the right thing to do.
This salmon would be perfect with grilled or roasted asparagus (you could also top that with any extra glaze). If you're lucky enough to be getting seasonal spring produce already, this is also great protein to go with almost any young greens. Or just try it with your favorite fresh leafy salad and enjoy!
Maple Salmon With Chives and Dill Recipe
SERVES: 4 PREP: 15 min COOK: 12 min
Ingredients
4 salmon filets, 6 oz. each
2 tbsp. chives, minced
2 tbsp. dill, minced
⅓ cup maple syrup
3 tbsp. white balsamic vinegar
Lime wedges
Sea salt and freshly ground black pepper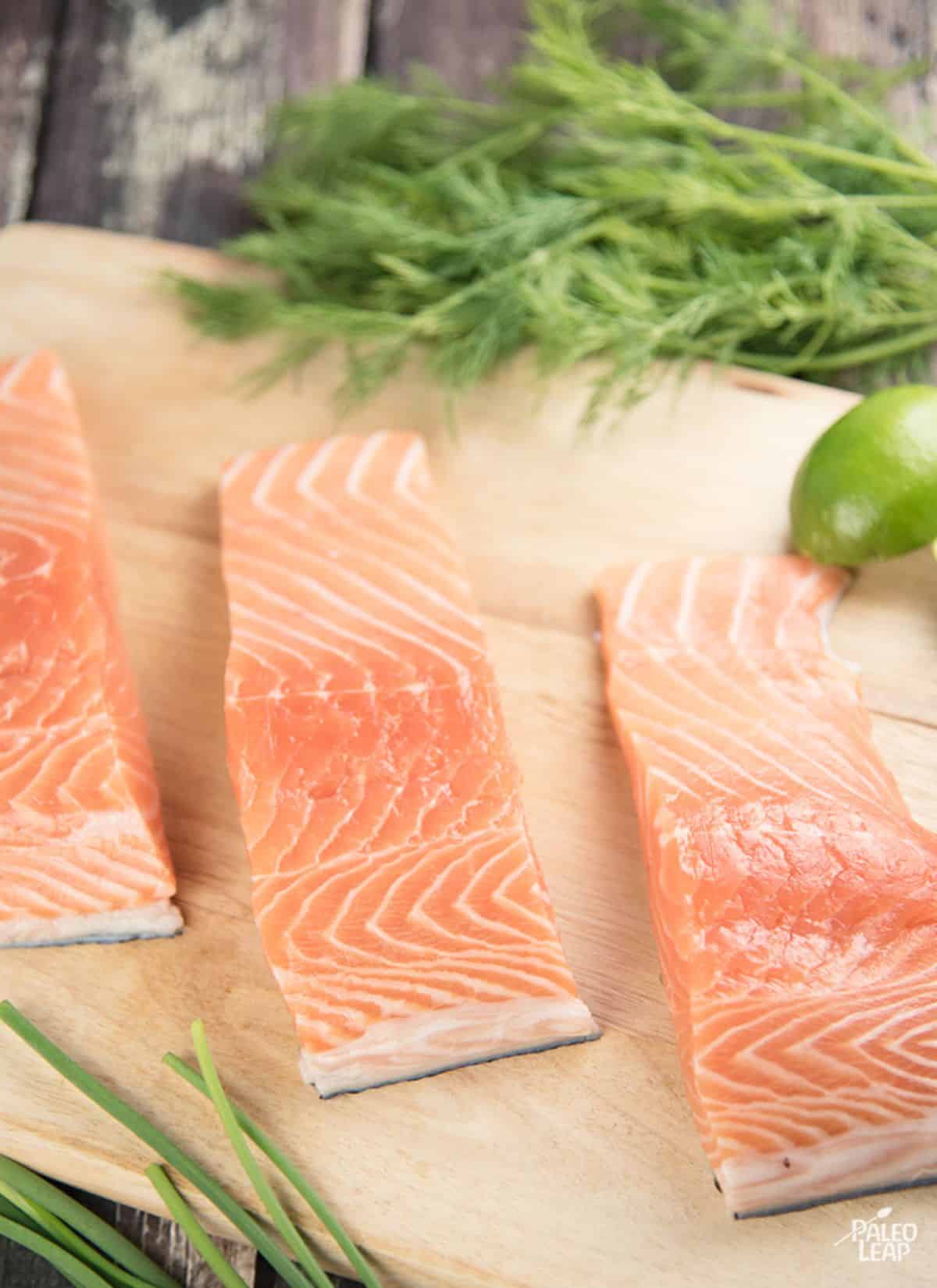 Preparation
Melt some cooking fat in a skillet placed over medium-high heat.
Season the fish with sea salt and freshly ground black pepper.
Cook the fish filets in the skillet, skin side down, for 2 to 3 minutes. Cover and cook for an additional 5 to 6 minutes.
Add the maple syrup and balsamic vinegar to the skillet and cook for another 2 to 3 minutes, basting the fish continuously with the sauce for the remaining cooking time.
Sprinkle the minced chives and dill over the filets and serve with lime wedges.
📖 Recipe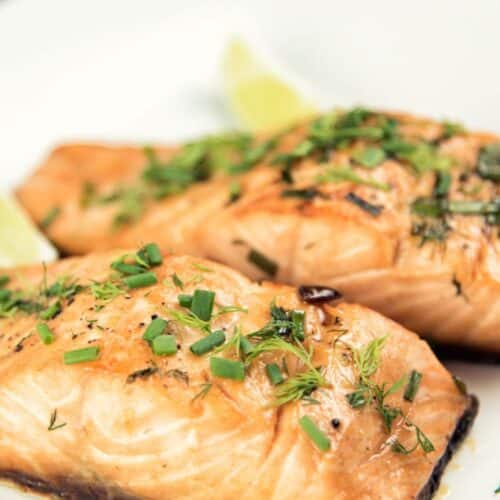 Maple Salmon With Chives and Dill Recipe
Pan-seared salmon with a sweet-tangy glaze and a sprinkling of fresh herbs.
Ingredients
4

salmon filets

6 oz. each

2

tbsp.

chives

minced

2

tbsp.

dill

minced

⅓

cup

maple syrup

3

tbsp.

white balsamic vinegar

Cooking fat
Instructions
Melt some cooking fat in a skillet placed over medium-high heat.

Season the fish with sea salt and freshly ground black pepper.

Sea salt and freshly ground black pepper,

4 salmon filets

Cook the fish filets in the skillet, skin side down, for 2 to 3 minutes. Cover and cook for an additional 5 to 6 minutes.

Add the maple syrup and balsamic vinegar to the skillet and cook for another 2 to 3 minutes, basting the fish continuously with the sauce for the remaining cooking time.

⅓ cup maple syrup,

3 tbsp. white balsamic vinegar

Sprinkle the minced chives and dill over the filets and serve with lime wedges.

2 tbsp. chives,

2 tbsp. dill,

Lime wedges
Nutrition
Calories:
290
kcal
Carbohydrates:
12
g
Protein:
34
g
Fat:
11
g
Saturated Fat:
2
g
Polyunsaturated Fat:
4
g
Monounsaturated Fat:
4
g
Cholesterol:
94
mg
Sodium:
118
mg
Potassium:
922
mg
Fiber:
0.3
g
Sugar:
8
g
Vitamin A:
960
IU
Vitamin C:
11
mg
Calcium:
48
mg
Iron:
2
mg