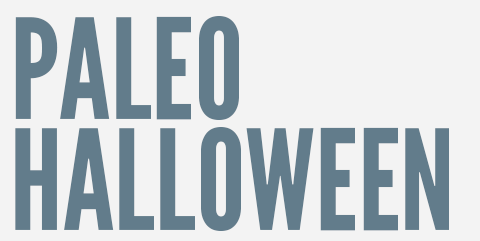 Halloween is at the door again and all the little monsters and witches will be heading down the streets gathering bags of sugar, one of the culprits of all modern diseases. I don't know what strategy you'll use with your children and whether you'll allow all that sugar consumption as a yearly cheat or not, but there are certainly strategies to employ to feed great and healthy food to your family without losing the fun and creepy factors of Halloween.
Halloween is a fall feast and this is the reason why the pumpkin is so strongly associated with that tradition. In fact, in most regions of North America, fall is the season of all sorts of squashes like the pumpkin, butternut squash and acorn squash.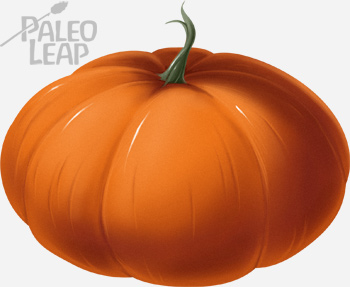 This year, instead of carving great and scary faces in pumpkins and getting rid of the flesh and seeds, why not use them to prepare some of the most delicious recipes. The pumpkin is a source of natural carbohydrate that's very versatile and can be used for soups, stews, curries, salads or just about any kind of preparation you wish to make. The flesh is high in potassium, vitamin C and beta-carotene mainly. The seeds of the pumpkin are high in omega-6 fats, which makes them better suited as an occasional snack than a staple, but they are also a great source of many vitamins and minerals. For example, pumpkin seeds, also often called pepitas, are one of the best sources of magnesium, a mineral that's lacking in almost everybody's diet, even those who follow a Paleo diet. In fact, only ½ cup raw pepitas contains about 370mg of magnesium, 92% of the recommended daily allowance. Other than magnesium, pumpkin seeds are also loaded with manganese, copper, zinc, iron, phosphorus and vitamin K.
Of course, Halloween is not only the occasion to use pumpkins extensively in your recipes, but also a great way to use the theme and prepare colorful and creepy creations. This will not only entertain the whole family, but will also feed the children with great food, leaving less room for sugary abominations.
Treats are not out of the question in Paleo world and some of the recipes presented here, like the dark chocolate covered bacon, can be a very healthy treat for kids and adults alike when using good quality dark chocolate. Other treats like the bacon wrapped sausage fingers can be very unhealthy by the general population because of all the saturated fat, but we know very well in this case that when using good quality sausages and bacon coming from well-treated animals it becomes a real health food. They will make your little monsters salivate and you will be feeding them healthy saturated fat and proteins.
Now don't lose another minute, get in the kitchen and start crafting one or more of the following 9 great Paleo Halloween recipes.

A Paleo Halloween
Jump to:

Halloween Soups
Pumpkin soup (serves 4)
This is a classic and simple pumpkin soup making use of delicious pumpkin, sweet potatoes, fresh stock and a bit of coconut milk or heavy cream. Don't get fooled by the simplicity of this soup, because it doesn't lack in taste.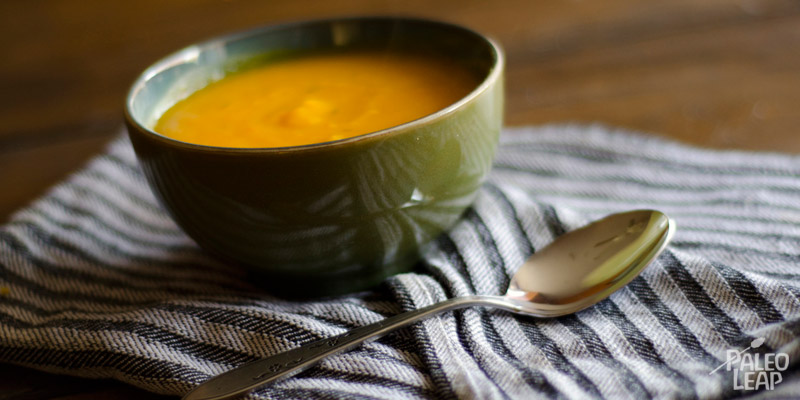 Ingredients
2 tablespoon butter (ghee), coconut oil, lard or tallow;
1 onion, chopped;
1 garlic clove, minced;
1 ½ lb pumpkin flesh, chopped roughly;
2 medium sweet potatoes, peeled and roughly chopped;
4 cups fresh chicken or beef stock;
1 cup full-fat coconut milk or heavy pastured cream;
Technique
Heat a large pot, melt the cooking oil and cook the onion until soft. Add the garlic and cook for another minute, until fragrant.
Add the chopped pumpkin and sweet potatoes and cook for several minutes.
Add the stock, season with salt and pepper, bring to a boil and let simmer for about 25 minutes, until the flesh of the pumpkin and sweet potatoes is tender.
Stir the coconut milk or cream in and use your blender to blend, in batches, to the consistency of a purée.
If necessary, put the soup back in the pot to reheat before serving.
A dash of nutmeg and cinnamon are nice spices to use in this soup if you have them on hand.
Serve with an extra dash of coconut milk or cream swirled on top of each bowl.

Bloody beet soup (serves 4)
This soup is not only very different than most soups we're used to eating, but it's a red that's so vibrant that it really resembles blood and goes very well with the Halloween theme. This recipe is also a very simple and quick one.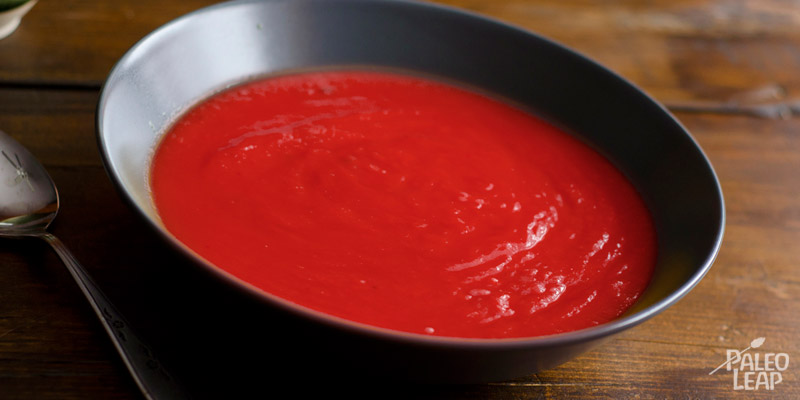 Ingredients
3 tablespoon butter (ghee), coconut oil, lard or tallow;
1 onion, chopped;
1 garlic clove, minced;
6 medium beets, peeled and chopped;
2 cups fresh chicken or beef stock;
Full-fat coconut milk or heavy pastured cream for garnish;
Technique
Heat the fat in a large sauce pan and cook the onion and garlic for about 5 minutes, until soft. Add the chopped beets and cook for another minute.
Stir the stock in, optionally season with freshly ground black pepper and sea salt and bring to a boil. Reduce to a simmer and let simmer for about 25 minutes, until the beet cubes are tender.
With a blender or food processor work in batches and process to the consistency of a purée.
Serve in bowls and swirl a bit of coconut milk or heavy cream on top of the bowls if desired.

Creepy green soup (serves 4)
This soup mimics a creepy potion only a witch could prepare, but is in reality a cold green soup featuring cucumbers, spinach, asparagus, green onions, avocados, mint and lemon juice. For this soup, no need for your pots and pans because a blender or food processor is all it takes. This soup is normally quite light, but the addition of an avocado adds a little bit if welcomed richness.
Ingredients
½ lb asparagus, cut into 2 inch pieces;
¼ lb spinach, stems removed;
4 green onions, chopped;
1 avocado;
1 large cucumber peeled and chopped;
¼ cup fresh mint leaves;
2 tablespoon lemon juice;
2 cups cold water;
Technique
Puree the asparagus in a blender with ½ cup of the water until smooth.
Add the cucumber, green onions, spinach and another ½ cup of the water. Blend again to a puree. Add the avocado, mint and lemon juice and repeat the blending process with the remaining water.
Season with freshly ground black pepper and sea salt and blend some more.
Serve immediately, also with a dash of coconut milk or heavy cream on top, if desired.

Halloween Snacks
Mummy fingers (Bacon wrapped sausages)
This is a simple and effective snack idea that the kids will love and, contrary to popular belief, bacon and pork sausages can be really healthy, especially when buying the good kind from your butcher or local farmer that comes from a well-fed and well-treated animal. This snack is ready in no time so it's an ideal one to make when you're short on time. The bacon around the sausages gives the impression of the fingers of a mummy, perfect for Halloween.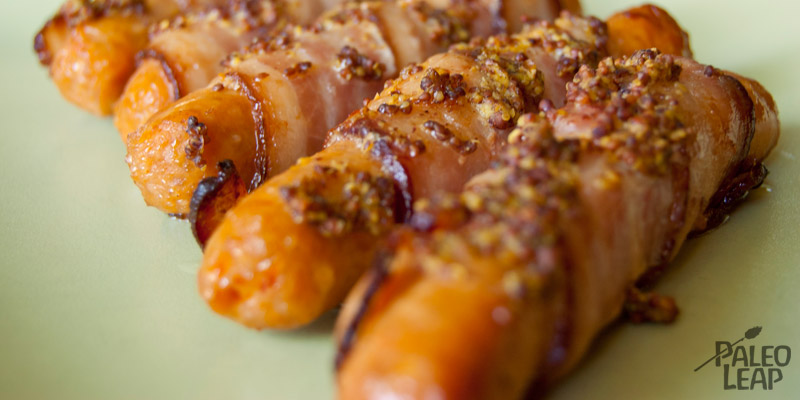 Ingredients
12 slices good quality bacon;
12 good quality breakfast pork sausages;
2 tablespoon good quality Dijon mustard, optional;
Homemade salsa, mayonnaise, baba ghanoush or guacamole to dip;
Technique
Preheat your oven to 375 F and wrap each slice of bacon around a sausage and place on a backing tray.
Cook for 15 minutes and turn once during the cooking process.
If using the mustard, remove the bacon wrapped sausages from oven and brush all over with the mustard.
Mustard or not, return to the oven for another 10 to 15 minutes, until well cooked.
Cool for 5 minutes and serve. You can also put the sausages on wooden skewers so the sausage fingers don't leave your kid's fingers too greasy and sticky.
Serve with your favorite homemade Paleo dip. A garlic flavored mayonnaise goes really well with this snack.

Chocolate covered bacon
This is an absolutely fabulous snack that will make any non-Paleo dieter jealous and wonder how you can eat this while being so healthy. The trick to keeping it a healthy snack is to use good quality dark chocolate with at least 70% cocoa solids. The darker the better. Dark chocolate is bitter, but the bitterness is cut by the melted butter that is added to it as well as the saltiness of the bacon. Those chocolate covered bacon slices won't stay in the tray for very long, I'm telling you, this recipe is bound to be even more popular to the kids than the candies they bring back on Halloween day.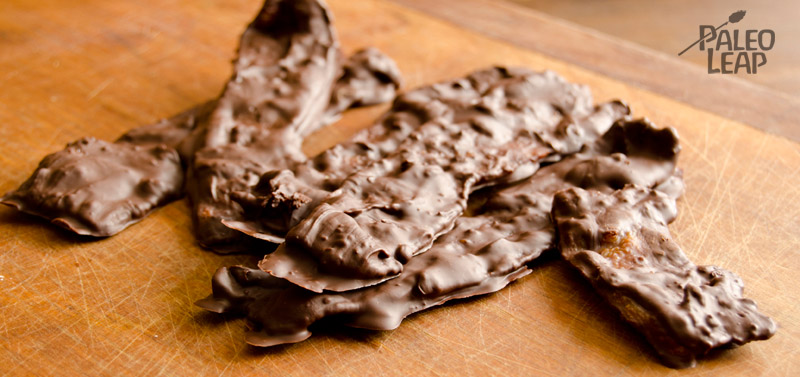 Ingredients
2 lb thickly sliced bacon;
1 lb good quality dark chocolate;
4 tablespoon butter or ghee;
Technique
Heat a large pan over medium high heat and fry the bacon in a large pan until crisp. Fry in batches if your pan is too small to contain all the bacon slices at once.
Remove bacon from the pan and dry with a paper towel. Keep the rendered bacon grease for future cooking.
Melt the chocolate in a pot with the butter or ghee slowly so it doesn't burn.
Using tongs, dip the bacon slices in the chocolate, either on one half of the slices or on the whole slice.
Place the chocolate dipped bacon on a cooling rack placed over foil or parchment paper.
Let cool in the refrigerator for about 2 hours, until the chocolate has hardened.
Cut the bacon slices in bite sized pieces, if desired.
Serve right away or store in a container in the refrigerator.

Spicy pumpkin seeds
Like I mentioned previously, pumpkin seeds are loaded with vitamins and minerals, but also with polyunsaturated omega-6 fats. Those fats are very fragile and can go rancid quite quickly. Seeds prepared this way should be kept in a air-tight container in the refrigerator and eaten in less than a week. This is also a nice snack kids will like and is very quick to prepare. It's a great way to eat the seeds you'll get when carving the Halloween pumpkins. In this case, simple rinse and dry the seeds before using them.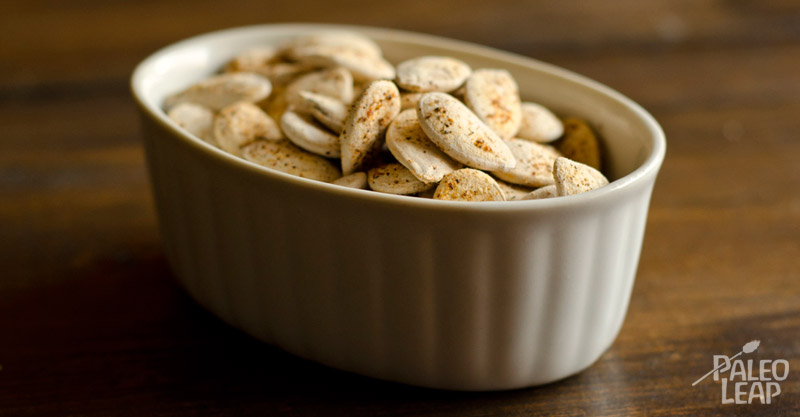 Ingredients
3 cups raw pumpkin seeds (pepitas);
2 tablespoon butter, ghee or coconut oil, melted;
1 ½ tablespoon chili powder;
1 tablespoon sea salt;
1 teaspoon cayenne pepper;
Technique
Preheat your oven to 350 F.
In a bowl, toss the pumpkin seeds with the melted oil, chili powder, sea salt and cayenne pepper.
Spread on a baking sheet and bake for about 10 minutes.
Let cool and serve or store in the refrigerator in an air-tight container. Most recipes call for a liquid vegetable oil, but the butter or coconut oil will harden when chilled in the refrigerator, giving the seeds another texture, but leaving them absolutely delicious.

The pumpkin
Chicken in a pumpkin
This is a special one because a whole chicken is cooked inside the cavity of a pumpkin. It's perfect as the main Halloween course and gives out the impression of eating a chicken that grew inside a pumpkin. It's not much more complicated to prepare than your regular roasted chicken and the only trick is to get a pumpkin that will be large enough to contain the whole chicken. This recipe will definitely surprise your guests when you bring the cooked pumpkin to the center of the table and remove the top to expose a roasted chicken. The pumpkin will become really soft during the cooking process and juice can leak so place it in the oven on a shallow baking tray.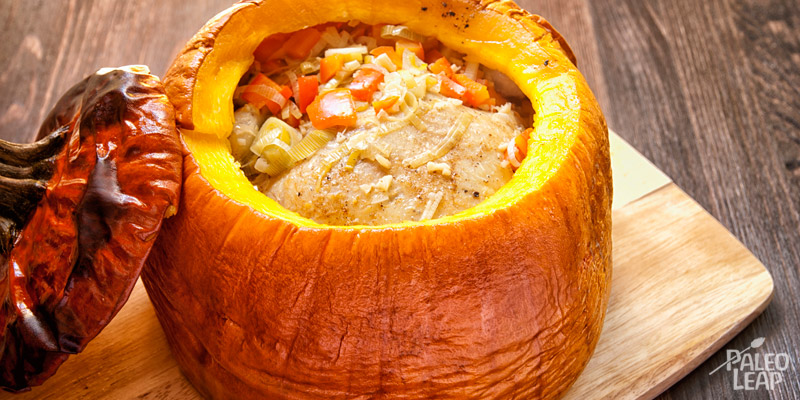 Ingredients
1 large pumpkin, about 12 inch of diameter;
1 chicken, about 4 pounds;
2 tablespoon butter, lard, tallow, duck fat or coconut oil;
1 leek, finely chopped;
1 red bell pepper, diced;
2 garlic cloves, chopped;
1 teaspoon dried herbes de Provence, optional;
½ teaspoon ground nutmeg, optional;
Freshly ground black pepper and sea salt to taste;
Technique
Place the oven grill at the bottom position and preheat your oven to 375 F.
Remove the top of the pumpkin with a knife, making an opening large enough to fit the chicken. Leave the stem intact. Remove the seeds until the interior is smooth and season the cavity generously with salt and pepper. Place the pumpkin in a shallow baking dish.
Brown the chicken on all sides in a pan with the cooking fat and place inside the pumpkin, breast side up.
In the same pan with added cooking fat if desired, soften the other vegetables (leeks, bell pepper and garlic) for about 4 or 5 minutes. Add the nutmeg and herbes de Provence near the end, if using.
Pour the cooked vegetables with all the cooking fat on top of the chicken inside the pumpkin.
Replace the lid and put some aluminium foil around the stem and the cut portion to keep steam from escaping.
Oil the top of the pumpkin with a bit of melted cooking fat and place in the oven to cook for about 2 hour 40 minutes, until the chicken is well cooked.
Serve at the center of the table to an amazed audience. The cooked pumpkin flesh is delicious when served with a generous amount of lard, coconut oil or melted butter.

Pumpkin salad (Serves 6)
This is a great and simple autumn salad. You can use butternut squash instead of pumpkin if desired. Roasting the squash or pumpkin beforehand gives it a nice sweet flavor that contrasts very well with the peppery arugula.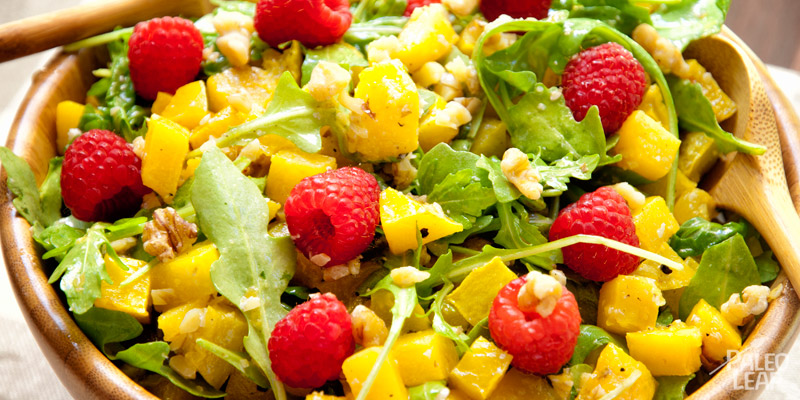 Ingredients
5 cups pumpkin flesh or butternut squash, cut in ½ inch cubes;
2 tablespoon lard, duck fat, coconut oil or butter;
2 tablespoon orange juice;
1 ½ tablespoon walnut or macadamia oil;
1 ½ teaspoon lemon juice;
½ cup chopped walnuts;
About 8 cups lightly packed arugula;
½ cup blueberries or raspberries;
Technique
Preheat your oven to 450 F.
Melt the cooking fat and toss with the pumpkin or butternut squash cubes with some salt and pepper.
Place on a baking sheet and roast for about 15 minutes. Turn the cubes over and roast for another 15 minutes, until soft.
Let the pumpkin or squash stand at room temperature to cool.
Whisk the orange juice, walnut or macadamia oil and lemon juice in a bowl and add the walnuts and arugula and stir to coat with the vinaigrette. Season again with salt and pepper.
Add the roasted pumpkin and berries and toss gently.
Serve as as delicious entrée to the main Halloween course.

Pumpkin and beef Texas chili
A very strong flavored, hot and filling dish perfect for the colder times that are coming. A dish like that is at the essence of what comfort food is. Of course, in the spirit of a Paleo diet, we leave out the beans in this Texan chili recipe, focusing instead on the flavors of the beef, pumpkin and tomatoes.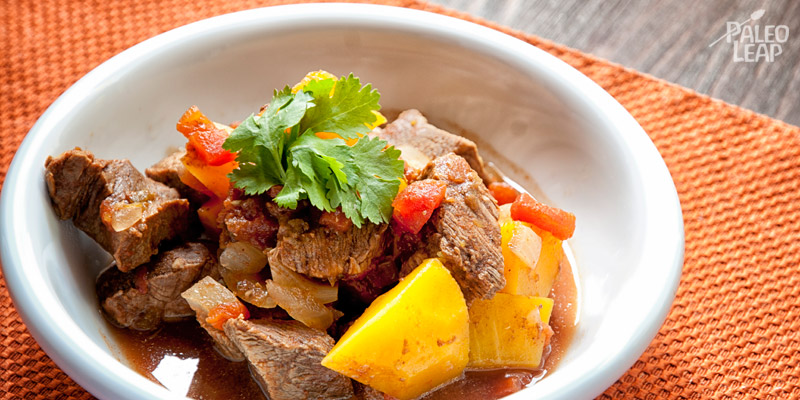 Ingredients
6 large chilies of your favorite kind;
1 cup diced bacon;
4 cups chopped onions;
5 lbs stewing beef, cut into 3 inch cubes;
6 garlic cloves, peeled;
2 tablespoon chili powder;
2 teaspoon cumin seeds;
1 teaspoon dried oregano;
1 teaspoon ground coriander;
1 ½ teaspoon sea salt;
2 cans roasted and diced tomatoes (yielding about 3 cups);
1 ½ cups beef stock;
½ cup finely chopped fresh cilantro stems (keeping the leaves for garnish);
4 cups pumpkin cut into 2 inch cubes;
Technique
Place the chilies in a bowl, cover with boiling water and let soak for a minimum of 30 minutes.
Preheat your oven to 350 F.
Sauté the bacon in an oven proof pot until it begins to brown. Add the onions and cook until tender, about 5 minutes. Add the beef to the pot, season generously with salt and pepper and stir to coat everything well. Set the pot aside.
Drain the chilies and reserve the soaking liquid. Place the chilies in a blender with 1 cup of the soaking liquid, the garlic, chili powder, cumin seeds, oregano, coriander and the sea salt. Blend to a puree and add more of the soaking liquid if the puree is too thick.
Add the chili puree to the pot with the beef, tomatoes, stock, and cilantro stems. Stir well to coat.
Bring the whole pot to a simmer and then cover and put in the oven to cook for about 2 hours.
Uncover and cook for another hour, until beef is almost fork tender.
Add the pumpkin and stir well. Roast again uncovered for about 45 minutes, until pumpkin is soft, adding some of the soaking liquid if the meat becomes uncovered.
Season with salt and pepper and serve with garnishes like cilantro leaves, mint leaves, chopped red onion or diced avocado.