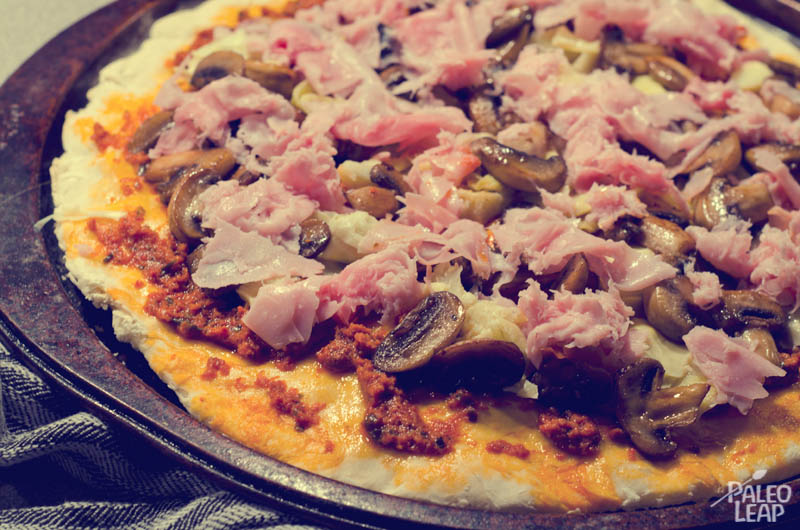 This is the best dish to make for any one of the following reasons and then some: a craving for that missed comfort food, a lazy Sunday afternoon, a party where pleasing people and serving healthy food becomes a challenge, a long day at work with little time left for dinner or if you're in need of an idea for a quick and easy lunch. I guess I have left out one reason, perhaps the most obvious being that you just feel like pizza. The nice thing about making pizza is that you really just need to find a delicious crust recipe and then you are free to do whatever you like with the toppings. In other words, you can let your creativity do the rest.
A well known variation of the regular pizza that's often found in Paleo circles is the meatza, where the crust is made out of ground beef instead of a regular dough. Meatza is great and healthy and a great meatza recipe can be found in the cookbook, but sometimes you just feel like having the original pizza, and the following recipe is about as close as it gets to it.
It took me a while to come across a good crust. I have tried many and I must say that the ones I dislike the most are the ones that require kneading a dough for a long time. I knew it had to be easier than this, I mean after all, pizza is supposed to be low-maintenance and easy to throw together.
As I previously said, you need a staple crust recipe and then you are on your own for getting creative with the toppings. Here I used a simple store-bought tomato pesto as the tomato sauce. I was lucky enough to find one with only good ingredients like fresh tomatoes, olive oil, garlic, seasonings and herbs, but you can just as easily make your own simple tomato sauce or use one of those found in the Paleo Recipe Book. I kept it simple and only added sun-dried tomatoes, artichoke hearts, mushrooms and some good quality shaved ham. I get a good quality ham from my local butcher, who prepares it without using any sugar or artificial ingredients. Precooked bacon, chicken or beef are also good choices of meat to add to the pizza. As far as vegetables go, olives and bell peppers are also great choices.
As I stated in my article about nuts and seeds, most of them should only be eaten in limited quantities to experience the most health benefits from a paleo diet. In the following recipe, almond meal is used as one of the main ingredients for the crust. This means that while this recipe is still healthy for most, it shouldn't be abused or become a staple meal of yours. Others also find that eating preparations that are too similar to their unhealthy classic version makes them fall back to their bad habits. Those people are oftentimes better off not trying to recreate their old and unhealthy favorites. Otherwise though, this recipe is still a great, delicious and absolutely non-toxic treat, unlike the regular pizzas made with unhealthy fats and wheat flour.
Paleo pizza recipe
Serves 4

Values are per portion. These are for information only & are not meant to be exact calculations.
Crust ingredients
½ cup coconut flour;
1 cup almond meal;
1 tsp baking powder;
2 tsp garlic powder;
4 eggs;
3 tbsp extra-virgin olive oil;
½ cup coconut milk;
Topping ingredients
A few tbsp tomato pesto or of your favorite tomato sauce;
8 sun-dried tomatoes, chopped;
3 artichoke hearts, chopped;
8 button mushrooms, sliced;
1 tbsp coconut oil, for cooking;
1/4 lb good quality cooked ham, shaved (amount depends on your preference);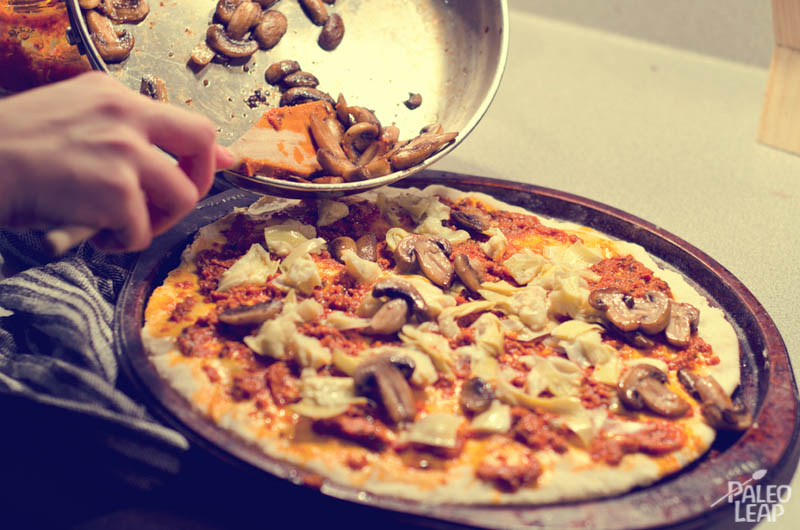 Preparation
Preheat your oven to 375 F.
Always begin your pizza making by preparing the crust. This is necessary for this recipe, as the crust requires some cooking time without the toppings.
In a large bowl, combine the coconut flour, almond meal, baking powder and garlic powder.
Using a whisk to eliminate any clumping, start mixing in the wet ingredients. I usually continue to whisk as I do this, because it helps prevent the dry ingredients from clumping. You will reach a point when your whisk becomes useless and your hands are necessary, generally when the mixture starts forming a batter.
The batter will seem quite soft and much different in texture than the usual pizza dough, but once cooked it will take the right form.
On a well greased and rimmed pizza pan, pour in the batter and spread it until it's covering the complete surface. It's important to use a rimmed pan so the batter doesn't spill off.
Throw just the crust in the oven and allow it to bake alone for 15-20 minutes.
Meanwhile, prepare all of your toppings so that you just have to put them on once the crust has baked.
For the mushrooms, simply heat a pan of a medium heat and cook the sliced mushrooms with the coconut oil for 3 to 4 minutes, until they are well-cooked.
Spread the sauce on the surface of the crust, as much or as little as you like. Sprinkle on the sun-dried tomatoes, artichokes and cooked mushrooms and then top with the ham.
With the oven still at 375 F, bake the whole pizza for another 10 or so minutes, just to allow the toppings to cook. And then that's it! Little prep, little cooking, a great pizza to enjoy with your family or friends!