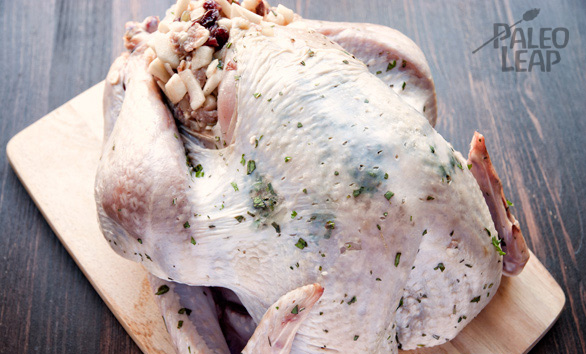 It's the time of the year again when families all around North America reunite and celebrate the autumn harvesting season with Thanksgiving. If you're hosting this year, it's the perfect time to show your guests what Paleo is all about and that healthy food is in fact also really tasty.
The stars around Thanksgiving are the meat and vegetables usually seen in North-America at this time of the year. Turkey, beef, sweet potatoes, pumpkins, cranberries, mushrooms and apples are all standard fare.
What I've decided to do here is create a complete menu including the main Thanksgiving turkey with the sauce, stuffing and cranberry sauce as well as juicy rib roast, appetizers, vegetable sides and even a classic dessert, the pumpkin pie, all in Paleo fashion.
Of course, simple olive, fruit and cheese platters are also welcomed by everybody to snack on, but the recipes included here will produce enough food to fill even the hungriest.
Some Thanksgiving recipes are already perfectly Paleo, but some needed to be adapted somewhat. The cranberry sauce presented here is a tarter version than the traditional one, but I think it's an even more interesting taste to contrast with the turkey and stuffing. The stuffing, for its part, is made out of lean ground beef instead of bread and is absolutely amazing and tasty. Be aware that some of your guests will probably want to steal your recipe. Finally, the pumpkin pie is made on a nut crust and is lightly sweetened with some honey instead of being a massive sugar vehicle.
I hope that you and your family will enjoy preparing and eating those delicious recipes and that your house will become the favorite place to have a Thanksgiving dinner for the whole family.

Paleo Thanksgiving menu