Some days only a salad will satisfy you. Make it a salad with fruit and bacon; yes, some fresh greens should be present too - and pretty soon, salads will be fun, explorative, and intriguing.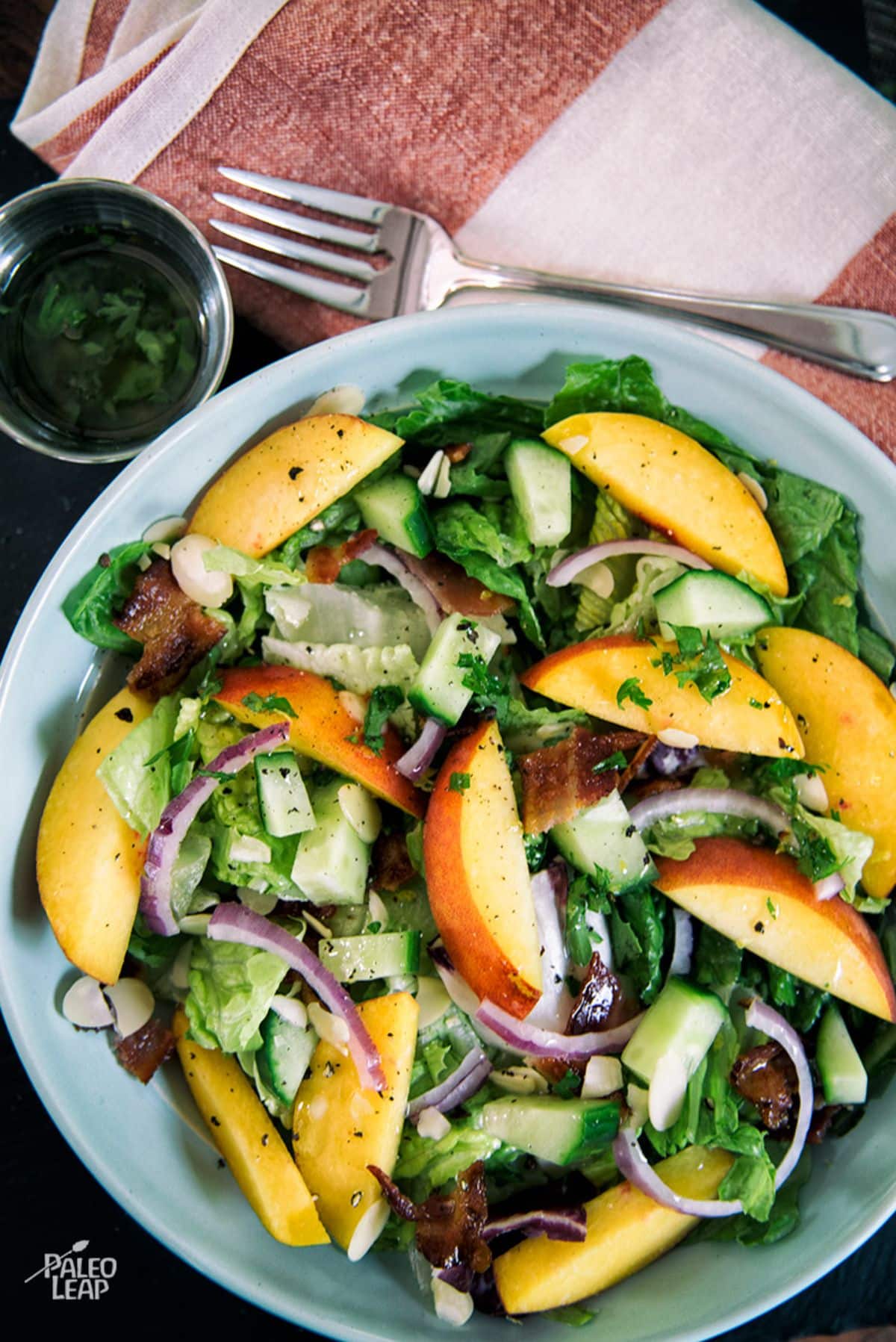 With millions of recipes and a plethora of ingredients to be bought/harvested/foraged, it will be hard to choose just one as a favorite, but we believe this recipe is a great start, particularly if you love peaches.
Peaches are nice in smoothies, crumbles, and sauces, yet they are lovely in a simple salad, nicely complementing the salty protein of pork origin, bacon. Peaches are a member of the rose family, as are apricots, almonds, and plums, and it is not just the fruit you can eat. The flowers are edible as well! You can sense them by their aroma, and you can recognize them by feeling too.
Covered in fuzz they are, but if you would like to remove the fuzzy skin, just follow this simple tip: bring a pot of water to boil, drop the entire peach in for 30 seconds, remove with a spoon, and place into an ice water bath, from there the peeling should be easy and accomplished without the use of a knife.
If you feel the need, or the craving, to add a skewer full of protein, then we suggest trying some Key West grilled chicken for the most sublime match.
Peach And Bacon Salad Recipe
Serves: 2 Prep: 20 min
Ingredients
4 cups romaine lettuce, chopped
½ cucumber, diced
½ red onion, thinly sliced
2 peaches, sliced
4 bacon slices, cooked and crumbled
¼ cup sliced almonds
Honey-Lemon Dressing
¼ cup extra virgin olive oil
¼ cup freshly squeezed lemon juice
½ tsp. fresh lemon zest
1 tbsp. raw honey
1 tbsp. fresh parsley, minced
Sea salt and freshly ground black pepper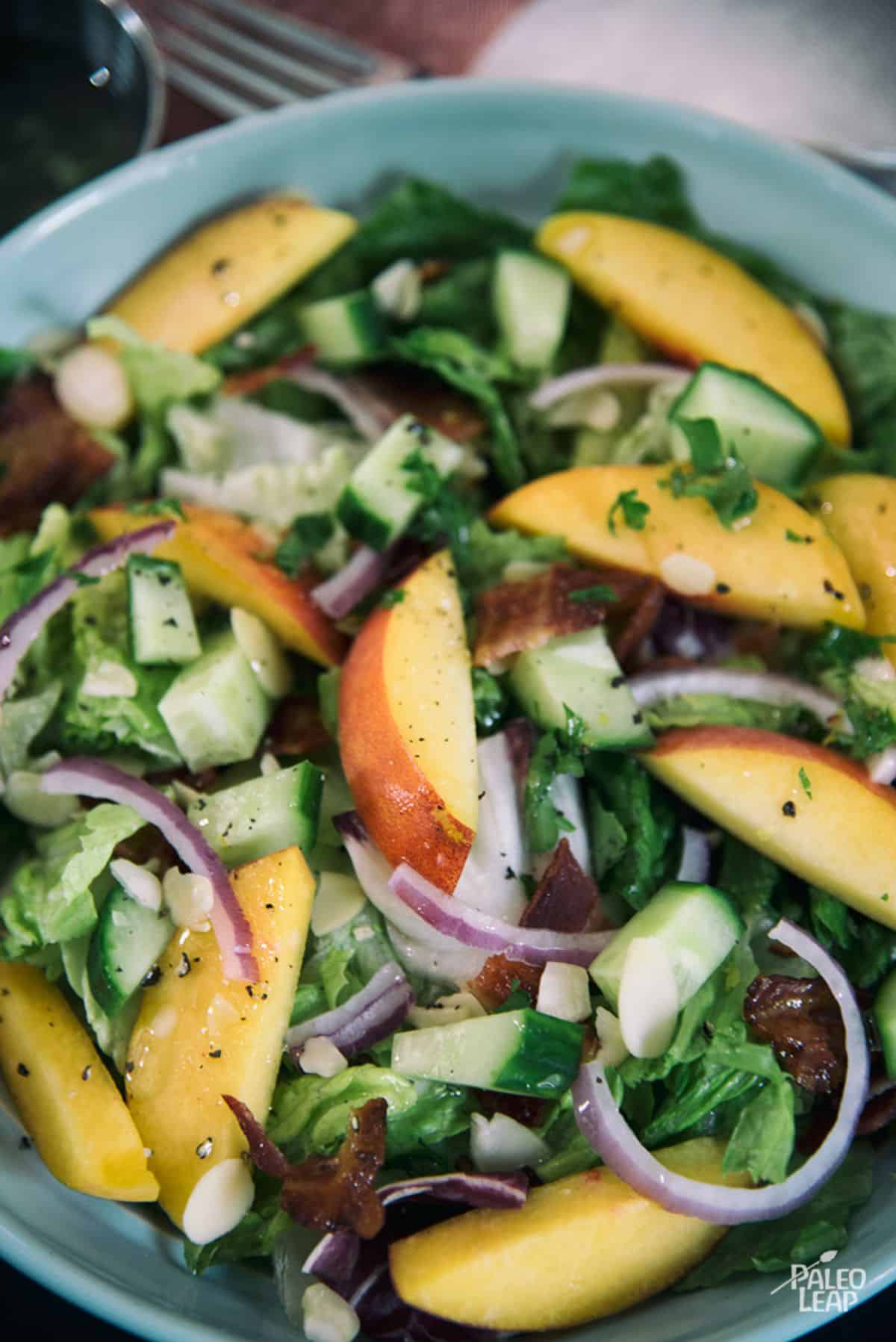 Preparation
Whisk together all of the ingredients for the dressing until well emulsified and season to taste.
In a bowl, combine the lettuce, cucumber, onion, peach, and fried bacon.
Drizzle the honey-lemon dressing over the salad and toss gently.
Adjust the seasoning and serve.
📖 Recipe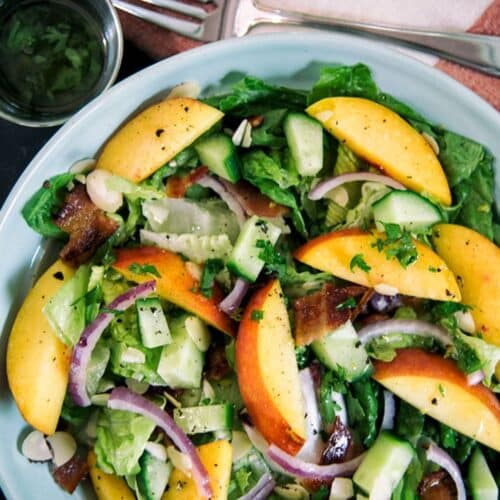 Peach And Bacon Salad Recipe
Love peaches and bacon? Pair them together in this surprisingly tasty salad with a homemade honey-lemon dressing that will make your co-workers envious.
Instructions
Whisk together all of the ingredients for the dressing until well emulsified and season to taste.

¼ cup sliced almonds,

¼ cup extra virgin olive oil,

¼ cup freshly squeezed lemon juice,

½ tsp. fresh lemon zest,

1 tbsp. raw honey,

1 tbsp. fresh parsley

In a bowl, combine the lettuce, cucumber, onion, peach, and fried bacon.

4 cups romaine lettuce,

½ cucumber,

½ red onion,

2 peaches,

4 bacon slices

Drizzle the honey-lemon dressing over the salad and toss gently.

Adjust the seasoning and serve.

Sea salt and freshly ground black pepper
Nutrition
Calories:
620
kcal
Carbohydrates:
34
g
Protein:
12
g
Fat:
51
g
Saturated Fat:
10
g
Polyunsaturated Fat:
7
g
Monounsaturated Fat:
31
g
Trans Fat:
0.1
g
Cholesterol:
29
mg
Sodium:
326
mg
Potassium:
807
mg
Fiber:
7
g
Sugar:
23
g
Vitamin A:
9372
IU
Vitamin C:
38
mg
Calcium:
101
mg
Iron:
3
mg