We wanted to prepare an easy lunch that would be a bit different, and this following creamy lobster salad ended up fitting the bill perfectly.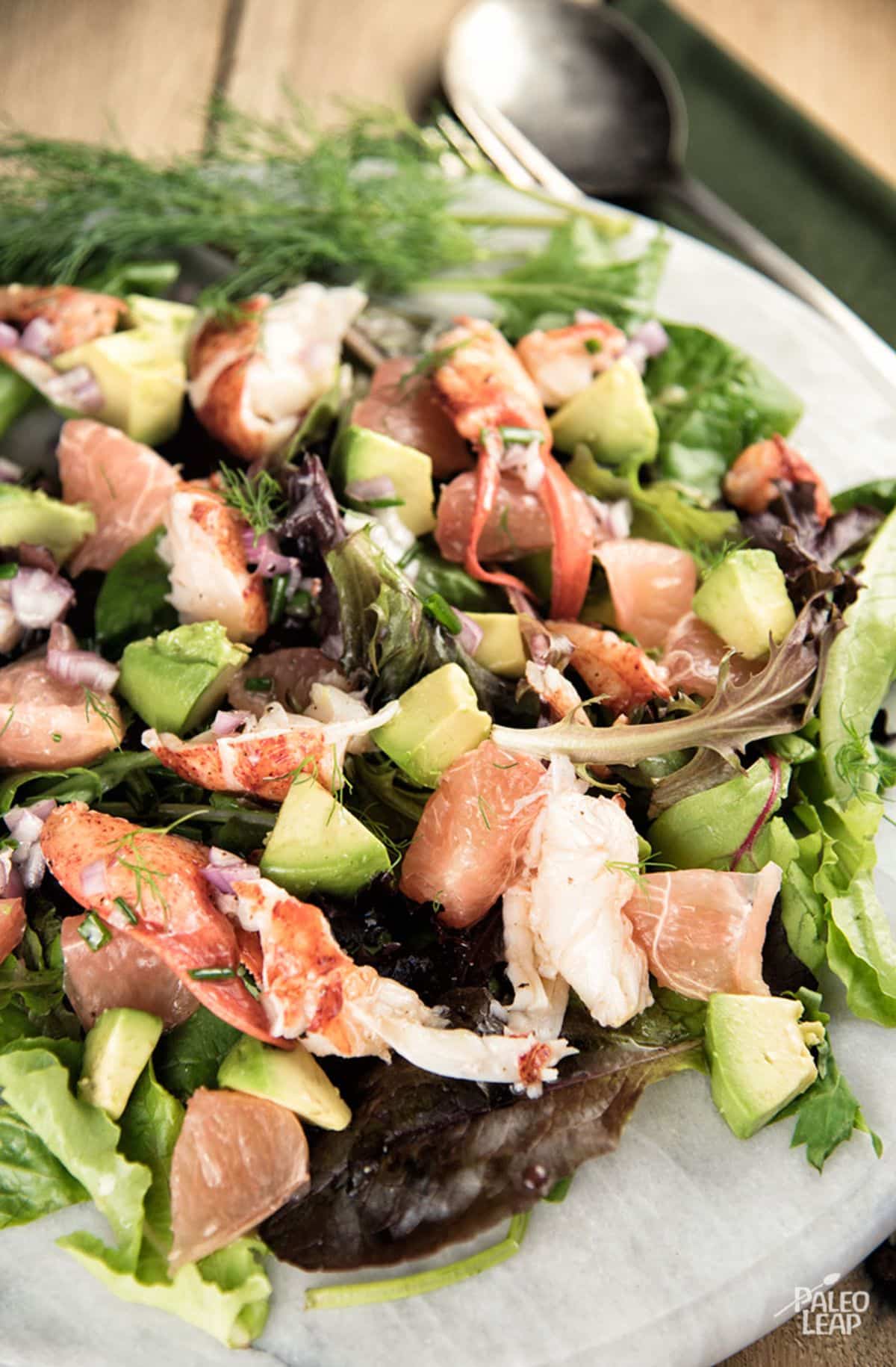 We went with lobster tails instead of cooking whole lobsters to save on preparation time and hassle. It ends up costing more to buy the tails only, but the convenience can often be worth it. They cook very quickly in salted boiling water and contain the most amount of easily usable flesh.
We kept the mayonnaise-based dressing simple for the salad, but you can always go ahead and add some extra kick to it with some homemade Sriracha or a few dashes of cayenne pepper.
And if lobster is not your thing or you simply can't have seafood, you can just as easily substitute for some cooked chicken.
For the side of taro chips, we wanted to explore a different and less common safe starch option. They ended up tasting absolutely delicious with a simple seasoning of sea salt and freshly cracked black pepper.
If taro roots are not available in your grocery store, any other root vegetable can do. Lotus root chips or beet chips are two great options, for example. Just make sure to cut the chips thin enough for them to cook properly and get crispy. Use a mandoline slicer if you have one, with the blade on setting 1 or 2.
Bring this salad and chips for lunch at work, and you'll for sure get some envious looks.
Lobster salad With Taro Chips Recipe
SERVES: 4 PREP: 15 + 15 min COOK: 28 min
Ingredients
4 8oz. lobster tails
1 avocado, peeled and diced
1⁄3 cup homemade mayonnaise
1⁄3 cup celery, finely chopped
1 1⁄2 tbsp. chives, finely chopped
3 tbsp. lemon juice
Sea salt and black pepper to taste
Romaine lettuce leaves for serving
Ingredients for the taro chips
2-3 lbs taro roots, peeled
1-2 tablespoon olive oil
Sea salt and freshly ground black pepper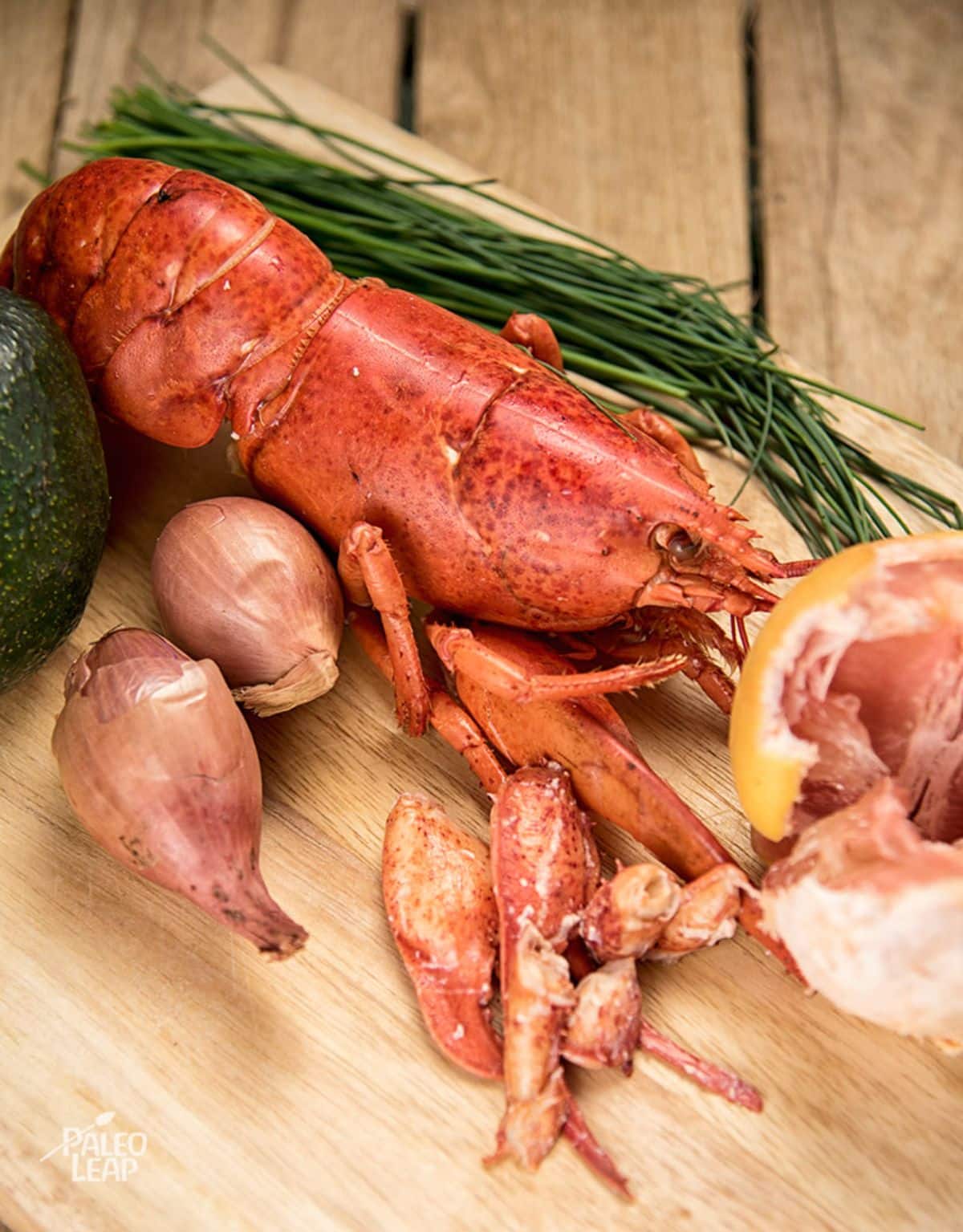 Preparation
Preheat your oven to 350 F.
Using a sharp knife (or mandoline), slice the taro root into thin rounds no thicker than 1⁄4 inch.
Add the sliced taro and olive oil to a bowl and toss to coat. If needed, add more oil, but you do not want them to be "soaked" in olive oil; just lightly coated.
Lay the taro root slices in a single layer on a parchment paper-lined baking sheet. You'll need to use multiple sheets or cook them in batches. Season to taste with salt and pepper.
Place in the oven and bake for 20-28 minutes (depending on their thickness), turning halfway through, until they are golden brown and crisp.
Meanwhile, fill a large pot with water and, add salt, bring to a boil.
While waiting for the water to boil, prepare a large ice-water bath that will fit all of the lobster tails.
Add the lobster tails to the boiling water and cook for 8-10 minutes until the shells turn bright red.
Remove the tails from the boiling water and immediately transfer them to the ice-water bath. Let them sit for 2 minutes, then drain.
Cut the tails in half lengthwise to remove the meat from the shell. Then cut the lobster meat into bite-sized pieces. Pat dry and place in the refrigerator for 5-10 minutes to cool down the lobster even more.
Next, combine the mayonnaise, celery, chives, lemon juice, and salt and pepper to taste in a medium-sized bowl.
Once cooled, add the lobster to the mixture and gently mix to combine. Place back in the refrigerator for another 10-15 minutes to allow the flavors to meld.
Serve the lobster salad chilled over lettuce leaves and topped with avocado.
📖 Recipe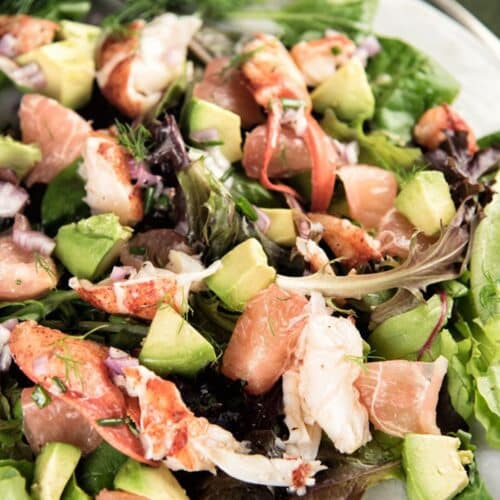 Lobster salad With Taro Chips Recipe
Getting fancy with a creamy Paleo lobster salad and exploring safe starch options with a side of crispy taro chips.
Ingredients
4 8

oz.

lobster tails

1

avocado

peeled and diced

1

⁄3 cup homemade mayonnaise

1

⁄3 cup celery

finely chopped

1 1

⁄2 tbsp. chives

finely chopped

3

tbsp.

lemon juice

Sea salt and black pepper to taste

Romaine lettuce leaves for serving

2-3

lbs

taro roots

peeled

1-2

tablespoon

olive oil
Instructions
Preheat your oven to 350 F.

Using a sharp knife (or mandoline), slice the taro root into thin rounds no thicker than 1⁄4 inch.

Add the sliced taro and olive oil to a bowl and toss to coat. If needed, add more oil, but you do not want them to be "soaked" in olive oil; just lightly coated.

Lay the taro root slices in a single layer on a parchment paper-lined baking sheet. You'll need to use multiple sheets or cook them in batches. Season to taste with salt and pepper.

Sea salt and black pepper to taste

Place in the oven and bake for 20-28 minutes (depending on their thickness), turning halfway through, until they are golden brown and crisp.

Meanwhile, fill a large pot with water and, add salt, bring to a boil.

Sea salt and freshly ground black pepper

While waiting for the water to boil, prepare a large ice-water bath that will fit all of the lobster tails.

Add the lobster tails to the boiling water and cook for 8-10 minutes until the shells turn bright red.

Remove the tails from the boiling water and immediately transfer them to the ice-water bath. Let them sit for 2 minutes, then drain.

Cut the tails in half lengthwise to remove the meat from the shell. Then cut the lobster meat into bite-sized pieces. Pat dry and place in the refrigerator for 5-10 minutes to cool down the lobster even more.

Next, combine the mayonnaise, celery, chives, lemon juice, and salt and pepper to taste in a medium-sized bowl.

1 ⁄3 cup homemade mayonnaise,

1 ⁄3 cup celery,

1 1 ⁄2 tbsp. chives,

3 tbsp. lemon juice,

Sea salt and black pepper to taste

Once cooled, add the lobster to the mixture and gently mix to combine. Place back in the refrigerator for another 10-15 minutes to allow the flavors to meld.

Serve the lobster salad chilled over lettuce leaves and topped with avocado.

1 avocado,

Romaine lettuce leaves for serving
Nutrition
Calories:
455
kcal
Carbohydrates:
70
g
Protein:
19
g
Fat:
12
g
Saturated Fat:
2
g
Polyunsaturated Fat:
2
g
Monounsaturated Fat:
8
g
Trans Fat:
0.01
g
Cholesterol:
108
mg
Sodium:
400
mg
Potassium:
1893
mg
Fiber:
14
g
Sugar:
2
g
Vitamin A:
317
IU
Vitamin C:
19
mg
Calcium:
187
mg
Iron:
2
mg