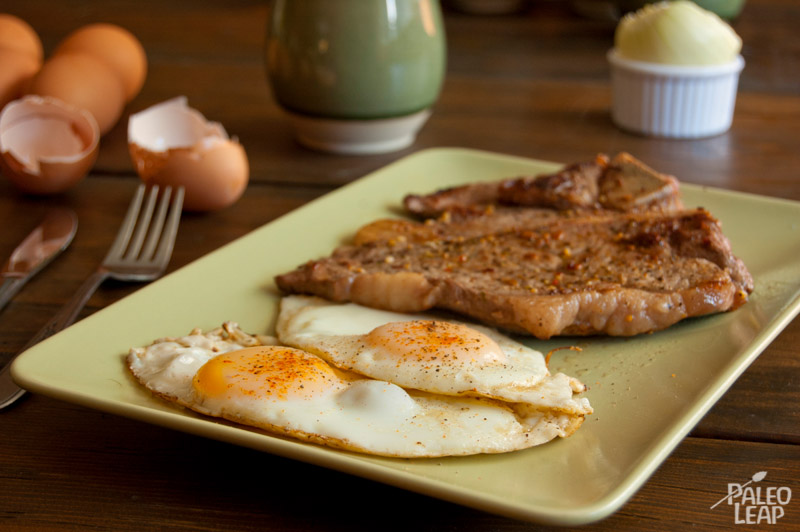 The pretty and sophisticated recipes are all fine and dandy, but more often than not what we really need on a day to day basis is a bunch of quick and easy recipes that we can prepare without much involvement or fancy ingredients. It surely helps us stick to Paleo when cooking doesn't seem like a chore or a puzzle three times a day. You've got to have some time off from the kitchen and still be able to eat the best food for your health.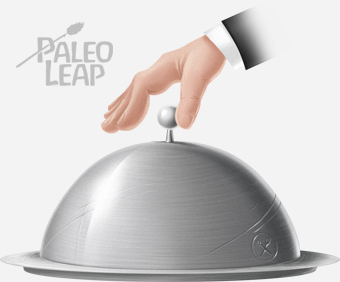 At its most basic, Paleo meal construction is in itself very simple. Simply fry, bake, stew or poach a nice piece of good quality meat, fish or seafood and then steam, bake or boil a side of fresh or frozen vegetables, making sure to add a good amount of tallow, butter, Ghee, lard, coconut oil or olive oil in the process for taste, energy and health. The process is similar for making delicious stews or omelets: choose your source of protein and your favorite vegetables and cook them in a fresh stock in the case of a stew or with eggs in the case of an omelet. Of course, on top of all this, onions are almost always welcome, as are fresh and dried spices. As you get used to playing more and more with the different flavors available to you, you'll create amazing dishes without even thinking about it.
Even though this explanation of how most Paleo meals seem pretty simple and straightforward, it's easy to get bored or to eat the same things over and over again. For this reason, I've decided to include here 10 easy Paleo recipes that can all be prepared in about 20 minutes or less and that call for very few ingredients, but still have something in them that makes them very special and tasty. I hope you'll find here a new favorite that you'll be able to prepare over and over again when you're either on the go, not in the mood for cooking or simply because sometimes the simplest meals are really the best.

Steak & eggs
Steak and eggs are two of the cornerstones of Paleo so why not enjoy them together for even more goodness. This combination though is not new and steak & eggs have been enjoyed for a long time, either in the morning for breakfast or at night for dinner. It also couldn't really get simpler than this. This is a single recipe, but calculate about two eggs per steak. You can enjoy your eggs pretty much the way you like them usually, but in this recipe the classic sunny side up eggs are prepared. I like to make it so the yolks are still runny and can drip on my steak, enhancing flavor and texture at the same time.
Ingredients
1 good quality large steak (filet, sirloin, ribeye, ...);
2-3 tablespoon of your favorite cooking fat (tallow, butter or ghee are excellent here);
2 free range eggs;
Paprika to taste;
Salt and pepper to taste;
Preparation
Note: Let your steak stand for about 40 minutes at room temperature for a perfectly cooked and juicy result.
Heat a pan over medium-high heat and add 2 tablespoon of your chosen cooking fat.
Season your steak with sea salt and freshly ground black pepper and add to the hot pan.
Cook the steak to your liking. About 3 minutes on each side will usually give you a nice medium rare steak.
Remove the steak from the pan, set aside and lower the temperature to medium-low. Add the rest of the cooking fat.
Crack open the eggs in the hot pan, cover, season to taste with some paprika, salt and pepper and cook until the whites are just set.
Serve the steak with the eggs either on top or on the side and make sure to dip the juicy hot meat in the runny yolk for complete satisfaction.
Paleo chicken fajitas
Fajitas are a classic in Tex-Mex cuisine and are adored universally by kids and adults alike. The classic fajita calls for skirt steak and is served with a choice of toppings over corn or wheat flour tortilla, but this Paleo take on the classic fajita meal is just as delicious without the tortilla. Today, fajitas are also commonly prepared with pork, chicken or shrimp and the usual vegetables include bell peppers and onions. Enjoy making a big batch and pleasing the whole family with this classic do-it-yourself dinner. This recipe serves about 5 people, but be sure to make more for leftovers.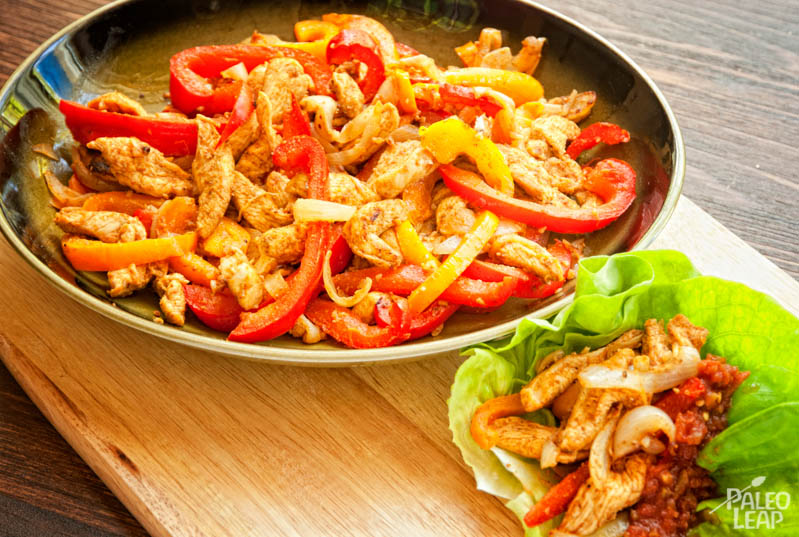 Ingredients
3 lbs chicken breast, cut in thin strips;
3 bell peppers;
3 onions, sliced;
2 tablespoon each oregano, chili powder, cumin and coriander;
6 garlic cloves, chopped;
Juice of 5 lemons;
4 tablespoon cooking fat (coconut oil, tallow or ghee are excellent here);
Butter lettuce to serve;
You choice of toppings: diced tomatoes, fermented pickles, sauerkraut, sliced avocados, salsa, guacamole, mayonnaise and/or salsa verde;
Preparation
Combine the chicken, bell peppers, onions, spices, garlic and lemon juice in a bowl and mix well.
If preparing ahead of time, let marinate in the refrigerator for about 4 hours.
When ready to cook, heat a large skillet on medium heat and cook the whole preparation with the cooking fat until the chicken is cooked through and the onion and bell pepper are soft.
Put the hot chicken preparation in a large bowl and let the people prepare their own fajitas on top of lettuce leaves with their favorite toppings.
Liver & onions
I think liver and onions are secretly best friends and the combination even has the potential to make someone love liver. The caramelized onions are very simple to prepare and this recipe doesn't need anything else to be a complete meal. Liver by itself is so full of nutrients that it could be considered Mother Nature's multi-vitamin. I enjoyed liver and onions for ages before I learned that the combination is actually a classic in many European countries and is enjoyed all over the world. The ingredient list really couldn't be shorter.
This recipe serves 4 people.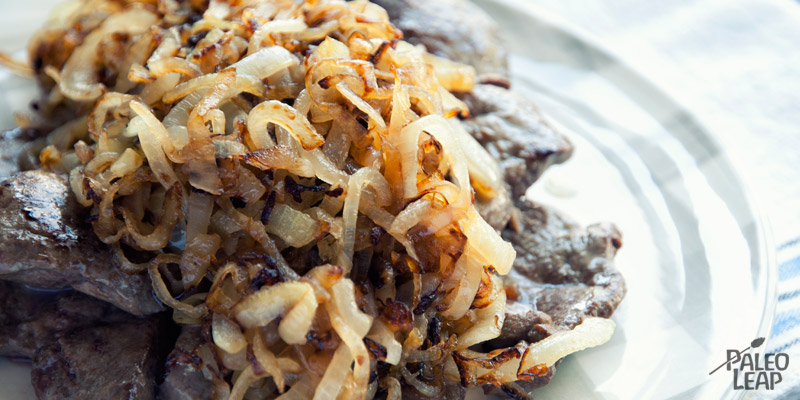 Ingredients
4 large slices pork or beef liver;
5 large onions, sliced;
6 tablespoon butter or lard;
Salt and pepper to taste;
Preparation
Heat a large skillet over medium-low heat and add 5 tablespoon of the butter and the sliced onions. Cook slowly, stirring often, for about 20 to 25 minutes, until the onions are really soft and caramelized.
About 5 minutes before the onions are done, heat another pan over a medium-high heat and cook the liver with the rest of the cooking fat, about 3 minutes on each side.
Serve the liver topped with the delicious and creamy cooked onions. This is also delicious served with a little bit of homemade salsa on the side.
Bacon, spinach & mushroom casserole
This is a very simple dish all prepared in a single casserole and using some traditional favorites like bacon and mushrooms. Spinach brings everything together and helps create a very filling and savory dish. The rendered bacon grease created during the cooking process will help cook and give taste to the spinach and mushrooms.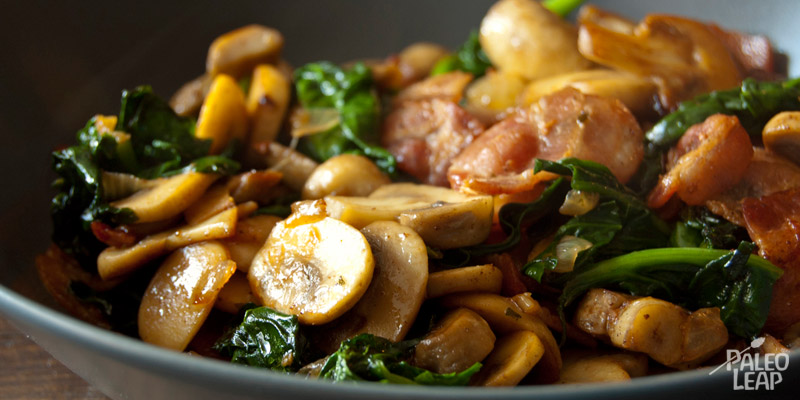 Ingredients
2 ½ lb good quality smoked bacon, cut into medium sized strips;
3 big handfuls of fresh spinach, stems removed;
1 lb button mushrooms, sliced;
1 large onion, chopped;
2 garlic cloves, minced;
2 tablespoon lard, butter or ghee;
Salt and pepper to taste;
Preparation
Heat a large casserole over a medium heat and cook the bacon, making sure it's still soft.
Add the onion and cook until soft, about 5 minutes.
Add the garlic and cook for about a minute, until fragrant.
Add the mushrooms and cook for about another 8 minutes, until soft.
Add the spinach and butter, cover and let cook for another 4 minutes, stirring occasionally, until the spinach is well cooked.
Season with salt and pepper and serve.
Baked salmon with asparagus & roasted beets
Beets and asparagus are two vegetables that go wonderfully well with salmon and that tend to be forgotten in our day to day meals. This simple dish can of course be prepared with any fresh fish and vegetables. This recipe serves 4 people.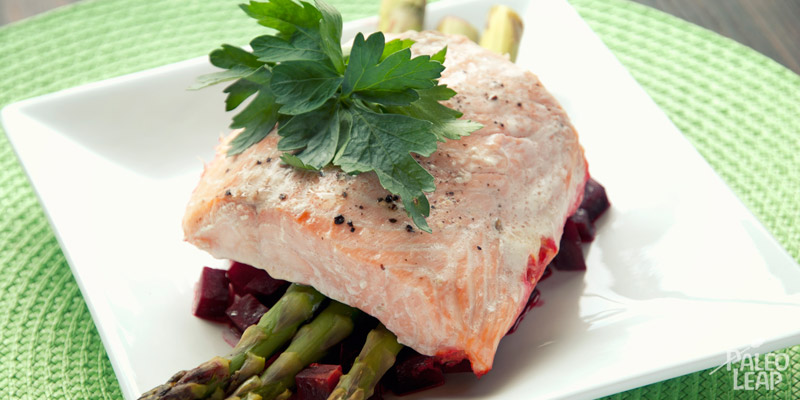 Ingredients
4 fresh wild salmon fillets;
4 tablespoon butter or coconut oil;
4 teaspoon chopped dill;
16 sprigs of fresh asparagus, hard base removed;
4 medium red beets, cut in cubes;
Salt and pepper to taste;
4 pcs heavy duty foil;
Preparation
Preheat your oven to 500 F.
Place a bed of beet cubes and 4 asparagus spears on each of the four pieces of foil, then top each with a salmon fillet.
Add 1 tablespoon of butter and 1 teaspoon dill on top of each fillet and close the foil by folding the top, then pinching and folding the sides to form a little pocket so no steam escapes.
Bake in hot oven for about 10 minutes for each inch of thickness of the fish.
Make sure to check on the fish so it doesn't get overcooked.
Serve topped with some more of your favorite fresh herbs. More dill is perfect, but cilantro is also really good.
Chicken & zucchini hot salad
This is a very simple hot salad featuring chicken and zucchinis, two items that go hand in hand with a lemon and garlic mayonnaise. Serves 4 people.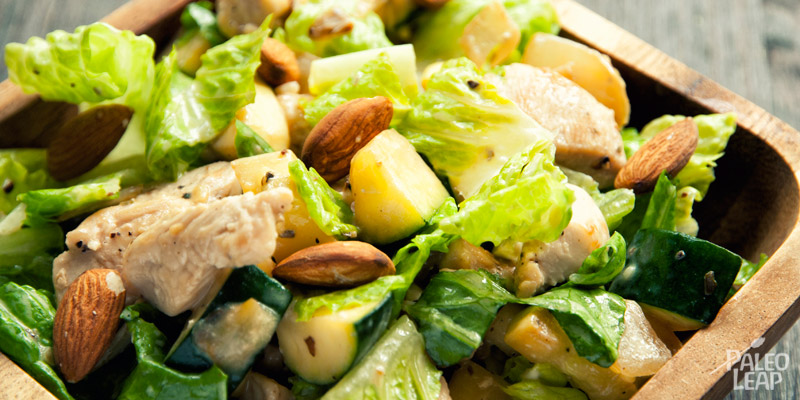 Ingredients
2 ½ lbs chicken breast, cut into cubes;
5 zucchinis, cut into cubes;
3 tablespoon coconut oil, butter, ghee or lard;
1 tablespoon oregano;
1 large onion, chopped;
7 tablespoon homemade mayonnaise;
Juice of 2 lemons;
2 cloves garlic, minced very finely;
1 head romaine lettuce, washed and shredded;
Salt and pepper to taste;
Preparation
Heat a large pan over a medium-high heat and cook the chicken cubes until well cooked. Set aside.
In the same pan, with the rest of the cooking fat, add the onion and cook until soft, about 5 minutes.
Add the zucchini cubes and oregano and season with salt and pepper. Cook until the zucchini cubes are soft.
In a bowl, mix the mayonnaise, lemon juice and garlic.
Add the hot cooked chicken, onion and zucchini to the mayonnaise preparation and mix well.
Add the romaine lettuce, mix well and serve in bowls. This hot salad is delicious topped with some fresh almonds.
Sausages with parsnip mash & mushrooms
Bangers and mash is a classic English dish, but you don't have to indulge in potatoes to enjoy some delicious mash. Sweet potatoes, or, as in this recipe, parsnip, is also perfect. Of course, this meal is higher in carbs than most Paleo preparations, but from a natural source and in a reasonable quantity, it shouldn't be any problem. This meal is especially great as an after workout meal or when you need some quick energy for the rest of your day. This recipe serves about 6 people.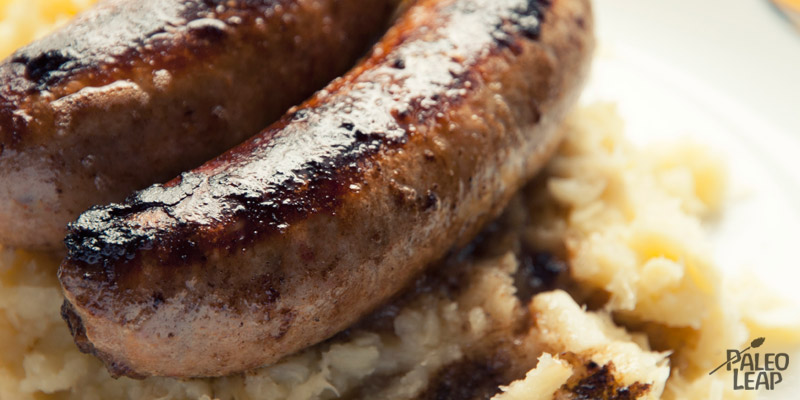 Ingredients
12 large good quality beef or pork sausages;
2 lb parsnip, coarsely chopped;
2 teaspoon cooking fat;
5 tablespoon butter or ghee;
1 lb button mushrooms;
½ cup coconut milk or heavy cream;
2 tablespoon chopped fresh oregano;
Pinch of nutmeg;
Salt and pepper to taste;
Preparation
Boil the parsnips for about 15 minutes, until soft.
Drain the water, add half the butter, the coconut milk or heavy cream, a pinch of nutmeg and salt and pepper to taste and mash well with a potato masher. You can also use a food processor for convenience. Reserve the mashed parsnips in the covered pot so they stay warm.
Heat a large skillet over medium heat and cook the sausages in a large skillet with the cooking fat for about 15 minutes, turning occasionally.
Set the sausages aside and add the mushrooms to the already hot skillet with the other half of the butter. Cook until well browned, about 5 minutes, and add the chopped oregano.
Serve the mashed parsnips covered with the sausages, mushrooms and all the drippings.
Canned salmon salad
Just because it comes from a can doesn't mean that you can't prepare something really delicious out of canned salmon. After all, we are fortunate enough that farmed salmon doesn't hold well to the canning process so we are blessed with an easy and cheap source of wild salmon year-round. In this recipe, I use olive oil and lemon juice, but homemade mayonnaise is also excellent.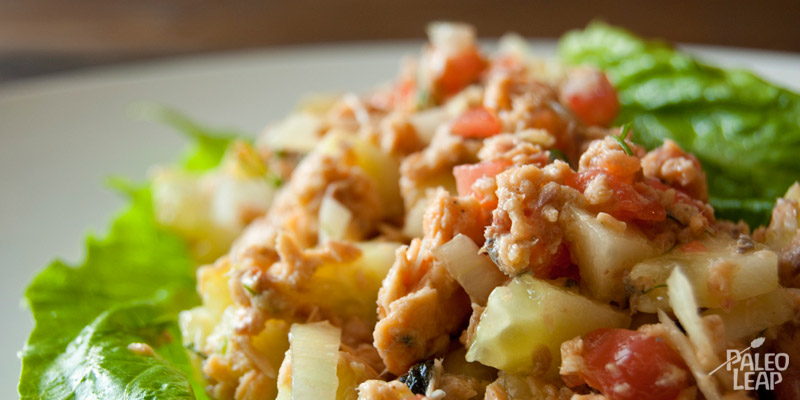 Ingredients
2 cans wild salmon;
2 diced cucumbers, peeled or not;
1 onion, chopped;
1 large tomato, diced;
1 avocado, diced;
5-6 tablespoon extra virgin olive oil;
Juice of 2 lemons;
2 tablespoon chopped fresh dill, optional;
Lettuce leaves for serving;
Preparation
Drain the liquid from the canned salmon, place the salmon in a bowl and mash well with a fork.
Add the lemon juice and olive oil and mix well into the salmon.
Add the cucumbers, onion, tomato and avocado and mix again.
Add the dill, if using, season with salt and pepper and serve the cold salad over lettuce leaves.
White wine & garlic mussels
Mussels are rarely what comes to mind when it comes to a quick, simple and cheap meal, but I think it's a mistake. When fresh and in season, mussels are usually pretty cheap and they are so quick to prepare that you won't believe dinner can be ready in such a short time. It's also a great occasion to eat seafood, something we tend to forget as an important part of a Paleo diet. Nutrition and taste wise, mussels are amazing. They are packed full of iron, selenium, vitamin B12, manganese and a host of other essential nutrients. The steam from the white wine and garlic sauce is what cooks the mussels here. The butter in the sauce adds richness and flavor. This kind of preparation is called moules marinières in France, where the dish comes from. Another classic sauce for mussels is a tomato marinara sauce. About a pound of mussels is about what's needed per person. This recipe is for 4 people.
Try to buy your mussels the same day you prepare them and, if not, keep them in the refrigerator covered with a damp cloth. When ready to prepare, plunge them in cold water, wash them, and remove the beard (a stringy-like membrane attached to most of them).
Discard any that are opened, even if only slightly. The opened ones are dead and the closed ones are still living.
If you're buying them at a supermarket, be sure to ask your fishmonger to discard any that are open.
If you're selecting them yourself at the fish market, be careful to select only live mussels. You don't want to pay for them and then have to throw them away.
Of course if you're picking your own off the sea wall, you may lose a few before you cook them. Just discard them. It's part of the game.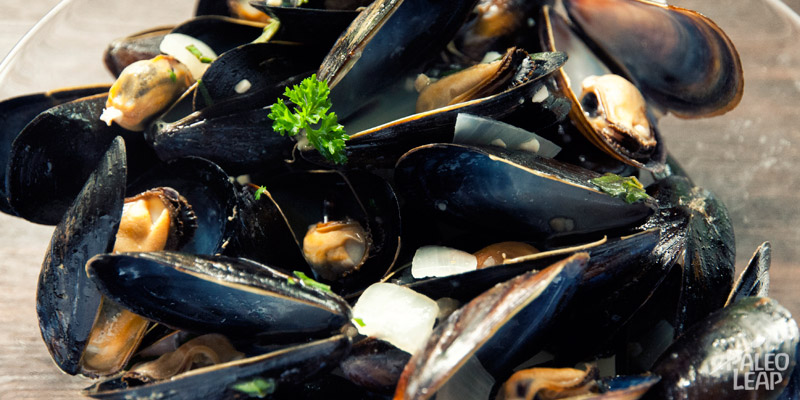 Ingredients
4 lbs fresh mussels;
2 cups white wine or chicken stock;
2 onions, chopped;
5 cloves garlic, finely chopped;
⅓ cup of your favorite chopped fresh herbs (parsley and basil are excellent);
6 tablespoon butter or ghee;
Preparation
Wash, remove the beards and discard any of the opened mussels prior to cooking.
In a stockpot, combine the wine or stock, onions and garlic, bring to a boil and simmer for about 5 minutes.
Add the mussels to the pot, and cover and increase the heat to medium-high so the sauce boils and creates steam that will cook the mussels.
As soon as all the mussels have opened, add the herbs and butter or ghee and remove from heat.
Serve in bowls with the wine, garlic and butter sauce.
Pork chops with apples and onions
Apples are always a good match with pork especially around the time of the year when apples are available locally and fresh. When simple pork chops served with a side of vegetables doesn't cut it anymore, this recipe will remind you of the deliciousness of savory pork and sweet apples.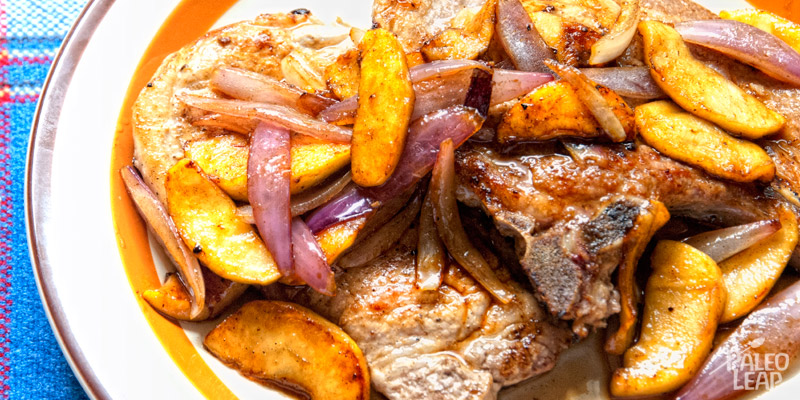 Ingredients
4 bone-in pork chops, with the trimmings;
3 tablespoon lard, butter, ghee or coconut oil;
2 large onions, sliced;
4 sliced and cored apples;
Salt and pepper to taste;
Preparation
Heat a large pan over a medium-high heat. Season the pork chops with salt and pepper to taste.
Melt 2 tablespoon of the cooking fat and fry the chops, about 5 minutes on each side, until well cooked and browned.
Set the pork chops aside, reduce the heat to medium-low, add the other tablespoon of cooking fat and add the onion and apple slices.
Cook for about 4 minutes, until the onions have caramelized and the apple slices are slightly soft.
Serve the chops with the topping of apple and onions.