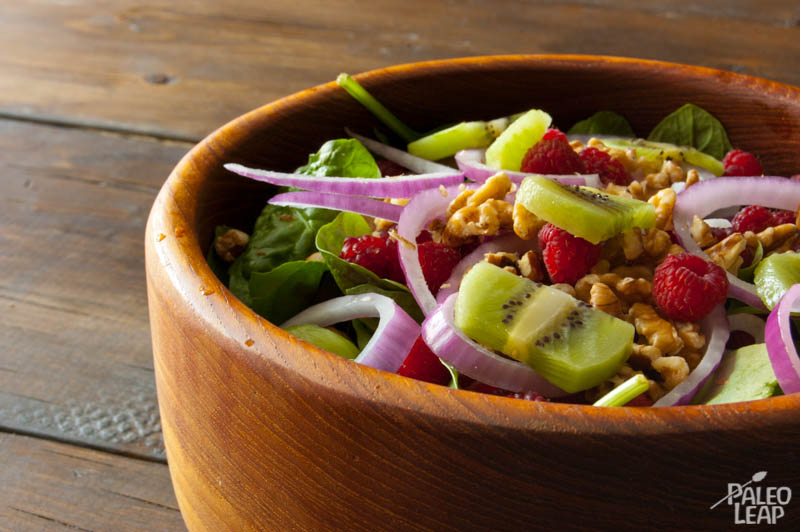 Salads are great. They are tasty and crunchy and they can often be put together in a matter of minutes. They are often light in nature, making them a good choice alongside heavier main courses.
All kinds of combinations can be great for a salad and the only limit is your imagination. It gets especially interesting when sweet and salty flavors are combined or when food with multiple textures are used. In this case, the onion and walnuts add a great crunchy texture while the raspberries and kiwis add a great sweet taste. The raw onion also add some nice bite to the whole salad.
The simple homemade vinaigrette used here also add to the raspberry touch with some crushed raspberries and a base or raspberry vinegar.
This fruity salad is also perfect for raspberry season. If you enjoy raspberry picking, I am sure you are familiar with the excitement of picking your own fresh fruit, but than also to the stress probably following shortly thereafter when you have to figure out what to do with your abundance of fruit before it quickly goes bad! This salad is a great choice to use some of the delicious fresh raspberries.
This salad is not only absolutely delicious, it's also very nutritious, thanks to the spinach, which is one of the most nutritious green leafy vegetable that's widely available. I would recommend you buy organic spinach whenever possible or, even better, get some fresh spinach from a local farmer when available. Unfortunately, even if spinach is a highly nutritious vegetable, full of iron, magnesium, folate, vitamin C, and manganese, it's also one of the most spayed one.
Raspberry and spinach salad recipe
Values are per portion. These are for information only & are not meant to be exact calculations.
Ingredients
3 tbsp olive oil;
2 tbsp raspberry vinegar;
1/4 cup fresh raspberries, crushed to a puree;
8 cups baby spinach;
2 cups fresh raspberries;
4 tbsp walnuts, crushed;
½ red onion, finely chopped;
3 kiwis, peeled and sliced;
Sea salt and freshly ground black pepper to taste;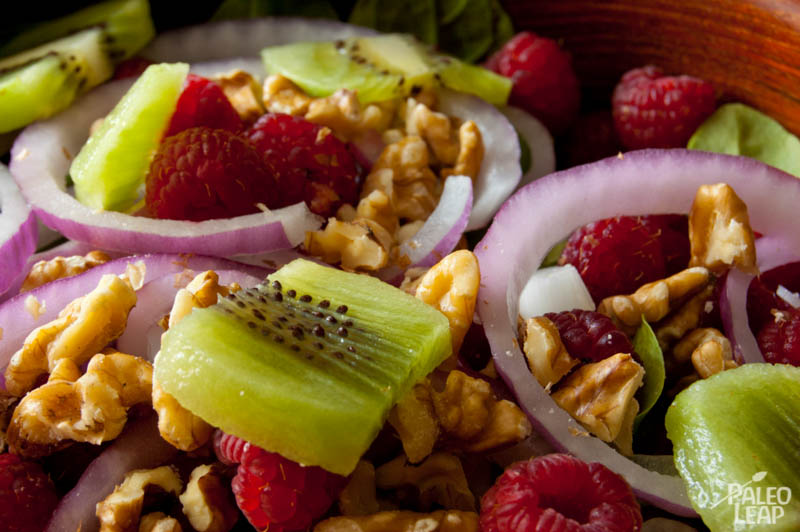 Preparation
In a small bowl, combine all the ingredients for the vinaigrette: olive oil, vinegar and crushed raspberries. Combine well. Season to taste with salt and pepper.
In a large salad bowl, combine the remaining ingredients: spinach, raspberry, walnuts, kiwis and onion.
Drizzle with the dressing, toss well and serve.
Enjoy this salad alongside any meat or fish dish. It has certainly been a favorite at many barbecues as well for me!