I am always looking for "side dish" ideas. I find this to be the most difficult part of making a paleo meal, mainly because what many would consider being a traditional side of rice or potatoes is not so for most Paleo followers, even though most starchy vegetables are healthy and a good addition to the diet.
Read up on Paleo 2.0 for more information about the healthfulness of starchy vegetables and potatoes. I have also realized that my energy is usually devoted to making the main dish, so by the time it comes to the side, I am severely lacking in creativity and inspiration.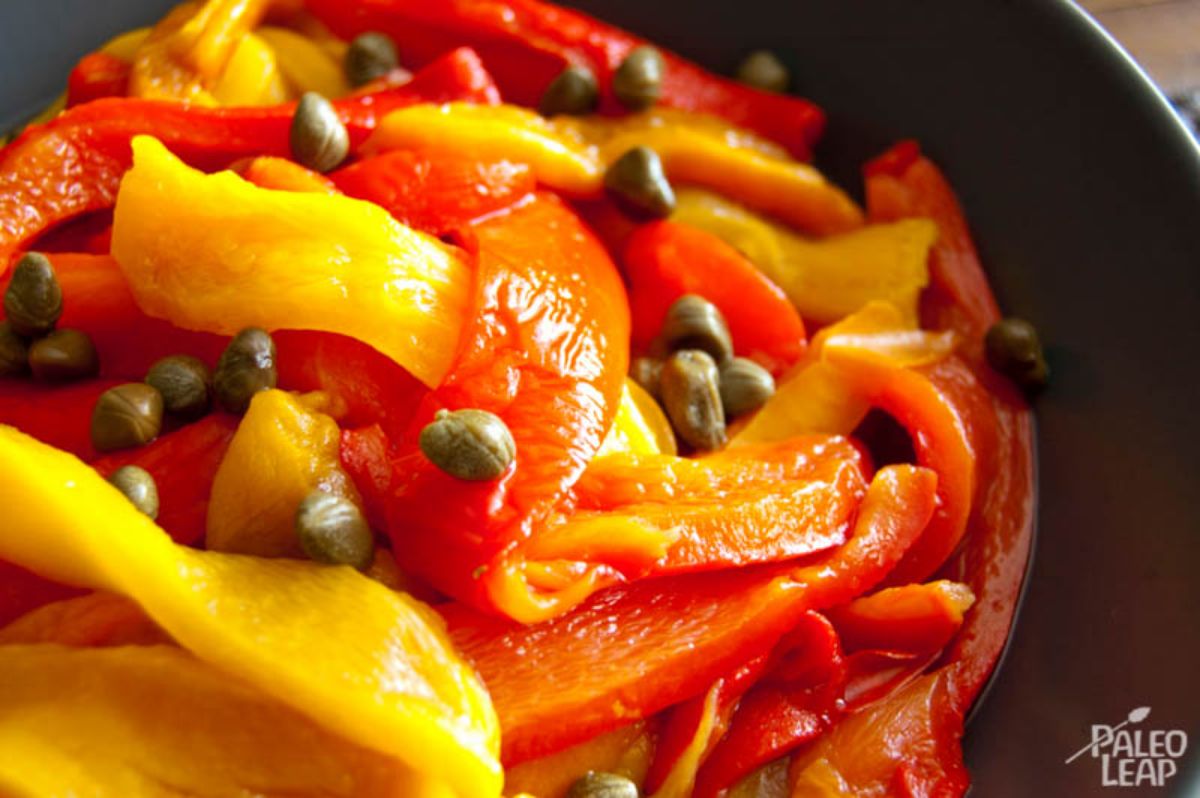 I try to overcome this dilemma by reminding myself that a dish does not have to consist of many ingredients or cause for several different techniques to make it any more delicious or creative than something that can easily be put together. Keep this in mind when making this simple roasted red bell pepper side dish.
Even though bell peppers are part of the nightshade family of vegetables and might cause problems for those with prior digestive issues, they are otherwise really nutritive and delicious. They are a great source of vitamin C, especially red bell peppers, which are one of the best sources of natural vitamin C available.

What's commonly sold as capers are the small buds of the caper plant. They are usually pickled or kept in a brine of salt and water and are used as a condiment in many Italian and Mediterranean dishes.
For example, tartar sauce is traditionally prepared with capers, and smoked salmon is often served with capers on top.
They are quite pungent and bitter, especially since they release mustard oil as they age, so a little goes a long way. Try to find capers that come with no other ingredients than the capers themselves, salt, and water.
With the bitter capers, the tangy red wine vinegar, and the pungent garlic, this side dish, which seems really plain at first glance, really offers amazing flavors and is sure to please the most sophisticated palates.
Roasted bell pepper side dish recipe
Serves: 4
Ingredients
6 bell peppers (any color);
¼ cup red wine vinegar;
1 clove garlic, minced;
2 tablespoon extra-virgin olive oil;
2 tablespoon capers, drained;
2 tablespoon fresh parsley, finely chopped;
Sea salt and freshly ground black pepper to taste;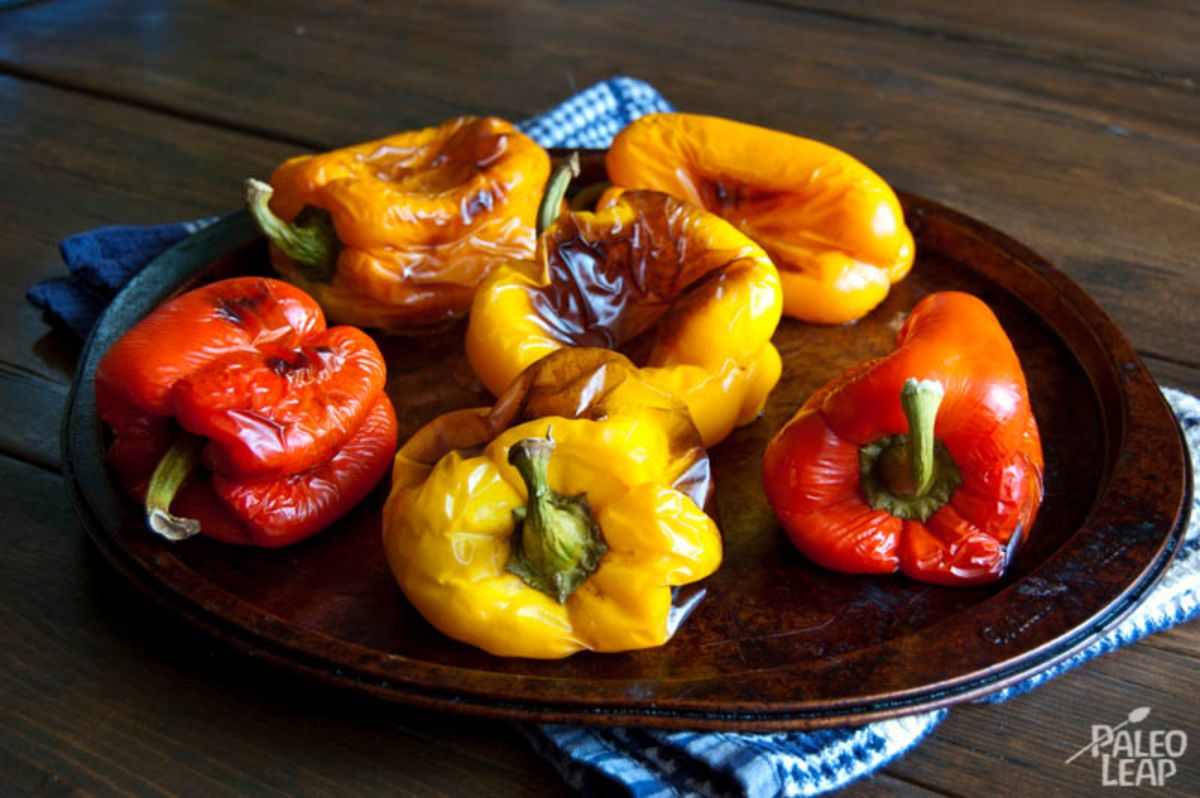 Preparation
Preheat your oven to 400 F. Place the bell peppers on a baking sheet and allow for a little space between each to ensure all sides cook evenly. Roast them for approximately 40 minutes, allowing the skin of the peppers to brown. To achieve this, you will have to turn them a few times during the cooking process.
Once the bell peppers have roasted, place them in a large paper bag and fold the bag closed. Allow the peppers to sit like this for 10-15 minutes. Doing so will make the skin easy to peel off. An alternative to a paper bag is to place them in a bowl and cover the bowl with plastic wrap.
Once the bell peppers are cool enough to handle, remove them from the bag and peel away the skin. Remove the stem and seeds. Cut into ¼" wide strips.
In a medium bowl, combine the vinegar, garlic, salt, and pepper with the roasted bell pepper strips. Toss well and allow the bell peppers to marinade this way for at least an hour, or overnight, in the refrigerator.
Once the bell peppers have marinaded, mix with the olive oil, capers, and parsley and serve right away.
This dish sits well alongside any meat dish. It is also suitable with most white fish.
📖 Recipe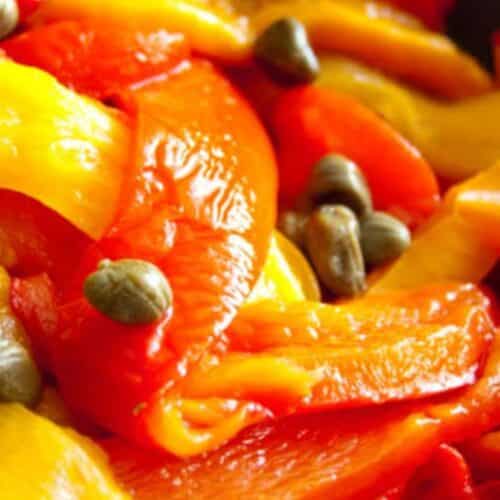 Roasted bell pepper side dish recipe
A simple Paleo side dish of roasted bell peppers with capers and garlic.
Instructions
Preheat your oven to 400 F. Place the bell peppers on a baking sheet and allow for a little space between each to ensure all sides cook evenly. Roast them for approximately 40 minutes, allowing the skin of the peppers to brown. To achieve this, you will have to turn them a few times during the cooking process.

Once the bell peppers have roasted, place them in a large paper bag and fold the bag closed. Allow the peppers to sit like this for 10-15 minutes. Doing so will make the skin easy to peel off. An alternative to a paper bag is to place them in a bowl and cover the bowl with plastic wrap.

Once the bell peppers are cool enough to handle, remove them from the bag and peel away the skin. Remove the stem and seeds. Cut into ¼" wide strips.

In a medium bowl, combine the vinegar, garlic, salt, and pepper with the roasted bell pepper strips. Toss well and allow the bell peppers to marinade this way for at least an hour, or overnight, in the refrigerator.

¼ cup red wine vinegar,

1 clove garlic,

Sea salt and freshly ground black pepper to taste,

6 bell peppers

Once the bell peppers have marinaded, mix with the olive oil, capers, and parsley and serve right away.

2 tablespoon extra-virgin olive oil,

2 tablespoon capers,

2 tablespoon fresh parsley
Nutrition
Calories:
115
kcal
Carbohydrates:
11
g
Protein:
2
g
Fat:
8
g
Saturated Fat:
1
g
Polyunsaturated Fat:
1
g
Monounsaturated Fat:
5
g
Sodium:
120
mg
Potassium:
395
mg
Fiber:
4
g
Sugar:
8
g
Vitamin A:
5763
IU
Vitamin C:
231
mg
Calcium:
18
mg
Iron:
1
mg