When you are in the mood for garlicky green beans, baked - not fried, with a generous shake of Parmesan cheese and sliced almonds, no other side dish will do.
The flavors here simply meld into each other; at the same time, the beans can remain a bit crispy if you bake them a few minutes less than suggested. You could serve this as a healthy appetizer or a side dish, or even as a light snack during the day.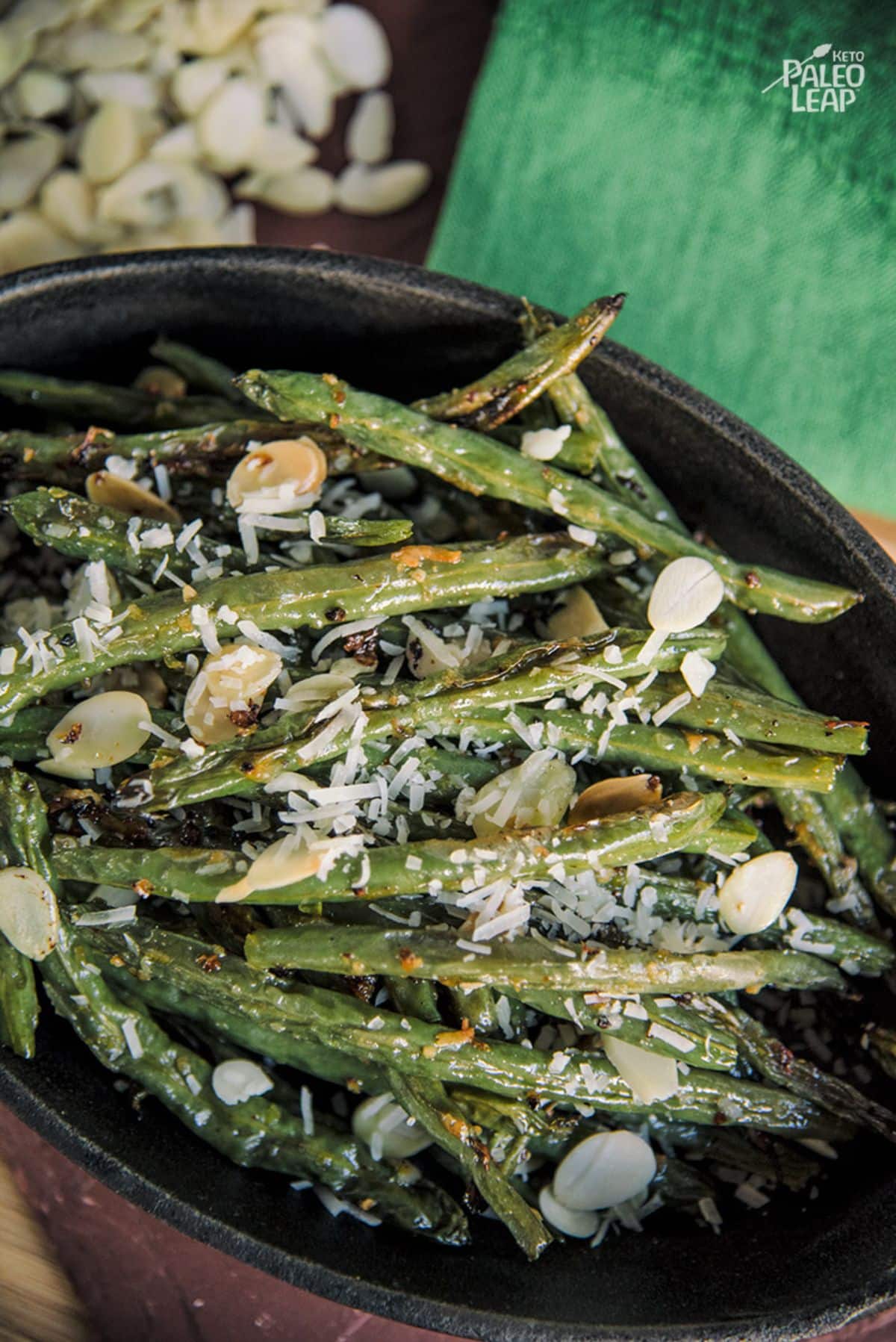 Why should you be eating green beans? For starters, they are packed full of fiber, which is essential for keeping our digestive tract in order.
Secondly, they have enormous amounts of antioxidants and flavonoids, so you can eat a delicious meal and boost your immune system and help reduce body fat at the same time.
It's a win-win situation! Green beans also contain iron, magnesium, manganese, and calcium, all of which are important for proper metabolism.
This is a great recipe if you are short on time, as it can be made in just half an hour, and it combines well with any source of protein.
You can choose the slow cooker route and make a herb and garlic roast beef while you are at work, or take it easy and cook up some grilled garlic and chive pork chops while your beans are happily baking in the oven.
Keto Roasted Green Beans Recipe
Serves: 4 Prep: 15 min Cook: 25 min
Ingredients
1 lb. green beans, trimmed
¼ cup olive oil
1 tbsp. fresh lemon juice
2 tbsp. lemon zest
2 tbsp. minced garlic
1 tsp. red pepper flakes
¼ cup sliced almonds
¼ cup Parmesan cheese (optional)
Sea salt and freshly ground black pepper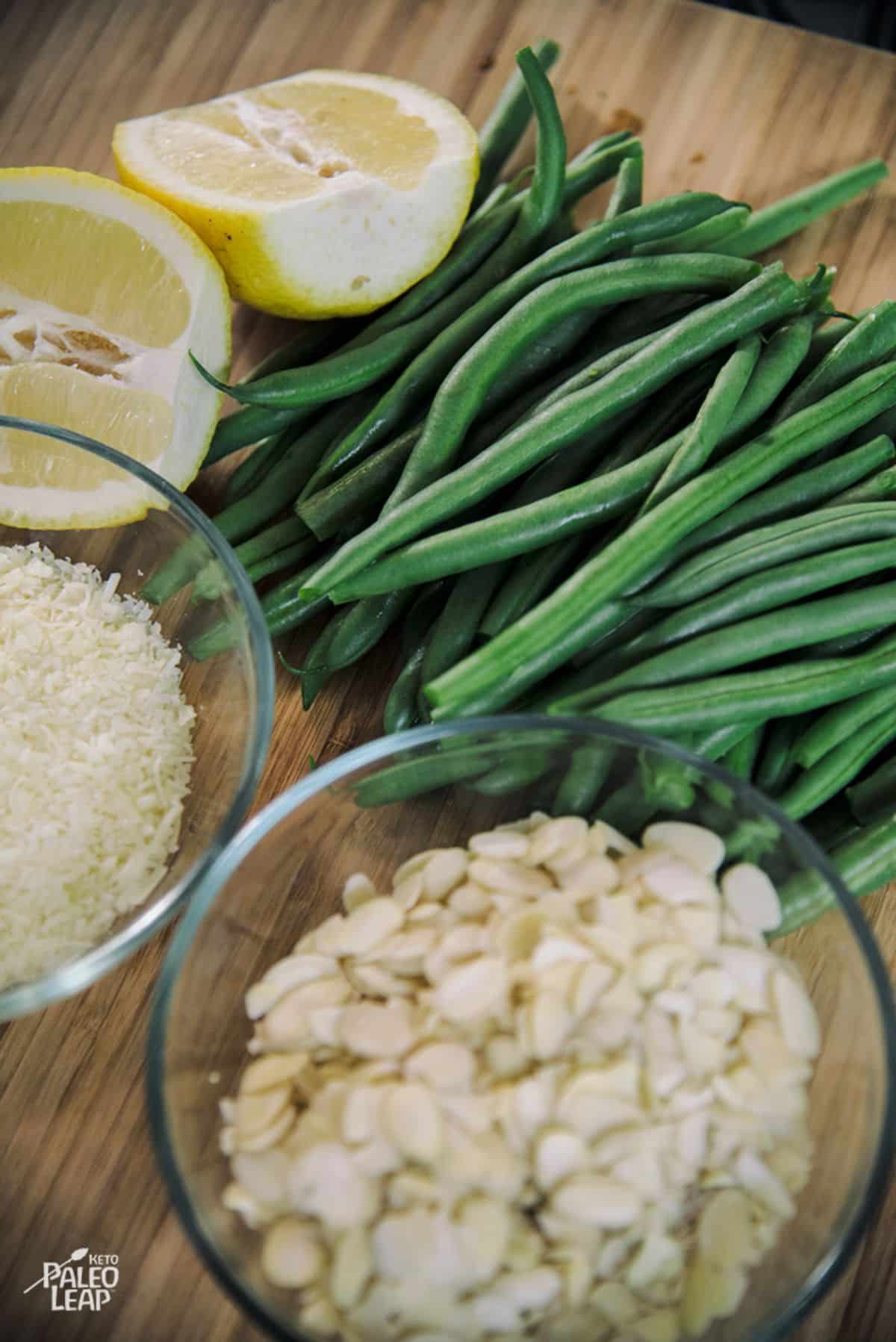 Preparation
Preheat oven to 450 F.
Place the green beans, garlic, lemon zest, lemon juice, red pepper flakes, and olive oil in a bowl; stir gently and season to taste.
Place on a baking sheet and bake for 15 to 20 minutes, or until green beans are cooked but still a little bit crisp.
Top with sliced almonds and Parmesan if using, and place back in the oven for another 5 minutes.
📖 Recipe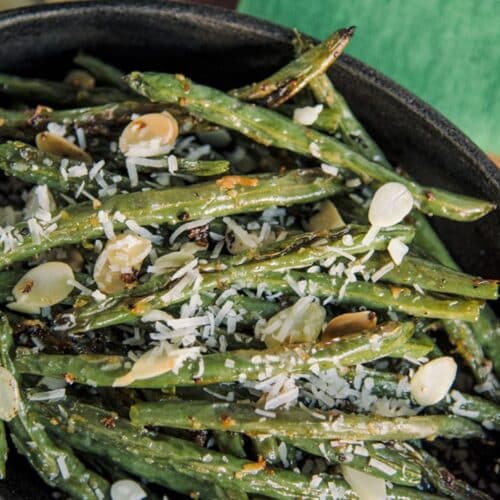 Keto Roasted Green Beans Recipe
One of the most simple keto side dishes is super-delicious and easy to make - roasted green beans with sliced almonds and Parmesan cheese.
Instructions
Preheat oven to 450 F.

Place the green beans, garlic, lemon zest, lemon juice, red pepper flakes, and olive oil in a bowl; stir gently and season to taste.

1 lb. green beans,

¼ cup olive oil,

1 tbsp. fresh lemon juice,

2 tbsp. lemon zest,

2 tbsp. minced garlic,

1 tsp. red pepper flakes,

Sea salt and freshly ground black pepper

Place on a baking sheet and bake for 15 to 20 minutes, or until green beans are cooked but still a little bit crisp.

Top with sliced almonds and Parmesan if using, and place back in the oven for another 5 minutes.

¼ cup sliced almonds,

¼ cup Parmesan cheese
Nutrition
Calories:
231
kcal
Carbohydrates:
14
g
Protein:
6
g
Fat:
18
g
Saturated Fat:
3
g
Polyunsaturated Fat:
2
g
Monounsaturated Fat:
12
g
Cholesterol:
4
mg
Sodium:
129
mg
Potassium:
357
mg
Fiber:
5
g
Sugar:
5
g
Vitamin A:
1201
IU
Vitamin C:
27
mg
Calcium:
159
mg
Iron:
2
mg