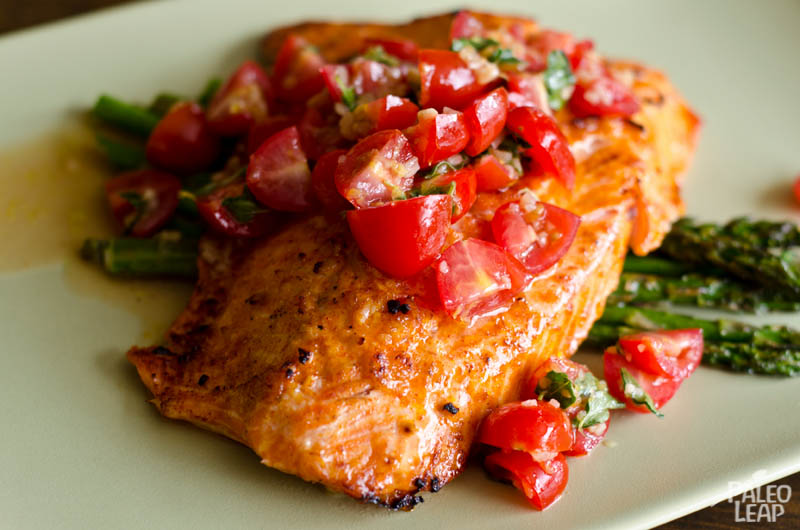 Being able to prepare a very healthy meal in a limited amount of time is something that the majority of people long for (especially when children are apart of the equation). With a lot of experience in the kitchen, I can say that fish is by far the best way to go in order to achieve this. If you pair it up with some easy sides, fish takes no time at all to grill up on the BBQ, or roast in the oven.
Aside from the fact that preparation and cooking time is super quick and easy, fish is a a great source of various important nutrients. For example, fish is usually a great source of selenium, which is an essential and much needed nutrient that acts as an antioxidant. Most people need more selenium in their diet. In addition to that, fatty fish like salmon, trout and mackerel are great source of vitamin A, vitamin D and fresh Omega-3 fat, provided they are wild and not farmed. The omega-3 fat is a very important component, important enough to warrant the regular consumption of fatty wild fish. Omega-3 fats are very important to counter-balance Omega-6 consumption, but it's usually a good idea to only get it from fresh fish because supplements go rancid very quickly in the presence of heat, light or oxygen and rancid Omega-3 is not a good idea at all.
I opted to use salmon for this dish; however, you are not at all restricted to it. Any fish option would work well with this combination. That being said, I would recommend a more strong tasting fish like tuna, or sea-bass. You need to work with something that will absorb the strong flavours and counter them well. If you choose to go with something not as strong like a white fish, I would slightly lessen the amount of lemon and garlic used in the marinade.
The cherry tomato salsa compliments the fish very well. This is a really good way to serve fish for people who are not fond of it, as the salsa helps down-play the taste of the fish a little bit. It's also quite refreshing every time you bite into a juicy tomato. This simple salsa is one I've used as a garnish for various types of fish, as well as meat. In fact, it's best paired up with a meaty piece of steak fresh off the BBQ. This is the same for the asparagus. It's arguably the simplest way to prepare it, yet it's more than enough to make it absolutely delicious.
Prior to jumping into the preparation work, make sure you read the multiple recipes and instructions over, as time can be saved by preparing one part while another cooks. For example, it's best to prepare the cherry tomato salsa while the salmon is marinating in the refrigerator.
Salmon With Cherry Tomato Salsa And Asparagus Recipe
Serves 4

Values are per portion. These are for information only & are not meant to be exact calculations.
Ingredients
4 wild salmon fillets, skin-on;
2 cloves garlic, minced;
1/2 tsp sea salt;
1/2 tsp freshly ground black pepper;
1/2 tsp paprika;
1 tsp lemon zest;
1 tsp fresh lemon juice;
1 tbsp olive oil;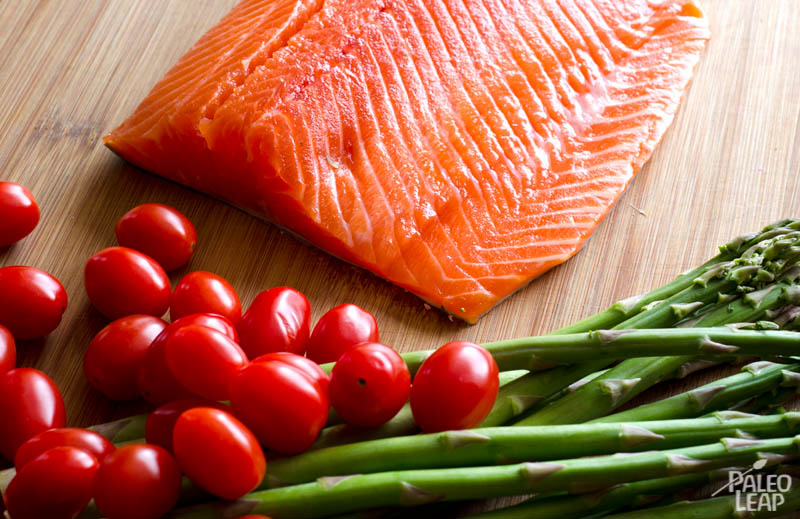 Preparation
Set your oven to broil.
In a small bowl, combine the garlic, salt, pepper, paprika, lemon zest, lemon juice and olive oil. Whisk well. Rub the salmon thoroughly with the mixture on both sides. Place in a covered dish to marinade in the refrigerator for about 35 minutes.
Line a baking sheet with foil. Once the salmon has marinaded, place on the baking sheet and place in the oven to broil for 8 to 10 minutes, or until pale pink and flaky.
Roasted asparagus preparation
Serves 4
Ingredients
1 bunch asparagus;
1 tbsp olive oil;
1/4 tsp sea salt;
1/4 tsp garlic powder;
Freshly ground black pepper to taste;
1/2 tsp fresh lemon juice;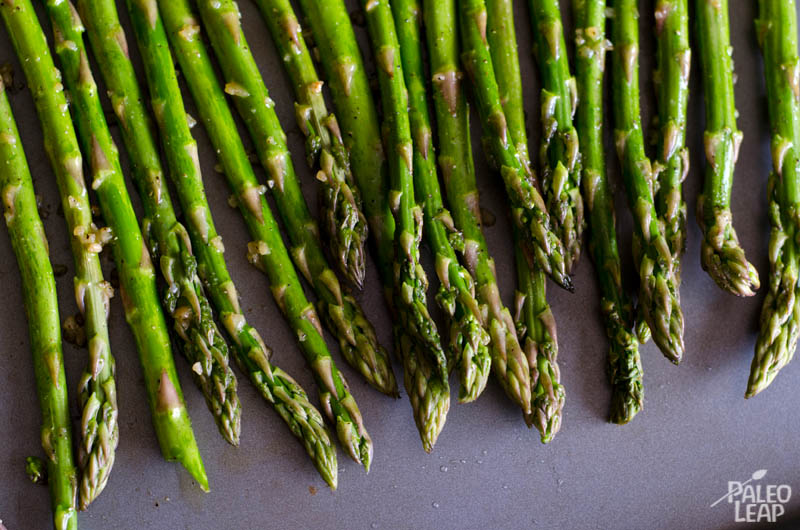 Preparation
Preheat your oven to 400 F.
Remove the tough part off of the asparagus stalks. Spread the asparagus out on a large baking sheet. Drizzle with olive oil and lemon juice. Sprinkle with salt, pepper and garlic powder. Toss the asparagus to ensure it's all evenly coated and cook for 10 minutes, flipping once after 5 minutes.
Cherry tomato salsa preparation
Serves 4
Ingredients
1/2 cup cherry tomatoes, quartered;
2 cloves garlic, minced;
1 tsp lemon zest;
1 tsp fresh lemon juice;
2 tbsp olive oil;
1/4 tsp sea salt;
Freshly cracked black pepper to taste;
1/4 cup fresh oregano, chopped;
Preparation
In a small bowl, combine the garlic, lemon zest, lemon juice, olive oil, salt and pepper. Whisk well. Add the cherry tomatoes. Toss the mixture together.
Serve over the salmon once it's cooked.