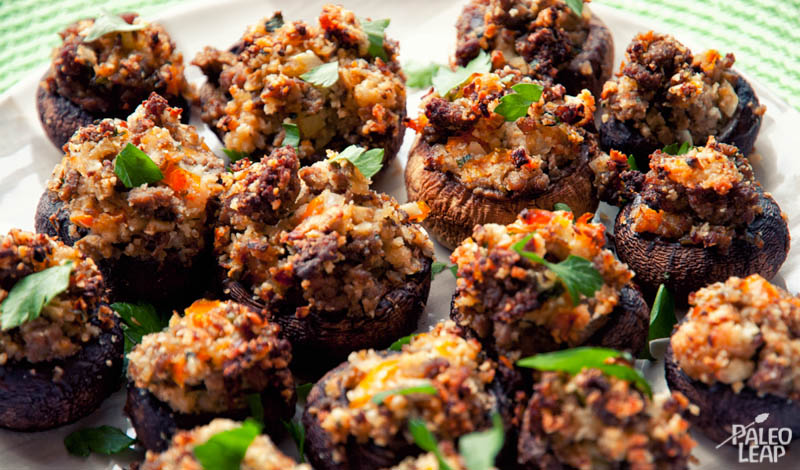 Juicy, savory, and cute as a button, these sausage-stuffed mushroom bites are an appetizer to warm up even the dreariest of winter afternoons with the promise of tasty things to come. Mushrooms naturally contain a group of chemical compounds called glutamates, which enhance the savory taste of protein-containing foods. Add that to the richness of the sausages and the crispy exterior, and you've got 20 miniature bites of deliciousness, ready to impress your guests or just treat yourself to something a little bit special.
If you don't need any appetizers but still want to enjoy some mushrooms, you could also serve these a side dish, or even make them into a meal – just use bigger mushrooms. This would make a unique side dish for a Thanksgiving meal, especially since the oven time (about 40 minutes) is just about how long you should let the turkey rest after pulling it out of the oven. Pop the mushrooms in when you take the bird out, and they'll both be ready to go at the same time.
You can use pretty much any type of sausage you like to make the fillings: spicy chorizo, mild Italian, bratwurst, or whatever else tickles your fancy. You can also pick the mushrooms that taste best to you; just make sure they're big enough to hold the stuffing. Go for a classic favorite like button mushrooms, or take a risk and try something new – either way, they're sure to disappear off the serving plate in a hurry.
Sausage-Stuffed Mushrooms Recipe

MAKES: 20

PREP: 15 min.

COOK: 1h.

Values are per portion. These are for information only & are not meant to be exact calculations.
Ingredients
20 large button mushrooms;
1 lb. sausages, casings removed;
1 onion, thinly chopped;
½ bell pepper, thinly chopped;
2 garlic cloves, minced;
2/3 cup almond meal;
2 tbsp. fresh parsley leaves, minced;
2 tbsp. olive oil;
Sea salt and freshly ground black pepper;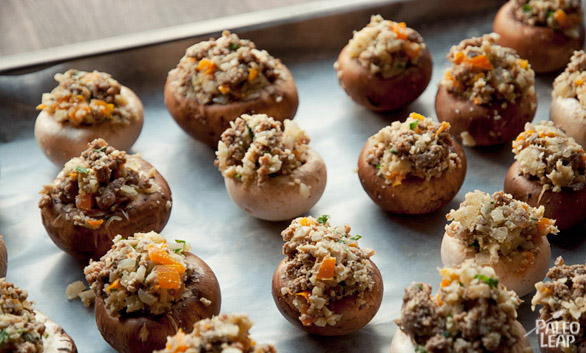 Preparation
Preheat your oven to 325 F.
Remove the stems from the mushrooms. Chop the removed stems finely and set aside.
Toss the mushroom caps in a bowl with the olive oil, and set aside.
Melt some cooking fat in a skillet placed over a medium heat.
Add the sausages to the skillet and cook for 8 to 10 minutes, while breaking them apart into tiny pieces with a wooden spoon.
Add the chopped mushroom stems, onion, bell pepper, and garlic to the sausages, and cook for another 5 minutes.
Add the almond meal and stir until well combined with the other ingredients. Remove from the heat.
Add the parsley; give it a good stir, and season to taste with salt and pepper.
Fill each mushroom cap with a generous amount of the sausage mixture.
Line all the stuffed mushrooms on a baking sheet, and place in the oven.
Cook for about 40 minutes or until the stuffing is browned and crusty.
Remove from the oven and serve while warm.