Welcome back to Part 2 of our series on sitting. In the modern environment, nobody can realistically avoid sitting entirely – it's just not realistic. But actually, that might not be such a huge problem.
Last week's article explored exactly what is that makes sitting dangerous:
Sitting constantly without a break.
Other unhealthy activities that we do while sitting (e.g. snacking on junk while watching TV).
To minimize the dangers of sitting, you don't have to start shunning chairs and eating at your treadmill desk. It's really all about breaking up long periods of sitting and avoiding unwanted sitting "add-ons" like TV snacks. So here's how to make sitting work for you, wherever you have to do it.
If You're Sitting In the Car
First of all, consider whether you have to get in the car at all. Have you looked into bike commuting? It's an easy way to multitask your commute and your workout, and it can save a lot of money on gas. Even if you can't get to work on a bike, can you bike or walk to the grocery store, or to run random errands? The best way to avoid sitting in the car is to avoid the car, full stop.
Failing that, though, what do you do if you are stuck with a car? You can't exactly get up for a walk on the road!
For trips longer than an hour, get out and stretch every hour. Don't just twist around in your seat; get up, bend over, and take a brisk five-minute walk (bonus: you'll be more awake and a much safer driver to share the road with).
Arrange your car seat so you can sit properly; don't let yourself get swallowed up by the seat. Invest in a pillow or seat cover that supports your back.
Keep water bottles and healthy nonperishable snacks (e.g. cans of fish or baggies of jerky) in the car so you don't have to resort to junk food from gas stations.
Resources
If You're Sitting At Work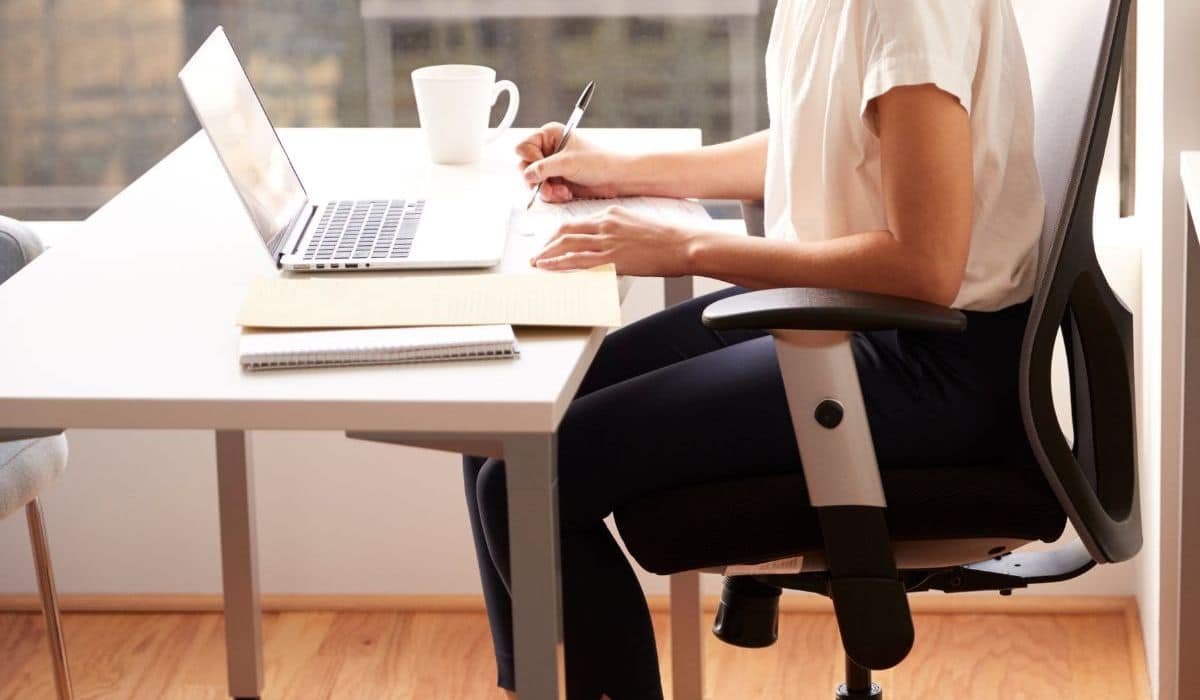 Of all the places to reduce sitting, most people will get the biggest return on investment from addressing sitting at work, just because that's where they spend the most time in a chair. If you have an active, on-your-feet kind of job (anything from barista or schoolteacher on up to construction worker) you've got nothing to worry about, but what about the office workers of the world?
One solution is a standing desk – and you don't have to buy a special desk. Specially made standing desks are great, but they're also expensive and not every company will spring for one. But you can very easily do it yourself: just put a pile of books on your regular desk for your monitor with a slightly lower pile for your keyboard and mouse, and stand up! You don't have to stand the whole day either; start with an hour or two at a time and work up from there.
Standing desk not an option? Go for the next-best thing: planned breaks from sitting. Pick any program that lets you set an alarm on your computer, and set a timer to go off every hour (or hour and a half, if you'd rather) to remind you to get up. Do a few stretches and walk around a bit; then sit back down. Don't rely on yourself to remember; you'll get into the swing of something and forget.
If you are going to be sitting down, also remember to pay attention to posture. If you can't get a standing desk, can you get a backless stool or another type of chair that makes it impossible to do the "IT Slouch" (shoulders hunched, neck forward, back rounded)?
Resources
If You're Sitting At Home
Ah, home from a long day of sitting. Now, to…sit down and relax – or not!
You might not be able to stand up at work, and you might not be able to do anything about your commute, but at home, you're in complete control of your environment, so you shouldn't have to sit down if you don't want to. What you do to avoid sitting will depend on what you sit down to do:
If you watch TV or movies, do stretching, foam rolling, or other mobility work while you watch. You'll avoid sitting while you protect your muscles and joints from injury (and you won't have to use your precious gym time to do it).
For screen-watching, you could also just get up during commercial breaks and move around.
If you sit at the computer, why not make yourself a cheap DIY standing desk at home? You can also do crafts or read at a standing desk; in fact, for some types of projects (like huge puzzles, model trains, etc.) they're even better because they let you move around more easily.
Get into the habit of taking a walk in the evening – even just half an hour after dinner will help break up the time regardless of what else you're doing.
Needless to say, don't let sedentary leisure activities turn into an excuse for junk food. Don't eat while you watch TV.
Resources
Summing it Up
Sitting sometimes throughout the day isn't bad for you. The problem is sitting constantly (and no, one hour in the gym does not negate the other 15 spent sitting), sitting with horrible posture, and the unhealthy extras associated with sedentary activities. And even if you can't avoid the sitting itself, you can definitely avoid all those things.
Unfortunately, if you want to organize your day to break up sitting time, you're going to have to go against the flow – the world is not set up to prioritize your health, so you'll have to do some things that come off as "weird" or different. But you might actually find that you get a lot of interested converts who are just as sick of sitting as you are! Try it out and see if you don't feel better even from taking occasional breaks to get up and stretch.