From granola bars to crackers to potato chips, snack food is some of the carbiest food around, at least in its typical convenience-store incarnations. So if you're eating keto, cleaning out the snack drawer might be a good place to start the carb purge...until you get hungry between meals and need some keto options. Then what?
"Almonds to the rescue!" isn't terribly comprehensive, as snack advice goes, so here's a look at the science of snacking on a Paleo keto diet. Below you'll find some suggestions for keto snack food and tips for different snacking types (e.g. people who tend to snack when they're bored vs. people who snack when their blood sugar crashes.)
Do you even need to snack on keto?
The first thing to note here is that many people don't need to snack at all when they're eating keto. Even if you've always been a snack monster, keto might be a game-changer for you. If you used to snack to "keep your blood sugar up" or because you got sudden energy and mood crashes midmorning and mid-afternoon, keto could very well be your ticket to the snack-free life. When your diet isn't based on carbs to begin with, the daily ride on the blood sugar rollercoaster just doesn't happen and there's no need to prop yourself up with constant doses of sugar and refined carbs.
A good rule of thumb for beginners is to start out assuming that you just won't need to snack. Eat three big meals, eat until you're full at every meal, double-check to make sure you're getting enough high-quality fat, and then wait and see if you even need anything between meals at all.
If it turns out that you're still hungry (not bored
, not stressed, not lonely, hungry), even though you ate until you were full, then it's time to look at snacks. There's nothing wrong with snacking on keto, even if it isn't necessary. In some studies, like this one, people were allowed to eat keto-friendly snacks as desired, and still saw good results (in this particular case, the keto eaters enjoyed lower appetite and lower food consumption on keto compared to a control diet, even though they were allowed to snack as much as they wanted).
In fact, if you're trying to gain weight or avoid losing weight on keto, snacking can be really helpful because it's an easy way to get some extra calories in. Snacking can also be useful if you want to adjust your macronutrient ratios a little without changing your daily meal routine. For example, say you want to try upping your carbs just a little bit, but you want to be able to snap right back to ultra-low-carb eating without any break in your routine. You could add in some carrots or another moderate-carb snack instead of changing your meals (9-10 baby carrots is a convenient way to get roughly 5 grams of carbs into your day, if you want a no-brainer way to do this in easy increments). Need to cut the carbs back down? Just swap out the carb snack for something else.
Keto snack ideas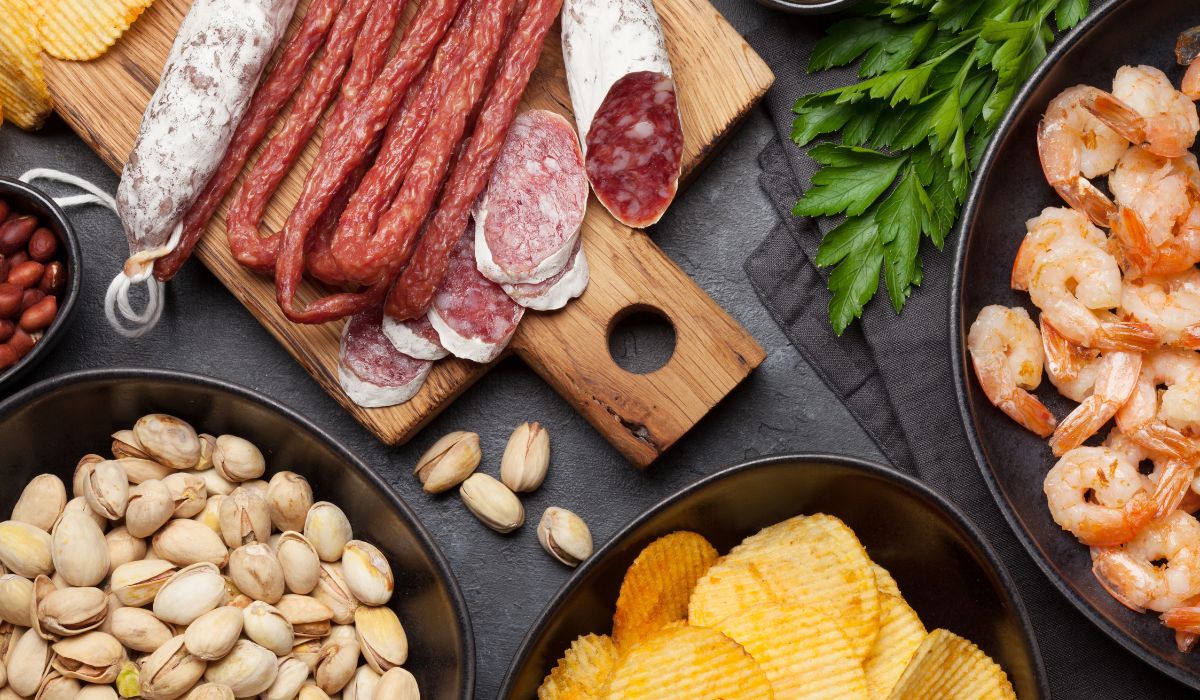 Keto snacking is a little more complicated than just grabbing a bagel or a handful of goldfish crackers, especially since a lot of keto foods tend to be perishable and not the type of thing you can easily hoard away in the cupboard for a hungry day. But you do have options!
For the boredom/emotional eaters
If you tend to eat for entertainment or emotional reasons (loneliness, stress, etc.), but you're trying to kick that habit to lose weight, it might help to stick to these:
Snack-sized amount of leftover meat (chicken drumsticks are a good size for this: you can cook up a big batch and snack on them as necessary) - 0 or very few grams of carbs, depending on the meat and any sauces/seasonings you put on it.
Hard-boiled egg(s) - 0.6 grams of carbs per 1 egg.
Can of tuna (with mayo, hot sauce, mustard, whatever sounds good to you) - 0 grams of carbs in the tuna; for the condiments it depends what you put on it.
Kale chips - 2 grams of net carbs per serving.
Olives (you can get them in convenient snack packs at most grocery stores) - .7 grams of net carbs per 5 olives
Seaweed snacks (you can buy these at grocery stores - they're just crunchy sheets of roasted seaweed. Very tasty!) - carb count varies so check the individual package, but it's generally low.
If none of that sounds super appetizing: that's exactly the point. The whole idea of that list is that these snacks will be appealing only if you're actually physically hungry. This will naturally help you avoid eating out of boredom, stress, loneliness, or other reasons.
For the non-boredom eaters/would-be weight gainers
If you don't tend to eat for entertainment OR if you need to snack more to gain weight on keto, try these:
Roasted, salted nuts (watch the carb count if you're being super strict). Here's a chart of the carb counts in some popular nuts:
| | |
| --- | --- |
| Nut type | Grams of net carbs per 1 ounce (roughly a handful) |
| Almonds | 2 grams |
| Walnuts | 0.82 grams |
| Cashews | 7.6 grams |
| Macadamia nuts | 1.4 grams |
Keto "fat bombs" - like these - 12 grams net carbs per serving
Avocado with sea salt - 2.55 grams net carbs per 1 avocado
Single-serving packs of nut butter or coconut butter (buy them at grocery stores to shove in your bag - they keep forever) - carb count depends on the brand and the nut.
Brie cheese - 0.1 grams net carbs per 1 ounce. Other fatty cheeses would also be just as good!
Salami or summer sausage - carb count depends on the brand, but often low
These foods are a little bit "more-ish" and tend to be attractive even if you're not physically super hungry. Beef jerky is a little protein-heavy for keto, but it could also be a good choice if you do better with more protein in the mix.
Summing it up
It's fine to snack on keto - just keep an eye on your carb counts and make sure you're not going over your limit with snack foods. The real danger with snacks isn't the concept of eating between meals; it's that people tend to forget about snacks, pretend the carbs don't count, or let their snacking habit derail the rest of their diet. Provided that isn't going on, keto-friendly snacks are just fine.