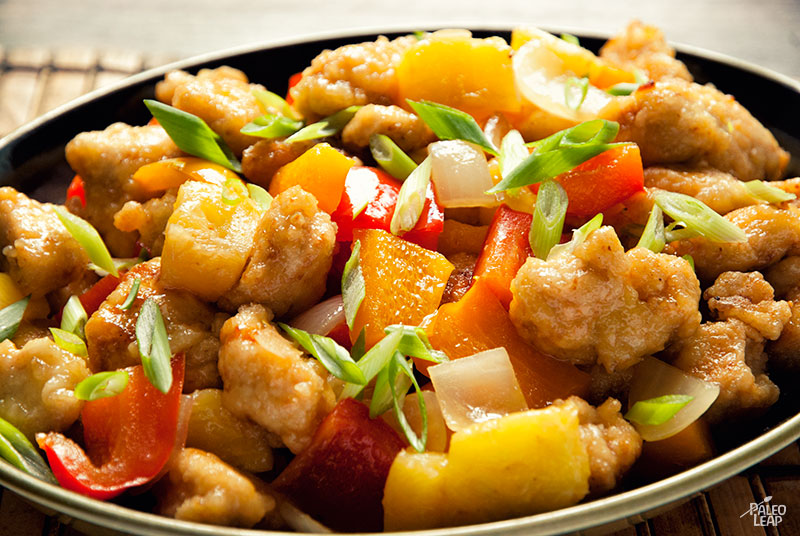 Throw out that old menu from Panda Express: Paleo is here to reclaim the sweet'n'sour chicken throne. Crispy chunks of pan-fried chicken and juicy bites of pineapple are all coated in a tangy-sweet sauce – and all without a trace of flour or vegetable oil. It's delicious on its own merits, but if daydreams of takeout keep butting into your well-intentioned meal plans, this is definitely a Paleo alternative to try.
To get that perfect crackle on the chicken, it's coated in a blend of almond flour and tapioca starch before frying. Both are Paleo-friendly flour replacements: almond flour is very familiar, and tapioca starch is just a ground-up and dehydrated form of the cassava root. But if you don't like using flour substitutes (and you don't mind sacrificing a little texture), you can just pan-fry the chicken without any coating.
If the sauce isn't quite thickening up the way you like it, you can also add a little tapioca starch to it as well. Serve your masterpiece over riced cauliflower, steamed vegetables, or a big pile of Brussels sprouts: it beats the food court hands down for nutrition, and it even tastes better, to boot!
Sweet and Sour Chicken Recipe

SERVES: 4

PREP: 25 min.

COOK: 20 min.
Values are per portion. These are for information only & are not meant to be exact calculations.
Ingredients
3-4 boneless skinless chicken breasts, cut into cubes;
1 cup tapioca starch;
½ cup almond flour;
3 eggs, beaten;
1 cup pineapple, cut into chunks;
½ cup fresh pineapple juice;
1 cup bell pepper, chopped;
1 cup onion, chopped;
3 tbsp. honey; (optional)
2 tbsp. apple cider vinegar;
2 green onions, thinly sliced;
¼ cup chicken stock;
½ cup coconut oil;
Sea salt and freshly ground black pepper;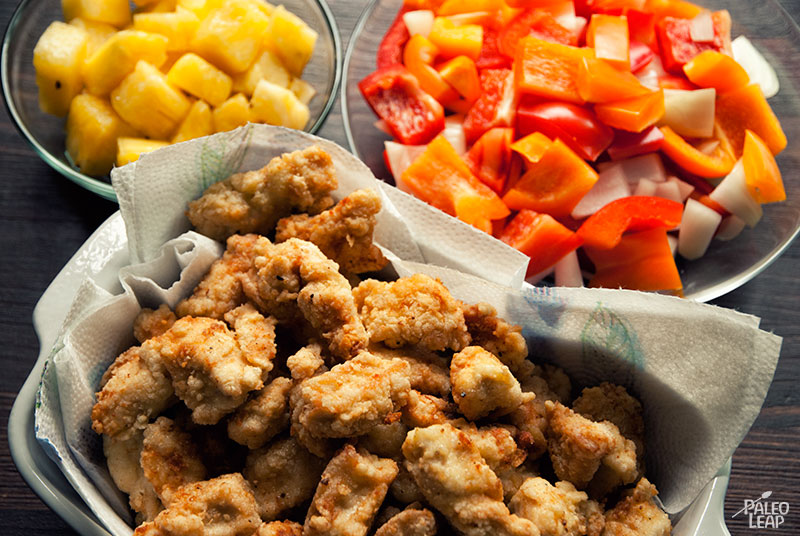 Preparation
In a bowl, combine the almond flour, the tapioca starch, and season with salt and pepper to taste.
Dip each chicken cube in the beaten eggs; then coat with the tapioca mixture.
Heat the coconut oil in a large skillet placed over  a medium-high heat.
Cook the chicken until browned on all sides (you might want to work in batches).
Set the chicken aside and clean the skillet.
Heat some coconut oil again over a medium heat, add the bell pepper and onion, and cook for 2 minutes.
Stir in the pineapple chunks, pineapple juice, apple cider vinegar, chicken stock, honey (if using), and salt and pepper to taste. Bring to a simmer and cook until the sauce slightly reduces, about 5-8 minutes. If you're looking for a thicker sauce, you can add some tapioca starch.
Return the chicken to the skillet. Mix everything well and let it all heat up for about 5 minutes.
Serve warm with green onions sprinkled on top.