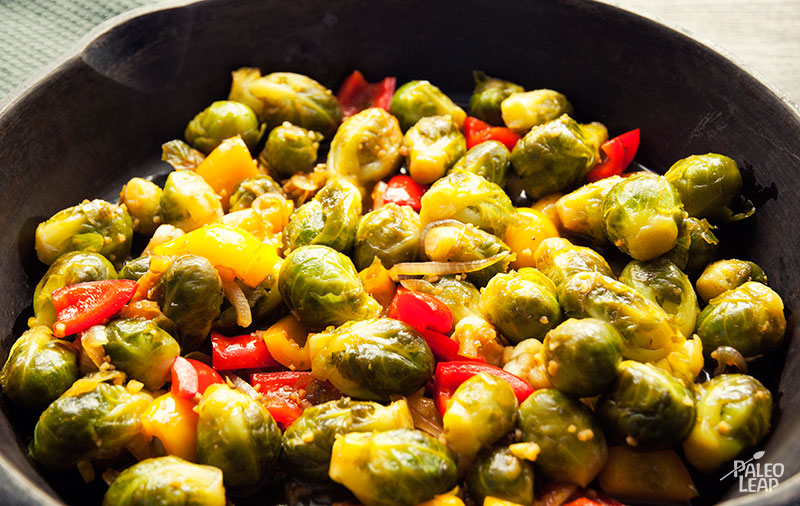 What to do with Brussels sprouts? Most of us have had a stomach-turning boiled Brussels sprout experience at some point: a plate full of slimy, green-brown mush is nobody's friend. So toss out the boiling water and pull out the skillet instead for Brussels sprouts that are browned on the outside, tender on the inside, and enhanced with a gingery Asian flavor that takes away any last hint of bitterness. If you hate Brussels sprouts but can't remember why, you really owe it to yourself to try them cooked like this to see whether it was the sprouts themselves, or just the cooking method that you couldn't stand.
That's especially true because Brussels sprouts are so incredibly nutritious. Just one serving of this recipe will give you a healthy dose of Vitamins A, C, K, and B9 (Folate), with smaller amounts of important minerals like potassium and manganese. A word of warning, though: Brussels sprouts aren't recommended if you have a FODMAPs intolerance, since they're high in certain types of FODMAPs carbohydrates. For most people, those same carbohydrates are very healthy (since they feed the gut flora), but anyone with a FODMAPs sensitivity will probably want to stay away from a big pile of sprouts.
This dish works perfectly as a side for just about any Asian-inspired meal you like. You could also add some beef or chicken right into the skillet with the Brussels sprouts and make your whole dinner all in one pan. Brussels sprout aficionados will love it, and even the dubious might change their minds after a few bites!
Asian Stir-Fried Brussels Sprouts Recipe

SERVES: 4

PREP: 15 min.

COOK: 18 min.

Values are per portion. These are for information only & are not meant to be exact calculations.
Ingredients
1 pound Brussels sprouts, rinsed;
½ large onion, sliced thinly;
1 bell pepper, chopped;
½ tbsp. fresh ginger, minced;
2 garlic cloves, minced;
1 tbsp. coconut aminos;
2 tbsp. raw honey; (optional)
1 Tbsp. cooking fat;
Sea salt and freshly ground black pepper;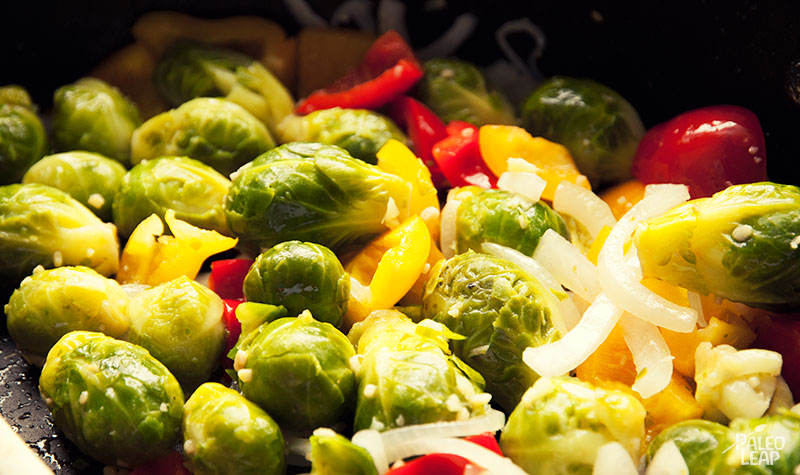 Preparation
In a large skillet placed over a medium heat, melt some cooking fat and cook the garlic and onion for 2 to 3 min.
Add the Brussels sprouts to the skillet and cook for another 5 min.
Add the bell pepper, ginger, coconut aminos, raw honey and season with salt and pepper to taste.
Cook everything for about 10 minutes or until the Brussels sprouts are soft and tender, stirring frequently.
Serve warm.