et no vegetable go to waste, make that your kitchen mantra and allow the world of curries to survive past ethnic restaurants and culinary trips abroad. Until you find your curry groove, try to replicate this Thai Green Curry with cauliflower rice to experience something far greater than ordinary.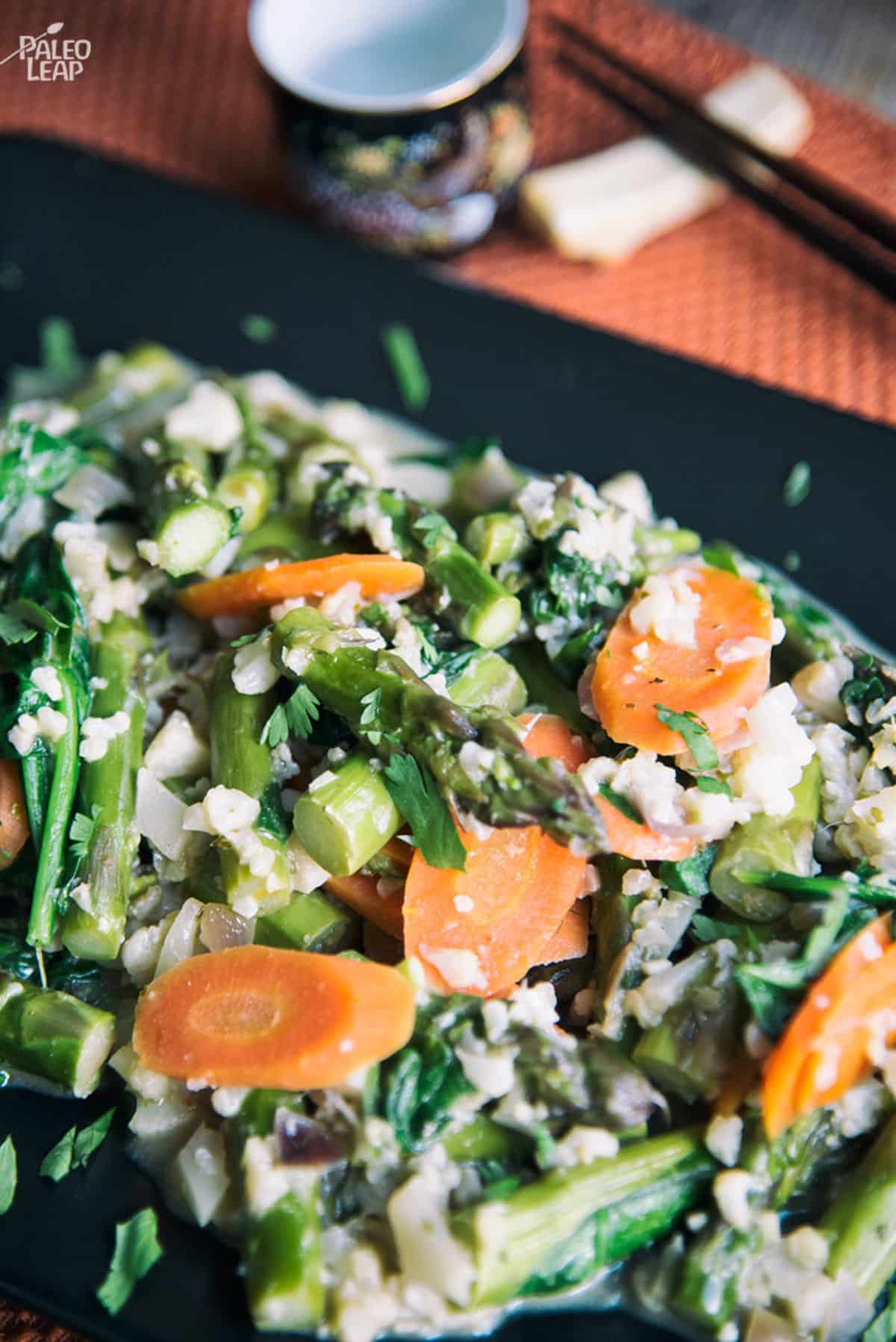 It is one of those spicy-vegetarian-feel-good dishes that are well worth the time it takes to prepare and cook. If you are so inclined, celebrate your modern Paleo life with a small glass of white wine.
Just about anything can be added to a curry; use what you have on hand, but make sure to add the proper spices for authentic zing. Indian curry utilizes flavors such as cardamom, cloves, cumin, nutmeg, and cassia bark, while Thai curry embraces seasonings of shrimp paste, chilies, shallots, lemongrass, coriander, and garlic.
The importance of spices is far underrated in our contemporary fare. They increase the depth of flavors with their warming or cooling effects, and they can limit inflammation and help soothe digestive disorders from within. Complex herbs they are - simply put, they increase the enjoyment of food.
An orange drink made from fresh ginger and turmeric is often served with breakfast, but we think it goes great with curry too. If it is a hint of sweetness you may be craving, then perhaps this Raspberry Lime Flavored Water will quench your thirst between aromatic bites.
Vegetarian Thai Green Curry With Cauliflower Rice Recipe
Serves: 4 Prep: 25 min Cook: 30 min
Ingredients
2 cups cauliflower, riced
2 cups baby spinach, roughly chopped
½ bunch asparagus, trimmed and chopped
4 carrots, peeled and thinly sliced
1 red onion, diced
1 garlic clove, minced
1 tbsp. fresh ginger, minced
1 cup full-fat coconut milk
½ cup vegetable stock
2 tbsp. coconut aminos
1 tbsp. coconut oil
Fresh cilantro (to garnish)
Sea salt and freshly ground black pepper
Green Curry Paste
3 green chilies, de-seeded and chopped
2 green onions, chopped
1-inch fresh ginger, peeled and grated
2 garlic cloves, chopped
1 bunch of fresh cilantro
1 lemongrass stalk, chopped
Zest and juice of 1 lime
4 lime leaves, chopped
1 tsp. ground coriander
1 tsp. ground cumin
¼ cup olive oil
Sea salt and freshly ground black pepper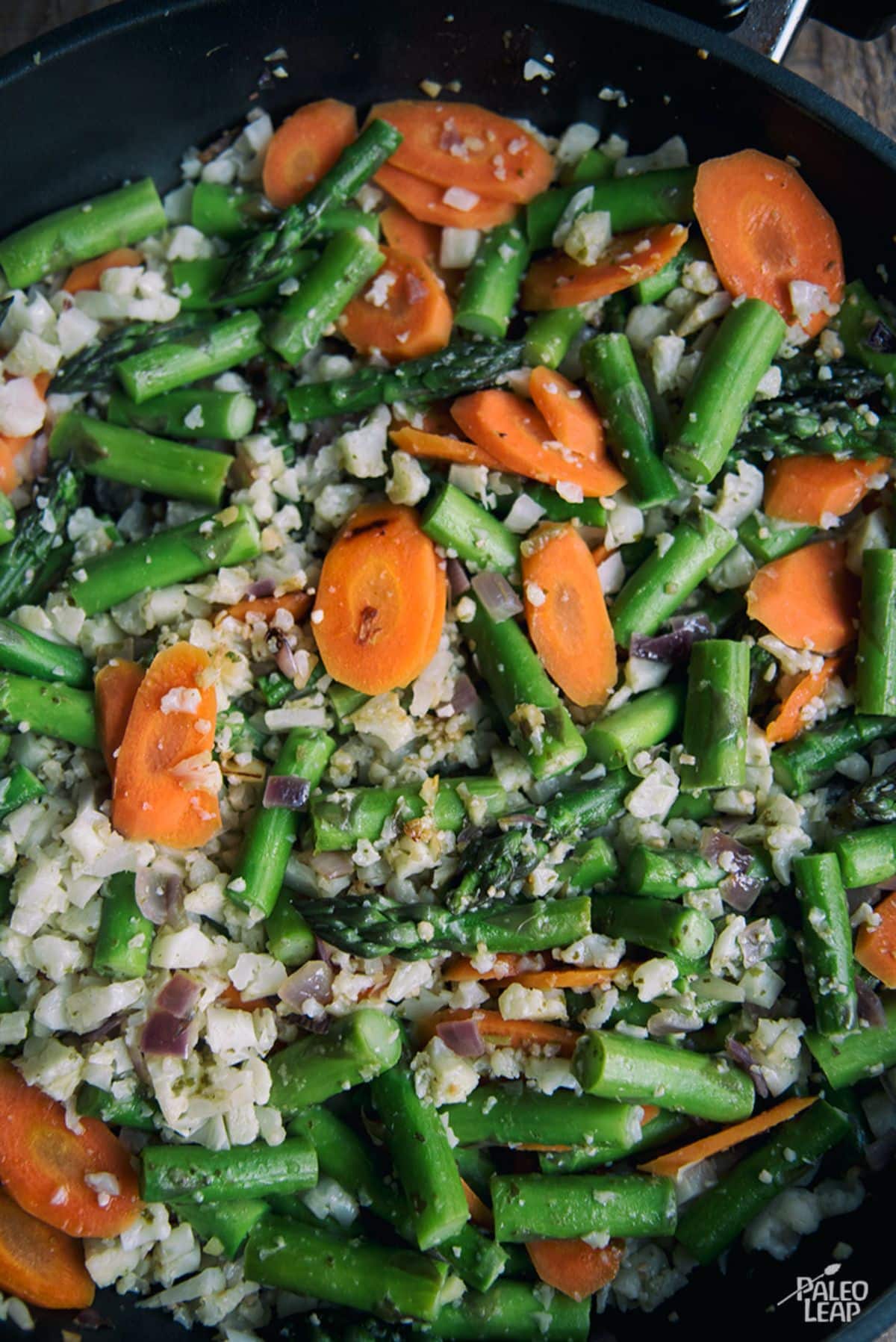 Preparation
Place all of the ingredients for the green curry in a food processor and pulse until you get a smooth paste.
Melt coconut oil in a skillet over medium-high heat.
Add the onion, garlic, and ginger and cook until fragrant 1 to 2 minutes.
Add the cauliflower, carrots, and asparagus, and cook, stirring, for 4 to 5 minutes.
Mix in ¼ cup of the green curry paste and stir everything together until well-mixed.
Next, pour in the coconut milk, vegetable stock, and coconut aminos.
Bring to a light simmer and cook for 8 to 12 minutes or until vegetables are nice and tender.
Add the spinach and cook, stirring for 1 to 2 minutes or until the spinach is wilted.
Adjust seasoning and serve topped with fresh cilantro.
📖 Recipe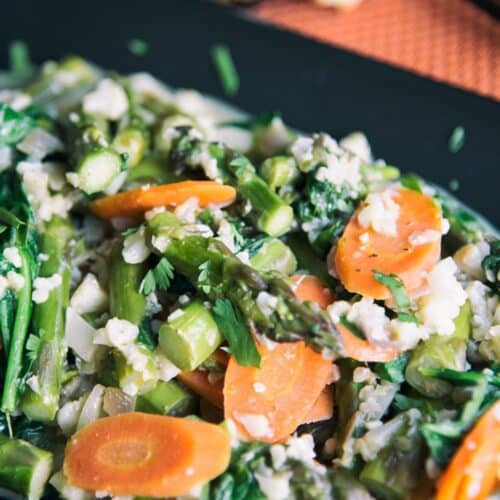 Vegetarian Thai Green Curry With Cauliflower Rice Recipe
Life without curry, is no life at all. This Paleo Vegetarian Thai Curry will tempt your taste buds with soulful bites of ginger, lime coconut and coriander.
Instructions
Place all of the ingredients for the green curry in a food processor and pulse until you get a smooth paste.

3 green chilies,

2 green onions,

1- inch fresh ginger,

2 garlic cloves,

1 bunch of fresh cilantro,

1 lemongrass stalk,

Zest and juice of 1 lime,

4 lime leaves,

1 tsp. ground coriander,

1 tsp. ground cumin,

¼ cup olive oil,

Sea salt and freshly ground black pepper

Melt coconut oil in a skillet over medium-high heat.

Add the onion, garlic, and ginger and cook until fragrant 1 to 2 minutes.

1 red onion,

1 garlic clove,

1 tbsp. fresh ginger

Add the cauliflower, carrots, and asparagus, and cook, stirring for 4 to 5 minutes.

2 cups cauliflower,

4 carrots,

½ bunch asparagus

Mix in ¼ cup of the green curry paste and stir everything together until well-mixed.

Next, pour in the coconut milk, vegetable stock, and coconut aminos.

1 cup full-fat coconut milk,

2 tbsp. coconut aminos,

½ cup vegetable stock

Bring to a light simmer and cook for 8 to 12 minutes or until vegetables are nice and tender.

Add the spinach and cook, stirring for 1 to 2 minutes or until the spinach is wilted.

Adjust seasoning and serve topped with fresh cilantro.

Fresh cilantro,

Sea salt and freshly ground black pepper
Nutrition
Calories:
330
kcal
Carbohydrates:
16
g
Protein:
4
g
Fat:
30
g
Saturated Fat:
16
g
Polyunsaturated Fat:
2
g
Monounsaturated Fat:
11
g
Sodium:
445
mg
Potassium:
523
mg
Fiber:
4
g
Sugar:
4
g
Vitamin A:
2973
IU
Vitamin C:
38
mg
Calcium:
77
mg
Iron:
4
mg