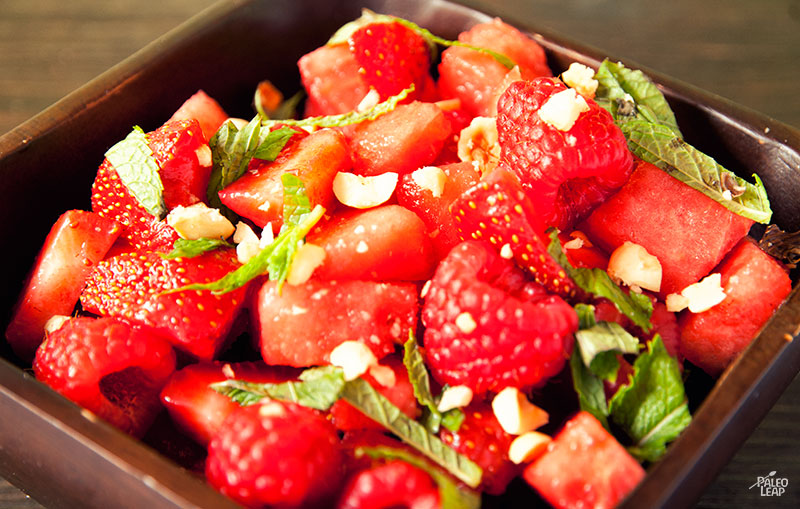 Satisfy your sweet tooth and brighten up any meal with a cheerful pink and green salad: juicy chunks of watermelon, plenty of fresh berries, and a refreshing hint of mint and lime juice. It's a delicious way to take advantage of berry-picking season: just a little fancier than eating them straight out of the box, but not a lot of extra work to get there.
You can sweeten the salad with some raw honey if you like, or just leave it out and let the fruit speak for itself. A handful of roasted hazelnuts adds a nice crunch, but if you don't want to bother with roasting them, you could just leave them out – or replace them with walnuts or any other type of nuts.
The longer you leave this one in the fridge to chill, the better it'll taste, so it's great for making in advance when you know you want to cook later. If you make it at lunchtime, it would be perfect for dessert on a hot evening. Or try it as a healthy mid-afternoon treat when the snacking impulse strikes: with real food this good, who needs candy?
Watermelon, Raspberry and Mint Salad Recipe

SERVES: 4

PREP: 15 min.

COOK: 10 min.

Values are per portion. These are for information only & are not meant to be exact calculations.
Ingredients
½ cup hazelnuts;
1/3 cup water;
¼ cup fresh lime juice;
1 tbsp. raw honey; (optional)
1/2 small watermelon, rind removed, cut into chunks;
1 cup raspberries;
1 1/2 cup strawberries, washed, hulled, and sliced;
1/4 cup fresh mint, shredded;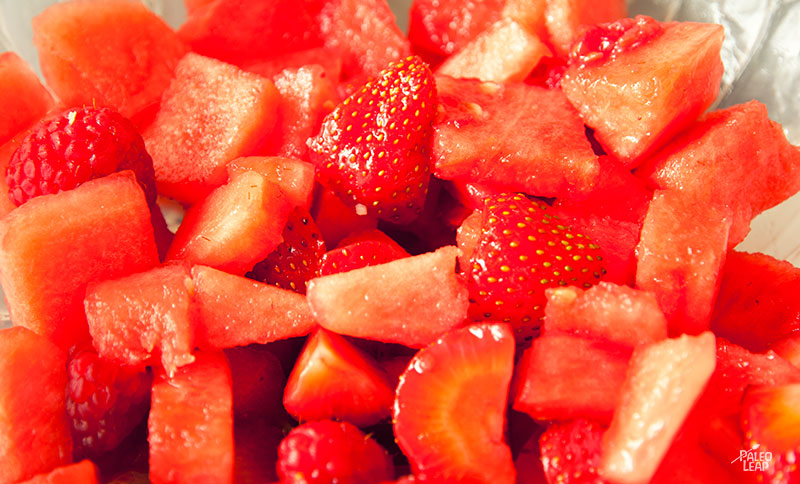 Preparation
Preheat your oven to 350 F.
Spread the hazelnuts over a baking tray and bake in the oven for 8-10 minutes.
Place the roasted hazelnuts on a clean towel and rub to remove the skins. Chop them coarsely.
Stir together the water, lime juice, and honey for 5 minutes in a saucepan placed over a low heat. Set aside to cool.
In a large bowl, combine the watermelon, the raspberries, the strawberries, and the mint.
Drizzle the fruit with the lime sauce and gently toss to combine.
Sprinkle the chopped hazelnuts on top and serve.