Chicken can sometime be flavorless, dry, or both. This can simply be because it's overcooked, or because 1) you're not cooking the right recipes and 2) it's a very lean meat to start with, with little fat to add flavor and keep it moist. By stuffing chicken, you can fix these two problems. You'll also notice a common theme throughout these recipes and that's that most of them incorporate pork in some way. Since pork is generally much more fatty, it's a great way to keep the chicken tender, moist and full of flavor. Don't worry, you'll also get your veggie fix too!
If you're a fan of olives, or the classic Mediterranean combination of peppers, red onion and oregano, than this recipe will be a sure hit for you. It's also a great way to get your kids eating more veggies without them even noticing.
Most are not too keen on the idea of warm avocados, but this recipe proves that it can still be delicious. We're a big fan of the creamy guacamole inside with the crispy almond flour crust on the outside.
Although this recipe is great for anytime of the year, it's exceptionally perfect in the fall. The stuffing contains all our favorite fall flavors - nuts, sage, leeks, bacon and garlic.
Another Mediterranean inspired recipe makes the list. The pancetta and artichoke hearts in the filling help keep the chicken nice and moist, which not only makes for a delicious dish, but it also makes for great tasting leftovers.
Not too long ago we made a huge batch of homemade sausage. We were in need of something to do with it all, so that's how we came across this recipe. It's so simple, yet so full of flavor. Although the Chorizo chicken combo is amazing, you can also swap out the Chorizo for another flavor; it's kind of impossible to not end up with something delicious.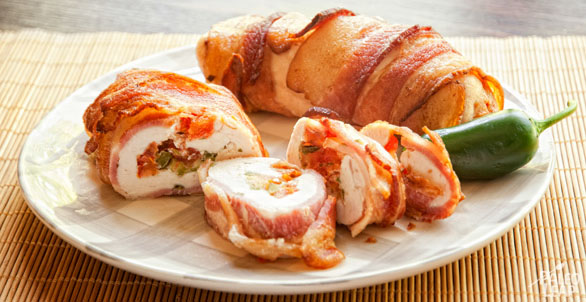 An easy dish to throw together when time is of the essence. The recipe includes a simple salsa, but if you've got some hanging out in the fridge that needs to be used up, that works just as well.
This recipe is great to prepare with kids, or perfect for the kids at heart. It's a fun way to get the whole family involved in dinner prep and the finished product is oh-so-good.
Pork and chicken happens to be a great combination and when wrapped in bacon, well let's just say it doesn't get much better than that! It can be super easy to overcook chicken, but with the meat stuffing and the bacon wrap, you'll find this makes for very tender chicken.
Stuffing a whole chicken can be just as tasty as stuffing the breast. We love this recipe for it's simplicity. It's a sure favorite when our herbs are fresh from the garden.
We've already mentioned it a few times here, but we'll say it again - bacon works wonders when it comes to keeping your chicken moist and tender. So, it's pretty much a guarantee that a whole chicken layered in bacon would be anything but delicious.