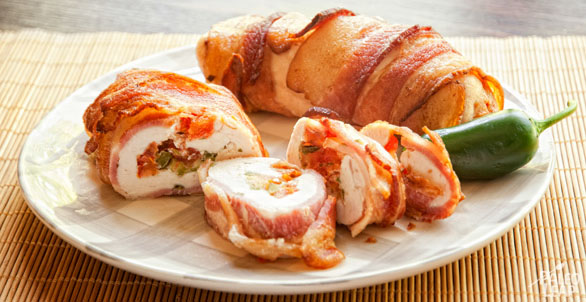 From mini meatloaves to asparagus, is there anything that isn't better wrapped in bacon? The Paleo bacon cult can get a little over the top, but there's a reason why it's so popular: crispy and succulent at the same time, shining with delicious fat, bacon stands ready to lend its flavor to anything that needs a little extra tastiness. This recipe showcases bacon at its best, and at its healthiest: used as a condiment to add flavor, and not as the main part of the meal. Chicken breast by itself is very lean, so the fatty bacon outside and the juicy salsa inside are welcome additions.
This recipe includes directions for making a simple salsa, but if you already have a favorite recipe, you could use that as well. Salsa verde is another option; there really are no wrong choices. The jalapeno pepper in the salsa gives it a spicy kick, and lets you control how hot the recipe is by adding more or cutting back. If you're going to be using the peppers, I recommend that you wear gloves while you're handling them: the spicy oil is hard to wash off and very painful if you rub your face and get it in your eyes afterwards. As well as making the recipe as directed with whole chicken breasts, you could also experiment with a bite-size version, using smaller pieces of chicken. This would be a great appetizer, or a finger-food meal for kids who still aren't quite sold on the whole Paleo concept. Or just make the breasts, slice them as shown in the picture above, and serve them with the colorful salsa inside on display; you could even get fancy and top them with a different color of salsa for a real visual feast.
Bacon-Wrapped Salsa Stuffed Chicken Recipe

SERVES: 4

PREP: 20 min.

COOK: 35 min.
Values are per portion. These are for information only & are not meant to be exact calculations.
Ingredients
4 chicken breasts;
12 slices of bacon;
Toothpicks;
Ingredients for Salsa
3 plum tomatoes, peeled and seeds removed, chopped;
2 green onions, sliced;
1 jalapeño pepper, seeded and thinly sliced;
2 cloves garlic;
Zest and juice of 1 lime;
2 tbsp. fresh cilantro, minced;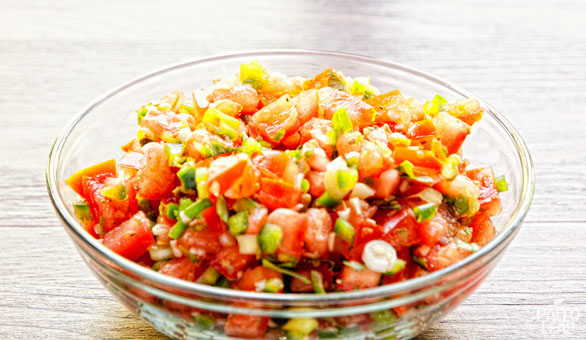 Preparation
Preheat your oven to 400° F.
Combine all the ingredients for the salsa in a bowl and mix well.
Cut the chicken breasts in half horizontally (see here for pictures), so that you can open them up like a book. Flatten them out with a rolling pin.
Fill each chicken breast with an equal amount of the salsa mixture and close them up.
Roll the bacon strips around the chicken, and pin them in place with the toothpicks.
Once the chicken is wrapped, place it in a baking pan and bake 30 to 35 min or until a meat thermometer reads 170 F. Then broil 5 to 6 min or until the bacon is nicely crisp.
Serve with some salsa.