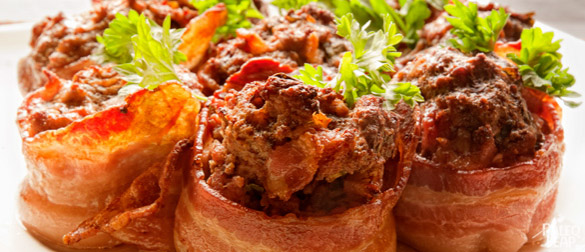 I feel like every time you prepare a recipe that is wrapped in bacon, it's destined to be a complete hit. This next recipe is no exception. These mini bacon-wrapped meatloaves have been one of my crowd pleasers for years and they've never been turned down by anyone. The ground beef cooked in the natural bacon fat becomes incredibly tasty, it almost melts in your mouth. The bacon is not just part of the recipe to keep the meat from becoming dry, but it's obviously there primarily for the amazing flavor it adds to the whole thing.
The mini meatloaves are also quite simple to prepare. They don't require much preparation and are cooked in no time in the oven. It's a good choice when you need to prepare a simple meal and don't have too much time to spend in the kitchen or when you have a last minute guest to impress. You can serve these little bad boys with a light and simple salad on the side. It's a good idea to prepare more than needed because they are very easy to pack into lunches and enjoy as leftovers.
For this recipe, you'll need a muffin tin, which will allow the meatloaves to hold together. For many of you, a muffin tin is probably not something you use often or even have within your reach, but they can be very useful for recipes like this one or small muffin-like omelets. You can also use any type of small round oven recipient that you have handy in your kitchen.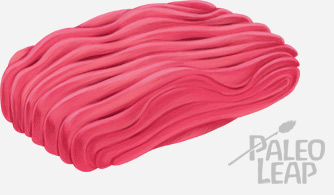 For a breakfast variation, you can always replace the ground beef with some fresh eggs, but don't forget to adjust the cooking time and, in this instance, you might need to precook the bacon.
Make sure to choose bacon that contains less sodium since the saltiness could overpower the other flavors. If your bacon does have a high sodium content, try to at least not to add any more salt to the recipe. Also be on the lookout for the ingredients in your choice of bacon because some brands may contain added sugar and preservatives. Always read the labels or ask your local butcher. Good butcher shops usually produce their own smoked bacon that's much more delicious than the regular store-bought variety and that doesn't contain any bad ingredients.
Usually, a meatloaf is served with a tomato sauce because of the meat that tends to become dry, but in this case it's not necessary since the natural fat in the bacon will keep everything moist. If you really want a condiment, you can always use my simple ketchup recipe.
For those of you still scared of consuming bacon on a Paleo diet, you can read-up about the pros and cons of this much loved piece of smoked pork in my bacon recipe collection.
Bacon-wrapped mini meatloaves Recipe

SERVES: 4

PREP: 20 min.

COOK: 30 min.

Values are per portion. These are for information only & are not meant to be exact calculations.
Ingredients
1 lb ground beef;
1/2 lb bacon, cut in small chunks;
8 additional strips of bacon;
¼ cup coconut milk;
2 garlic cloves, minced;
1/3 cup fresh chives, minced;
Fresh parsley, chopped;
Freshly ground black pepper to taste;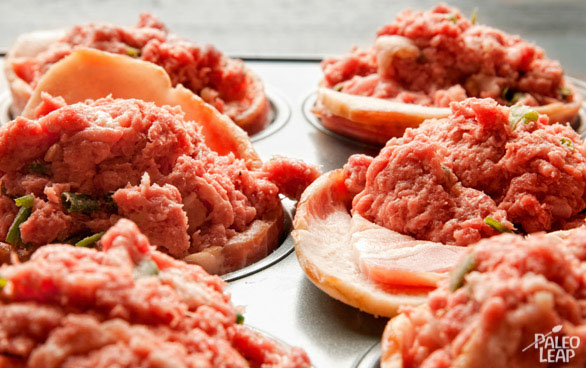 Preparation
Preheat your oven to 400 F.
In a big bowl, combine the ground beef, the bacon chunks, the garlic, the chives and the coconut milk. Mix well until all the ingredients hold together. You can use an electric mixer to save some time.
Season the mixture with freshly ground black pepper to taste. No need to add salt to the mixture since the bacon is already salty enough.
Take a medium size muffin tin and place a slice of bacon around the sides of each hole.
Fill these same eight holes with the beef mixture.
Place in the oven and cook for 30 minutes.
Once ready and cool enough to handle, remove the mini meatloaves from the muffin tin and serve with fresh parsley sprinkled on top.