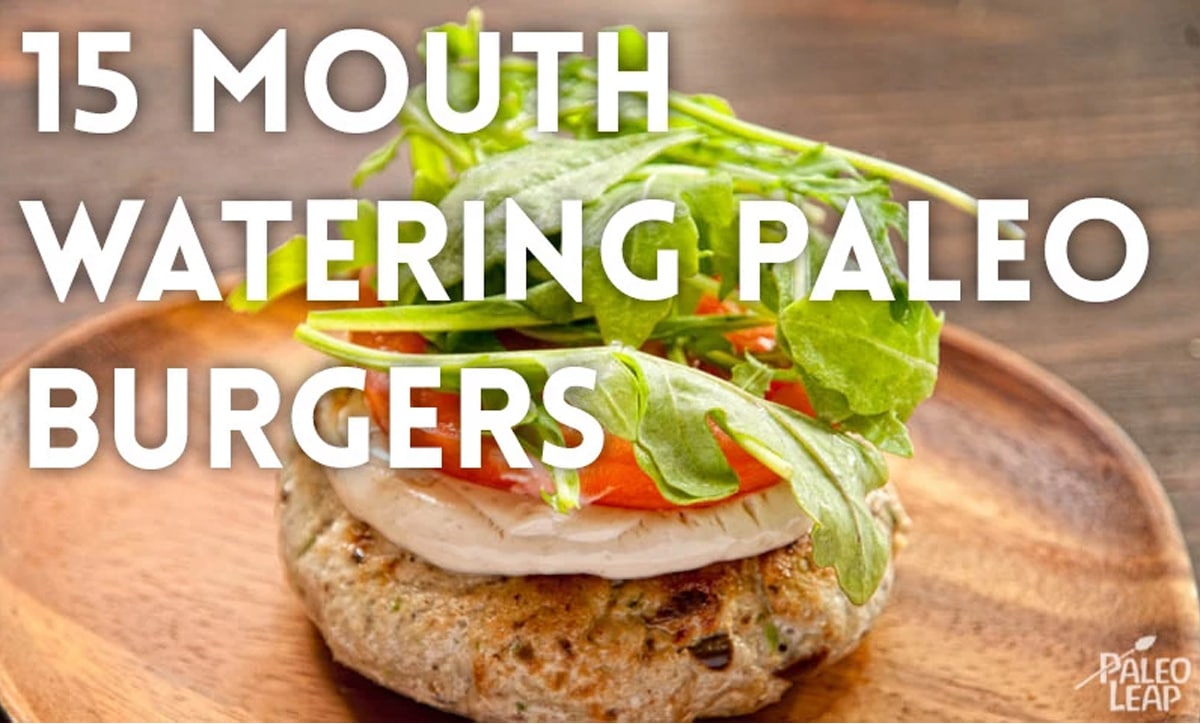 Who doesn't love a burger? Whether it's beef, bison, chicken, salmon or tuna, we're all bound to find at least one burger that totally hits the spot. And now that BBQ season is in full swing, we've been enjoying them probably a little too much lately. We couldn't resist sharing some of the recipes we've tried and loved, as well as ones that are still on our list, but look amazing. So without further adieu, here's 15 mouth-watering burger recipes that you've gotta try! (In no particular order)
1. The Perfect Burger - by PaleOMG
So you've heard the saying "never judge a book by it's cover?" We usually apply this motto when looking at pictures of recipes, because far too often do we make something that looks amazing, but ends up being a flop. Well, good new is that this burger looks un-believable, and actually tastes even better. The avocado mousse and parsnip fries get your mouth watering from first sight.
2. Mustard Beef & Bacon Burgers w/ Red Cabbage Coleslaw - by Eat Drink Paleo
This burger stays true to the fact that a side (or topping in this case) of slaw always compliments the meat well. And then of course the piece of roasted bacon rind is literally the cherry on top. Truly perfection.
3. Tuna Burgers - by Paleo Leap
Surely you've heard of salmon burgers, but maybe not tuna burgers. They're both quite tasty, but the tuna patty is definitely one worth trying, especially for the fish lovers.
4. Paleo Lamb Burgers - from Paleo Foodies
By contributor Scott Gooding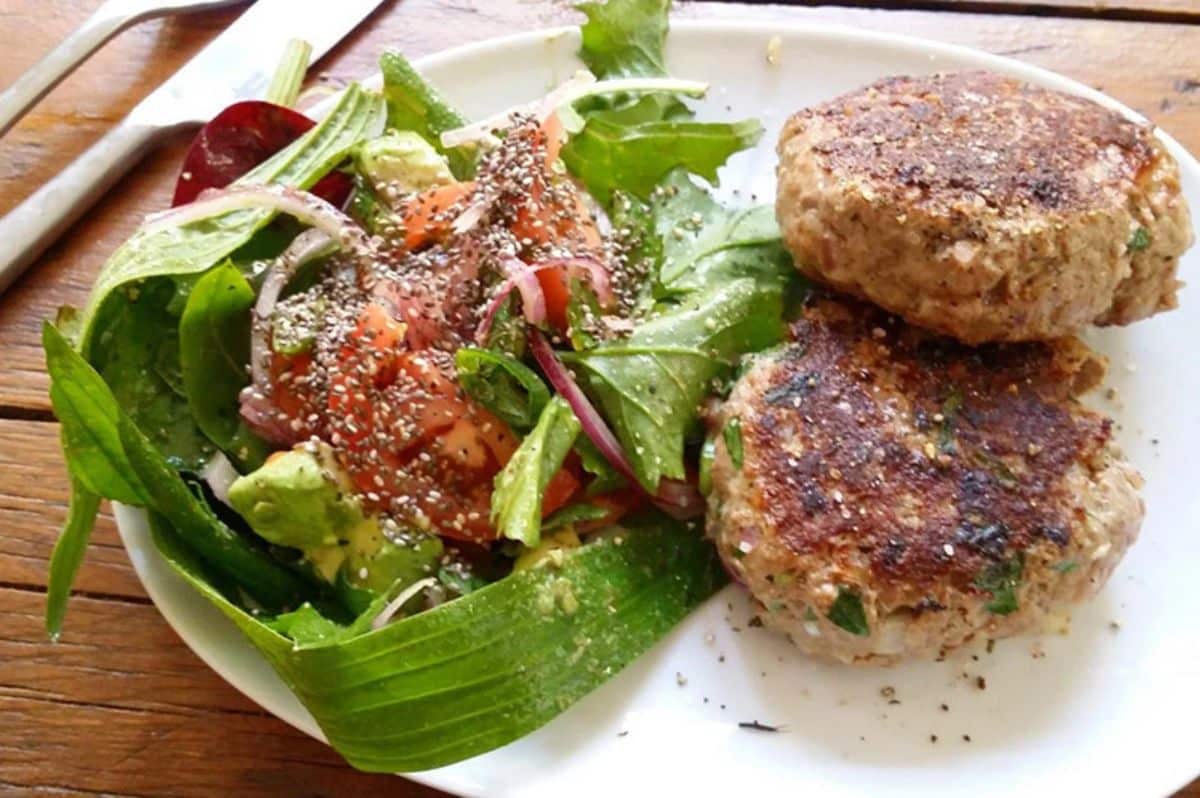 Some people find lamb tricky to prepare, so they often stay away from it. Well this tasty recipe makes for minimal prep and very easy cooking. You don't even need a BBQ, as it can all be done right on your stove-top. Serve up these burgers with a big salad and you've got yourself a quick meal that is very satisfying.
5. Paleo Cajun Burger - by A Girl Worth Saving
As I'm sure you would have assumed from it's name, the flavor for these burgers are in in the patty in the form of a fragrant spice mix. Minimal toppings are a must so that you can enjoy all it has to offer.
6. Bison Bacon Sweet Potato Sliders - by My Healthy Happy Home
These adorable sliders are easy on the eyes and will have you wanting more after the first bite. The bison patties topped with an easy guacamole and bacon, between a sweet potato "bun" - just a few of our favorite things.
7. Tropical Chicken Burger - by The Laughing Spatula
Do things a little different and opt for chicken as the meat for your burger. It was certainly nothing we did much of until we tried this recipe, and now we're hooked. That said, the chicken is certainly special, but the mango does wonders.
8. Elvis Burger - by The Clothes Make the Girl
Walk on the wild side and give this unique burger a shot. You would have never guessed that bacon, banana and almond butter would taste so good all atop the same patty.
9. Paleo Burgers w/ Caramelized Balsamic Onions & Avocado - by Joyful Healthy Eats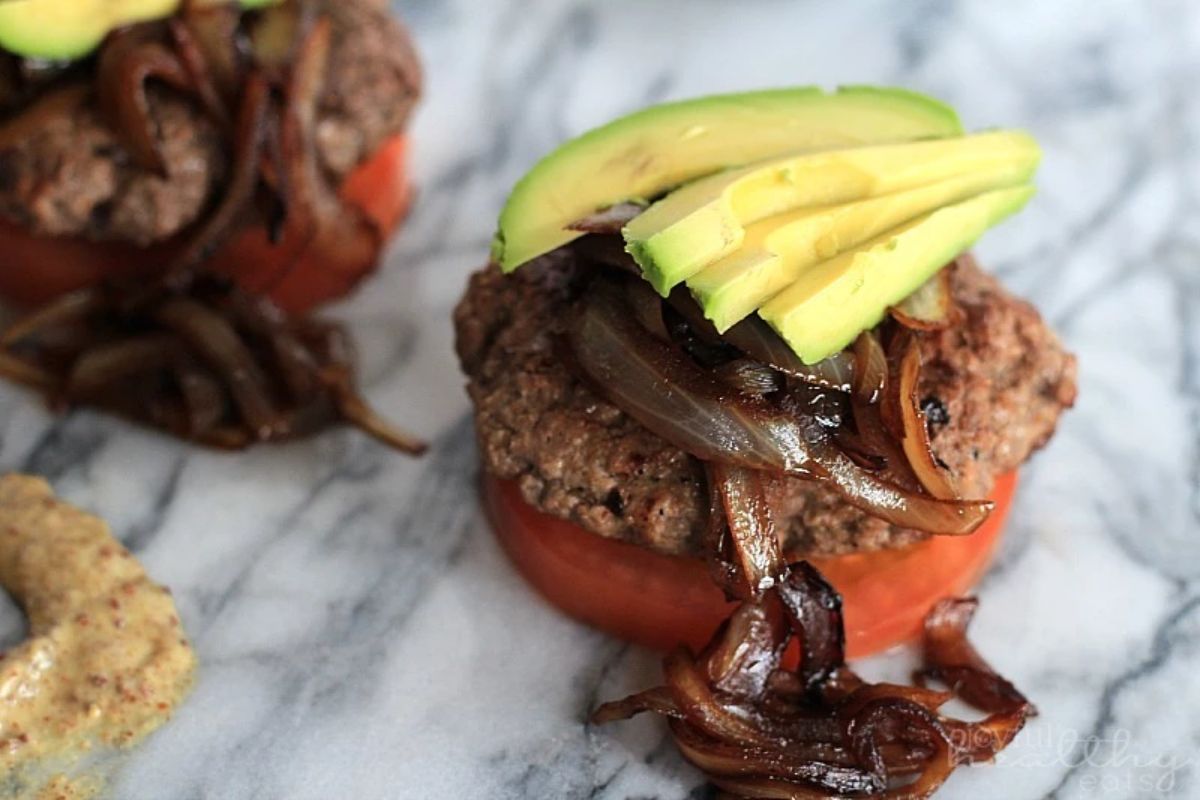 We love a burger that doesn't stray too far from tradition. This recipe sure satisfies that for us, but it still has it's own little twist that sets it apart and that comes in the form of the caramelized balsamic onions. Trust us when we say you'll just want to start putting them on everything.
10. Salmon Wasabi Burgers - by Elana's Pantry
A great alternative for those looking to do something different from your traditional beef patty. We wouldn't recommend these to anyone who doesn't enjoy a good amount of spice. They've got a good kick to them.
11. Aussie Burger - by Paleo Leap
The Aussie burger sets off the patty itself with a sweet, crunchy slice of pineapple and the slightly sharper tang of marinated beets, and tops everything off with a creamy fried egg. It's an unusual combination, but try just one bite and you'll be hooked – really!
12. Greek Gyro Burger - by Against All Grain
This recipe reminds of us what traditional Gyro really tastes like. The marinated meat is full of flavor and super tender and when topped with the Tzatziki, it becomes an irresistible combination.
13. Portobello Turkey Burger - by Primal Palate
Another traditional burger option with a twist. The turkey patty is a lighter meat option that compliments the portobello cap just perfectly.
14.Big-O Bacon Burger - by Nom Nom Paleo
For this recipe, it's all in the patty, literally! Bacon, mushrooms and beef with minimal seasoning, Toppings are a plus, but certainly not necessary.
15. The Barbecue Burger - by the Domestic Man
Keep things simple with this no-fuss burger. That said, it's far from simple when it comes to taste, because the barbecue sauce adds a whole lot.