A long, slow simmer in the crock pot lets the flavors of the sauce really seep into these ribs, so when you finally pull them out they're spicy-sweet all the way through. The background taste is warm and gingery, with a pleasant mild sweetness from the honey. Add the sharper bite of chili peppers on top of that, and the result is a complex flavor that you won't believe took so little effort to cook.
I did this recipe with beef ribs, but you could just as easily use short ribs, or even pork. Another quick note about the ingredients: coconut aminos are a Paleo-friendly replacement for soy sauce. They have the same salty fermented taste, but they're made from the sap of the coconut tree so they avoid the double whammy of wheat and soy that's typically found in grocery-store soy sauce. If you can't get any coconut aminos, you might consider compromising a little with home-fermented soy sauce, depending on whether or not you react badly to soy.
One of the great strengths of this recipe is the slow-cooker directions that make it easy to "set and forget" until it's time for dinner. Alternatively, if you're on a tighter schedule, you can also boil the ribs before adding them to the slow-cooker with the sauce: this will reduce the cooking time. Either way, you'll be making a delicious dinner in almost no time, a perfect recipe to enjoy with some egg drop soup or any other Asian-inspired side you prefer.
Asian-Style Beef Ribs Recipe

SERVES: 4

PREP: 10 min.

COOK: 7-8 hrs.

Values are per portion. These are for information only & are not meant to be exact calculations.
Ingredients
4 lb beef ribs;
¼ cup coconut aminos;
1 tbsp. fresh red chili, seeded and minced (or red chili flakes);
6 garlic cloves, minced;
1 tbsp. fresh ginger, minced;
1 small bunch green-onions, sliced;
1 1/2 cups water;
2 tbsp. raw honey; (optional)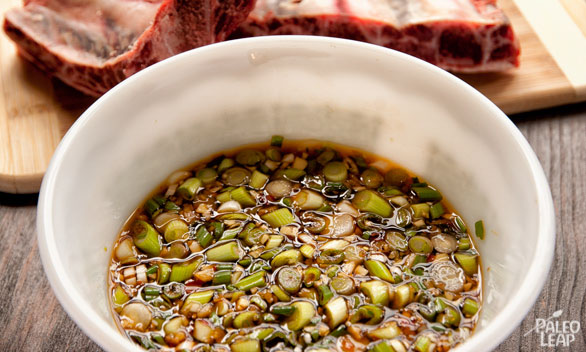 Preparation
In a bowl combine the coconut aminos, ginger, garlic, red chili, green shallots, water, and honey (if using).
Place ribs in slow cooker and pour the sauce on top.
Cover and cook on low heat for 7 to 8 hours, or until the ribs are tender.
Serve warm.