If you love the taste of onions and tomatoes, this recipe is for you. In this simple salad, these two ingredients come together to create a low-budget, quick, and vegan Paleo salad option that works well paired with a main course or as a healthy snack.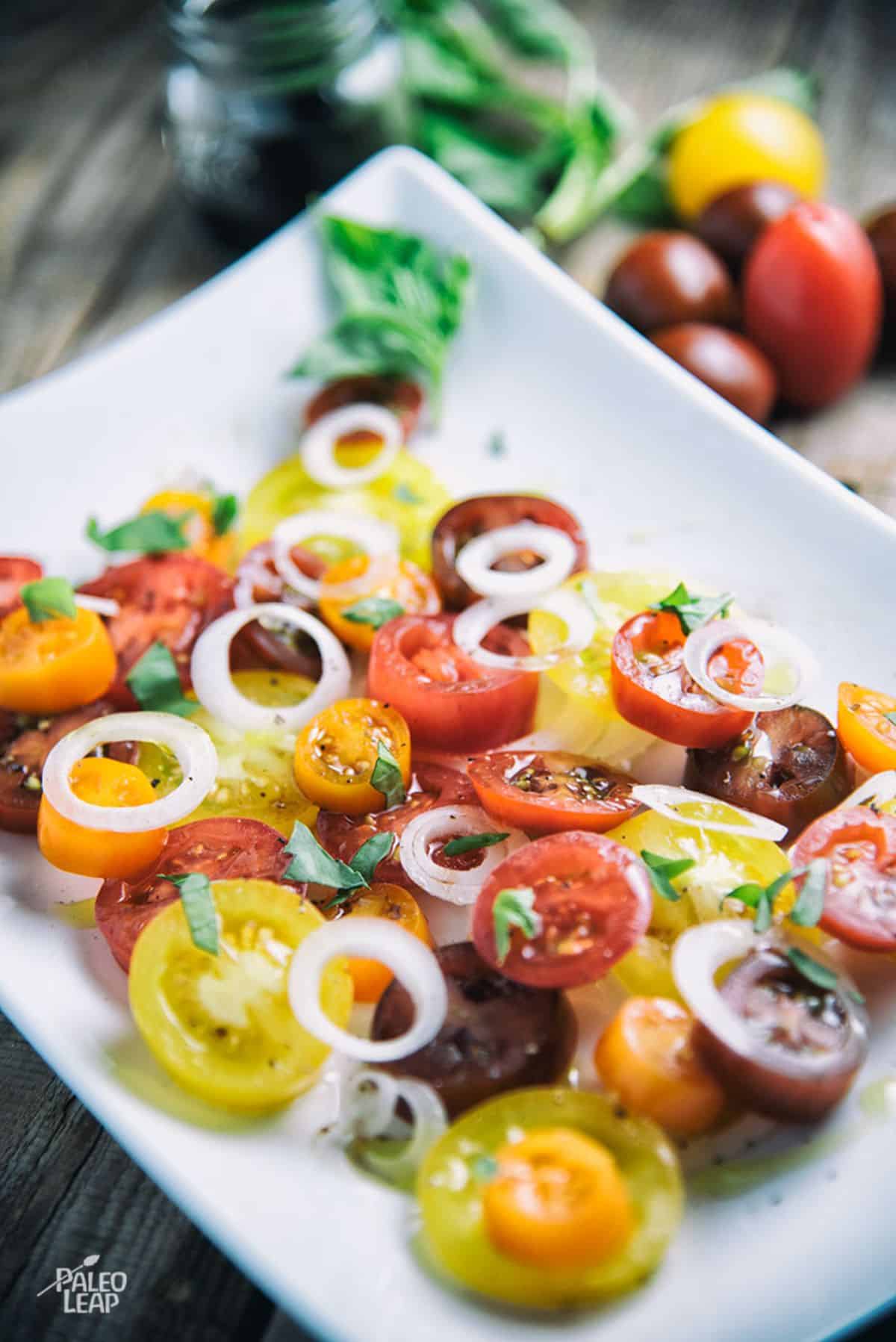 This recipe couldn't be simpler to prepare – with a handful of ingredients and minimal prep; you'll be ready to serve and enjoy the delicious flavors of the raw vegetables included here.
Since the value of this dish lies in the simplicity of the ingredients used, it becomes even more important to seek out high-quality produce that's at the peak of freshness. While the least expensive tomatoes and onions may seem like an appealing way to save money, they can also lead to boring flavors.
When you're looking for the type of fresh produce that makes dishes like this really stand out, venture into your local farmer's market, or try your hand at growing your own!
One component of this dish that can be adjusted is the onions – for some, raw onions are just too harsh to include, even when they are dressed up with balsamic vinegar and other oils. If that's the case, try giving your onions a quick sauté before layering them into the salad – this will help take a bit of the bite out of the onions while still allowing you to incorporate them.
Since this salad is so simple and neutral, adding it to any main course option will work. We like the idea of adding unconventional poultry to this dish – try serving it with the Orange and Lemon Roasted Duck for an unexpected combination.
Balsamic Tomato And Onion Salad Recipe
Serves: 2 Prep: 15 min
Ingredients
2 cups grape tomatoes, halved
1 small onion, thinly sliced
3 tbsp. virgin olive oil
2 tbsp. balsamic vinegar
2 tbsp. fresh basil, minced
Sea salt and freshly ground black pepper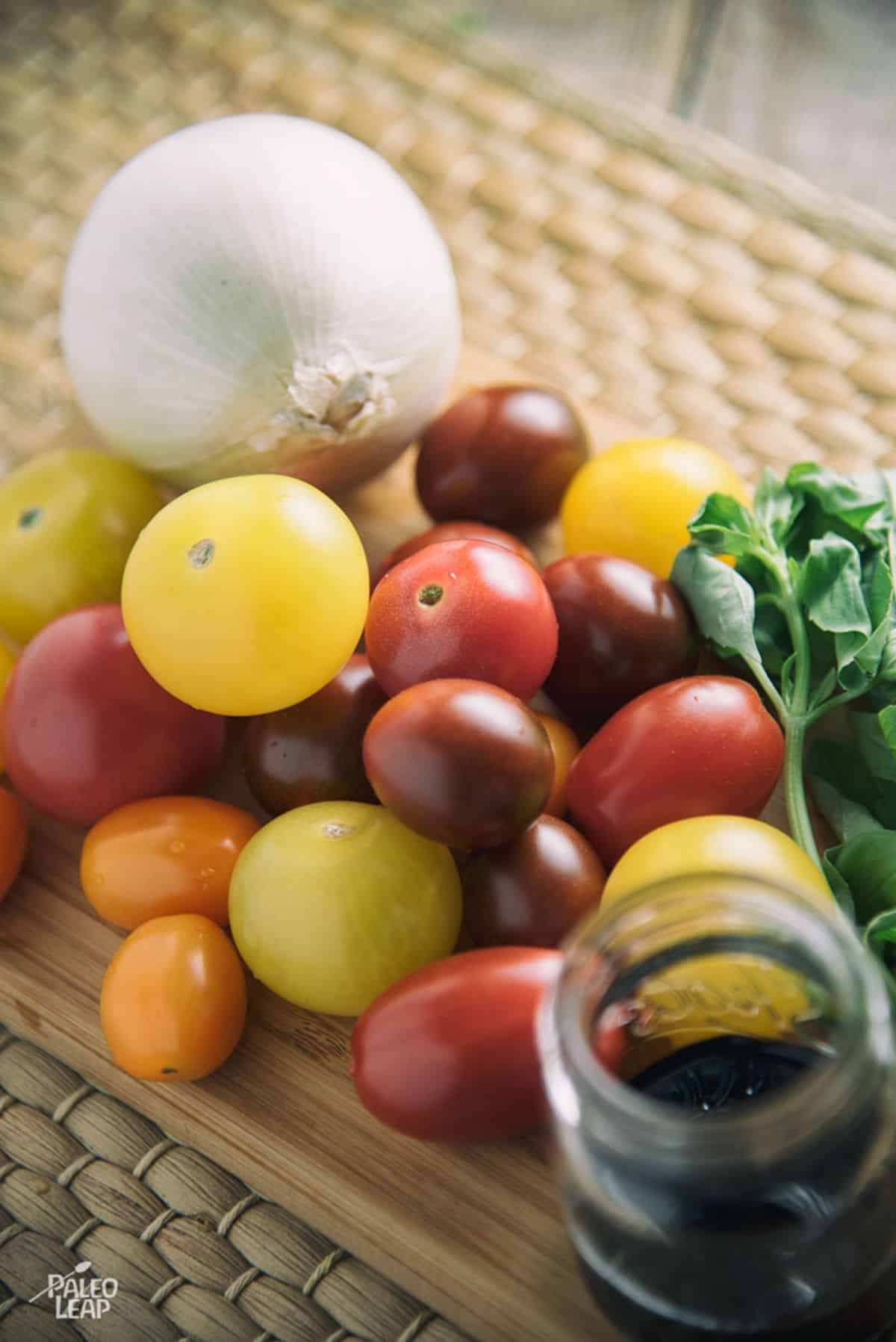 Preparation
Arrange the salad in layers, alternating between the tomatoes and onion.
Drizzle with olive oil and balsamic vinegar.
Season the salad with salt and pepper to taste and top with fresh basil.
📖 Recipe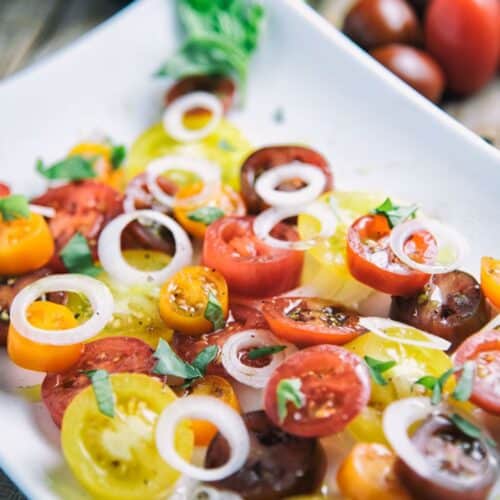 Balsamic Tomato And Onion Salad Recipe
Sometimes the value of a salad lies in its simplicity... and this dish shows simple done just right.
Instructions
Arrange the salad in layers, alternating between the tomatoes and onion.

2 cups grape tomatoes,

1 small onion

Drizzle with olive oil and balsamic vinegar.

3 tbsp. virgin olive oil,

2 tbsp. balsamic vinegar

Season the salad with salt and pepper to taste and top with fresh basil.

Sea salt and freshly ground black pepper,

2 tbsp. fresh basil
Nutrition
Calories:
261
kcal
Carbohydrates:
14
g
Protein:
2
g
Fat:
23
g
Saturated Fat:
3
g
Polyunsaturated Fat:
3
g
Monounsaturated Fat:
16
g
Sodium:
14
mg
Potassium:
494
mg
Fiber:
3
g
Sugar:
9
g
Vitamin A:
2022
IU
Vitamin C:
27
mg
Calcium:
58
mg
Iron:
1
mg