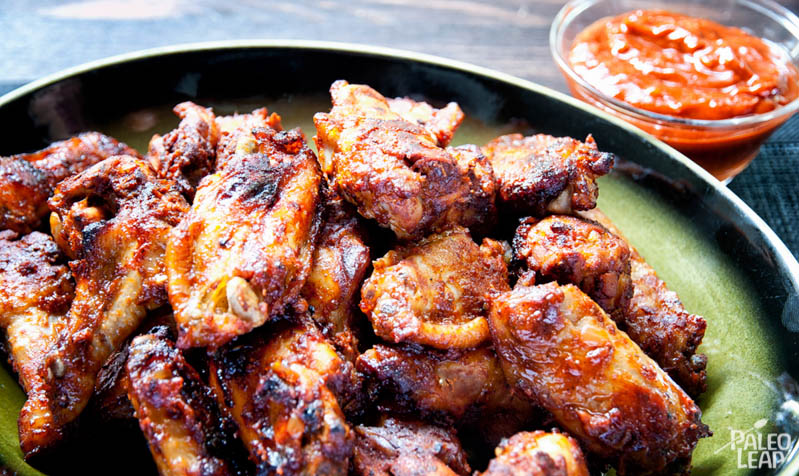 Football season is officially upon us, and what better way to celebrate than BBQ wings? Don't settle for "BBQ chips" that only deliver a poor imitation of the real flavor; treat yourself to the real thing for a healthier and tastier alternative. Coated in a spicy-sweet sauce and roasted to tender perfection, these chicken wings are an amazing way to convince any unconverted sports fans in the family that really, they might want to give this Paleo thing a try.
You'll need some homemade condiments (ketchup and Worcestershire sauce) to make the BBQ sauce. This will add a little bit to the prep time if you don't have them ready ahead of time, but once you make up a batch or two, you'll have them ready for the next time you want to use them.
In this recipe, I've included a spicy rub for marinating the wings overnight. This adds a deeper flavor, and I really recommend it if you have time. Otherwise, you can skip this step or just use the marinade for an hour or two ahead of time. Or if you're really crunched for time, just use the BBQ sauce without the rub; you'll still end up with delicious wings.
BBQ Chicken Wings Recipe

SERVES: 4

PREP: 1-3 hrs.

COOK: 30 min.
Values are per portion. These are for information only & are not meant to be exact calculations.
Ingredients
4 lb. Chicken wings, disjointed: (about 24 wings)
BBQ Rub;
1 cup of BBQ Sauce;
BBQ Rub Ingredients
2 tbsp. paprika;
2 tsp. chili powder or cayenne pepper;
1 tsp. garlic powder;
1 tsp. onion powder;
1 tsp. cumin;
1 tsp. rosemary, minced;
Sea salt and freshly ground black pepper to taste;
BBQ sauce Ingredients
2 cups homemade ketchup;
½ white onion, minced;
3 cloves garlic, minced;
3 tbsp. Paleo cooking fat;
¼ cup white wine vinegar;
1/3 cup homemade Worcestershire sauce;
2 teaspoons chili powder;
1 tsp. cayenne pepper;
1/3 cup raw honey; (optional)
Sea salt and freshly ground black pepper to taste;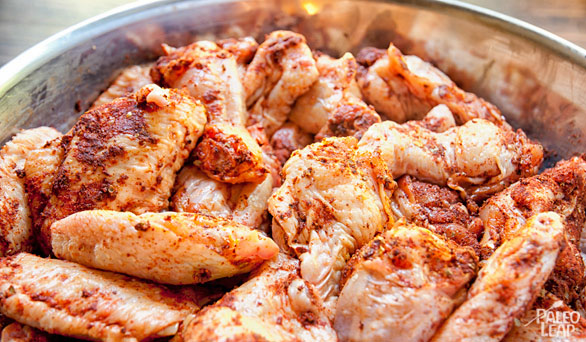 Preparation
In a small bowl, combine all the ingredients for the rub and season to taste with salt and pepper.
Combine the chicken wings with the rub in a freezer bag and shake well, then refrigerate for 2 to 12 hours.
Preheat your oven To 350 F.
For the sauce, warm the cooking fat in a saucepan over a medium heat and cook the garlic and onion until they are soft.
Add the remaining ingredients for the sauce, mix well, and season to taste.
Let the sauce simmer for at least 30 minutes.
Transfer the chicken wings from the bag into a big bowl and combine them with 1 cup of the BBQ sauce.
Place the sauce-coated wings on a baking sheet and bake for 20 minutes, turning them once after 10 minutes.
After the 20 minutes of cooking, bring the oven to a high broil and roast the chicken wings for 5 minutes on each side.
Serve the wings warm with the extra BBQ sauce on the side for dipping.