This recipe is not something you would think of making on your own. It calls for many ingredients that you might not think would go well together, but they most certainly do in the end. It came to me by combining different ethnic influenced recipes.
Many countries use cashews in their cuisine, and I wanted to take full advantage of the flavor that this nut can add to a recipe. This is really an Asian-inspired dish. From India to China, cashews are often used to create delicious and interesting dishes.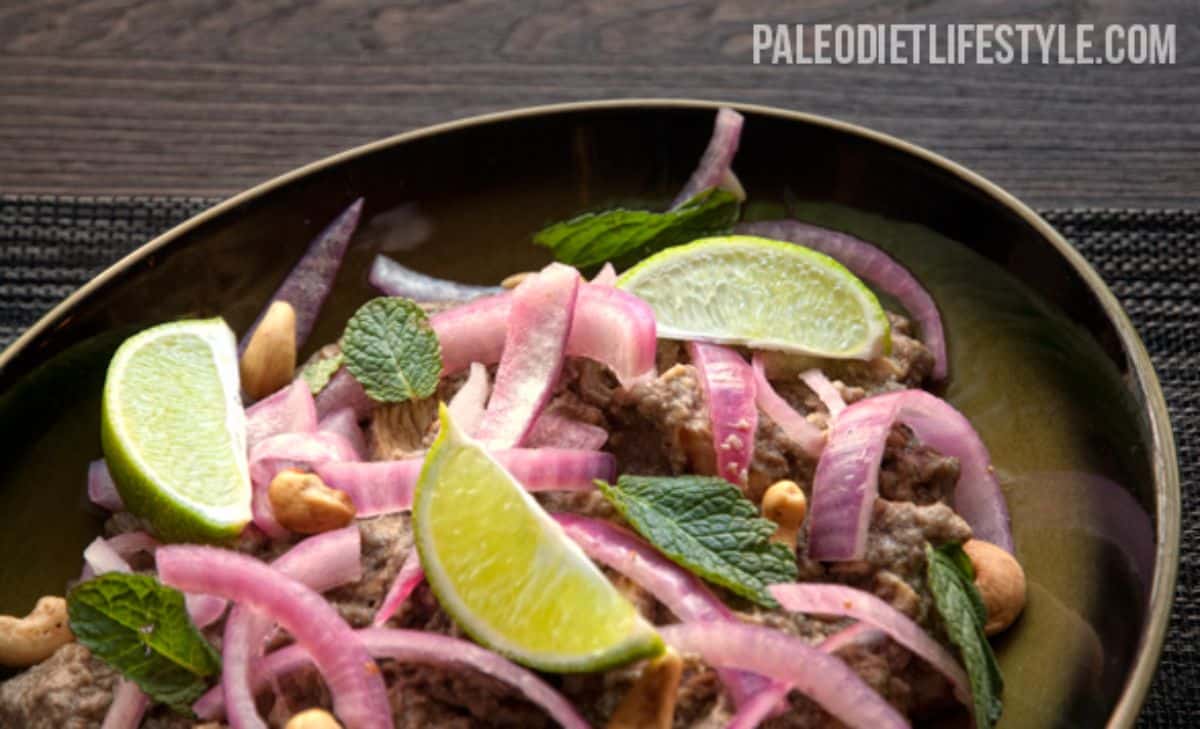 This chicken cashew casserole is truly great and different. You have the taste of the pickled onions combined with the fresh mint and a hint of freshly pressed lime juice, all of that combined with a delicious cashew-based sauce that's off the charts.
I could probably talk about the amazing taste of this dish for hours, but the bottom line is that you have to try it for yourself.
One thing to keep in mind for this recipe is that you'll need a food processor to crush the cashews into a puree.
Not everyone has a food processor at home, so an alternative would be to use a blender or even crush the cashews with a mortar and pestle, but you'll need to add some olive oil if you choose these last two options. Of course, using a mortar and pestle is also more time-consuming.
Cashews are a good source of magnesium, copper, and manganese. You can also have a look at the ''are nuts and seeds healthy?'' article on the website if you have unanswered questions about nuts.
Moderation is usually the best option when it comes to most nuts. On one side, they are really nutritious, but on the other, they are also still quite high in omega-6 PUFA.
This is a dish that's really filling with protein from the chicken and fat from the cashews from the cashews and coconut milk. It's a nice meal to prepare if you have a lot of mouths to feed or need some extra energy to fuel your activities.
Chicken Cashew Casserole Recipe
SERVES: 4 PREP: 20 min COOK: 45 min
Ingredients
2 skinless, boneless chicken breasts;
1 cup cashews;
1 onion, quartered;
4 garlic cloves, minced;
1 tsp. piece of fresh ginger, peeled;
1 tsp. ground cloves;
1 tbsp. ground coriander;
¼ tsp. ground cinnamon;
1 tbsp. cumin;
2 tbsp.  Paleo cooking fat;
½ cup coconut milk;
2 cups water;
1 lime, quartered;
Fresh mint leaves;
Sea salt and freshly ground black pepper to taste;
Ingredients for the pickled onions
1 medium size red onion;
¼ cup lime juice;
¼ cup white whine vinegar;
1 tsp. dried oregano;
Sea salt and freshly ground black pepper to taste;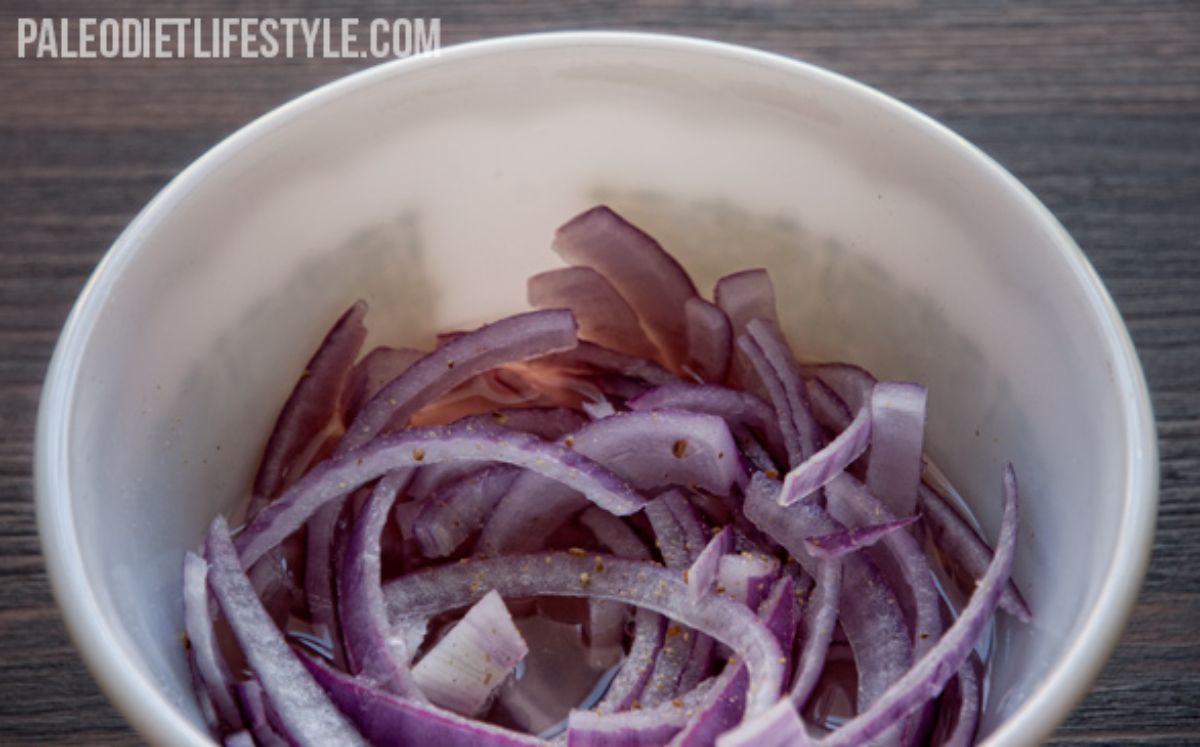 Preparation
For the pickled onions, cut the red onion into thin slices and place them in a bowl that's heat resistant.
In a small pot, combine all the ingredients for the pickled onions except the red onions. Place over medium-high heat and bring to a boil. Let it simmer for about a minute and remove.
Pour the hot liquid into the bowl containing the sliced onion, cover, and set aside for 30 minutes.
In a food processor, incorporate the quartered onions, the garlic, the ginger, and the cashews (reserve some cashews for the final presentation) and bring everything to a nice and soft purée.
In a sauté pan over medium-high heat, add the cooking fat and the cashew purée. Combine everything together and cook for 4 to 5 minutes until it turns golden brown.
Once the mixture has a nice golden brown color, add the cinnamon, the cumin, the ground cloves, and the ground coriander and cook for another 4 or 5 minutes, making sure everything is well combined.
Stir in the coconut milk and the water and season with sea salt and ground black pepper to taste.
Add the chicken and cook for another 20 to 30 min until the chicken is cooked through.
Drain the pickled onions.
Serve on a plate with the pickled onions on top and some fresh mint leaves and slices of lime. Also, sprinkle with some additional cashews.
📖 Recipe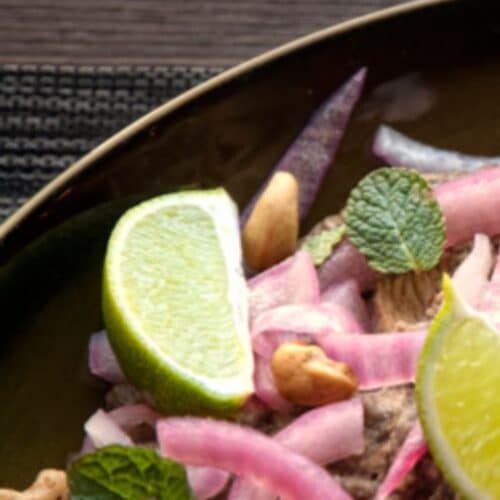 Chicken Cashew Casserole Recipe
A great casserole dish with a succulent cashew-based sauce, tender chicken and a combination of great tasting spices.
Ingredients
Ingredients for the pickled onions
1

medium size red onion

¼

cup

lime juice

¼

cup

white whine vinegar

1

tsp.

dried oregano

Sea salt and freshly ground black pepper to taste
Instructions
For the pickled onions, cut the red onion into thin slices and place them in a bowl that's heat resistant.

In a small pot, combine all the ingredients for the pickled onions except the red onions. Place over medium-high heat and bring to a boil. Let it simmer for about a minute and remove.

¼ cup lime juice,

¼ cup white whine vinegar,

1 tsp. dried oregano,

Sea salt and freshly ground black pepper to taste

Pour the hot liquid into the bowl containing the sliced onion, cover, and set aside for 30 minutes.

In a food processor, incorporate the quartered onions, the garlic, the ginger, and the cashews (reserve some cashews for the final presentation) and bring everything to a nice and soft purée.

1 cup cashews,

4 garlic cloves,

1 tsp. piece of fresh ginger,

1 medium size red onion

In a sauté pan over medium-high heat, add the cooking fat and the cashew purée. Combine everything together and cook for 4 to 5 minutes until it turns golden brown.

2 tbsp. Paleo cooking fat

Once the mixture has a nice golden brown color, add the cinnamon, the cumin, the ground cloves, and the ground coriander and cook for another 4 or 5 minutes, making sure everything is well combined.

1 tsp. ground cloves,

¼ tsp. ground cinnamon,

1 tbsp. cumin,

1 tbsp. ground coriander

Stir in the coconut milk and the water and season with sea salt and ground black pepper to taste.

½ cup coconut milk,

2 cups water,

Sea salt and freshly ground black pepper to taste

Add the chicken and cook for another 20 to 30 min until the chicken is cooked through.

Drain the pickled onions.

Serve on a plate with the pickled onions on top and some fresh mint leaves and slices of lime. Also, sprinkle with some additional cashews.

Fresh mint leaves,

1 lime
Nutrition
Calories:
471
kcal
Carbohydrates:
31
g
Protein:
22
g
Fat:
32
g
Saturated Fat:
9
g
Polyunsaturated Fat:
6
g
Monounsaturated Fat:
15
g
Trans Fat:
0.04
g
Cholesterol:
59
mg
Sodium:
85
mg
Potassium:
788
mg
Fiber:
6
g
Sugar:
10
g
Vitamin A:
541
IU
Vitamin C:
22
mg
Calcium:
147
mg
Iron:
8
mg