Flourless fajitas are all the rage, at least they should be since they are so uncomplicated and effortless to make.
It is simple to ditch the conventional tortilla and just use a bowl as a basin, you could discover a cassava tortilla recipe (or find them on a store shelf), reach for a cauliflower tortilla, or you could wrap the chicken in lettuce.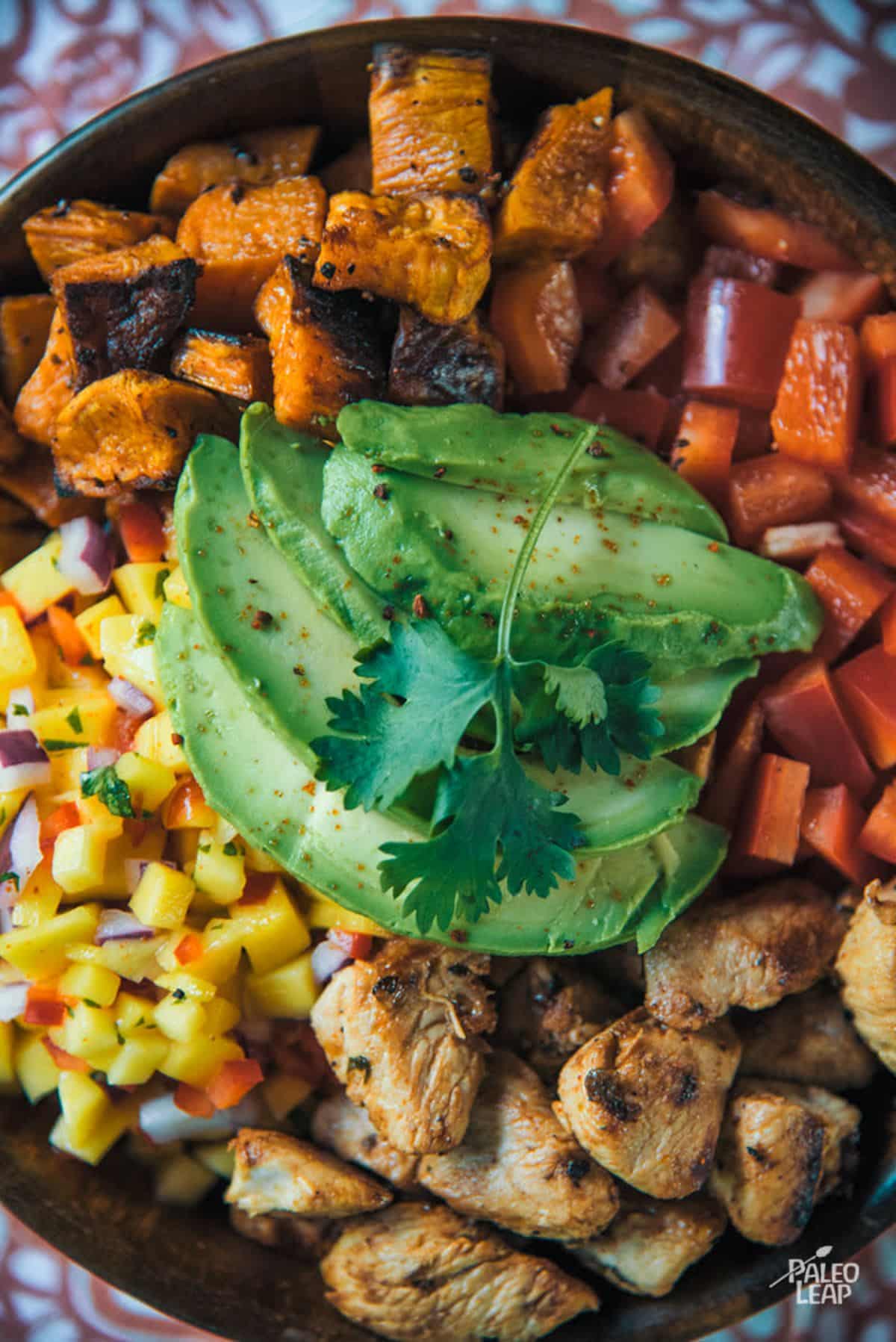 Paleo people are ultra-creative when it comes to modifying recipes, and if fajitas are on your mind, you will find a way to eat them - and enjoy it too!
These fajitas are special because they come with luscious mango salsa. If by some chance, you have never had the opportunity to eat a mango, this is a perfect place to start. Choose your mango by feel rather than by color, as the rich hue (sometimes reddish) is not a good indicator of ripeness.
Like an avocado, the ripest ones will give just a bit under gentle pressure - that's the one you will want to take home for dinner.
If there aren't any fully ripe ones at the store, you may have to delay the salsa for a day or two - in the meantime, wrap the select mango in a paper bag and check the ripeness the following day.
As it sits in the bag, it will naturally release ethylene to speed up the ripening process. And a ripe mango is definitely worth the wait.
For an additional spark of fajita joy, we also suggest making a coconut-mango sauce to decorate your bowl. It is more than good; it is mouthwateringly delicious.
Chicken Fajita Bowl with Mango Salsa Recipe
Serves: 4 Prep: 45 min Cook: 45 min
Ingredients
2 chicken breasts, boneless, skinless, diced
2 sweet potatoes, peeled and diced
1 bell pepper, diced
2 cups fresh greens
1 avocado, sliced
2 tbsp. fresh cilantro, minced
½ cup olive oil
2 tbsp. fresh lemon juice
2 garlic cloves, minced
1 tbsp. chili powder
1 tsp. paprika
1 tsp. cumin powder
Cooking fat
Sea salt and freshly ground black pepper
Mango Salsa Ingredients
1 mango, diced
1 cup diced cucumber
¼ cup red onions, finely chopped
1 hot pepper, finely minced (optional)
1 tbsp. fresh lime juice
2 tbsp. olive oil
1 tbsp. fresh cilantro, minced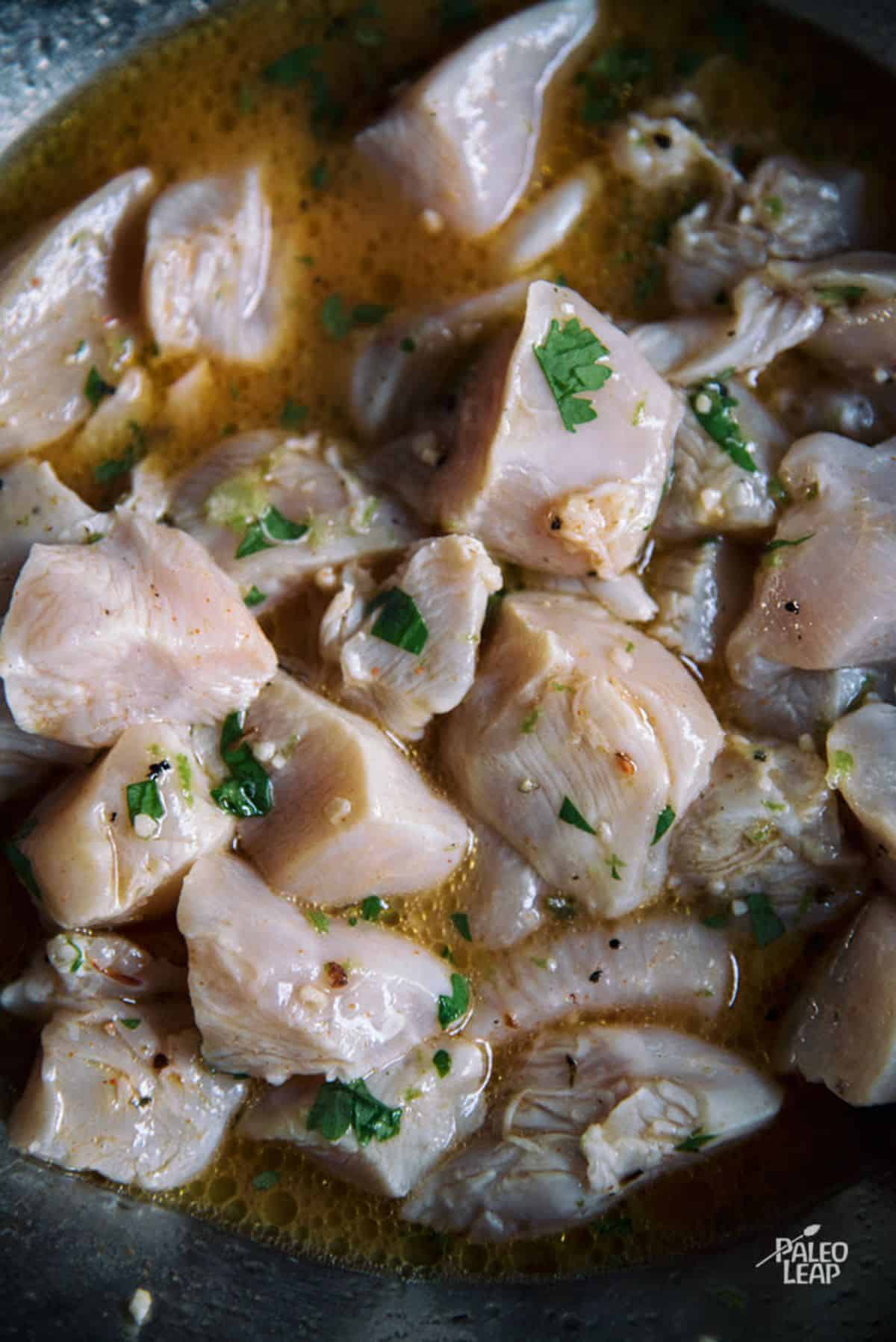 Preparation
Preheat oven to 425 F.
Place the chicken in a marinating container and top with fresh cilantro, ¼ cup olive oil, lemon juice, garlic, and ½ tbsp. chili powder, paprika, and cumin; toss everything and marinate for 30 minutes to 2 hours.
In a small bowl, combine all the ingredients for the mango salsa and refrigerate.
Place the sweet potatoes on a baking sheet, drizzle with olive oil, ½ tbsp. chili powder and season to taste.
Roast for 30 to 35 minutes in the oven, turning at the halfway point.
Melt cooking fat in a skillet over medium-high heat.
Remove chicken from the marinade, and cook in the skillet until no longer pink - about 6 to 8 minutes.
Assemble the bowls by equally dividing the fresh greens and diced bell pepper between the bowls, add the sweet potatoes and chicken, and top with mango salsa, avocado, and more fresh cilantro.
📖 Recipe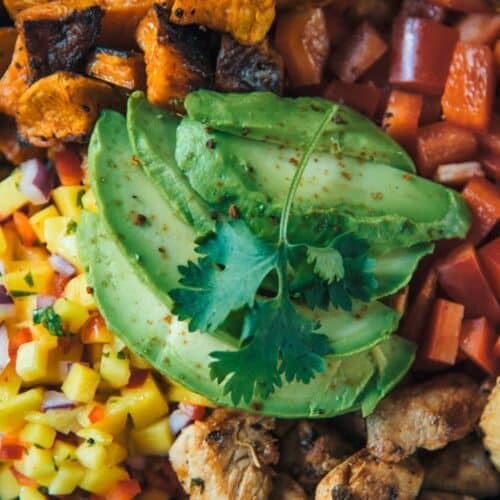 Chicken Fajita Bowl with Mango Salsa Recipe
If you could eat Paleo fajitas each and every day... Yes, the thought is there, just add mango salsa to your chicken fajita bowl - ultimately delicious!
Instructions
Preheat oven to 425 F.

Place the chicken in a marinating container and top with fresh cilantro, ¼ cup olive oil, lemon juice, garlic, and ½ tbsp. chili powder, paprika, and cumin; toss everything and marinate for 30 minutes to 2 hours.

2 chicken breasts,

2 tbsp. fresh cilantro,

½ cup olive oil,

2 tbsp. fresh lemon juice,

2 garlic cloves,

1 tbsp. chili powder,

1 tsp. paprika,

1 tsp. cumin powder

In a small bowl, combine all the ingredients for the mango salsa and refrigerate.

1 mango,

1 cup diced cucumber,

¼ cup red onions,

1 hot pepper,

1 tbsp. fresh lime juice,

2 tbsp. olive oil,

1 tbsp. fresh cilantro

Place the sweet potatoes on a baking sheet, drizzle with olive oil, ½ tbsp. chili powder and season to taste.

Sea salt and freshly ground black pepper

Roast for 30 to 35 minutes in the oven, turning at the halfway point.

Melt cooking fat in a skillet over medium-high heat.

Remove chicken from the marinade, and cook in the skillet until no longer pink – about 6 to 8 minutes.

Assemble the bowls by equally dividing the fresh greens and diced bell pepper between the bowls, add the sweet potatoes and chicken, and top with mango salsa, avocado, and more fresh cilantro.

2 sweet potatoes,

1 bell pepper,

2 cups fresh greens,

1 avocado
Nutrition
Calories:
672
kcal
Carbohydrates:
37
g
Protein:
32
g
Fat:
46
g
Saturated Fat:
7
g
Polyunsaturated Fat:
6
g
Monounsaturated Fat:
32
g
Cholesterol:
73
mg
Sodium:
179
mg
Potassium:
1207
mg
Fiber:
11
g
Sugar:
15
g
Vitamin A:
13684
IU
Vitamin C:
80
mg
Calcium:
112
mg
Iron:
5
mg