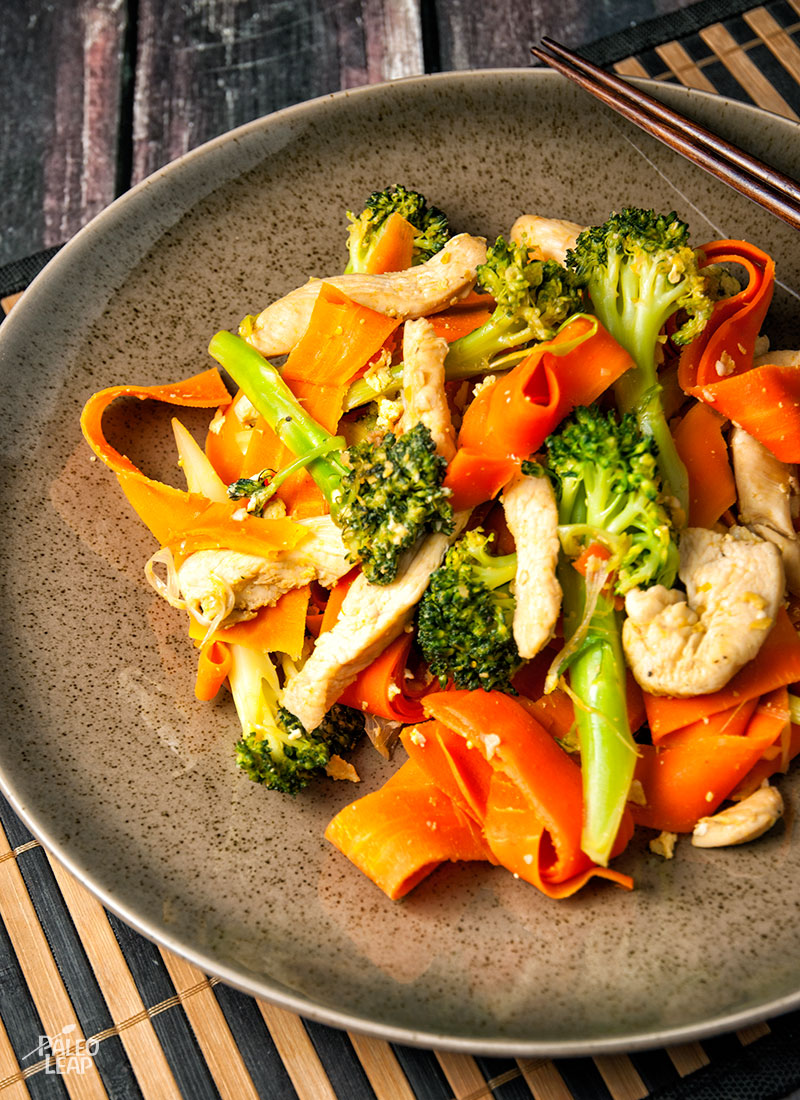 Pad Sew Ew (also spelled pad see ew, pad si u, or phat si io) is a popular meal in Thailand and Laos: essentially stir-fried noodles with meat, eggs, cooking greens, and soy sauce. To make it Paleo here, the noodles get subbed out for thinly-shaved carrots, and the soy sauce is replaced with coconut aminos: same taste, but minus the soy and wheat (you can buy coconut aminos at most high-end grocery stores or health-food stores, or online).
As a nice bonus, swapping noodles for carrots doesn't just make the dish more nutritious; it also gives it a much nicer color: bright-orange carrots are just more attractive than dull brown noodles. Just make sure you don't overcook them – ideally, vegetables should be cooked just until they start getting tender and change color, not until they're mushy and lifeless.
Fair warning: you're going to need a pretty big skillet to make this recipe happen: if yours isn't quite up to the task, you might consider scrambling the eggs in a separate pan and then mixing everything up at the end. Same taste, but you won't have to worry about anything overflowing.
Chicken Pad Sew Ew Recipe

SERVES: 4

PREP: 25 min.

COOK: 20 min.
Values are per portion. These are for information only & are not meant to be exact calculations.
Ingredients
1 lb. boneless and skinless chicken breast, sliced;
3 cups broccoli;
10 carrots, sliced very thin (almost as thin as the shavings you would get from peeling them);
3 green onions, thinly sliced;
3 garlic cloves, peeled and minced;
1 thumb size knob of fresh ginger, peeled and minced;
½ cup coconut aminos;
2 tbsp. raw honey;
2 eggs, beaten;
Sea salt and freshly ground black pepper;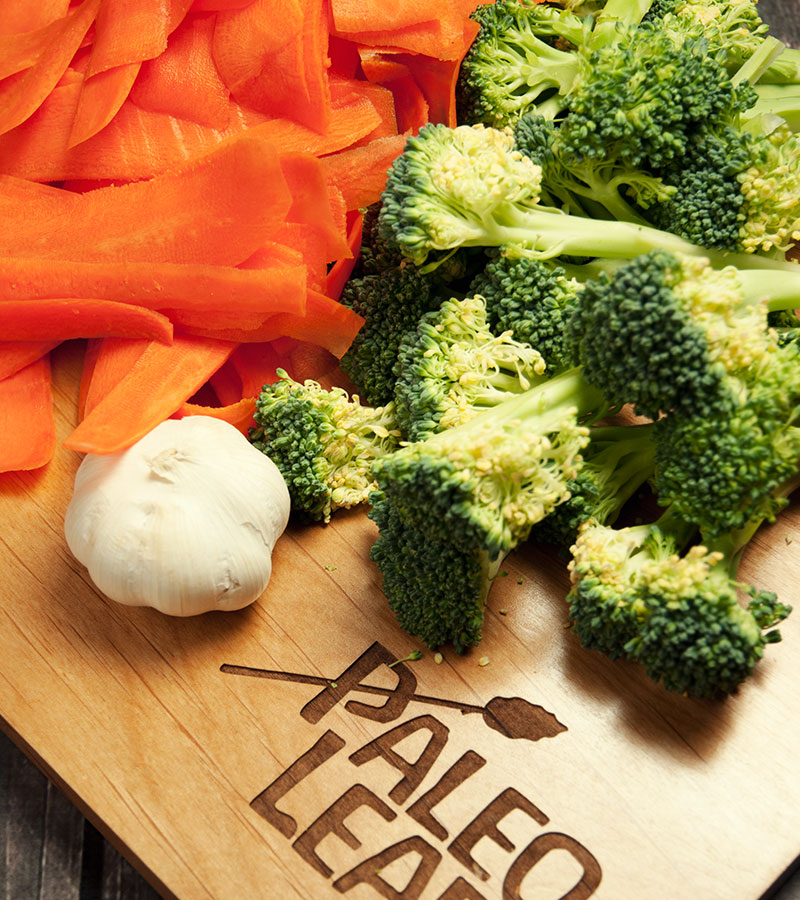 Preparation
Melt some cooking fat in a skillet placed over a medium-high heat.
Add the garlic and ginger to the skillet and sauté for 2 to 3 minutes.
Add the chicken and sauté for another 5 minutes.
Add the broccoli, coconut aminos, and honey, and cook until broccoli has softened a bit.
Add the carrot and green onions, and cook for another 5 minutes.
Push the vegetable-chicken mixture to the perimeter of the skillet, making an empty space in the middle. Scramble the eggs in the empty space.
Mix everything together and serve.