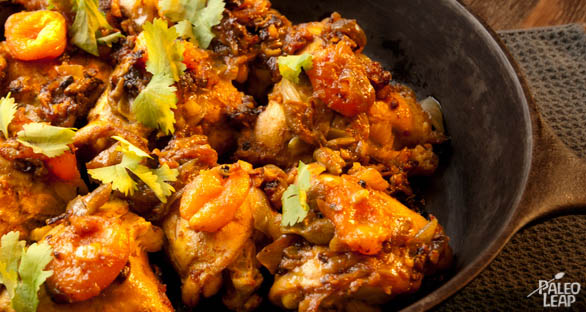 I've always had a soft spot for food or ingredients from other cultures. I feel like they can bring you anywhere simply from the flavors and the aromas of the herbs and spices blended with the meat, fishes or vegetables. It's almost like traveling to a new place without leaving the comfort of your kitchen.
This following recipe is a perfect example of this. It's a Moroccan inspired dish that's so flavorful and so different than the usual stew that you'll probably almost feel like you're standing in Casablanca. In my house, this recipe always has everyone asking for more and some even asking for my recipe. Today I finally decided to post it and share that recipe with everybody.
Tajines, or tagines, are stews that are slow-cooked at a low temperature and are mostly seen in Moroccan cuisine. They're usually cooked in a traditional clay or ceramic vessel called a tagine. This time around, I used a conventional skillet with a cover, but a sauté pan could do the job as well. However, it's really important to keep it covered while it cooks to keep the moisture from escaping.
The chicken tagine recipe has so many to offer in terms of flavors, and it has a lot to do with the spices that are used throughout the recipe. Cumin, coriander, turmeric, ginger and paprika are just a few of the spices you will combine to complete this recipe. The way the chicken is slowly cooked in a flavorful liquid makes it very tender and tasty.
Like many other Moroccan recipes, this one includes dried fruits. It's always a good idea to prepare your own dried fruits, but if you don't have the time or the right tools to do your own, make sure to buy natural dried fruits with no additional ingredients and not chemically dried ones. Dried fruits can be quite sugary by nature, but they still provide all the nutrients found in fruits like vitamin C, potassium, vitamin K and magnesium. The main difference compared to regular fruits is their lack of water, obviously, so it can be easy to eat too much at once. This shouldn't be a problem when added in small quantity in recipes like this one.
Chicken Tajine with apricots recipe

SERVES: 4
Values are per portion. These are for information only & are not meant to be exact calculations.
Ingredients
8 chicken thighs;
2 onions;
1 fennel bulb;
8 dried apricots;
A large handful of raisins;
2 cloves garlic minced;
1 tsp cumin;
1tsp coriander;
1 tsp turmeric;
1 tsp dried ginger;
1 tsp paprika;
Fresh coriander to taste;
3 cups water;
4 tbsp extra-virgin olive oil;
Sea salt and freshly cracked black pepper to taste;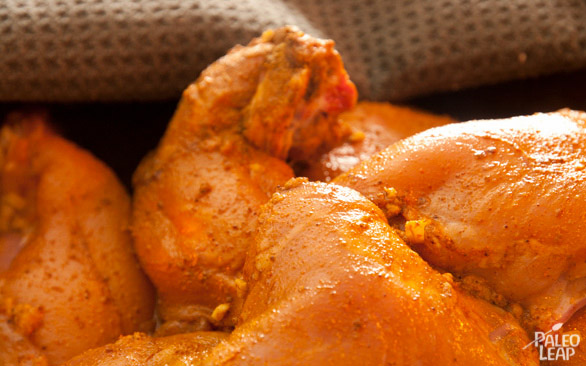 Preparation
Take all 8 chicken thighs and remove the skin.
Cut a straight line in each of the (pieces) chicken tight.
Put all the chicken in a bowl and add 2 tbsp of olive oil.
Add all the spices and the minced garlic to the chicken except the fresh coriander and mix it all until the pieces are all covered.
Place the mixture in the refrigerator for about two hours. This step is optional, but recommended to achieve a more flavorful chicken.
While the chicken is in the refrigerator, cut the onions and fennel into small chunks.
Once the chicken is ready, on a stove-top at a medium heat add 2 tbsp of olive oil to a skillet and cook it for about three minutes on each side, until all the sides are golden brown. Here the chicken doesn't need to be cooked through.
Add the onions and the fennel and sauté for about 2 or 3 minutes.
Add all the remaining ingredients.
Cover up and cook for about 1 to 1.5 hours.
Verify the chicken once in a while and add water if necessary to keep it moist.