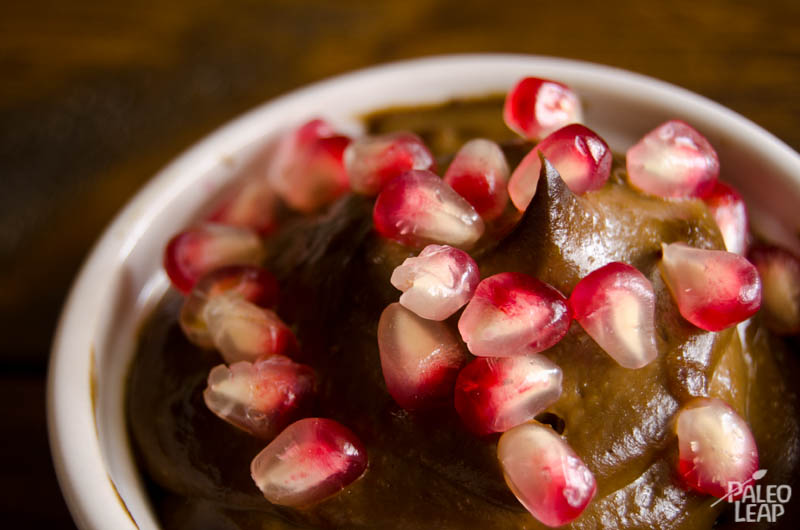 A little while back I shared a chocolate avocado pudding recipe that was quite delicious and unusual. I know a few people were skeptical about the idea, but after trying it the concerns went away. This recipe intrigued me to find some similar ideas, mainly because it was so good, but also because it's a really versatile dish. It can be suitable as a snack, a dessert or even a special breakfast.
Following along the lines of using avocados to create a rich and smooth texture and cocoa powder to give it a nice chocolaty taste, this following chocolate avocado mousse is definitely a great Paleo treat. This one calls for some walnuts to create a tasty and crunchy crust. Kids will love it and it makes for a great Paleo alternative to small and very unhealthy cakes that most children bring in their lunch to school.
Like the chocolate avocado pudding, this recipe should be considered a treat and consumed with moderation. It calls for small amounts of maple syrup and raw honey, which are natural sweeteners, but high in fructose nonetheless. It also calls for walnuts, which are loaded in nutrients, but also loaded with omega-6 fats. Again, when enjoyed from time to time, this recipe is a great Paleo treat that might allow you to more easily stay on track by satisfying a craving, but it should still only be a treat, not an everyday snack.
Many people are put off by the combination of avocado with sweet tasting ingredients, but this is the time to suspend disbelief and try it anyway. You'll see that the avocado taste is only really subtle and that the avocado are there mainly to help bring a great richness to this recipe. As a plus, avocados are loaded with potassium, vitamin E and healthy monounsaturated fats.
The dish is nicely finished up with a garnish of colorful, juicy and antioxidant-rich pomegranate seeds. Check out the roasted cauliflower with mint and pomegranate for tips on how to properly handle and de-seed pomegranates with staining your fingers or clothes.
Give this recipe a shot, it's bound to work!
Chocolate avocado mousse recipe
Serves 6

Values are per portion. These are for information only & are not meant to be exact calculations.
Ingredients
Crust
1 1/2 cups walnuts;
2 tbsp maple syrup;
A pinch of salt;
Mousse
4 ripe avocados;
10 dates, pitted;
4 tbsp raw honey;
2 tbsp raw cocoa powder;
Seeds of 1 pomegranate;
Preparation
Begin by making the crust. Using a food processor, grind up the walnuts until small chunks are produced. Continue grinding and add the maple syrup and salt. You will know the mixture is combined, as it will be sticky and come together quite easily.
Using 8 small ramekins, put a few tablespoons of the walnut mixture into each one of them. Press the mixture into the bottom of the individual ramekins so that a round disc forms. Place the individual ramekins in the refrigerator so that the crust can harden in the colder temperatures.
Remove the skin and pits of the avocados and place the flesh in a food processor. Process and add the dates, honey and cocoa powder. Make sure you process until completely smooth.
Remove the ramekins from the refrigerator. Place the mousse in a piping bag and pipe it out atop the crust in the individual ramekins. You can create a makeshift piping bag with a simple zip-lock or freezer bag but cutting one corner with scissors.
Finish it all off by garnishing with the pomegranate seeds.