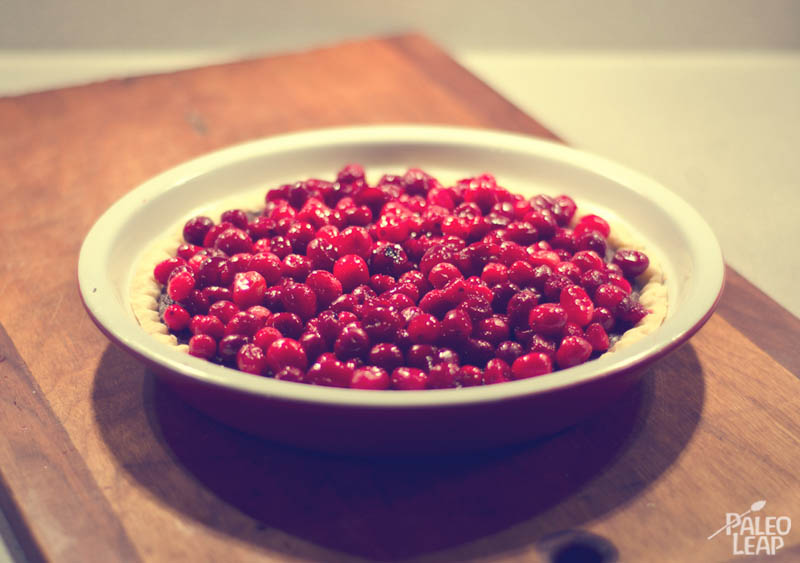 I thoroughly enjoy meal planning for gatherings with friends and family and it's my time to shine. We will soon have all the family and close friends together to enjoy some delicious food over great conversation. See, many of my family and friends still struggle to understand my passion for a Paleo diet. I don't blame them, as most people are either bored to death when it comes to proper nutrition because they don't understand the direct correlation there is between diet and well-being or they are extremely confused because of all the false and conflicting information that's out there. So how do I explain this to them without conversation? I cook! Our whole gathering will be Paleo and I bet you they won't even notice.
I'm going to take this opportunity to share with you the dessert I've decide to prepare, a dark chocolate cranberry pie. I've already made it multiple times before and it's simply amazing. It's almost a guarantee that chocolate and cranberries will go over well with anyone. The bitter taste of the dark chocolate goes perfectly with the sour taste of the cranberries. Both tastes can be quite strong on their own, but together they become a perfect combination that tastes great. Overall, the recipe is quite simple to prepare, but it does require quite a bit of cooling time in the fridge. I can only recommend that you make it in advance if you plan on serving it to guests.
Fresh cranberries are often hard to find, but you should be able to find them frozen without a problem.
As I stated in the Paleo pizza recipe, baked food is often not the optimal food for your health. It can encourage going back to bad eating habits and it often calls for a large amount of nuts or nut flour, which can lead to problems if consumed to excess. With that being said, when consumed only sporadically, baked goods made with nut flours and some more sugary elements like dark chocolate and fruits are perfectly fine and they offer a good alternative to those missed food choices. I also felt that I didn't provide many Paleo dessert options on this website so here is a really good one.
On the positive side, as I mentioned in my article on coffee, chocolate and alcohol, dark chocolate has many potential benefits. Apart from dark chocolate being low in sugar compared to regular milk chocolate, it's also a good source of magnesium, iron and cooper. Cranberries for their part are an excellent source of vitamin C and other natural antioxidants.
Chocolate cranberry pie recipe
Serves 6

Values are per portion. These are for information only & are not meant to be exact calculations.
Crust ingredients
2 cups almond flour;
½ tsp salt;
2 tbsp coconut oil;
1 egg;
Filling and topping ingredients
½ cup coconut milk (or cream if you allow it in your diet);
8 oz chocolate (70% cocoa);
18 oz frozen cranberries;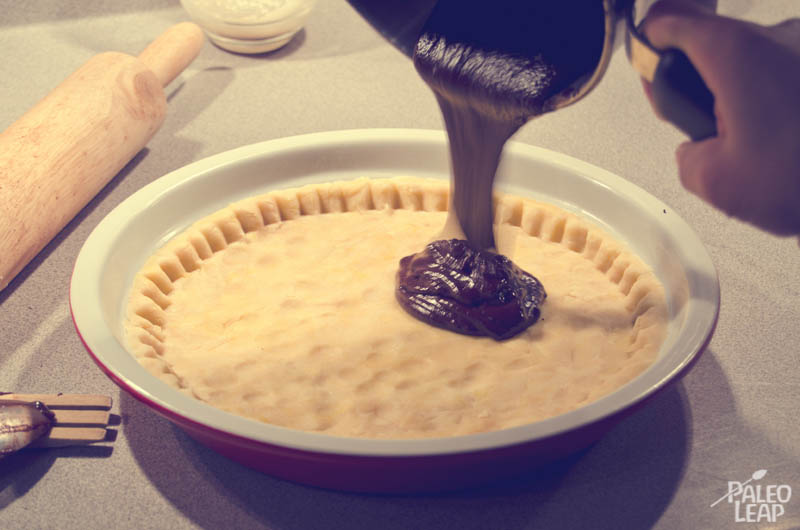 Preparation
Preheat your oven to 375 F.
Like most pies, you'll start by preparing the crust first. This one is nice and easy, all you have to do is throw all the ingredients into a large bowl and mix them well in either a blender, or by using a hand-mixer. A crumbly dough will form.
Transfer the dough into a lightly greased 9" pie baking dish. Using your fingers, press the dough firmly into the dish and make an inner shell with it so that the dish is evenly covered. I made a simple trim on my crust, just a little detail, but this is not necessary.
Place the crust in the oven and cook for about 15 minutes, just until it begins to turn golden brown around the edges and is flaky to the touch.
While your crust is baking, begin working on preparing the filling. In a small sauce pan over a medium-high heat, bring the coconut milk to a simmer. Once it has started to simmer, immediately remove it from the heat and begin stirring in the chocolate. Continue stirring until the chocolate is completely melted.
Once the crust has finished baking, remove it from the oven and allow it to cool completely.
Pour the chocolatey filling into the pie shell and then place the whole pie dish into the fridge for anywhere from 2 hours to 1 day. Essentially, you want the filling to become more solid to the touch.
With the oven at 375 F again, take out the frozen cranberries, spread them out on a baking sheet and bake them for about 8 to 10 minutes, tossing them around once or twice to avoid them from sticking. Once they have blistered and are soft, remove them from the oven and transfer them to the fridge. They will need at least an hour in the refrigerator, this will keep them from getting mushy. After the pie and the cranberries have been in the fridge long enough, spoon the berries on top of the pie and its ready to be served.