Twirl your fork around zoodles immersed in a creamy butternut squash "pasta" sauce. Jarred butternut squash sauce can be found in many health food stores, especially around the fall season.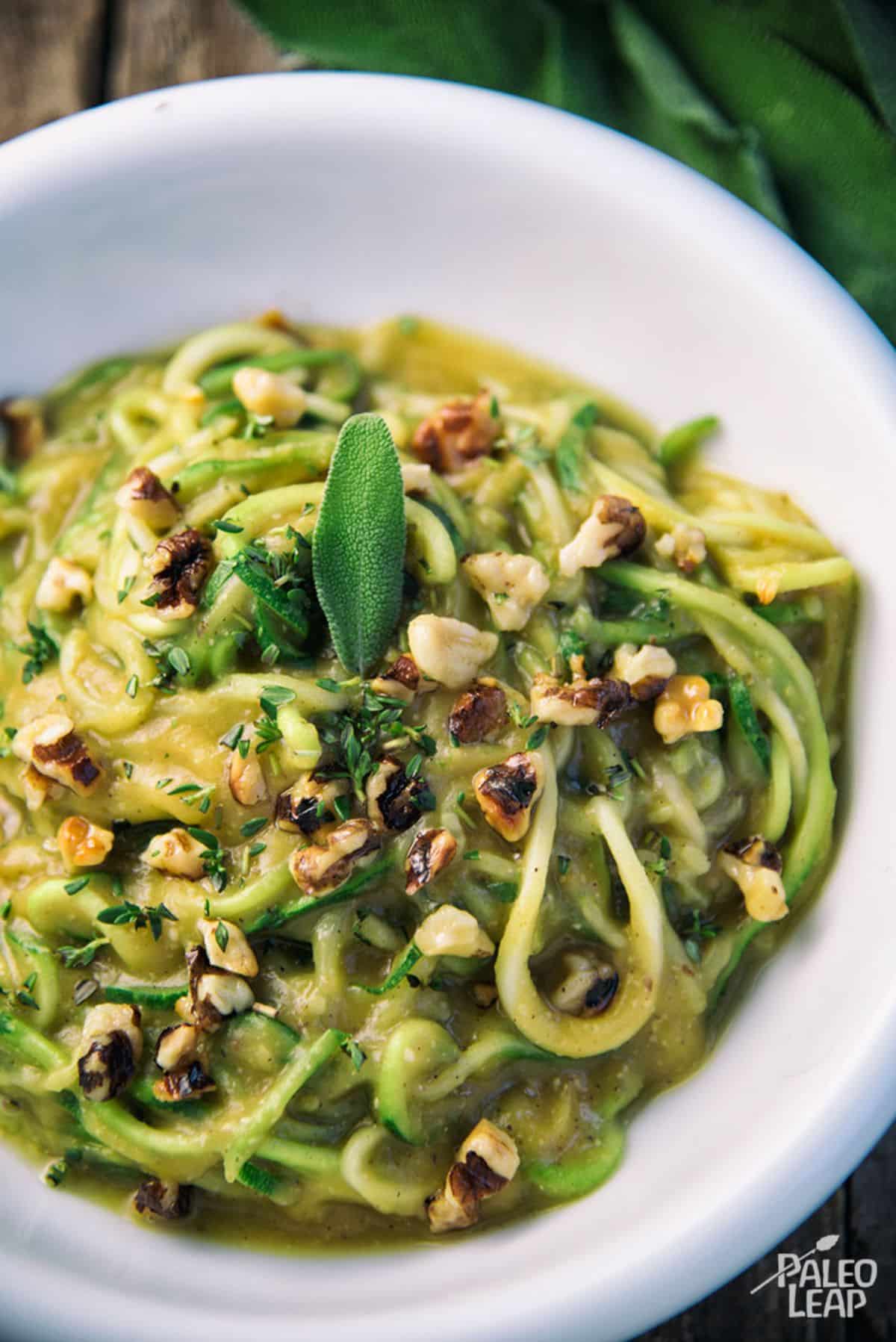 However, it's pretty simple to make your own. The pureed butternut squash is made creamy with the addition of coconut milk, and the sage, thyme, and garlic provide the aromatics for this sauce.
If you're new to Paleo, you may be wondering how to get your fix of pasta if gluten and grains are no longer an option. Luckily, you can make your own zoodles with an inexpensive julienne peeler ($5-$10) or a fancy spiralizer.
Start out by purchasing a julienne peeler because it's small and cheap. And, if you find yourself making Paleo pasta one or two times a week, then invest in a spiralizer. You can make noodles from many vegetables - like sweet potatoes, butternut squash, carrots, and the classic zucchini.
The recipe calls for chicken stock, but if you have homemade bone broth on hand -- use it! It's best to eat zoodles the night they are made because they can turn a bit soggy the next day. Serve this Creamy Butternut Squash recipe with spicy sausage!
You may have leftover butternut squash sauce, and if that's the case, pour it over chicken thighs or leftover protein for tomorrow's lunch or dinner.
Creamy Butternut Squash Zoodles Recipe
Serves: 2 Prep: 20 min Cook: 25 min
Ingredients
3 cups butternut squash, roughly chopped
1 lb. zucchini, spiralized
1 red onion, diced
2 garlic cloves, minced
1 cup chicken stock or vegetable stock
1 tbsp. dried sage
1 tbsp. fresh thyme, minced
1 cup coconut milk
4 tbsp. coconut oil
¼ cup toasted walnuts, chopped
Sea salt and freshly ground black pepper
Preparation
In a large saucepan, melt 2 tbsp. of coconut oil over medium heat, cook the onion and the garlic.
Add the butternut squash, chicken stock, sage, and thyme to the saucepan.
Cover and cook until the butternut squash is soft, about 12 to 15 minutes.
Puree the butternut squash using an immersion blender until smooth. Pour in the coconut milk and pulse again.
Heat 2 tbsp. of coconut oil in a skillet over medium heat.
Add zucchini noodles to the pan and stir the zoodles for 3 to 5 minutes or until tender.
Pour the butternut sauce over the noodles, gently toss, and cook for another two minutes or until warm.
Serve the noodles topped with chopped walnuts.
📖 Recipe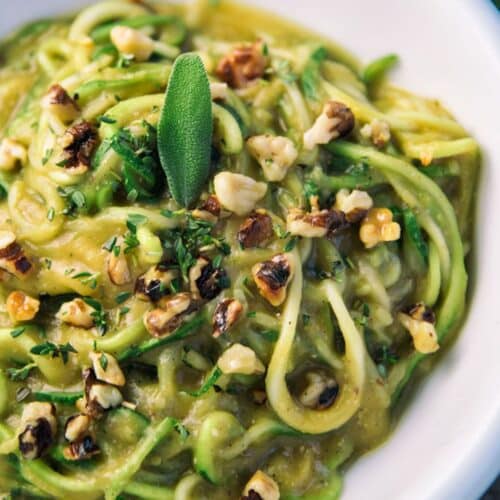 Creamy Butternut Squash Zoodles Recipe
Twirl your fork around zoodles coated in a creamy and savory butternut squash pasta sauce. Make this a complete meal by serving with a spicy sausage!
Instructions
In a large saucepan, melt 2 tbsp. of coconut oil over medium heat, cook the onion and the garlic.

1 red onion,

4 tbsp. coconut oil,

2 garlic cloves

Add the butternut squash, chicken stock, sage, and thyme to the saucepan.

3 cups butternut squash,

1 cup chicken stock or vegetable stock,

1 tbsp. fresh thyme,

1 tbsp. dried sage

Cover and cook until the butternut squash is soft, about 12 to 15 minutes.

Puree the butternut squash using an immersion blender until smooth. Pour in the coconut milk and pulse again.

Heat 2 tbsp. of coconut oil in a skillet over medium heat.

Add zucchini noodles to the pan and stir the zoodles for 3 to 5 minutes or until tender.

Pour the butternut sauce over the noodles, gently toss, and cook for another two minutes or until warm.

Serve the noodles topped with chopped walnuts.

¼ cup toasted walnuts,

Sea salt and freshly ground black pepper
Nutrition
Calories:
798
kcal
Carbohydrates:
54
g
Protein:
14
g
Fat:
66
g
Saturated Fat:
48
g
Polyunsaturated Fat:
8
g
Monounsaturated Fat:
5
g
Cholesterol:
4
mg
Sodium:
217
mg
Potassium:
1987
mg
Fiber:
12
g
Sugar:
15
g
Vitamin A:
23572
IU
Vitamin C:
105
mg
Calcium:
346
mg
Iron:
10
mg