Here's another one to add to the lists of recipes you never thought would be healthy: pasta with chicken and bacon in cream sauce! With a little Paleo ingenuity, the whole thing gets transformed into a dairy-free, vegetable-heavy treat that still tastes great (in fact, you might even prefer it).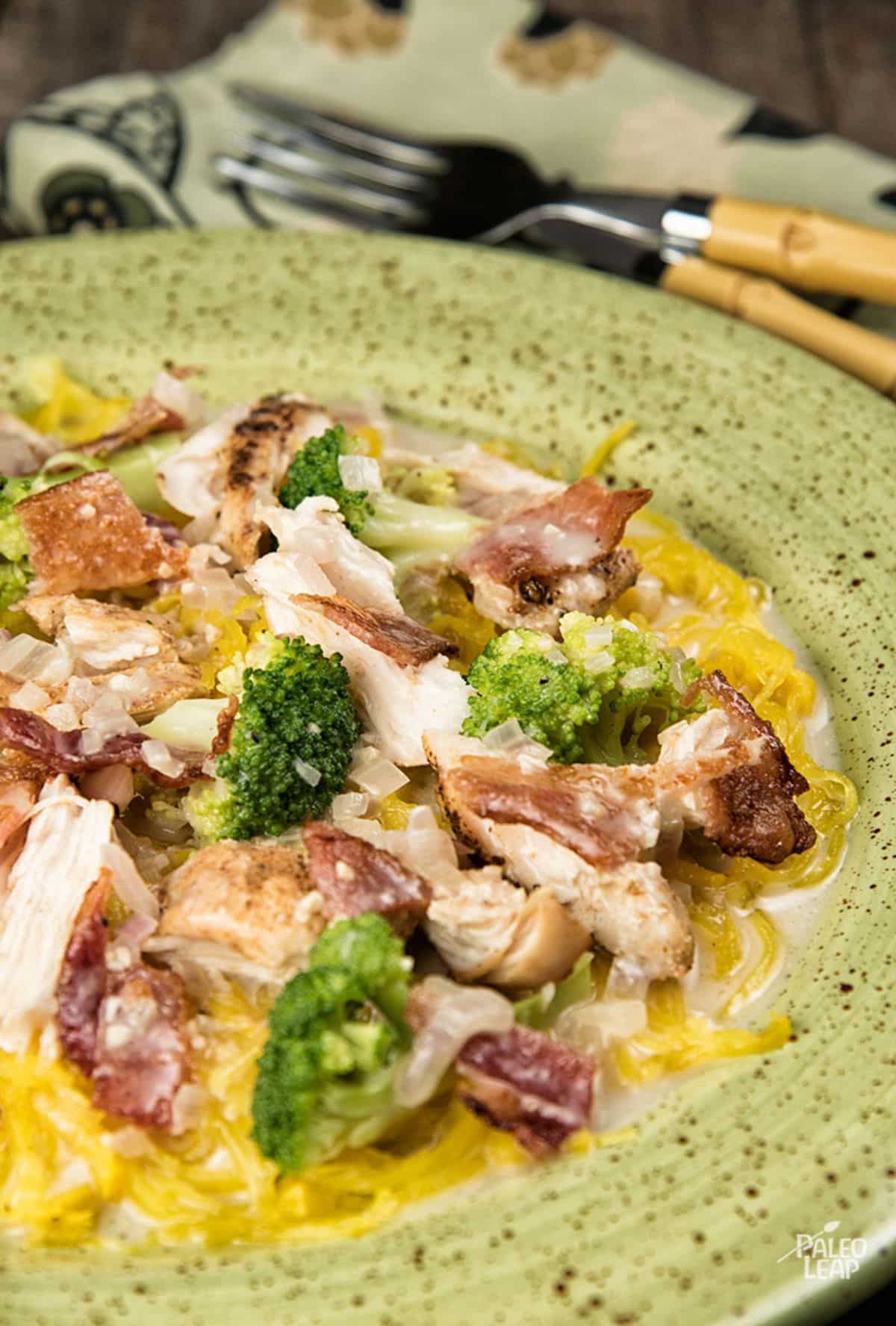 If you're an old hand at the Paleo game, you can already guess how this works: spaghetti squash stands in for the pasta, and coconut milk adds a completely dairy-free creamy effect.
And don't worry about accidentally making a tropical fusion chicken bacon pasta with coconut milk: it doesn't have that strong of a flavor, and it works very well here to add some richness without being overwhelmingly coconutty.
If you don't have any pre-cooked bacon, you could easily cook the bacon while the squash is cooling between Step 7 and Step 8 of the directions.
Then just continue with everything else as directed. This could make a complete meal all by itself, so you don't even need to worry about a side dish unless you specifically want something else; just serve and enjoy!
Creamy Chicken And Bacon Pasta Recipe
SERVES: 4 PREP: 20 min COOK: 45 min
Ingredients
1 spaghetti squash, halved lengthwise and seeded;
1 lb. chicken breast, boneless and skinless;
2 cups broccoli florets, cooked;
6 bacon strips, cooked;
1 onion, minced;
3 cloves garlic, minced;
1 ½ cups full-fat coconut milk;
1 tbsp. olive oil;
Sea salt and freshly ground black pepper;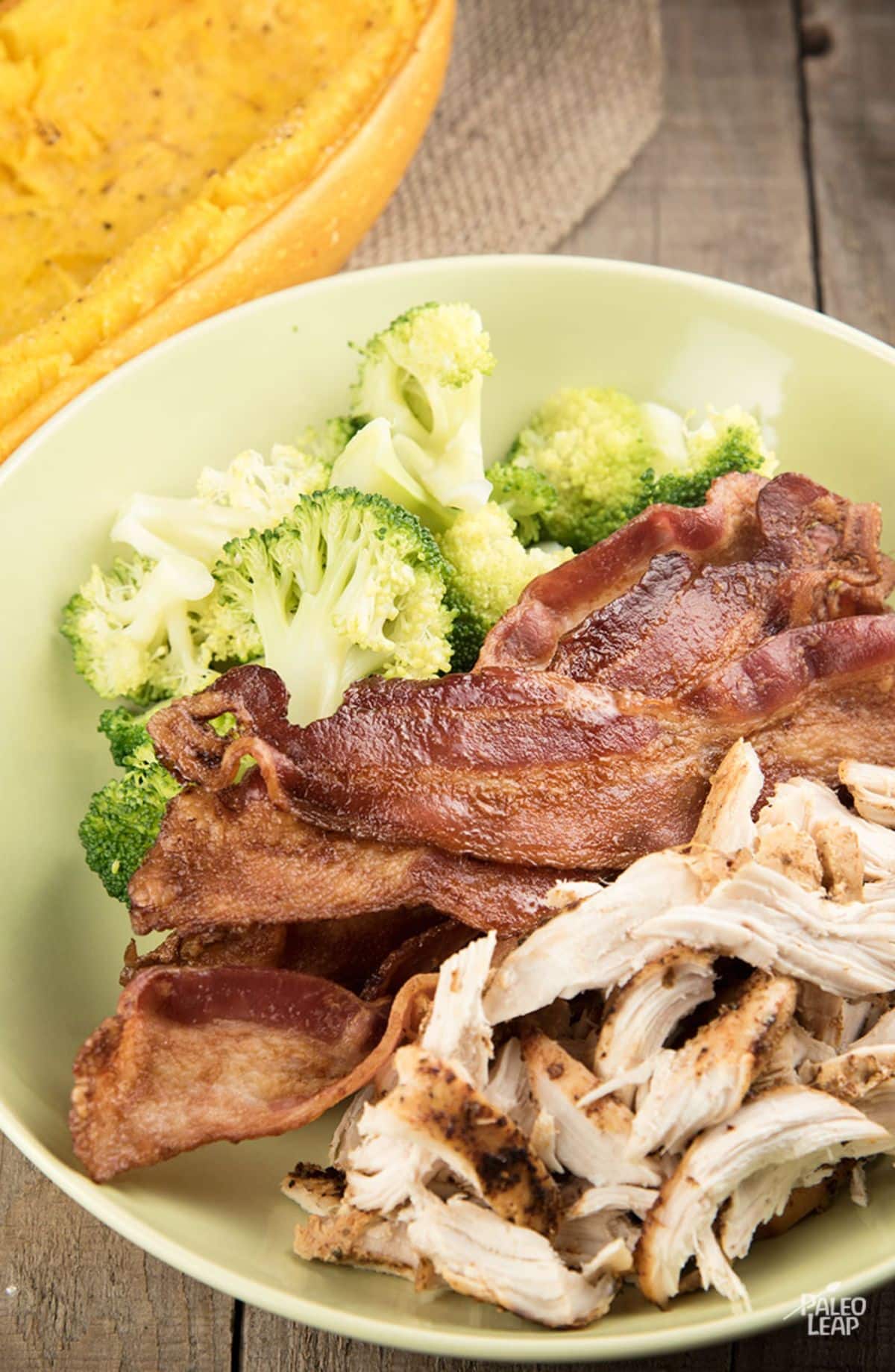 Preparation
Preheat oven to 400 F.
Lightly oil the spaghetti squash with 1 tbsp. of olive oil and season to taste with salt and pepper.
Place the squash, cut side down, on a baking sheet and bake for 40 minutes or until the flesh is soft.
Heat some cooking fat over medium-high heat in a large skillet. Season chicken breast to taste.
Cook the chicken breast for 6 to 7 minutes on each side until browned and no longer pink.
Let the chicken rest, and cut it into thin slices.
Remove the squash from the oven and set aside until cool enough to be easily handled.
Use a large fork or spoon to scoop the stringy flesh from the squash and place it in a bowl.
Add minced garlic and onion to the skillet and cook until soft and fragrant. Add coconut milk, bring to a boil, and lower the heat.
Add the squash, bacon, broccoli, and chicken to the sauce. Stir well to combine, and cook until warmed through.
Season with salt and pepper to taste and serve.
📖 Recipe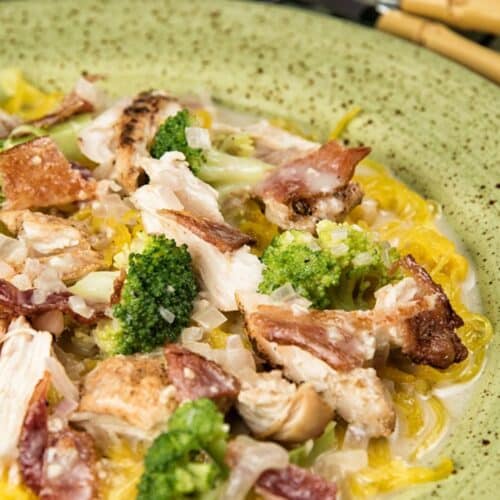 Creamy Chicken And Bacon Pasta Recipe
Who would have thought that a plate of chicken and bacon pasta could be mostly vegetables by volume and still taste great?
Instructions
Preheat oven to 400 F.

Lightly oil the spaghetti squash with 1 tbsp. of olive oil and season to taste with salt and pepper.

1 spaghetti squash,

1 tbsp. olive oil,

Sea salt and freshly ground black pepper

Place the squash, cut side down, on a baking sheet and bake for 40 minutes or until the flesh is soft.

Heat some cooking fat over medium-high heat in a large skillet. Season chicken breast to taste.

Cook the chicken breast for 6 to 7 minutes on each side until browned and no longer pink.

Let the chicken rest, and cut it into thin slices.

Remove the squash from the oven and set aside until cool enough to be easily handled.

Use a large fork or spoon to scoop the stringy flesh from the squash and place it in a bowl.

Add minced garlic and onion to the skillet and cook until soft and fragrant. Add coconut milk, bring to a boil, and lower the heat.

1 onion,

3 cloves garlic,

1 ½ cups full fat coconut milk

Add the squash, bacon, broccoli, and chicken to the sauce. Stir well to combine, and cook until warmed through.

1 spaghetti squash,

6 bacon strips,

2 cups broccoli florets

Season with salt and pepper to taste and serve.

Sea salt and freshly ground black pepper
Nutrition
Calories:
574
kcal
Carbohydrates:
25
g
Protein:
33
g
Fat:
40
g
Saturated Fat:
22
g
Polyunsaturated Fat:
4
g
Monounsaturated Fat:
11
g
Trans Fat:
0.1
g
Cholesterol:
94
mg
Sodium:
418
mg
Potassium:
1116
mg
Fiber:
5
g
Sugar:
9
g
Vitamin A:
620
IU
Vitamin C:
50
mg
Calcium:
106
mg
Iron:
5
mg