Onions are a staple for making the "base" of soups, stews, braises, and stocks, but how often do you see a dish that focuses just on the onions for their own sake?
Well, that's what this soup is: get your onion-chopping goggles out and get ready to transform those tear-jerkers into a sweet, creamy bowl of soup with the magic of heat, caramelization, and homemade chicken stock.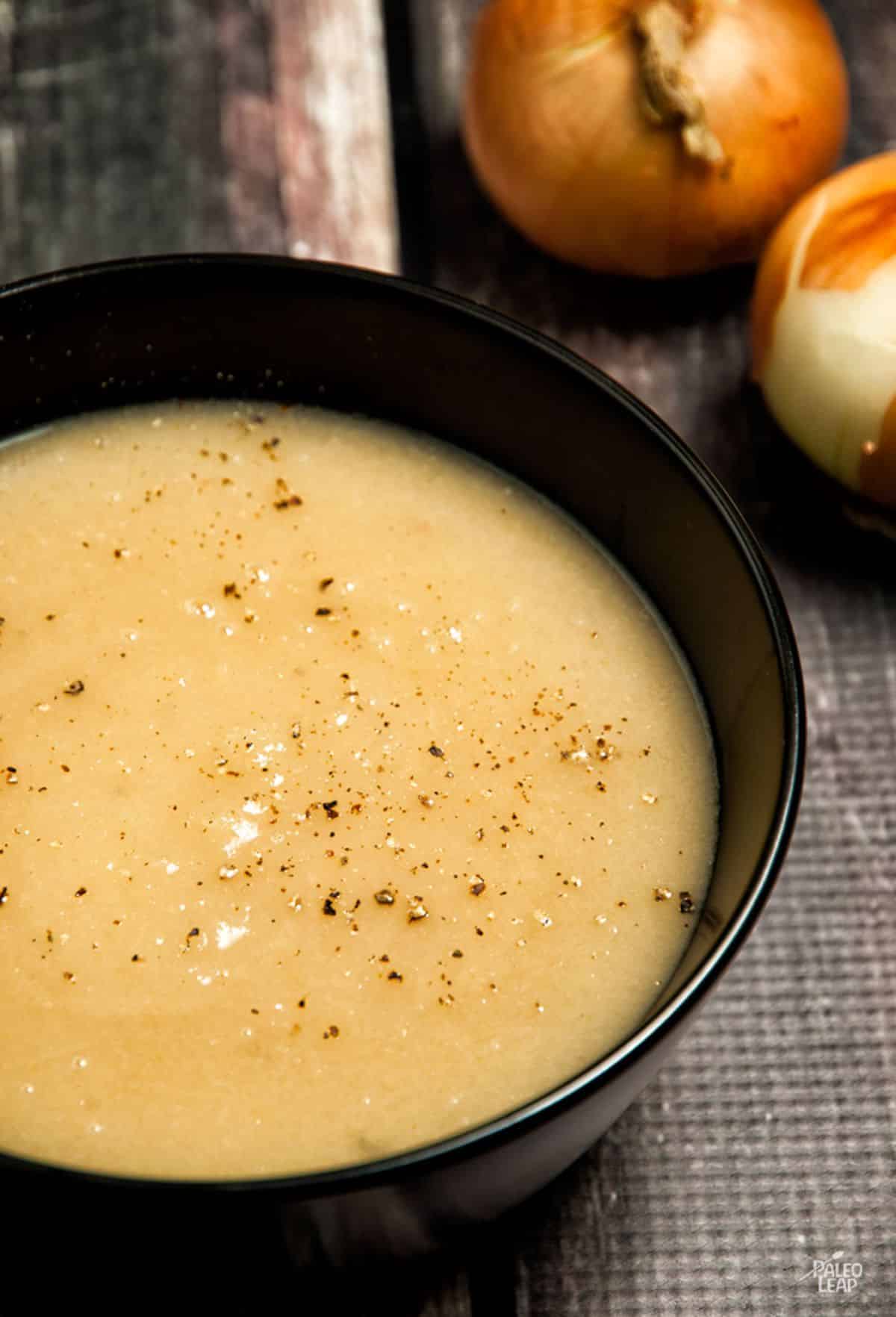 Other than the onions themselves, this soup really doesn't need much. A drizzle of balsamic vinegar brightens up the flavor, and you can add a little sweetener to make it richer if you like.
And of course, the coconut milk makes everything a little creamier and more delicious. But it's really all about the onions, without a lot of distracting extras.
This soup would go nicely with a pile of sausages hot out of the skillet or maybe some crispy bacon on the side.
Alternately, try it with pan-fried liver for a slightly different take on the "liver and onions" theme. It's not a soup for the low-FODMAP crowd, but if onions don't cause you any stomach trouble, then go grab one of those big bulk bags and have at it!
Creamy Onion Soup Recipe
SERVES: 4 PREP: 15 min COOK: 40 min
Ingredients
4 large onions, roughly sliced;
½ tbsp. balsamic vinegar;
1 tbsp. maple syrup or honey; (optional)
4 cup. chicken stock;
½ cup coconut milk;
4 tbsp. ghee or cooking fat;
Sea salt and freshly ground black pepper;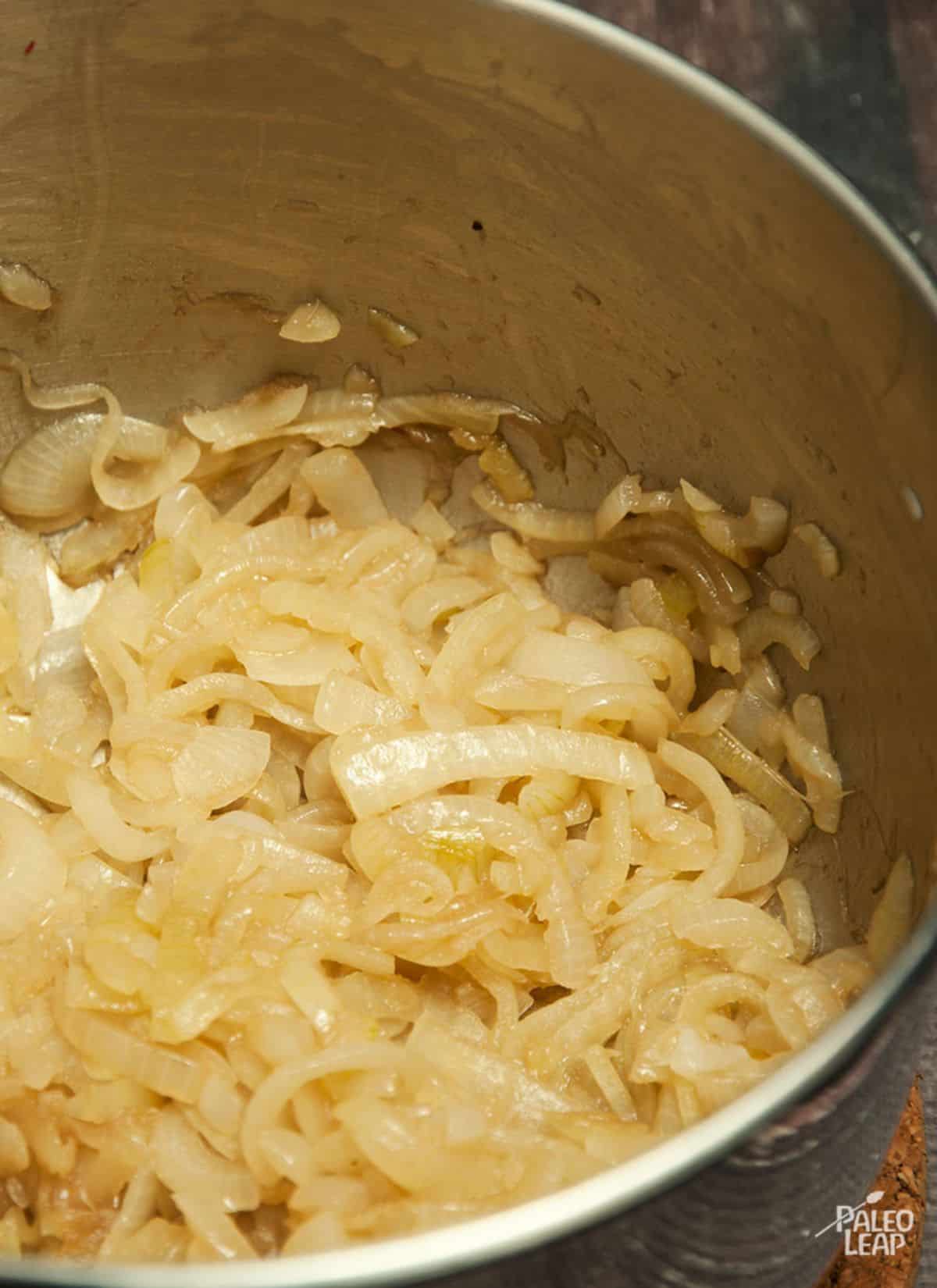 Preparation
Melt the ghee or cooking fat over medium heat in a saucepan.
Add the onions to the melted fat, and sauté until tender and golden, about 20 minutes.
Drizzle with balsamic vinegar and maple syrup or honey, and give everything a good stir.
Pour in the chicken stock, bring to a boil, and then let simmer for 15 minutes.
Purée the soup using a blender or immersion blender until you get a smooth texture.
Add the coconut milk, season the soup to taste, and serve warm.
📖 Recipe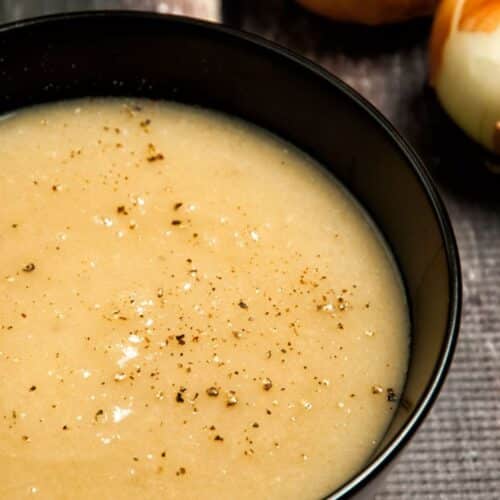 Creamy Onion Soup Recipe
A sweet, mild soup for the true French onion soup lovers to enjoy, Paleo-style.
Instructions
Melt the ghee or cooking fat over medium heat in a saucepan.

4 tbsp. ghee or cooking fat

Add the onions to the melted fat, and sauté until tender and golden, about 20 minutes.

Drizzle with balsamic vinegar and maple syrup or honey, and give everything a good stir.

½ tbsp. balsamic vinegar,

1 tbsp. maple syrup or honey

Pour in the chicken stock, bring to a boil, and then let simmer for 15 minutes.

Purée the soup using a blender or immersion blender until you get a smooth texture.

Add the coconut milk, season the soup to taste, and serve warm.

½ cup coconut milk,

Sea salt and freshly ground black pepper
Nutrition
Calories:
326
kcal
Carbohydrates:
23
g
Protein:
8
g
Fat:
24
g
Saturated Fat:
15
g
Polyunsaturated Fat:
1
g
Monounsaturated Fat:
6
g
Cholesterol:
45
mg
Sodium:
349
mg
Potassium:
473
mg
Fiber:
2
g
Sugar:
12
g
Vitamin A:
9
IU
Vitamin C:
9
mg
Calcium:
38
mg
Iron:
2
mg