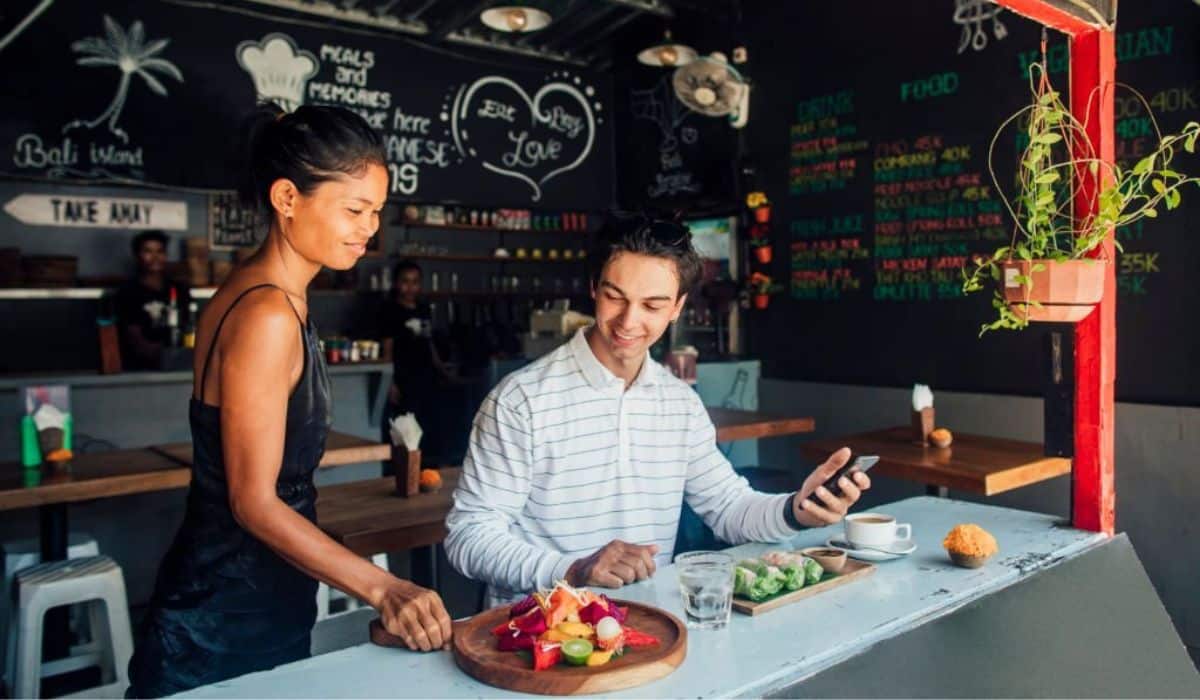 Eating out on Paleo can feel like a minefield: everything is cooked in mystery oil, soy sauce is everywhere, and finding a healthy option in between all the deep-fried junk is surprisingly hard!
And while there's nothing wrong with taking a planned detour for something non-Paleo that you really want, some people are extremely sensitive to certain foods and compromising just isn't an option.
If you're trying to stay at least somewhat Paleo, it always helps to look up the menu online or call the restaurant before you go. That way you can choose a meal or ask questions without time pressure or worry about making your fellow diners uncomfortable.
And to help you out with making the best choices, here's a guide to some common types of restaurants and tips for navigating them:
Sandwich Shops and Burger Chains
(excluding the most awful fast-food places)
Most cities have at least one local grass-fed burger joint – if you can find this, you're absolutely in luck! If they've committed to grass-fed meat, they probably also use fresh ingredients and don't throw in a lot of junk. You'll probably be able to get a lettuce bun and some vegetable sides. Otherwise, here's how to handle it:
What to Look For:
Many burger places and some sandwich shops will substitute a lettuce bun for the bread – just ask!
Watch out For:
At a strange chain, ask if hamburgers or meatballs contain any bread crumbs.
Fries in vegetable oil: potatoes are fine; soybean oil is not!.
Ketchup and mayo (full of sugar and junk oil, respectively).
If You Have a Choice:
Jimmy John's can make any sandwich as an unwich (lettuce wrap, no bread). Their menu is here.
Elevation burger serves grass-fed meat and is reasonably knowledgeable about Paleo. Learn more here.
In-n-Out Burger famously serves a "protein- style" burger with no bun. Learn more here.
Bakeries and Cafes
(Au Bon Pain, Panera, etc.)
The land of bread and pastries does actually have some Paleo-friendly choices; you just have to hunt for them.
What to Look For:
Soup-and-salad combo meals are often OK, depending on the soup.
Some cafes also serve omelets or frittatas (although beware of cheese, if dairy bothers you)
Fresh fruit cups are a good choice of side if you can't get anything else.
Watch out For:
Soy sauce contains both wheat and soy. Make sure there's none in your soup or salad dressing.
If You Have a Choice:
Panera has a menu of salad bowls topped with meat or eggs. See it here.
The Dregs of Fast Food
(McDonald's, Burger King, Wendy's, Taco Bell...)
Fast food is hard. Really hard. If you want an actual meal, you will inevitably have to compromise. For example, you can get a salad at Subway, but even the "chicken" has 24 ingredients, including soy and MSG. On the bright side, most fast-food places at least have a list of what does and doesn't contain common allergens (soy, wheat, peanuts...); just search for "[name of restaurant + allergens]" so you can go in forewarned.
What to Look For:
Salad, especially if you can get it without dressing.
Bunless burgers (you will probably have to take off the bun yourself)
Fruit cups, vegetables, or other raw sides (also check the kids' menu!)
Plain baked potato
Omelets and other egg dishes
Watch out For:
Breaded ("crispy") meat, even on a salad.
KFC. Of all the fast-food restaurants around, KFC is the worst for getting anything remotely Paleo. Even McDonald's is better.
If You Have a Choice:
Chick-fil-A has a gluten-free menu (gluten-free does not mean Paleo, but it's a start...) (See it here)
Wendy's doesn't have an obvious gluten-free menu, but there are a few options. (See their menu here)
Subway: get a salad and you'll skip most of the worst stuff. Most of the meat is full of junk, but the least offensive proteins on the menu are the egg white patties, tuna, and roast beef.
Family-Style Restaurants or Steakhouses
(e.g. Applebee's)
Here you're in luck: it's actually very easy to get a Paleo-friendly meal. And the classier the restaurant, the better your options are.
What to Look For:
Just pick 1 Paleo-friendly meat entrée and ask for steamed vegetables as a side. Throw in some roasted or mashed potatoes if you like, and you're set.
Ask for your food to be cooked in butter, not vegetable oil. Make sure the server knows the difference between butter and margarine.
Watch out For:
If you're very sensitive to wheat, ask to see allergen information or ask your server carefully – it sneaks into everything via soy sauce in marinades and dressings.
If there's any doubt, make sure to ask whether or not your meat will be breaded.
If You Have a Choice:
Pizza Places
Pizza is hard. You'll almost never find an actual pizza that comes within 100 miles of Paleo, but you can sometimes find reasonably acceptable options on the non-pizza menu.
What to Look For:
Wings. Many pizza places serve wings as well. Baked is better than fried if it's available. And the sauce is probably full of sugar, but at least it's not breaded and covered in cheese!
Soup and salads. Anywhere more sophisticated than Domino's will have at least a salad option on the menu – can you get it with some pepperoni or chicken cubes?
Watch out For:
Gluten-free crusts. No, there's no gluten, but they're still made from refined grains, and the pizza is still full of all the other junk.
If You Have a Choice:
California Pizza Kitchen has some pretty extensive offerings for salad and soup. (See their menu here).
Coffee Shops
(e.g. Starbucks, Dunkin' Donuts, Tim hortons)
The easiest thing is to just get a black coffee or tea and wait to eat until later, but sometimes you also need something to eat.
What to Look For:
Black coffee or unsweetened tea, hot or iced. If dairy doesn't bother you, add heavy cream.
Piece of fresh fruit, or a fruit cup.
In an emergency, you could try ordering a breakfast sandwich and ditching the bun.
Almond milk: many coffee shops can make you a latte or other drink with almond milk instead of dairy.
If You Have a Choice:
Starbucks: at the register area, there's often a Paleo-friendly selection of grab-and-go trail mixes, dried fruit, or fresh bananas.
Asian Restaurants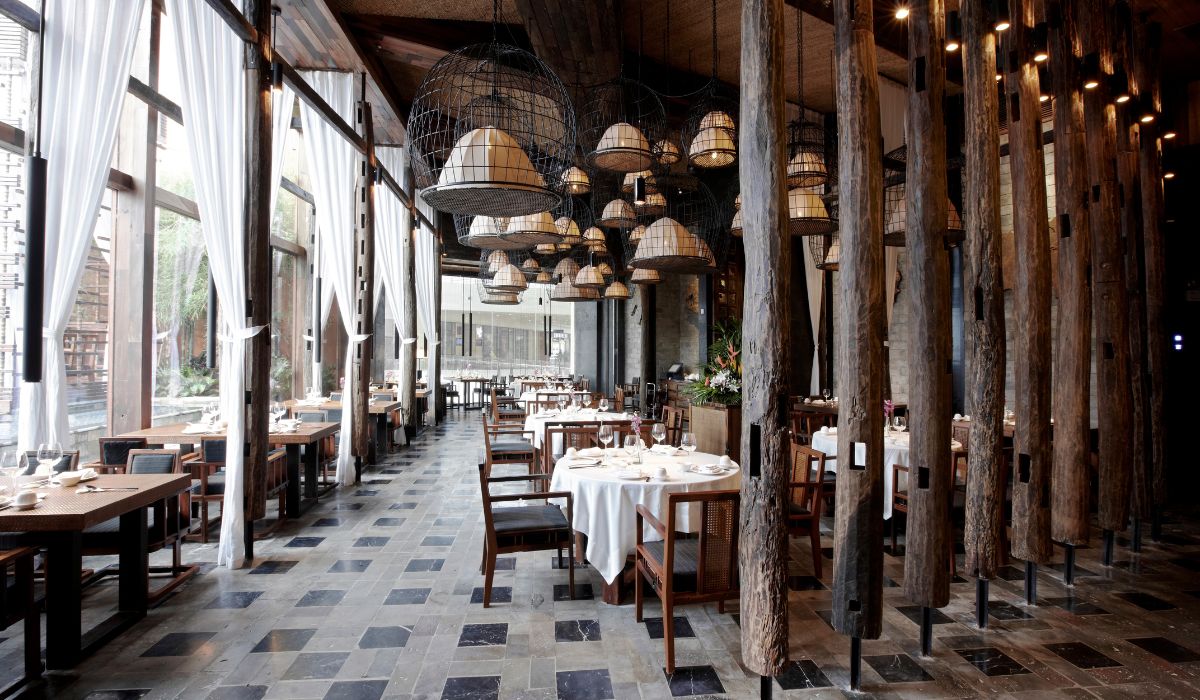 There is more to Asian food than gloopy orange chicken – if you know what to look for, you can actually find quite a few good options.
What to Look For:
Stir-fries or curries are often OK if you can ask for a Paleo-friendly cooking oil. Just ask for your food without rice, if you don't eat it.
Sushi or sashimi
Seaweed salad
Pho. Pho is just bone broth – delicious and very good for you! (Skip the noodles though)
Barbecue or grill-focused restaurants (e.g. Korean barbecue).
Ask for your food to be cooked in butter, not vegetable oil. Make sure the server knows the difference between butter and margarine.
Watch out For:
Soy sauce (wheat + soy) – it's everywhere!
If You Have a Choice:
Mediterranean/Middle Eastern Restaurants
In between the breadsticks and pita, it is actually possible to get a Paleo-friendly meal here!
What to Look For:
Fresh seafood or grilled meat – there are usually at least a few choices.
Kebabs, if you're at a Mediterranean/Middle- Eastern place.
Baba ghanoush: just like hummus, but made of eggplant instead of chickpeas.
Ask for your food to be cooked in butter, not vegetable oil. Make sure the server knows the difference between butter and margarine.
Watch out For:
Gluten-free pasta. Gluten-free does not equal Paleo! Gluten-free pasta is typically just junk that happens to not have gluten in it, and it rarely tastes good. If you've gotta have pasta, you may just want to call it a planned detour and eat the real thing.
Gyro meat and gyros: often the meat has gluten in it even if you skip the pita.
Hummus and falafel: these are made of chickpeas, which aren't Paleo.
Ask for your food to be cooked in butter, not vegetable oil. Make sure the server knows the difference between butter and margarine.
If You Have a Choice:
Mexican Restaurants
What to Look For:
Taco salad bowls – all the toppings, but skip the tortilla for a bed of lettuce. And watch out for cheese and sour cream if you don't tolerate dairy.
Ceviche or other seafood.
Fajitas, if you can find a place that serves the tortilla and the filling separately – just eat the good stuff and ignore the bread.
Carne asada, carnitas, or another meat- centric dish.
Watch out For:
"Corn" tortillas that contain wheat: corn is a pretty harmless Paleo detour for many people (if you're limited on other choices), but most "corn" tortillas are mostly wheat with just a little corn for flavor.
If You Have a Choice:
Chipotle: more or less ethically sourced animal products, and plenty of Paleo options. And they even have one kind of meat (carnitas) cooked in lard rather than soybean oil. Get a salad bowl, skip the beans, and load up on the guacamole and salsa! (Ingredients list is here.)
Other
What to Look For:
Salad bars or build-your-own joints: you're in much greater control of the ingredients, and you'll even get some fresh vegetables.
Raw vegan restaurants – believe it or not, raw vegan food is often Paleo as well, and the restaurant will be very used to accommodating special requests.
Poached or hard-boiled eggs: no mystery oils, no potential milk in an omelet.
Watch out For:
Hidden soy, wheat, dairy, and corn – all the usual suspects.
If You Have a Choice:
Buffalo Wild Wings uses tallow for frying, which is a nice change from junk oils. Several of their wings and sauces are gluten- and dairy-free, although you'll have to put up with a little bit of corn (Their allergen list is here.)
More and more restaurants are able to accommodate specific diet requests. It's always important to communicate with your server and ask questions though. What are some places you've found with Paleo-friendly menus? Share with us Facebook or Twitter!