Brown tomatoes, a special variety with a sweeter flavor thanks to their higher fructose content, actually do exist: they're also called Kumato or Rosso Bruno tomatoes, and they add an interesting twist to this crunchy snack.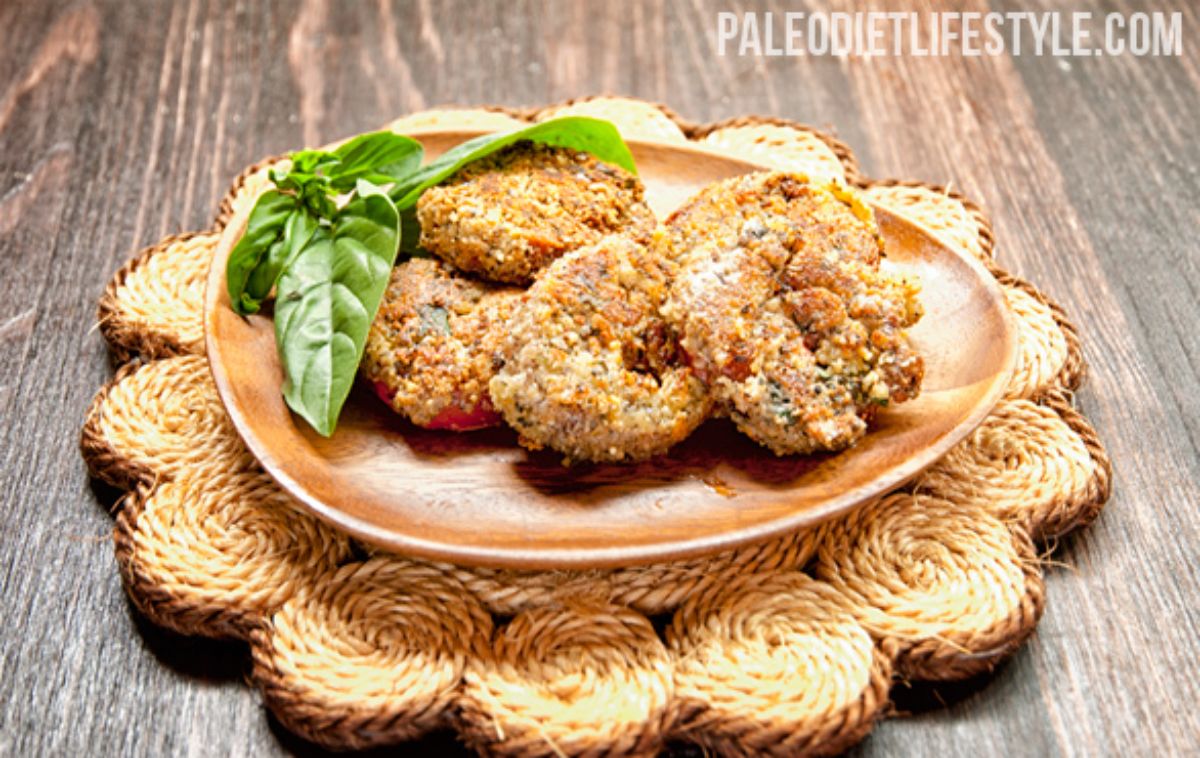 They can be pretty hard to get hold of, though, since they're usually available only in specialty grocery stores. If you can't find the brown kind, you can use any kind and color of tomatoes for this recipe.
Green tomatoes are traditional for frying but don't be afraid to branch out – try an heirloom variety for an interesting flavor, or just pick up whatever looks the freshest and juiciest.
When you're preparing your tomatoes, it's important to salt them thoroughly – this draws the excess water out of the slices, so they crisp up nicely.
This is especially important if you're not using green tomatoes since the green ones tend to be quite firm, but other colors risk making your batter soggy. The salt is the magic touch that makes riper tomatoes suitable for frying, so don't skip it!
Instead of flour, this recipe uses almond meal as the breading – as always, an ingredient to use in moderation and not overdo.
Fried tomatoes are a much healthier option than cookies made entirely from almond flour, but they're still high in PUFA, so treat them more as an appetizer or a snack instead of a main meal. On that note, though, these would make a perfect dish to bring to a party since they're a familiar summertime favorite, and even your vegetarian friends will be able to enjoy them freely.
Fried Brown Tomatoes Recipe
SERVES: 4 PREP: 40 min COOK: 12 min
Ingredients
8 brown tomatoes, cut into slices;
2 eggs, lightly beaten;
1 cup of almond meal;
2 tablespoon fresh basil, minced;
1 tablespoon of dried oregano;
½ tbsp. dried thyme;
1 tablespoon of garlic powder;
½ cup extra-virgin olive oil;
Sea salt and freshly ground black pepper to taste;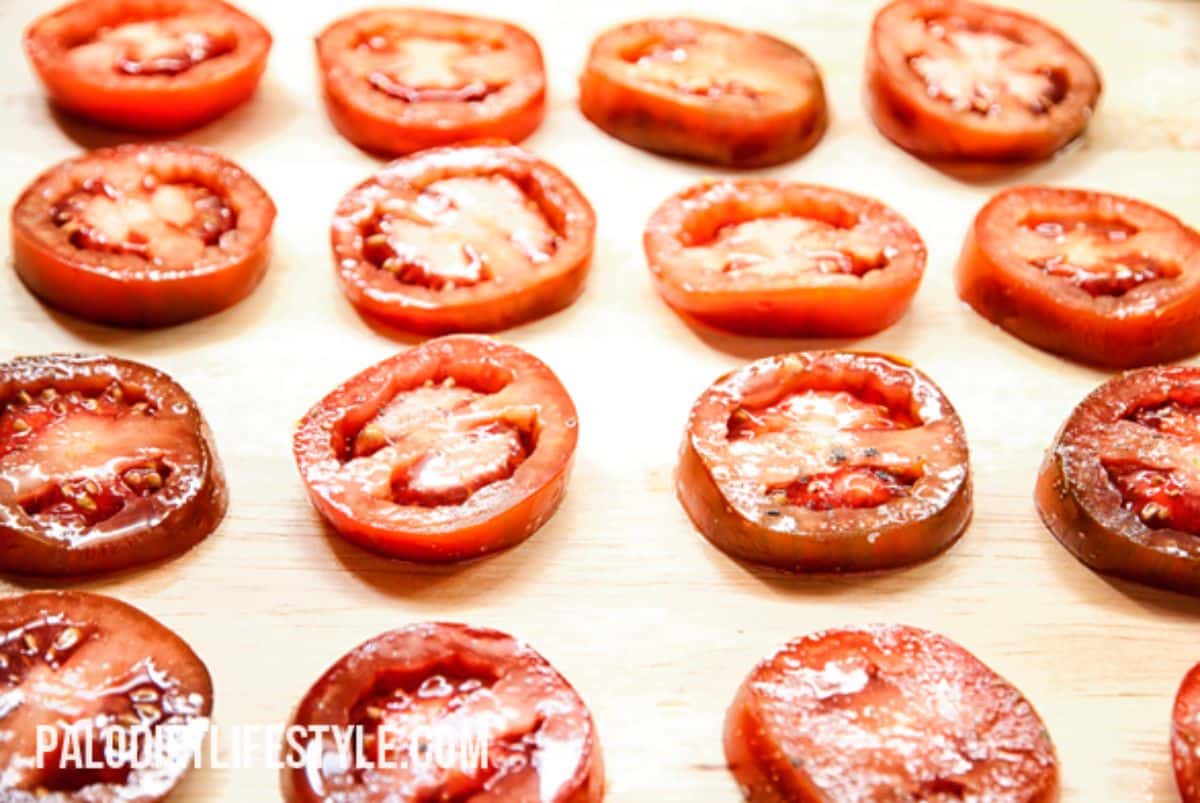 Preparation
Lay the tomato slices on a baking sheet. Sprinkle them generously with salt on both sides, and let sit for 30 min.
In a bowl, combine the almond meal, garlic powder, thyme, oregano, basil, and salt and pepper to taste.
Whisk the two eggs in a small bowl.
Lay the tomato slices on a paper towel. Top with another layer of paper towel and press on the tomatoes to dry them well.
Dip each tomato slice in egg, then in the almond meal mixture, and set the crusted slices on a baking tray.
Preheat the olive oil in a pan placed over medium-high heat, and cook the tomatoes on both sides until they are a nice brown and feel crispy.
📖 Recipe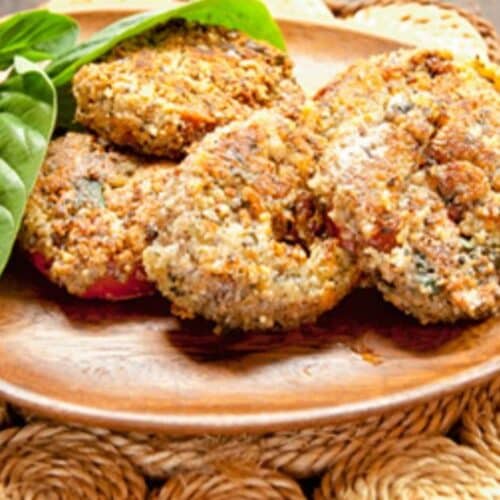 Fried Brown Tomatoes Recipe
Sweet tomatoes fried up to perfection in a crispy coating: enjoy the Paleo version of this classic summer snack.
Ingredients
8

brown tomatoes

cut into slices

2

eggs

lightly beaten

1

cup

of almond meal

2

tablespoon

fresh basil

minced

1

tablespoon

of dried oregano

½

tbsp.

dried thyme

1

tablespoon

of garlic powder

½

cup

extra-virgin olive oil

Sea salt and freshly ground black pepper to taste
Instructions
Lay the tomato slices on a baking sheet. Sprinkle them generously with salt on both sides, and let sit for 30 min.

8 brown tomatoes,

Sea salt and freshly ground black pepper to taste

In a bowl, combine the almond meal, garlic powder, thyme, oregano, basil, and salt and pepper to taste.

1 cup of almond meal,

2 tablespoon fresh basil,

1 tablespoon of dried oregano,

½ tbsp. dried thyme,

1 tablespoon of garlic powder,

Sea salt and freshly ground black pepper to taste

Whisk the two eggs in a small bowl.

Lay the tomato slices on a paper towel. Top with another layer of paper towel and press on the tomatoes to dry them well.

Dip each tomato slice in egg, then in the almond meal mixture, and set the crusted slices on a baking tray.

Preheat the olive oil in a pan placed over medium-high heat, and cook the tomatoes on both sides until they are a nice brown and feel crispy.

½ cup extra-virgin olive oil
Nutrition
Calories:
488
kcal
Carbohydrates:
19
g
Protein:
12
g
Fat:
44
g
Saturated Fat:
6
g
Polyunsaturated Fat:
4
g
Monounsaturated Fat:
21
g
Trans Fat:
0.01
g
Cholesterol:
82
mg
Sodium:
47
mg
Potassium:
671
mg
Fiber:
7
g
Sugar:
8
g
Vitamin A:
2312
IU
Vitamin C:
35
mg
Calcium:
154
mg
Iron:
5
mg