This Paleo adaptation of a banana split adds some interest and fun to a plate of fruit for dessert, and it's easy to tweak, so it's exactly to your tastes.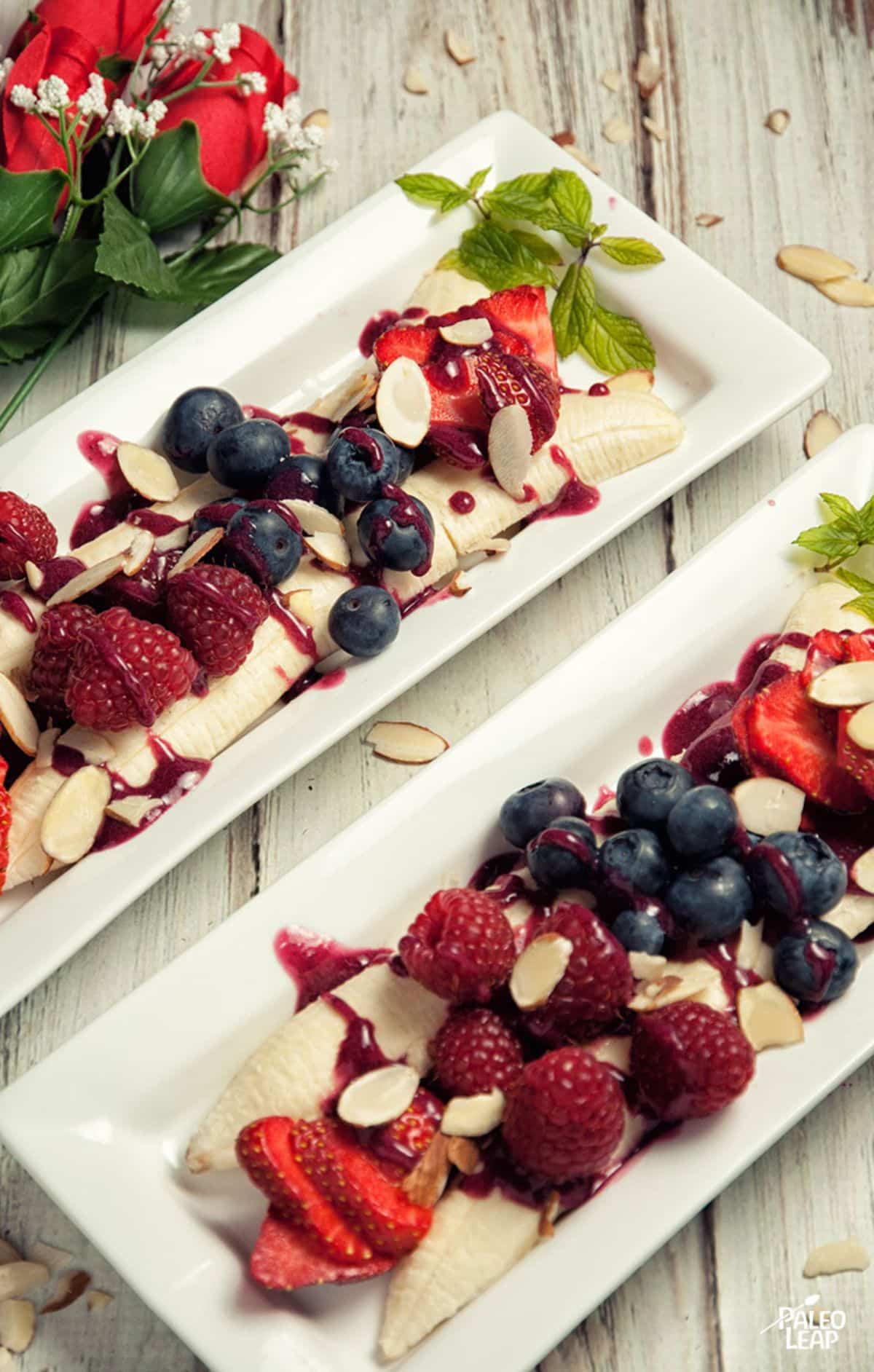 Customize the base recipe with any kind of fruit and nuts you like: you could go with berries or pick another fruit and just cut it to the right size.
The same goes for the nuts; pick your favorite mix, and don't be afraid to experiment (for convenience, you can often find slivered or chopped nuts in the baking aisle).
All laid out on a plate with the sauce thing everything together, it looks pretty fancy, but this is actually one treat that's easy to pull together – without any Paleo baking to do, the actual work is done in just a few minutes. It's nice for the days when you don't want to spend a lot of time and energy on dessert or if you just don't feel well eating a lot of nuts.
This recipe is also very convenient if you can't eat chocolate or just happen not to like it that much: a sweet fruity sauce drizzled over the top gives you a topping without the more traditional chocolate sauce.
For an AIP-friendly or just a nut-free version, you could also replace the roasted nuts with toasted coconut flakes. Try it out however you like it, and enjoy a sweet dessert to share with someone special.
Fruit Banana Split Recipe
SERVES: 2 PREP: 15 min COOK: 5 min
Ingredients
2 bananas, peeled and sliced lengthwise
¼ cup nuts of your choice, roasted and chopped
Fresh fruits, sliced
Ingredients for the strawberry and blueberry sauce
½ cup fresh strawberries, sliced
½ cup fresh blueberries
¼ cup raw honey
⅓ cup water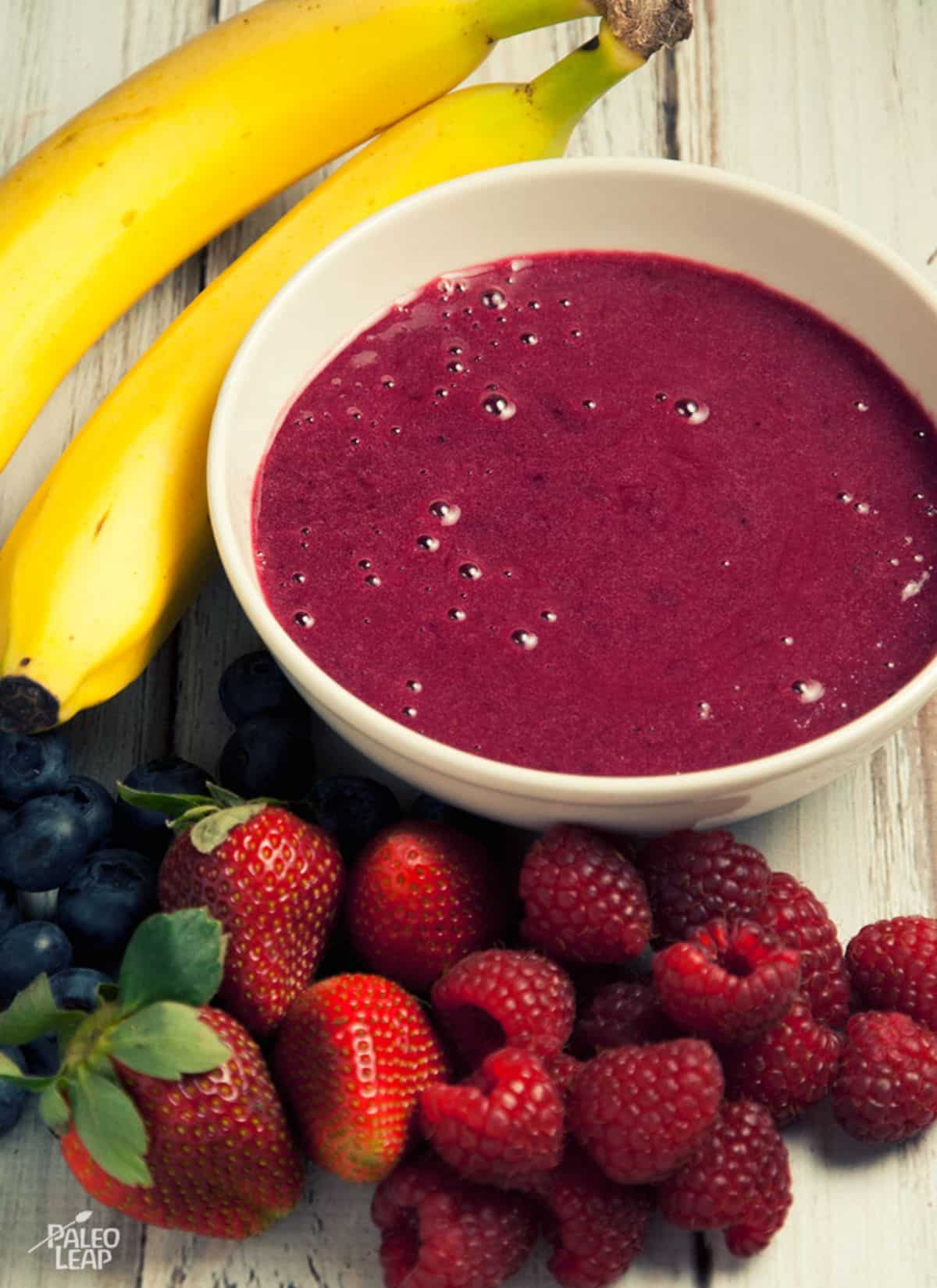 Preparation
Combine the honey and water in a saucepan placed over medium heat.
Stir in the blueberries and strawberries and stir until well mixed.
Bring to a boil; then lower heat and simmer for 5 minutes.
Pour the sauce into a food processor, and pulse until smooth.
Arrange each sliced banana on a plate and top it with fresh fruits of your choice.
Drizzle the blueberry and strawberry sauce all over the banana, and sprinkle with roasted nuts.
📖 Recipe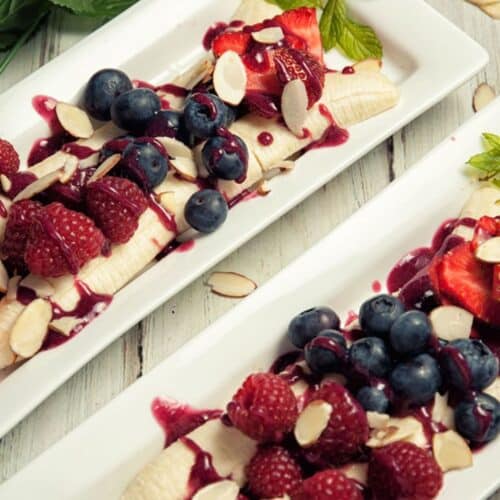 Fruit Banana Split Recipe
Hold the ice cream but keep the fun of having your dessert served inside a banana with this clever Paleo adaptation.
Ingredients
2

bananas

peeled and sliced lengthwise

¼

cup

nuts of your choice

roasted and chopped

Fresh fruits

sliced
Ingredients for the strawberry and blueberry sauce
Instructions
Combine the honey and water in a saucepan placed over medium heat.

¼ cup raw honey,

⅓ cup water

Stir in the blueberries and strawberries and stir until well mixed.

½ cup fresh blueberries,

½ cup fresh strawberries

Bring to a boil; then lower heat and simmer for 5 minutes.

Pour the sauce into a food processor, and pulse until smooth.

Arrange each sliced banana on a plate and top it with fresh fruits of your choice.

Drizzle the blueberry and strawberry sauce all over the banana, and sprinkle with roasted nuts.

¼ cup nuts of your choice
Nutrition
Calories:
381
kcal
Carbohydrates:
76
g
Protein:
5
g
Fat:
10
g
Saturated Fat:
1
g
Polyunsaturated Fat:
2
g
Monounsaturated Fat:
6
g
Sodium:
6
mg
Potassium:
664
mg
Fiber:
6
g
Sugar:
56
g
Vitamin A:
247
IU
Vitamin C:
37
mg
Calcium:
31
mg
Iron:
1
mg